This page will showcase a number of ways you can season and enjoy shredded jackfruit. It is meant to be an evolving reference more than anything, and I'll keep adding to it over time. Jackfruit is a fun ingredient to play around with. People trying to reduce or eliminate meat from their diet tend to love it for its texture, which uncannily mimics pulled pork or shredded chicken. While some are able to find it in fresh form, it's readily available in canned as well, which makes it easy to keep on hand for quick meals. Here you see it pictured sautéed with lots of garlic and taco/chili seasoning for a filling for these Shredded Jackfruit Burritos. But I'm also including a number of ways you can tweak the recipe – a Thai curry paste version, as well as a BBQ jackfruit version.
If you cook the filling at the start of the week, it will keep for a few days, refrigerated. When shopping for jackfruit, I buy it canned, in water (easy to find it at places like Trader Joe's) – just drain, and rinse before using.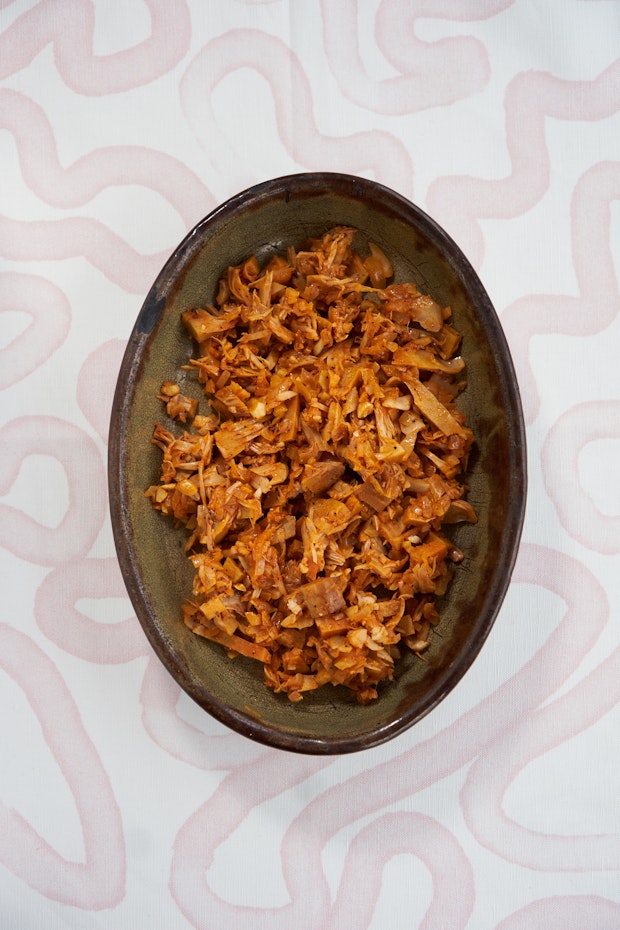 a 20-ounce can of green jackfruit (in brine or water)
1 tablespoon extra virgin olive oil
1 medium onion, chopped
1/4 cup chopped garlic
1 teaspoon smoked paprika
1 1/2 teaspoons taco seasoning (or chili powder)
1/2 cup water
big squeeze of lemon or lime juice
scant 1/2 teaspoon of salt, or to taste
I like to make the jackfruit ahead of time, it keeps for a few days in the refrigerator for quick, on-the-fly tacos, burritos, and tostadas. Drain, rinse, and slice jackfruit into thin, 1/4-inch thick strips, from core to edge. Use all the jackfruit, the core, shredded parts, and seeds.
Heat the oil in a large skillet over medium-high heat. Stir in the onion and saute for a few minutes, until they soften a bit. Stir in the garlic, and then the paprika and taco seasoning. Quickly add the water, lemon juice, salt, and jackfruit. Cover and simmer for 5 – 10 minutes, until much (but not all) of the liquid is absorbed. Use a wooden spoon to smash the jackfruit, to get that shredded texture.
Makes enough for 4-6 burritos, or more tacos, etc.
Variations:
– A Thai Curry Version: Omit the garlic, paprika, and taco seasoning, and use a 1-2 tablespoon dollop of red curry paste instead. I use this jackfruit in salads, rice bowls, and curry-spiced noodle bowls.
– BBQ Jackfruit: Omit the garlic, paprika, and taco seasoning. Cut back the water to 1/4 cup and add 2/3 cup of your favorite BBQ sauce.
Prep time: 10 min – Cook time: 10 min