Simple pasta sauce recipes are weeknight lifesavers. They're great not only on pasta, but on all sorts of vegetables and grain bowls as well. Often if you've got a decent condiment selection on hand, or some fresh herbs, or simply some nuts, you're on your way to a great sauce. Also, don't limit yourself to using these as pasta sauces, often they're just as fantastic over simply roasted, steamed, or sautéed vegetables. Or, as spreads on sandwiches and flatbreads!
1. Five Minute Tomato Sauce – (101 Cookbooks)
I make this more than just about any other sauce in my repertoire. All you need is a handful of ingredients, and one saucepan. No need to simmer for hours, a kiss of lemon zest keeps this tomato sauce fresh and bright and perfect for all sorts of pastas, pizzas, and casseroles. The perfect weeknight tomato sauce. And, actually(!), here's a post of three ways I work it into lunch as well. Get the recipe here.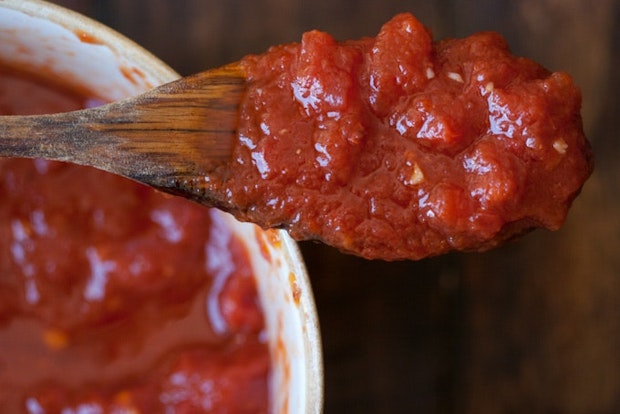 2. Brown Butter Balsamic Sauce – (101 Cookbooks)
I love this simple balsamic sauce tossed stuffed winter squash stuffed pastas. Or, sweet potato anything. It's a sauce that hits squarely on the decadent side of the spectrum, with a generous amount of browned butter as the base, but it is delicious, and really hits the spot now and then. The balsamic cuts the butter with its acidity, and I like to add plenty of something green and slightly bitter to balance everything out beyond that – in this case, arugula. And a bit of lemon zest, which perfumes everything beautifully. Get the recipe here.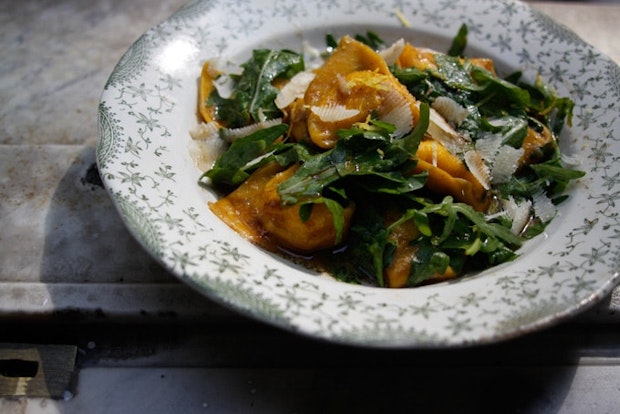 3. Hemp Seed Alfredo – (Blissful Basil)
Absolutely love this hemp seed take on alfredo sauce. Pictured here with zucchini noodles. Get the recipe here.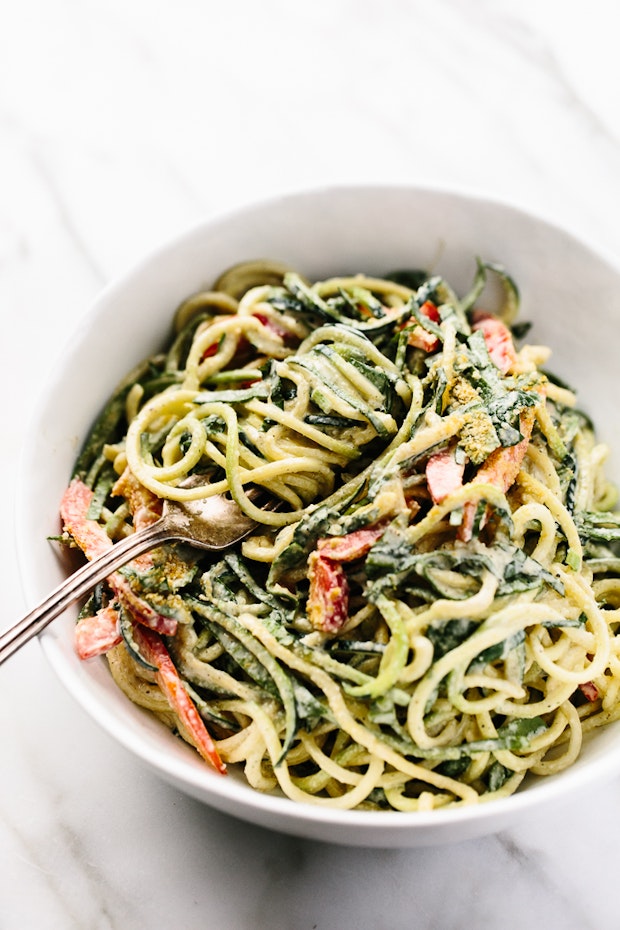 4. Harissa & Olive Oil Sauce – (101 Cookbooks)
If you have some harissa on your condiment shelf, you're halfway there. Paired with olive oil, the harissa forms the base of a brick red, garlic-charged sauce. Perfect tossed with your favorite pasta, and veggies. Pictured here with whole wheat spaghettini, kale, black olives, and pine nuts. Legit, fantastic weeknight option. Get the recipe here.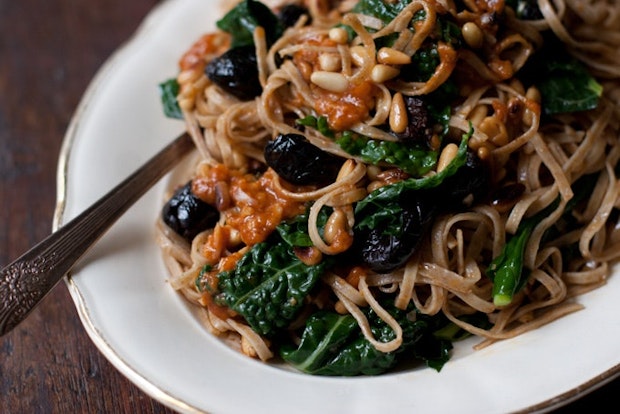 5. Tuscan Pumpkin Pasta Sauce – (Real Food Whole Life)
I like the combination of tomato, pumpkin, rosemary, and sage in this creamy sauce. Robyn uses coconut milk here, but you could also use a thick nut milk like cashew or almond. Get the recipe here.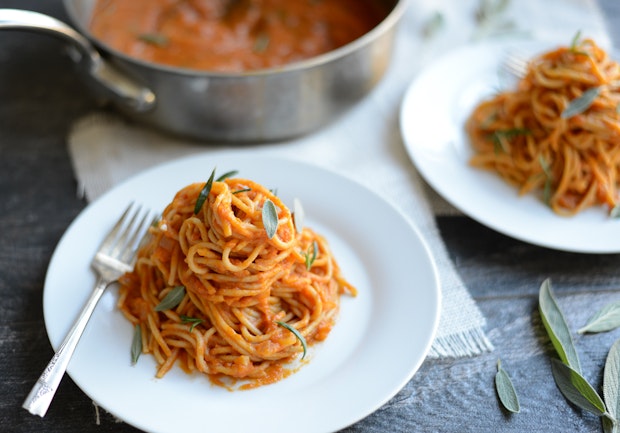 6. Vegan Alfredo Sauce – (The Bojon Gourmet)
I love using homemade cashew milk as a substitute for heavy cream or even coconut milk. It is silky smooth, and full of body, and works as a brilliant vegan alfredo sauce base here. Soak the cashews while you're out fo the day, and this sauce comes together in no time. Get the recipe here.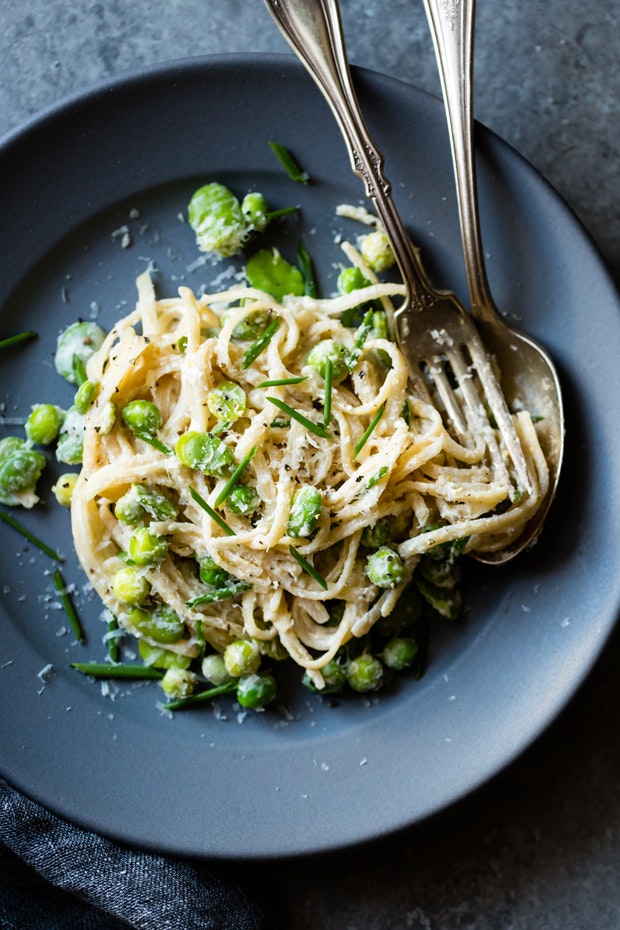 7. Red Pesto Sauce – (101 Cookbooks)
Sun-dried tomato fans, this one has your name on it. Pictured here with goat cheese raviolis and served them on a bed of baby spinach. Get the recipe here.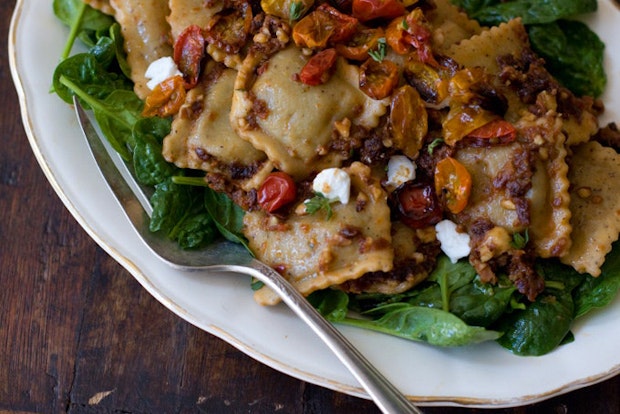 8. Lemon Almond Sauce – (Naturally Ella)
Creamy, dairy-free, and spiked with lemon and black pepper. Get the recipe here.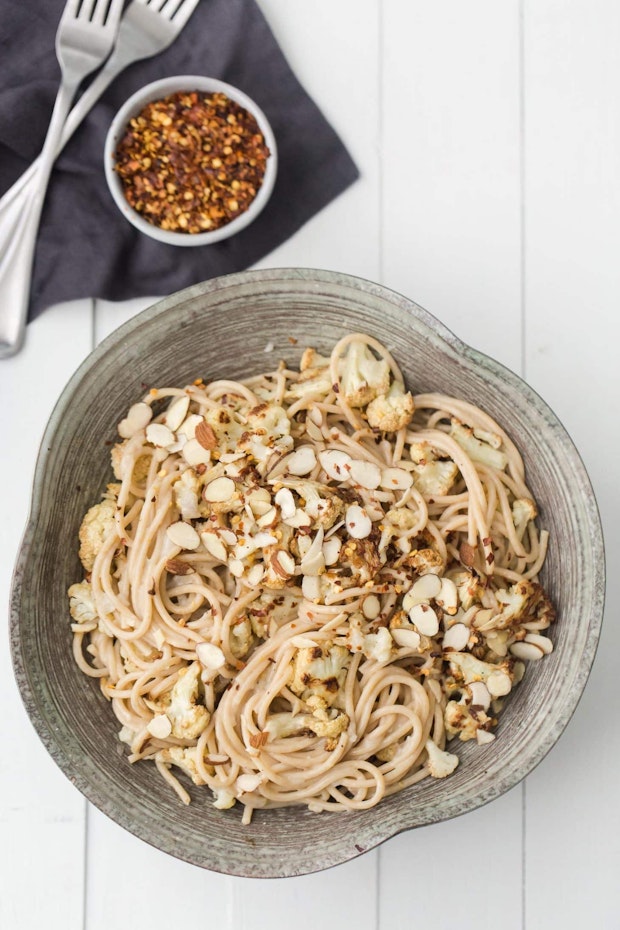 9. Pounded Walnut Sauce – (101 Cookbooks)
This Mona Talbott recipe is a hearty, pounded walnut pesto of sorts, with marjoram and parsley. And I love it. Particularly as the weather chills, and you're looking for more substantial fare. It's nice with a short farro pasta, but really, it's incredible on just about everything. You could even skip the pasta and just enjoy it with roasted vegetables. Get the recipe here.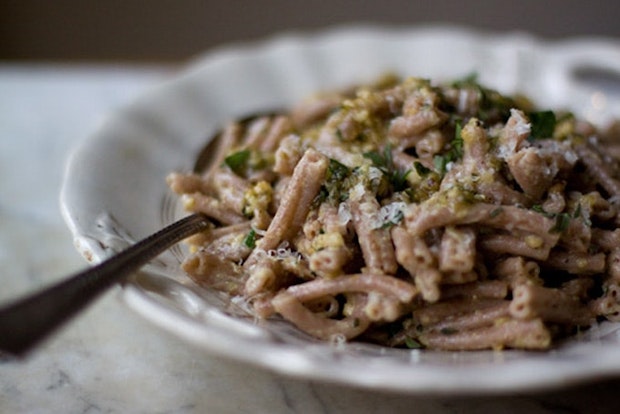 10. Creamy Chipotle Sauce – (Dora's Table)
Six ingredients work themselves into chipotle-based magic. This is good on noodles, but also as a finishing touch on tacos, or as a component in salad dressings (great with structured lettuces). Get the recipe here.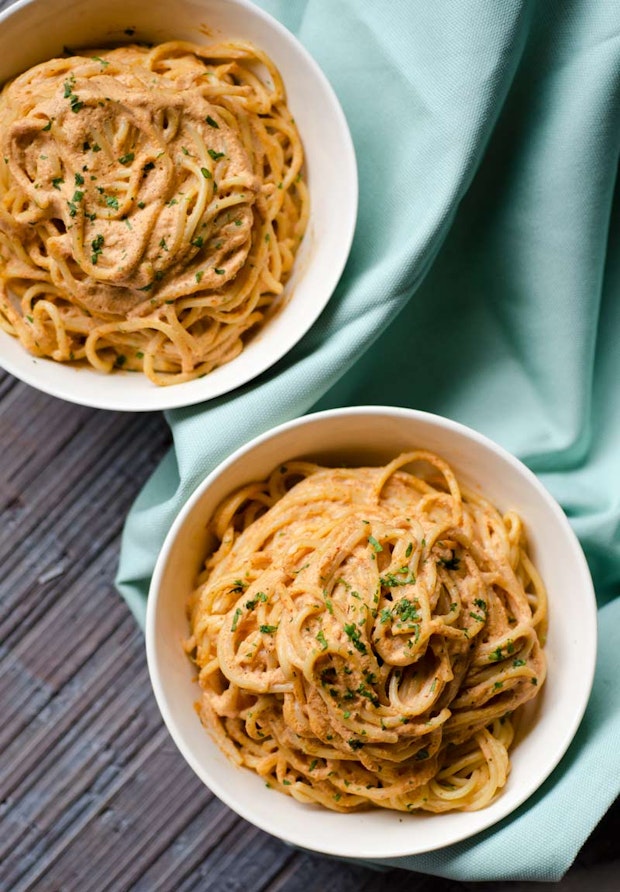 11. A Favorite Pesto Sauce – (101 Cookbooks)
About ten years ago we had a pesto and gnocchi night with my visiting Italian friend Francesca and her mom. They are from Genoa, and her mom makes a beautiful pesto (and perfectly light, potato gnocchi to go along with it). She offered to share her method with us, and we've all reaped the benefits ever since. If you love pesto, you really have to try her technique. Get the recipe here.