Easy20 minsQuick
This Chicken Souvlaki recipe is super-easy to cook in the oven or on the grill, and absolutely delicious when loaded up with all of your favorite toppings!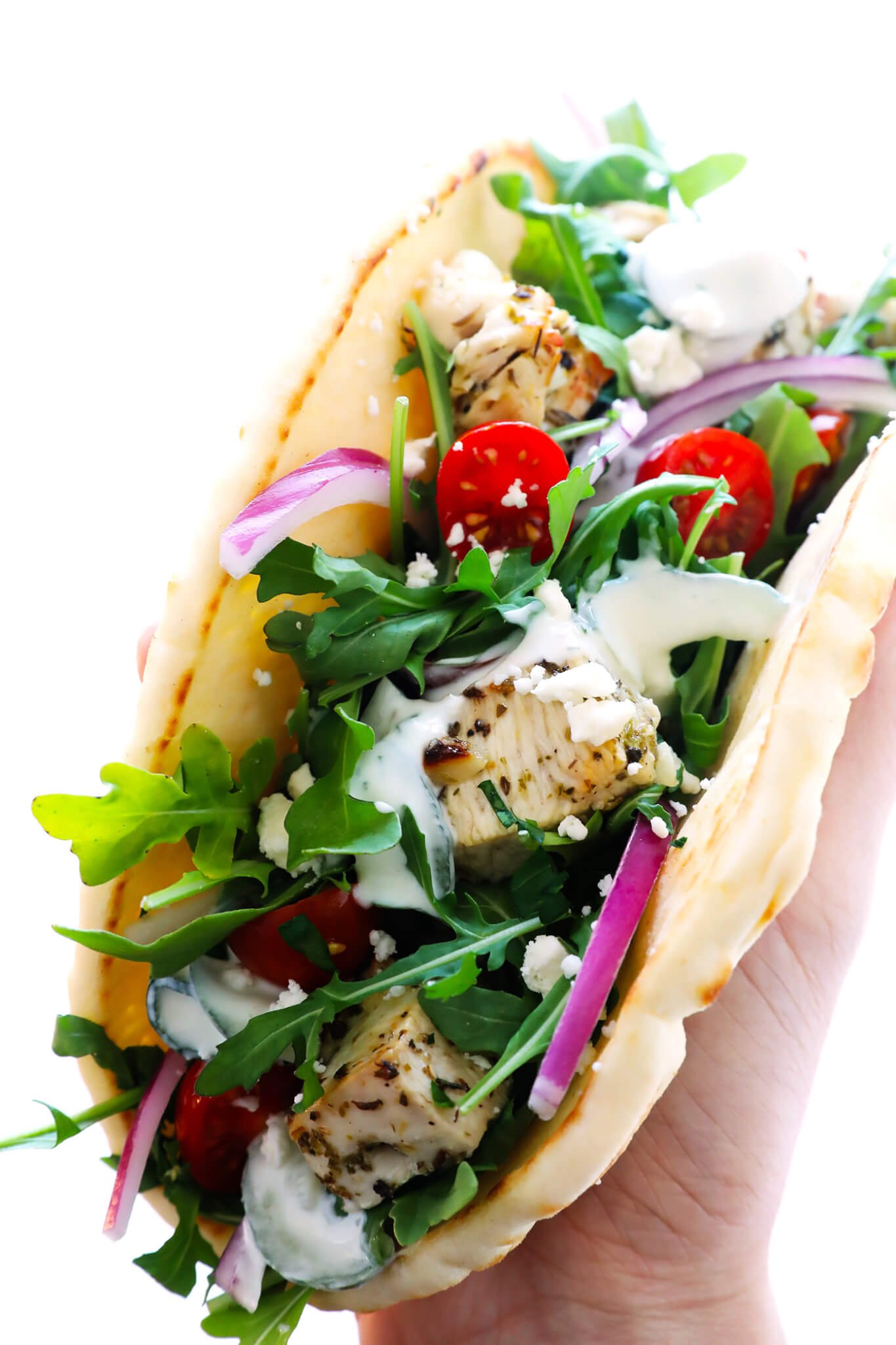 Over the past few months, I've had a few items mysteriously "disappear" after unloading them on the dining room table after a trip to the store. A bag of frozen peas…a package of corn tortillas…a snack pack of almonds…a few mints…ALL GONE. (Oh, and 6 packages of dry beans apparently sampled and rejected and scattered all around the dining room like thousands of pieces of confetti too, just for fun.) This was a brand new predicament for my little household.
But I had one prime suspect. ? ? ?
Sure enough, the evidence proved (sorry, tmi) that he was, in fact, very guilty. And also, thankfully very alive after his tabletop raids. But still…very full, and very guilty.
That said, though, the plot thickened this week. And I learned that I may have given him an unfair share of the blame, because new evidence has confirmed that Henry may in fact have…an accomplice!
I had brought home all of the ingredients to make this Chicken Souvlaki for dinner, including a fresh new bag of pita. And, per my new habit, I intentionally unloadeded the bags of groceries on the taller, non-accessible-to-an-11-lb-dog countertop, when I had to buzz out to a meeting before putting the rest of the groceries away. And sure enough, a few hours later I came home to Henry and his much taller friend, Fiona waiting for me, both happily snoozing in a carb coma with two very full bellies, and the pita packaging literally sitting on the floor just a foot away from them. ?
Apparently, you can teach old dogs new tricks. Or they can teach themselves…especially when some delicious pita bread is involved.
Ha, safe to say, I've now become even more disciplined about putting my groceries completely away immediately. And Henry and Fiona and I have had some long chats about making good decisions. And of course, I did end up making a special trip back to the store to pick up more bread, because these Chicken Souvlaki pitas were just begging to be made. ?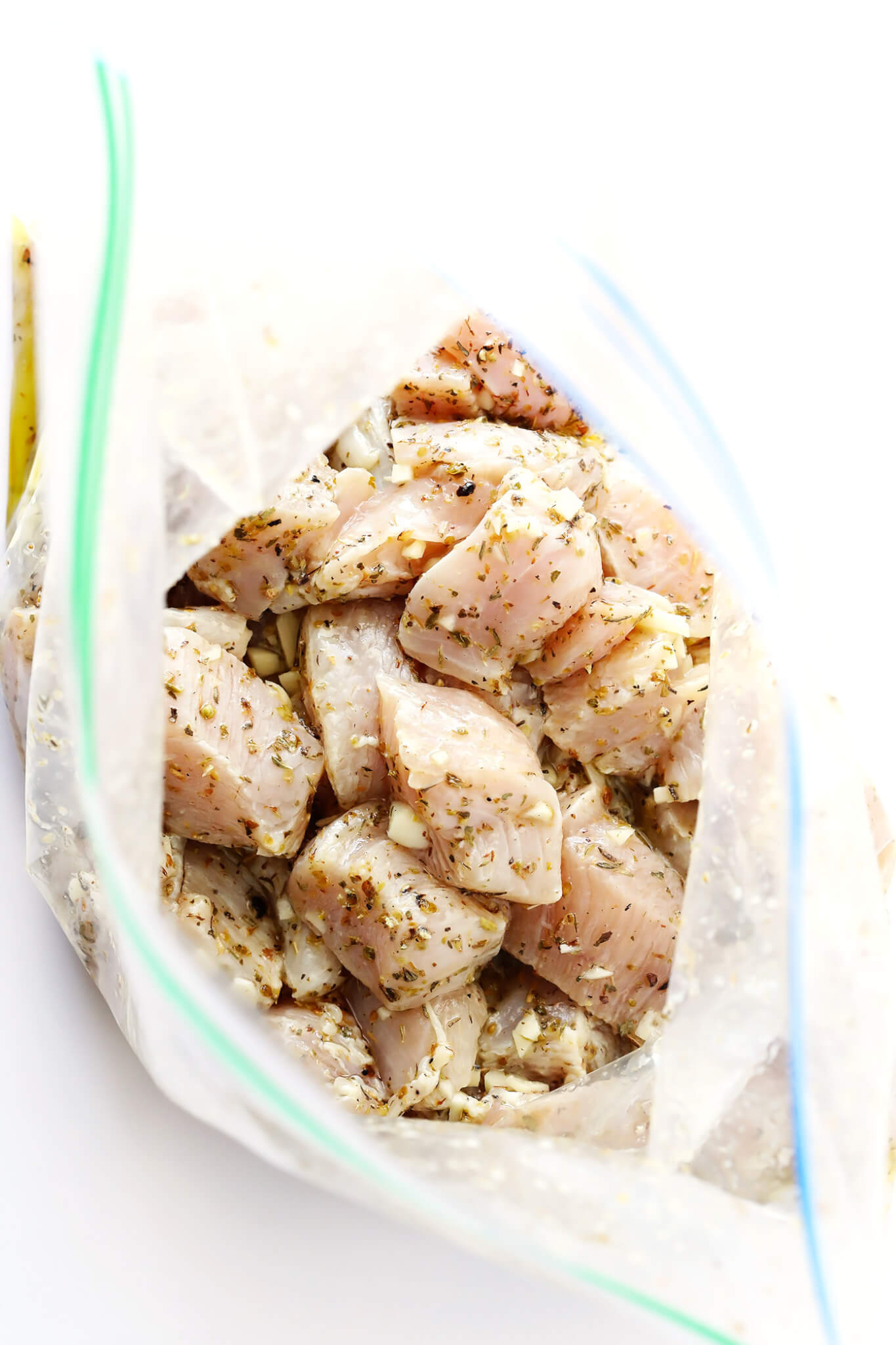 I'm guessing most of you are familiar with this Greek classic. But did you know that it's actually super easy to make at home?! All you need are a few minutes of prep time, a few simple ingredients, and a hot grill or a hot oven. And — opa! — this recipe can be ready to enjoy in no time.
Simply marinate some chicken breasts in lemon juice, olive oil, garlic, oregano, salt and pepper. (<– You can either cut them into bite-sized pieces and pop them on some skewers, or cook the chicken breasts whole and dice them up later.)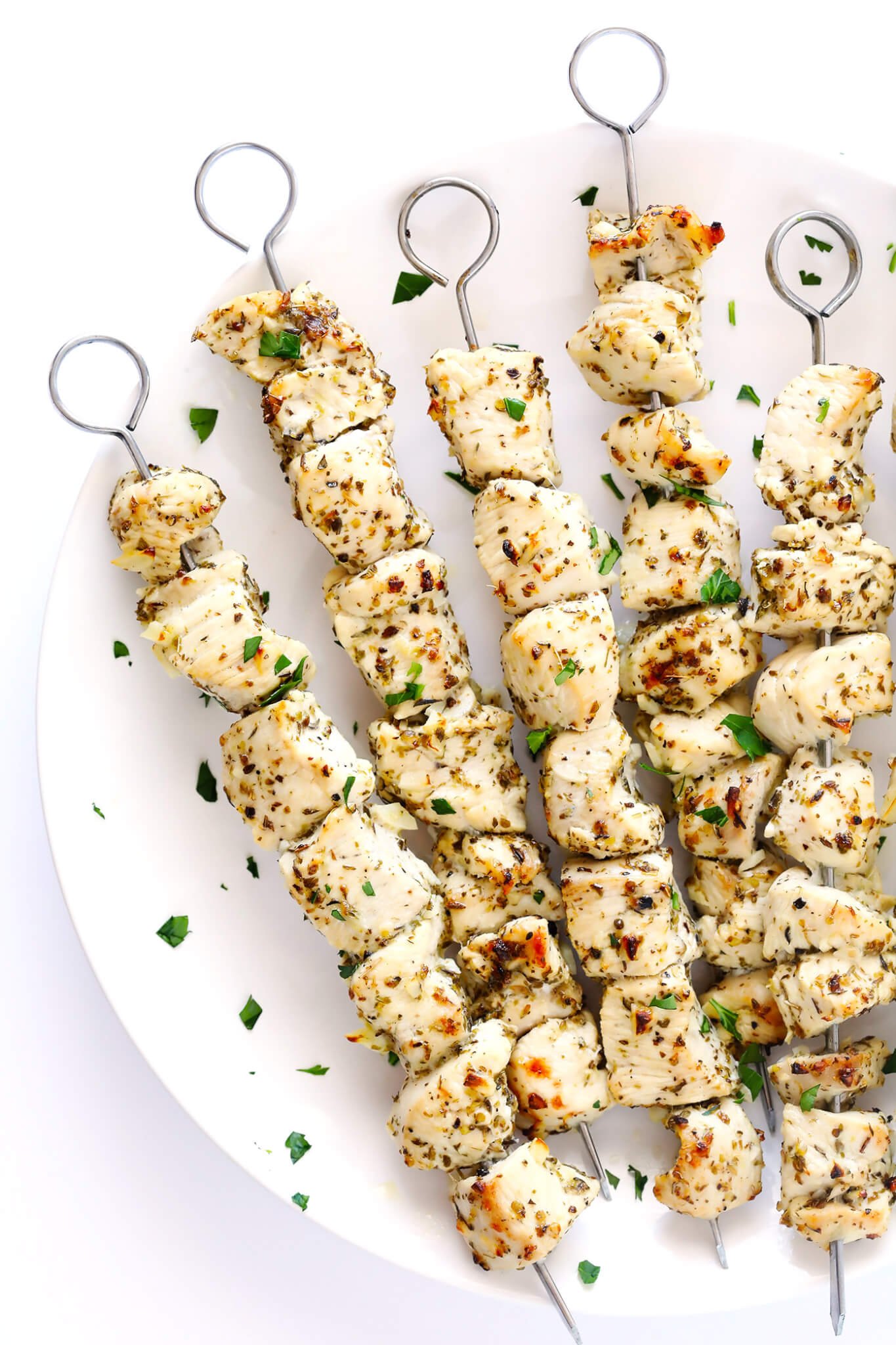 Then once they have marinated for at least 30 minutes (or up to 1 day), cook them in the oven or on the grill until they're just done, and still nice and juicy.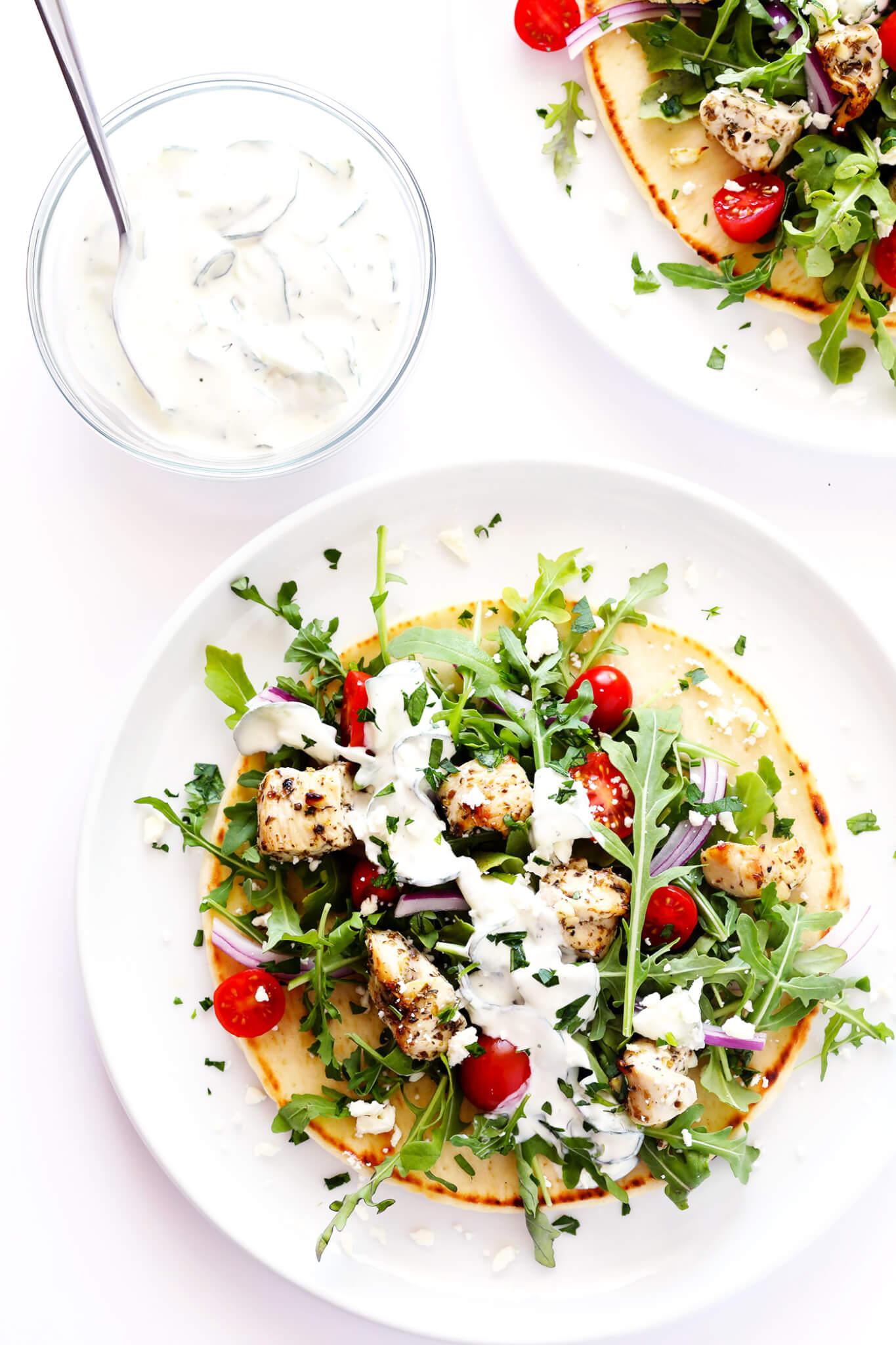 Then, while the chicken is cooking, grab some pita bread (presuming it hasn't "disappeared"), and load it up with all of your favorite pita toppings! I went with fresh arugula, cherry tomatoes, red onion, feta cheese, tzatziki sauce, and parsley. But any number of toppings (like roasted red peppers, diced cucumbers, Kalamata olives, other greens, etc.) would also be delicious!
Finally, add your chicken on top…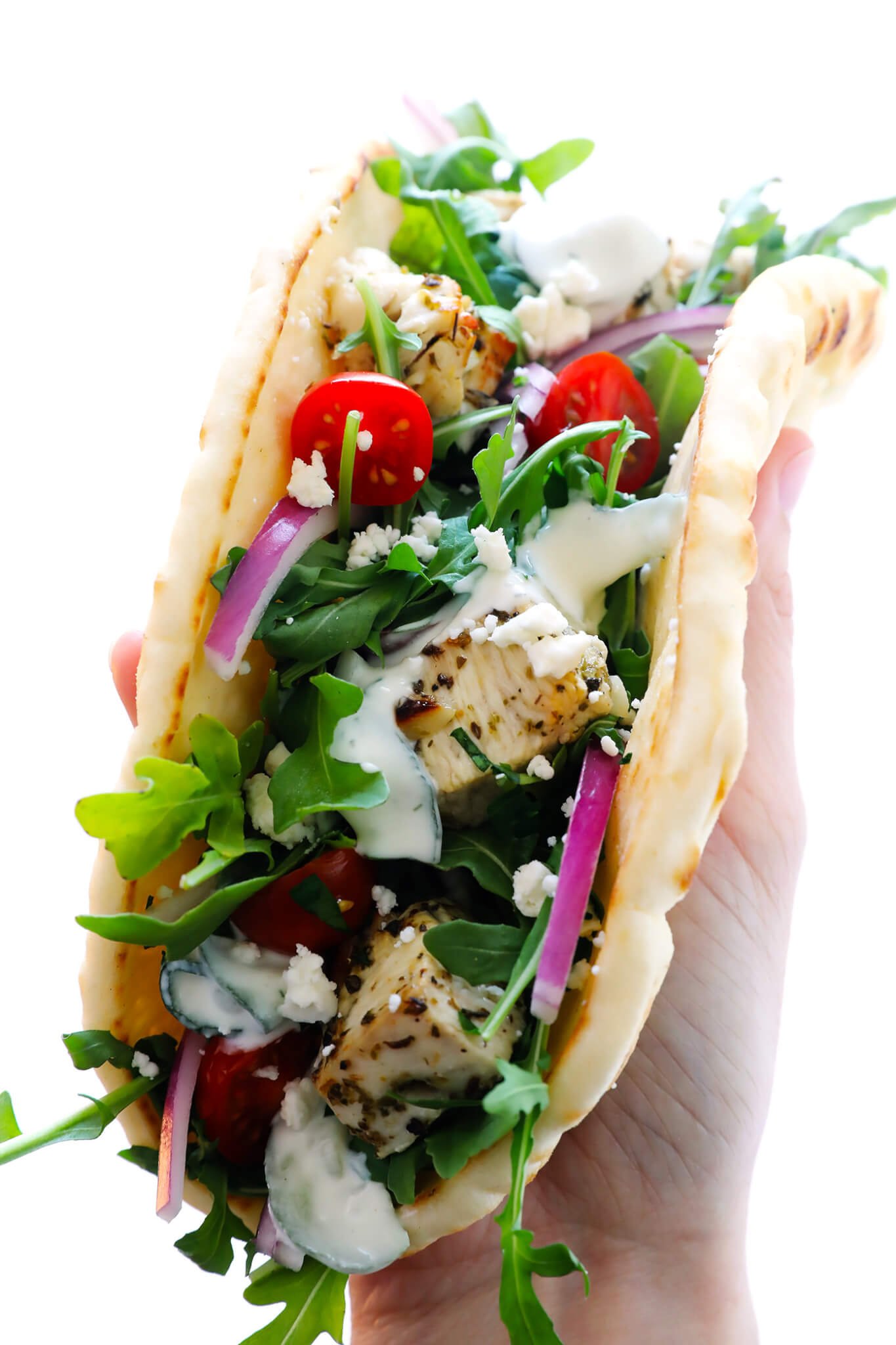 …and this gorgeous, fresh, and flavorful pita sandwich will be yours to enjoy.
And hey — pro tip — it tastes delicious even when the chicken is chilled. So be sure to cook a little extra, and then you can enjoy your souvlaki as leftovers for days to come either on pita, or in a fresh salad, or in a rice bowl — you name it. ?
Enjoy, everyone!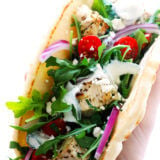 Yield: 4-6 servings
Chicken Souvlaki
This Chicken Souvlaki recipe is easy to cook in the oven or on the grill, and tastes DELICIOUS when loaded up in a pita with all of your favorite toppings!
Ingredients:
1.5 pounds uncooked boneless skinless chicken breasts, cut into bite-sized pieces*
5 cloves garlic, peeled and minced
2 tablespoons olive oil*
1 tablespoon dried oregano
1 teaspoon Kosher salt
1/2 teaspoon freshly-cracked black pepper
juice of 1 large fresh lemon
for serving: pita bread, fresh baby arugula (or chopped Romaine), thinly-sliced red onions, sliced cherry tomatoes, crumbled feta cheese, chopped fresh parsley, tzatziki sauce
Directions:
Combine chicken pieces, garlic, olive oil, oregano, salt, black pepper and lemon juice in a large ziplock bag or mixing bowl, and toss until the chicken is evenly coated. Seal/cover and refrigerate for 30 minutes, or up to 1 day.
Remove chicken from bag/bowl, and discard the leftover marinade. Thread chicken onto skewers**.
To Cook Chicken On The Grill: Preheat grill to medium-high. Place skewers on the grill and cook for 6-8 minutes, turning once, until the chicken is cooked through and no longer pink inside. Transfer skewers to a separate plate, and set aside.
To Cook Chicken In The Oven: Preheat broiler, and place the rack about 5-6 inches from the top of the oven. Place skewers on a large baking sheet, and broil for 6-8 minutes, turning once, until the chicken is cooked through and no longer pink inside. Transfer skewers to a separate plate, and set aside.
To assemble the chicken souvlaki pitas, lay a piece of pita bread out on a flat surface, and top it with a few pieces of chicken and your desired toppings and tzatziki sauce. Serve immediately.
*I recommend using traditional olive oil for this recipe, not extra virgin olive oil, since it has a higher smoke point.
**If using wooden skewers, be sure to soak them completely in water for at least 30 minutes before cooking so that they do not burn.
Difficulty: EasyCategory: Quick


All images and text ©Gimme Some Oven
If you make this recipe, be sure to snap a photo and hashtag it #gimmesomeoven. I'd love to see what you cook!