Skillet Lemon Chicken With Barley is a quick, healthy, and flavor-packed skillet dish. This is a shortcut recipe, using new Knorr One Skillet Meals.
I've partnered with Mirum and Target on this post, and couldn't be more excited about it! Target is my happy place, and they're working hard to help busy families get healthy dinners on the table, using brands we already trust through their Make Meals That Do More program.
I'm the first to admit that I get stuck in a dinner rut, and what I love most about today's recipe, is that the guesswork is already done for me. You use the Knorr One Skillet Lemon Chicken with Barley package, but you add all fresh ingredients to it, which is a fantastic concept.

MY OTHER RECIPES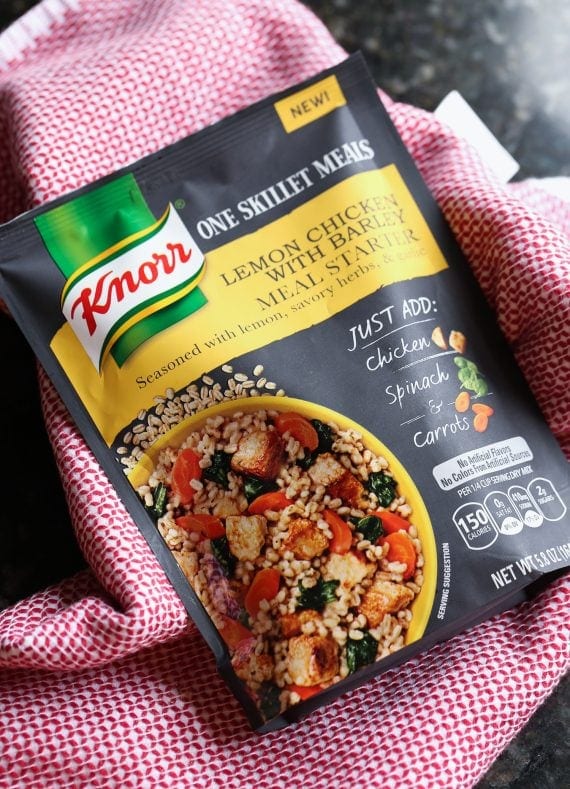 The prep work is literally done in just a few minutes, and you cook it all in one skillet, which is my favorite type of meal.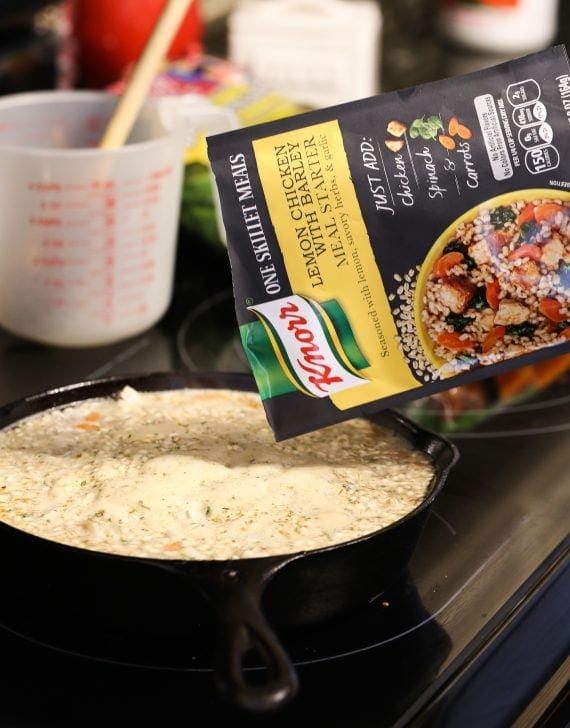 Less time in the kitchen means more family time. Whether that be running your kids to a sports practice, helping them with homework, or just chatting.
Also, turns out my family loves barley now, thanks to this recipe. Who knew?
I would LOVE to know if you guys have seen/tried the new Knorr One Skillet Meals? They're just such a simple option for dinner that I am super into right now.
AND Target is offering a Cartwheel offer on select Knorr products now as well, I mean, if you're into saving money. I mean, any excuse for me to go to Target AND save money is a solid win in my book!
This recipe I am sharing, is actually the one right on the back of the package, so feel free to print it out here, or just read it on the package when you buy your own!
Skillet Lemon Chicken with Barley
---
Ingredients
2 tablespoons olive oil
1 pound boneless, skinless chicken breasts, cut into 1- inch pieces
salt and pepper to season chicken
1 tablespoons flour
2 cups water
1 cup chopped carrots
1 package Knorr® One Skillet Meals – Lemon Chicken with Barley
1 (6- ounce) package fresh baby spinach
---
Instructions
Heat olive oil in a large, nonstick skillet over medium-high heat. Season chicken with salt and pepper and sprinkle flour on top to coat.
Brown the chicken in the skillet, about 4 minutes.
Add in the water, carrots, and entire contents of the Knorr® One Skillet Meal, and bring to a boil. Reduce heat to low, and cover skillet. Simmer for 23 minutes, or until barley is tender.
Remove the pan from the heat. Place spinach on top of the barley mixture and cover for an additional 2 minutes. The steam will begin to wilt the spinach. Stir the spinach into the mixture until combined and serve.
---
Notes
store airtight in refrigerator for up to 3 days.
Related