This Slow Cooker Creamy Chicken Noodle Soup is so easy to make and BIG on flavor! A hearty crockpot meal that is sure to please!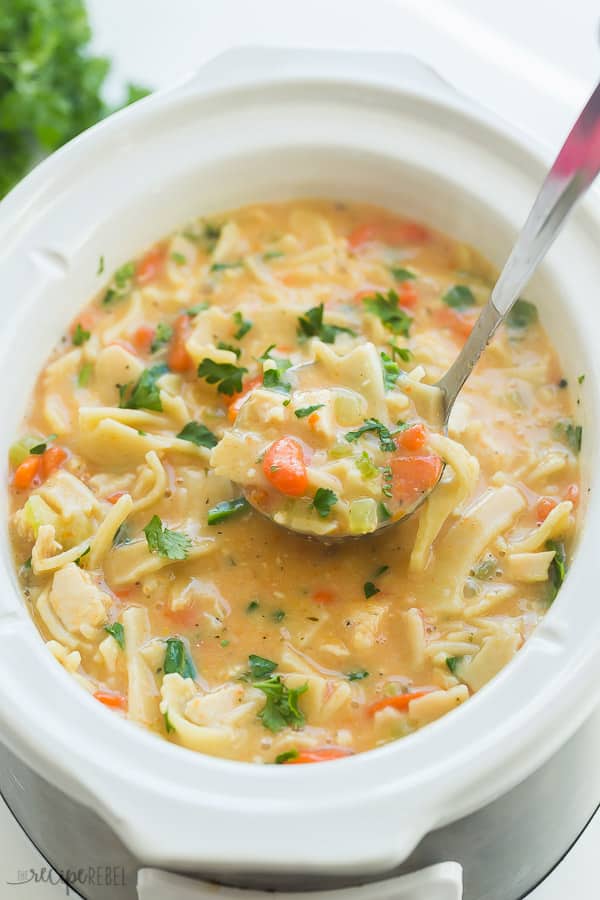 I love soup.
I don't really know why. Maybe because of how well all the flavors blend together after being simmered together for so long. Or maybe because I can hide all the vegetables I want in it and that just adds to the flavour.

MY LATEST VIDEOS
Or maybe because I also really like fresh bread. And there is nothing like fresh homemade bread with a good bowl of soup to dunk it in.
I also love my slow cooker.
We will buy a case of whole chickens, 12 at a time, and keep them in the freezer. There is almost nothing better to come home to after a day at work than I slow-cooked chicken. And one of my favorite things to do with the leftovers is make soup.
If you can, I highly recommend slow cooking a whole chicken in the crock pot to make your chicken broth for this soup — the flavor is unbeatable!
Two reasons making homemade Creamy Chicken Noodle Soup in the slow cooker rocks:
(a) Homemade Chicken Noodle Soup rocks.
(b) It means I don't have to clean the slow cooker for at least another 24 hours. Because I leave the carcass in to make the broth overnight, and then strain it and add the veggies in the morning. And I'm all about avoiding washing dishes.
How to thicken soup:
I honestly don't know if I'd ever made a creamy chicken noodle soup before.
Which is strange, because I like most food thick, and rich, and creamy. I had seen a lot of recipes for creamy chicken noodle soup, and I was intrigued. I figured it would be super easy to whisk up some milk and flour, and add it in at the end to get a nice thick, creamy soup, so I started looking around to see how others had done it.
I found a lot of recipes just added straight cream at the end. And others melted butter, made a roux, and thickened milk that way before adding it.
I knew I wanted my soup much thicker than it would be if I just added straight cream or milk, and I also knew I didn't want to go through all the effort of making a roux and thickening milk (don't get me wrong — that's normally how I would do it!). So I decided to try whisking up some milk and flour, and see what kind of texture I could achieve like that.
The answer? The perfect thick, rich, creamy texture with minimal effort. Also, it's made in one pot, and that pot is your slow cooker or crockpot. Which makes it perfect for busy days when you still want to eat real food.
If you want to thicken soup without using flour, you can mix up a corn starch slurry and add it to the soup while it is very hot. It will take a few minutes to thicken completely.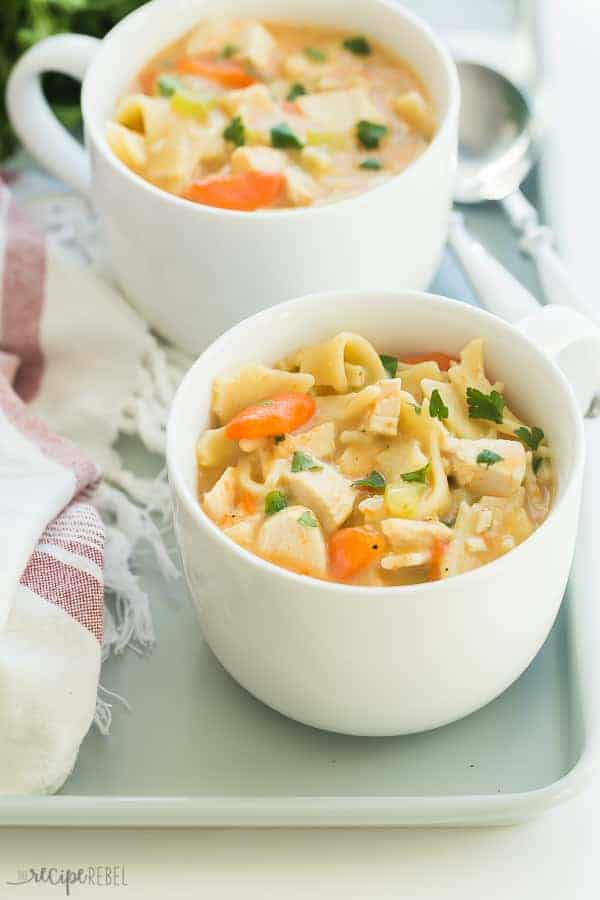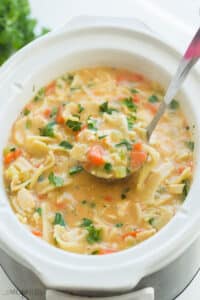 Easy Slow Cooker Creamy Chicken Noodle Soup
The easiest Slow Cooker Creamy Chicken Noodle Soup — gets thick and creamy, unlike those recipes that just add milk or cream. Perfect for a chilly day!
Prep Time 10 minutes
Cook Time 7 hours
Total Time 7 hours 10 minutes
Servings 6 servings
Calories 461kcal
Author Ashley Fehr
Ingredients
6

cups

chicken broth

4

cups

diced chicken

5

medium carrots

peeled and diced

1/2

medium onion

diced

3

stalks celery

diced

2

tsp

dried thyme

2

tsp

dried parsley

1

teaspoon

salt

1/4

teaspoon

black pepper

3

cups

whole wheat rotini

or other short pasta

2

cups

milk

1/2

cup

flour
Instructions
*I like to prepare the carrots through parsley the night before and place them in a large freezer bag in the fridge. Then all I have to do the next morning is dump them in and add the broth.

Add broth, carrots, onion, celery, chicken, thyme, parsley, salt and pepper to the slow cooker. Cook 7-8 hours on low, until vegetables are tender.

Turn slow cooker to high. Add rotini or other pasta, and cook 8-10 minutes until nearly tender.

Whisk together milk and flour (make sure all the flour is absorbed — you don't want lumps!). Stir into slow cooker. Cover and cook about 10 minutes until thickened. Stir. Adjust seasonings to taste.

If necessary, combine another 1 cup of milk and ¼ cup of flour and stir into soup if you haven't yet reached the desired thickness. Soup will continue to thicken for another 10-15 minutes after you add the milk mixture.
Nutrition (this is an estimate)
Nutrition Facts
Easy Slow Cooker Creamy Chicken Noodle Soup
Amount Per Serving
Calories 461
Calories from Fat 135
% Daily Value*
Total Fat 15g
23%
Saturated Fat 4g
20%
Cholesterol 64mg
21%
Sodium 1460mg
61%
Potassium 664mg
19%
Total Carbohydrates 56g
19%
Dietary Fiber 2g
8%
Sugars 7g
Protein 26g
52%
Vitamin A
176.6%
Vitamin C
7.1%
Calcium
16.4%
Iron
21.9%
* Percent Daily Values are based on a 2000 calorie diet.