Succulent Tuscan Chicken in a dreamy, creamy Parmesan sauce. This delightful dish is packed with spinach, sun-dried tomatoes, garlic and loaded with flavor! This buttery parmesan cream sauce is so amazing, you'll be making this time and time again.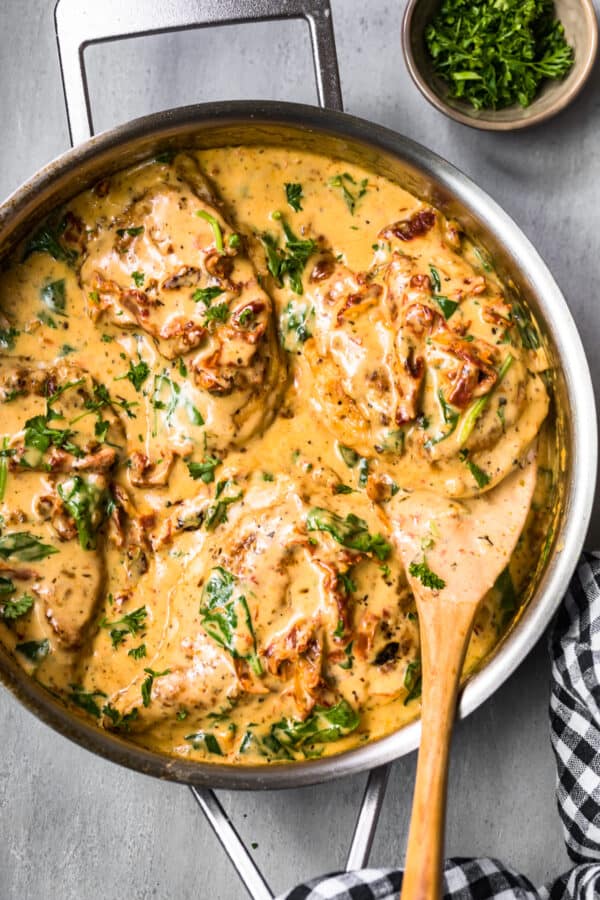 This Tuscan Chicken is hands down one of the most delicious and prettiest dishes around! Seasoned chicken breasts in a the most divine Parmesan cream sauce, it all comes together in 30 mins but it won't last nearly that long on the plate!
If you're after other creamy chicken recipes, why not also try my Creamy Chicken Spaghetti or my Cheesy Creamy Chicken Enchiladas.
Why you'll love this Tuscan Chicken
Made with high quality ingredients. We only use the highest quality butter for this recipe and it makes all the difference. Danish Creamery European Style Butter is churned fresh daily and always made from pasture-raised cows.
Deliciously seasoned chicken. Pounded chicken breasts, coated in Italian seasoning and parmesan – succulent and loaded with flavor.
A dreamy creamy chicken sauce. This sauce is buttery, velvety and packed with goodies! Sundried tomatoes nestle with vibrant spinach in a sauce made thick and rich by the Danish Creamery European Style Butter – pure heaven.
An easy chicken recipe. This dish looks so gorgeous you wouldn't think it's such a breeze to whip up, but it is! Easy to prep and goes from pantry to table in 30 mins. Plus it's all cooked up in one skillet. A gold star weeknight dinner!
How to make this Tuscan Chicken
Be sure to the bottom for the full recipe
Cook your chicken – Pound the breast then dredge in flour/Parmesan. Cook the chicken in a large skillet for 4-5 mins per side. Remove and cover in foil.
Make the sauce – In the same skillet, melt the Danish Creamery European Style Butter and add garlic and sun-dried tomatoes. Whisk in the flour to thicken then continue to add in the sauce ingredients, ending with the spinach.
Coat the chicken – Add the chicken back into the skillet and turn to coat in the sauce. Allow to continue to simmer until the chicken is heated through.
Garnish, serve and enjoy!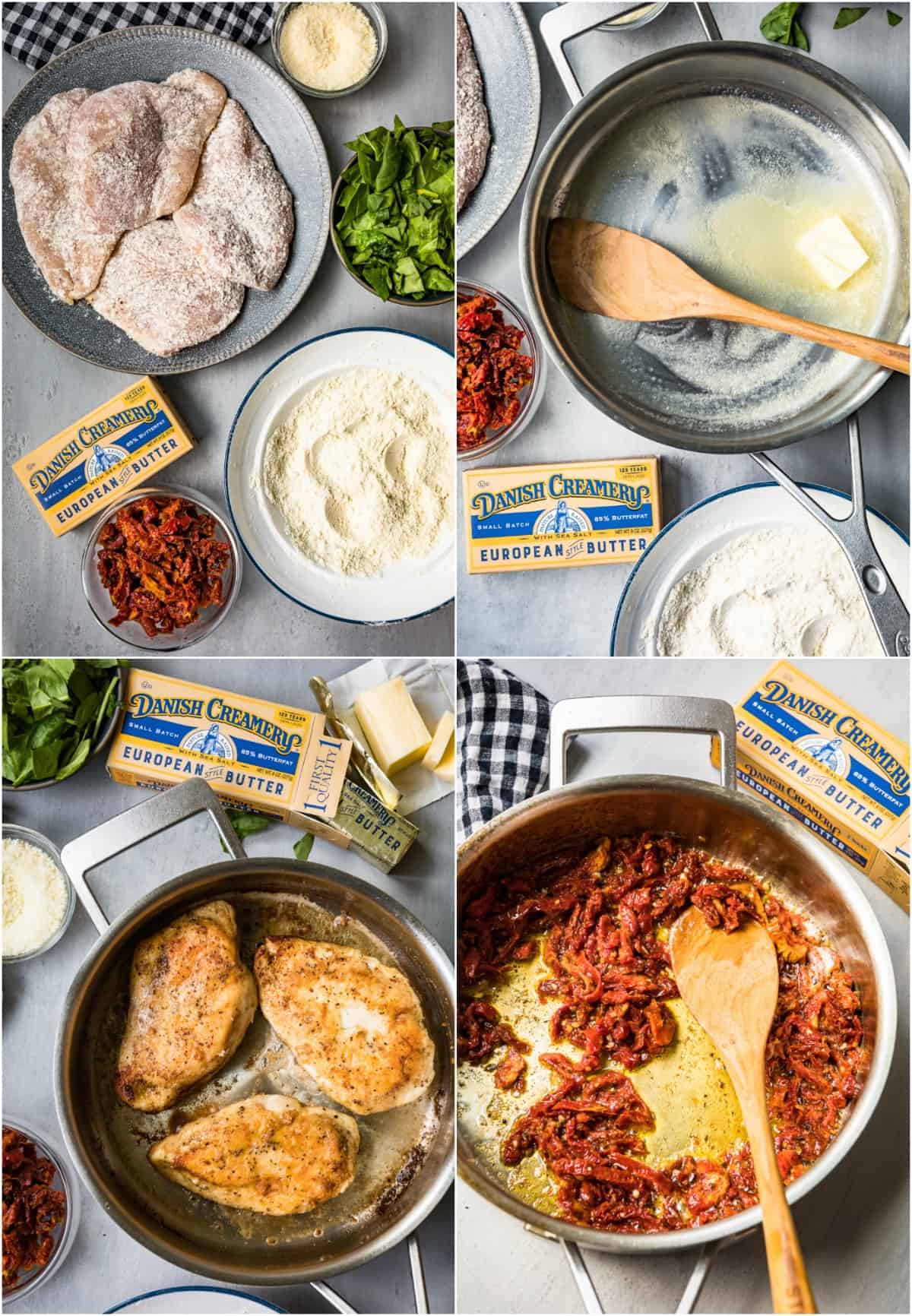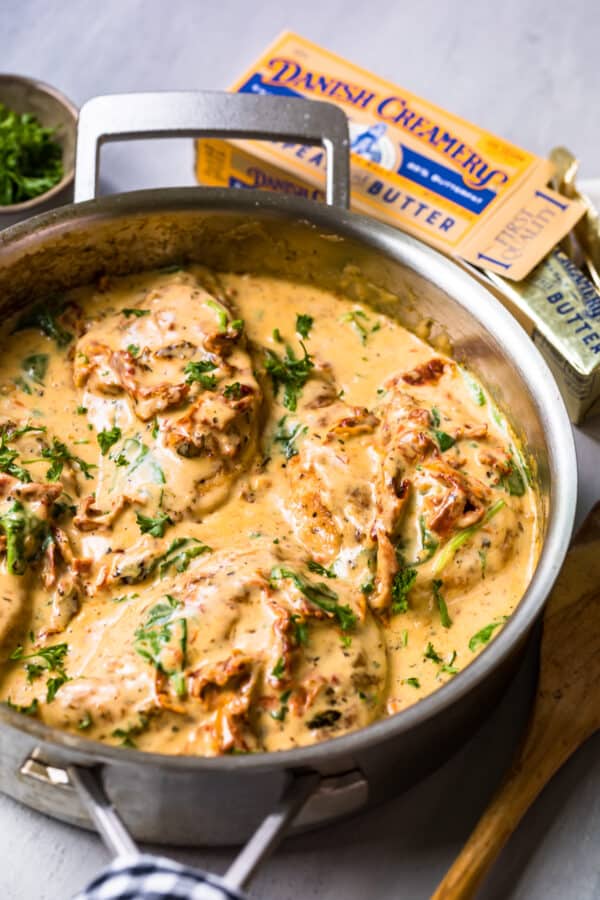 European Style Butter
You might remember me using Danish Creamery European Style Butter for my famous Brown Butter Banana Bread! I was so unbelievably impressed with the quality and value. Danish Creamery is always my go-to purchase at the grocery store, and I've since gotten my Mom obsessed!
I love using small batch butter in my recipes because I can trust the quality. I can trust that the cows are pasture-raised (always better!) and that each batch is churned by hand.
Using quality ingredients like Danish Creamery Butter takes this recipe from great to FABULOUS. It will become a trusted recipe in your dinner rotation for years to come!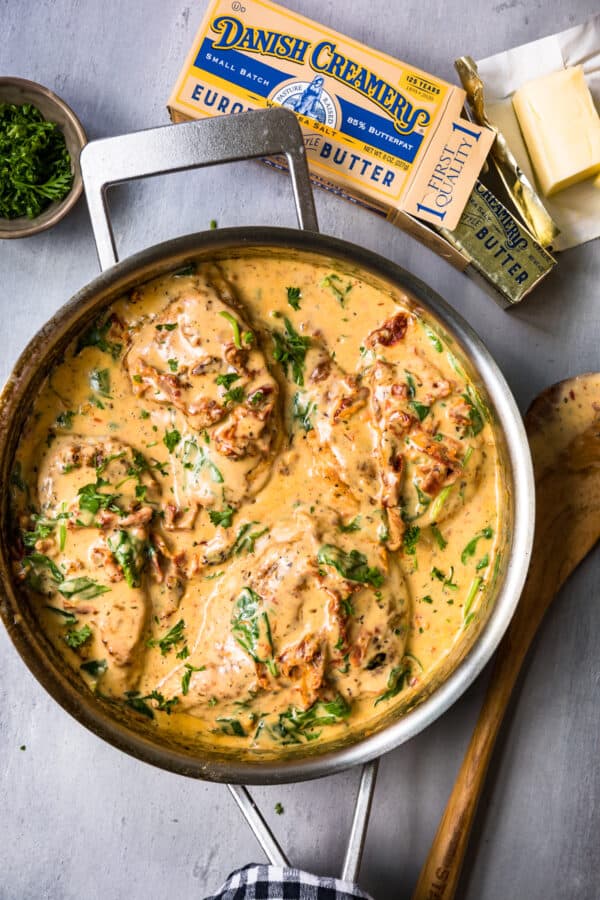 What to serve with this creamy Tuscan Chicken
Tuscan Chicken plays well with a whole host of sides! Here are some ideas:
Storing Leftovers
If you have any leftovers(!) store in an airtight container and refrigerate within two hours of cooking. Cooked chicken will be safe in the fridge for up to 3 days.
Give the sauce a stir when re heating, to prevent curdling. The best way to reheat this Tuscan Chicken is on the stove top.
Add ins
This is a super hearty dish as is, but if you want to add some more ingredients or you have some seasonal produce you want out of the fridge, here are some ideas:
Kale
Mushrooms
Peas
Asparagus
Butternut Squash
A sprinkling of red chili flakes
Wholegrain Mustard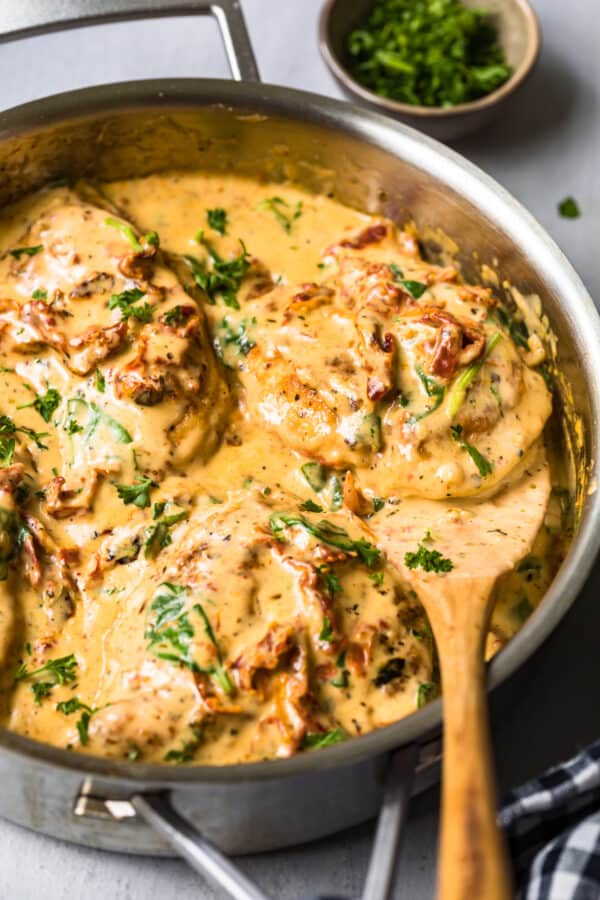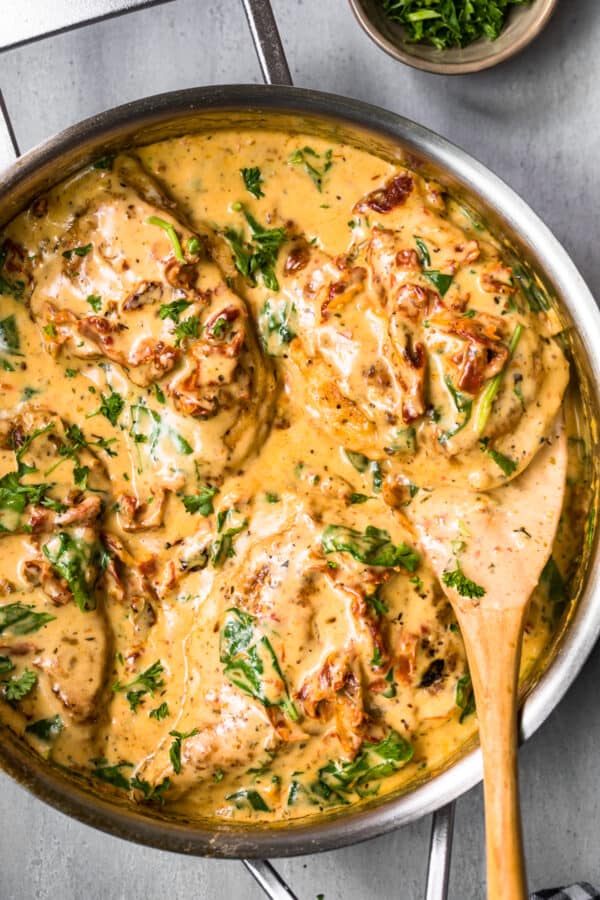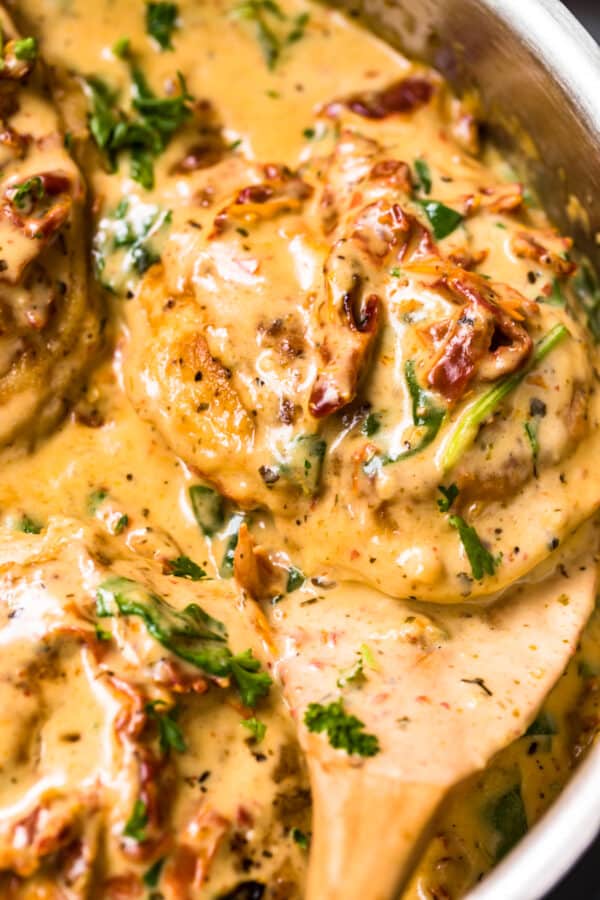 Recipe notes and tips
Cook your chicken in batches if needs be, so you don't overcrowd your pan.
If cooking in batches, refresh your butter each time. Since butter has a lower smoke point, you don't want it to burn as you cook your chicken. Butter infuses ALL the flavor when cooking, so it's a must!
You can also use chicken thighs. Make sure to check doneness.
You can check the doneness of your chicken by inserting a meat thermometer into the thickest part of the chicken – it should read at least 165F.
After cooking the chicken and just before making the sauce, use a wooden spoon to scrape the bottom of the pan as the butter melts. The brown bits hold a lot of flavor, so no need to remove.
Heavy cream will make the thickest richest sauce.
Garnish with fresh parsley.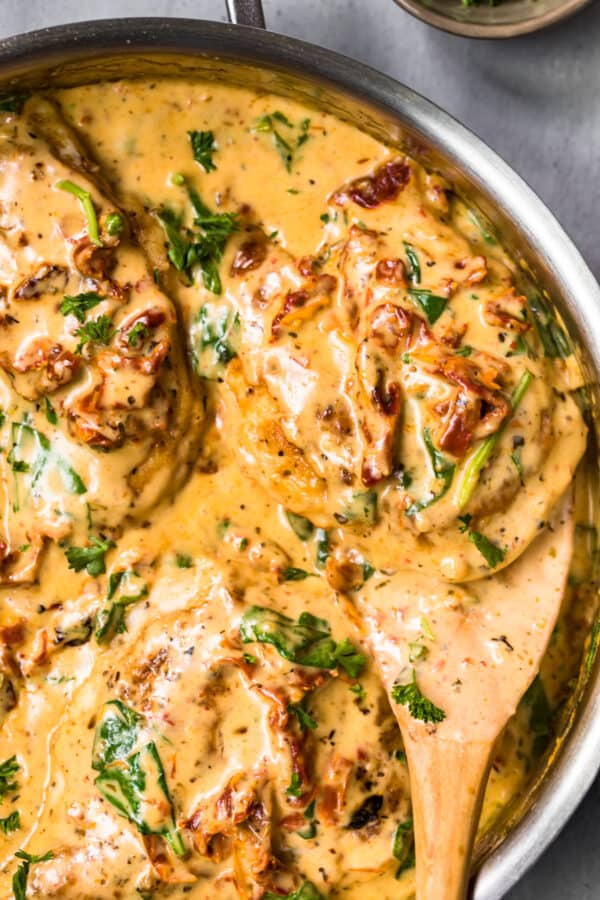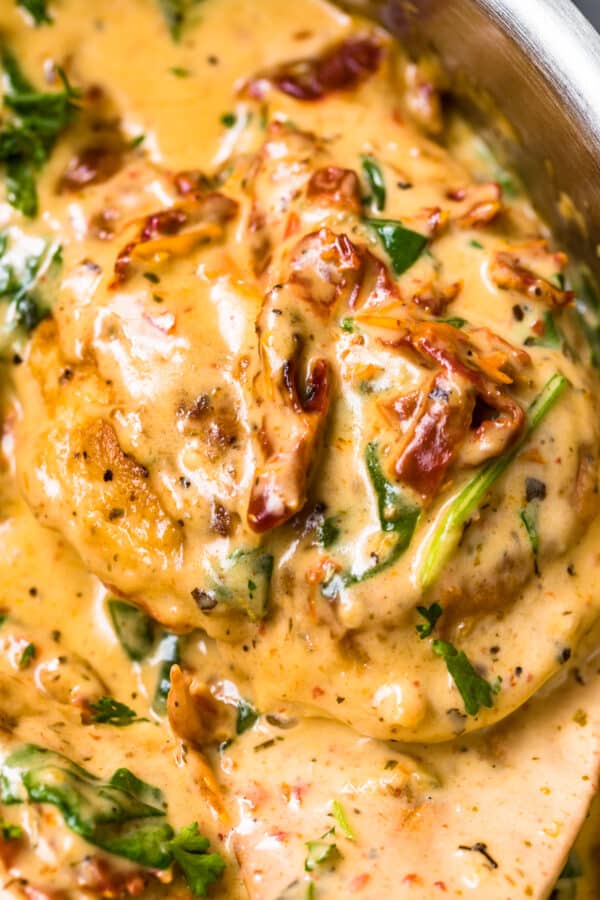 Other delicious chicken recipes