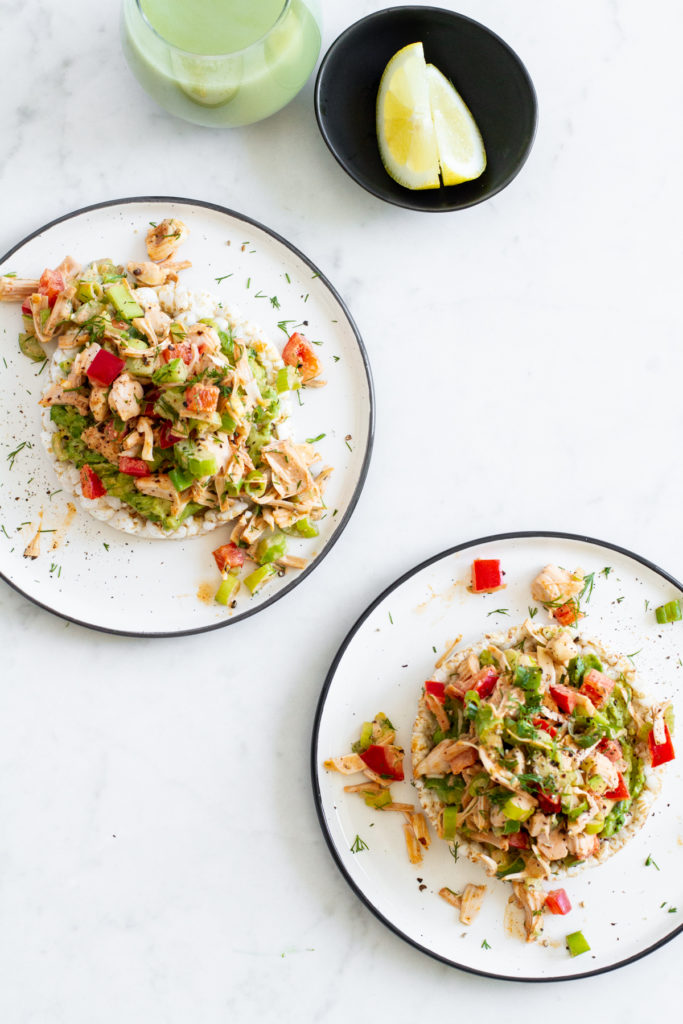 Can you believe we're more than halfway through the year? I sure can't. When it hit me that we were 6 months into 2018, I did a bit of a mental check-in on how things have been going so far this year—it's definitely had its ups and downs. My challenges this year have been mainly with my health, but when our health is off-balance, it tends to drip over into every area of life.
There is always a silver lining, though: my health setbacks have been a huge wake-up call. For the past 5 years, my body has been either pregnant, nursing, or both, and that has without a doubt taken a huge toll on me. There have been times when I've neglected my physical, mental, and emotional health. There have been times when I got lazy with vitamins and just stopped caring. There have been times when my anxiety felt out of control. I've had a lot of inflammation and allergic reactions. A lot of illness. Things seemed to get worse after I had to take antibiotics for an infection this past winter.
About a month ago, I finally said enough is enough! I needed to stop and listen. Since then, I have committed to taking time for myself to heal. To go to those doctors appointments I've been putting off. It's easy to let things slide when life is busy. Having kids can be all-consuming…they are so needy (for good reason), but wow parenthood can really make you lose yourself if you let it.
If you're going through one of those life phases where you feel like you just can't "get it together," you aren't alone. This too shall pass. And when it does, you will be stronger and wiser. And don't lose gratitude for everything that's going well along the way. Gratitude is definitely an anchor through the challenging times.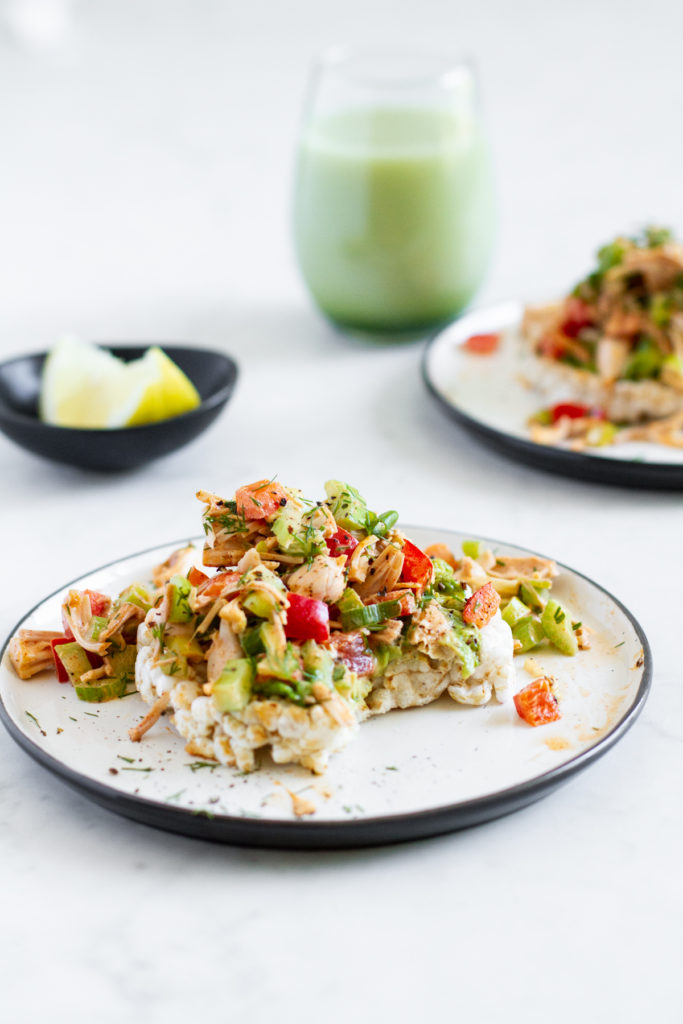 Meet jackfruit. Have you tried it before? I'll admit I was a bit scared when I first saw the funky-looking fruit (and cans of jackfruit mystified me!). But after playing around with it for a few weeks, I've come to really love it. And I have so many fun jackfruit recipes ideas! It looks like a lot of you have been loving my Chickpea Salad recipe for summer, so I put my thinking cap on and thought about how I could use jackfruit to create another delicious salad dish that can also be enjoyed on bread, wraps, rice cakes, or crackers. And this one is also picnic-friendly! Jackfruit does lack the robust amount of protein you'd find in legumes and nuts, but I find adding hemp hearts (either by mixing them into the salad or adding on top) works great for boosting protein.
I really like the Native Forest brand of canned jackfruit. You don't need to cook it to soften before use (unlike Cha's Organics brand). After rinsing and draining it, I slice the spongy, firm core off each piece. If using jackfruit straight from the can, the core is a bit too firm for this recipe. You'll only want to use the soft, stringy jackfruit that resembles pulled pork/chicken (in the photo below, that's the stuff on the left!). With a bit of slicing and dicing, you're ready to roll!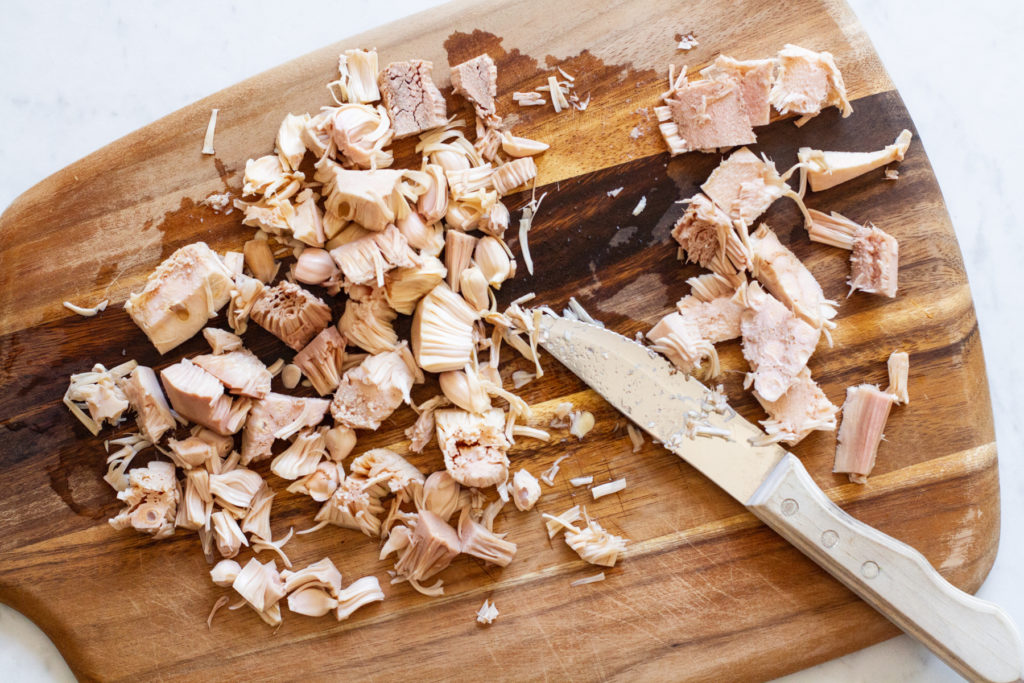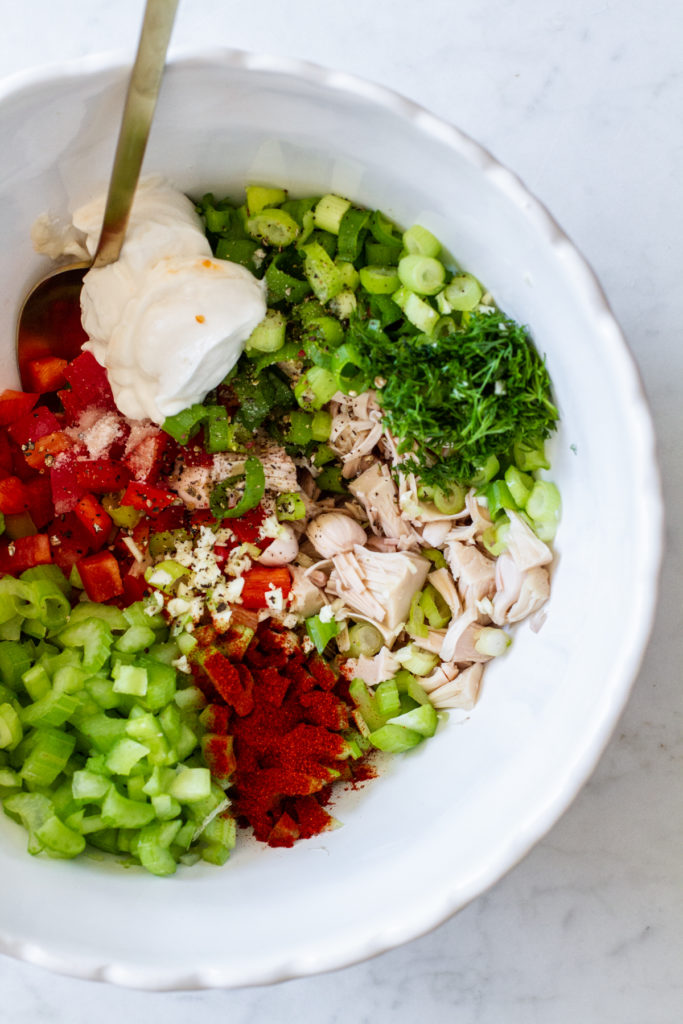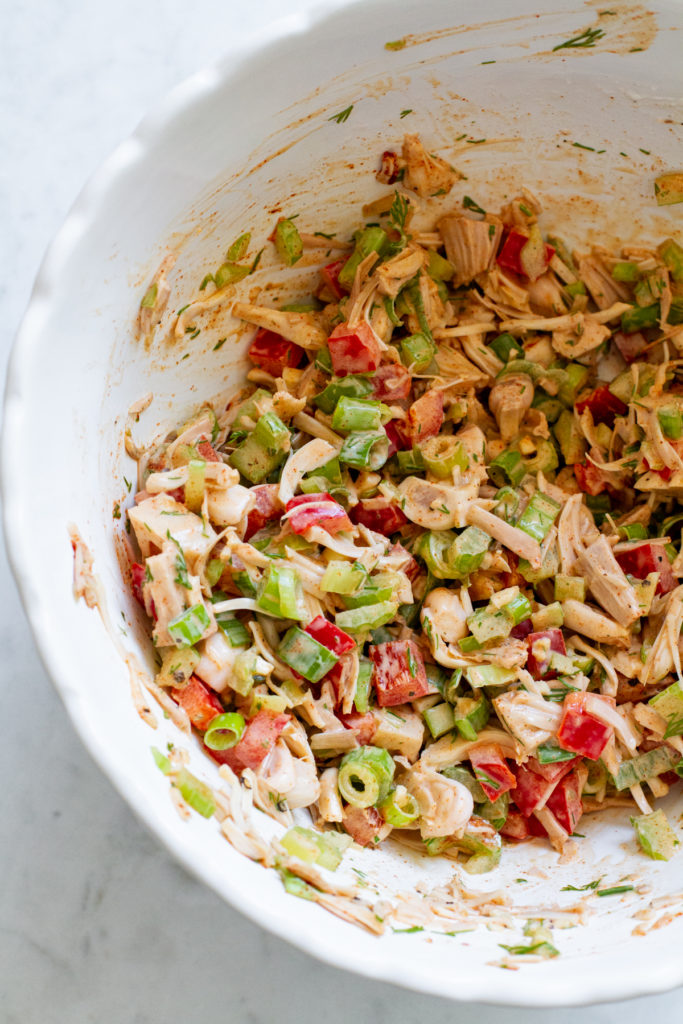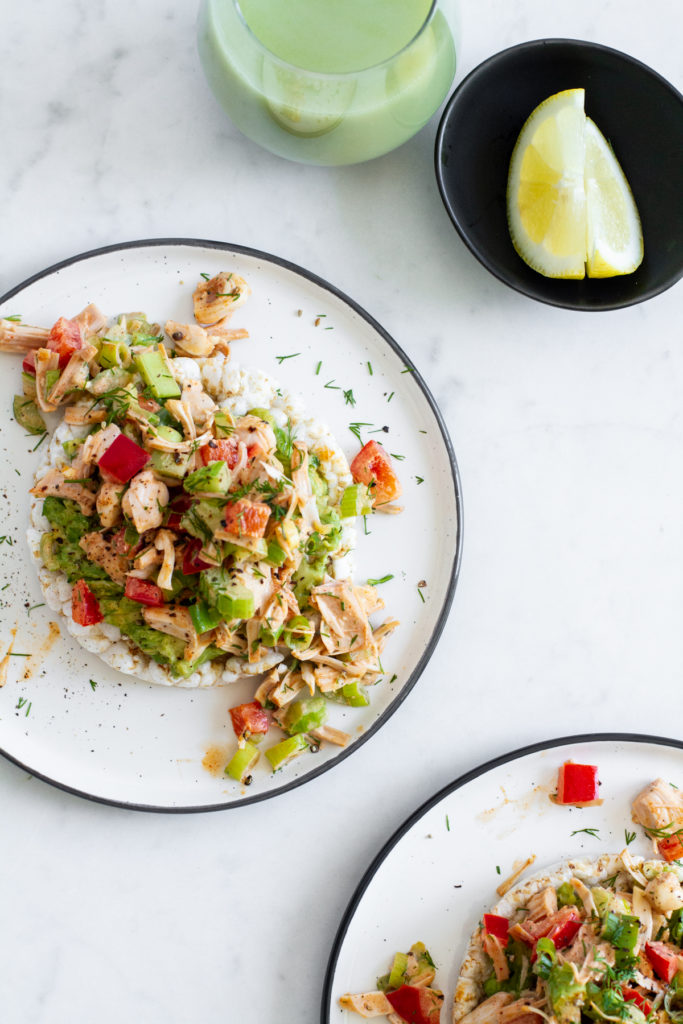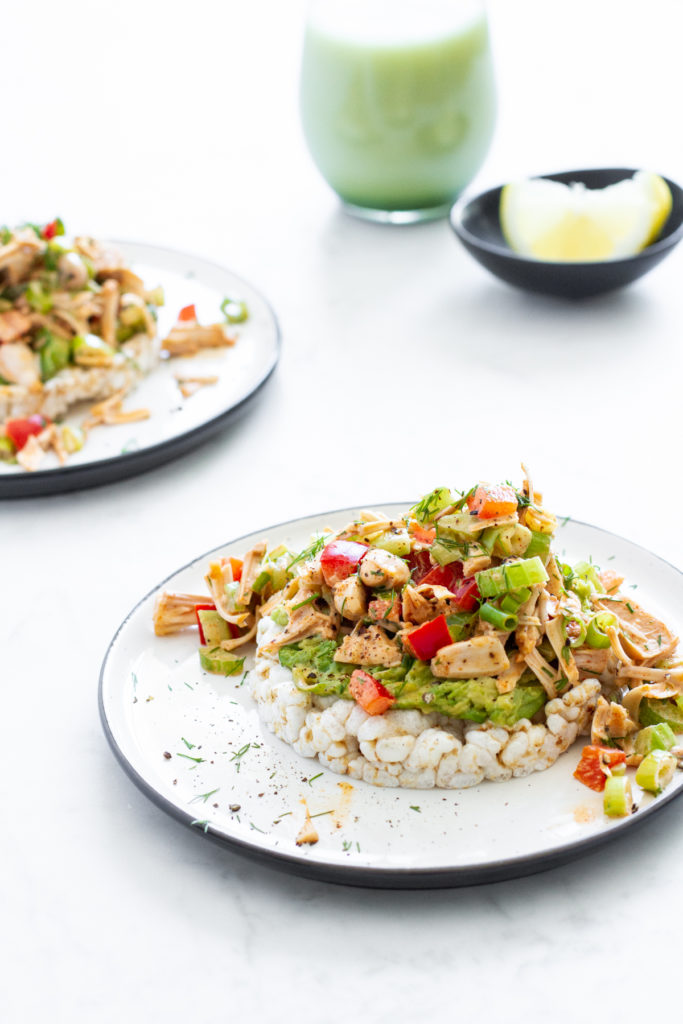 Yield

4 servings
Prep time

Cook time

0 Minutes
Total time

Ingredients:
1 (14-ounce/398 mL) can young jackfruit (in brine)*

2 medium (140 g) stalks celery, finely chopped

3 medium (45 g) green onions, thinly sliced

1/2 cup (67 g) finely chopped red bell pepper

3 tablespoons (45 mL) store-bought vegan mayo or 5-Minute Mayo**

1 small (5 g) clove garlic, minced

2 to 3 teaspoons (3 g) minced fresh dill

2 to 3 teaspoons (10 to 15 mL) fresh lemon juice, to taste

1/2 teaspoon smoked paprika

1/4 teaspoon fine sea salt, or to taste

Freshly ground black pepper, to taste
Directions:
Drain and rinse the jackfruit. Place the drained jackfruit segments onto a large cutting board. Using a knife, slice off the fibrous core of each jackfruit segment. You'll only want to use the "stringy" parts that resemble pulled pork. Discard the core and chop the remaining pieces into small 1/2-inch chunks. It should look like shredded chicken and you should have about 1 1/2 cups chopped.

Add the chopped pieces to a bowl and stir in the celery, green onions, bell peppers, mayonnaise, and garlic until combined.

Now stir in the dill and season with the lemon juice, smoked paprika, salt, and pepper, adjusting quantities to taste after mixing.

Serve in a sandwich or wrap, on top of a big salad, or with crackers. I love enjoying it with rice cakes and mashed avocado too. Leftovers can be refrigerated in an airtight container for 3 to 4 days. Stir before serving.
Nutrition Information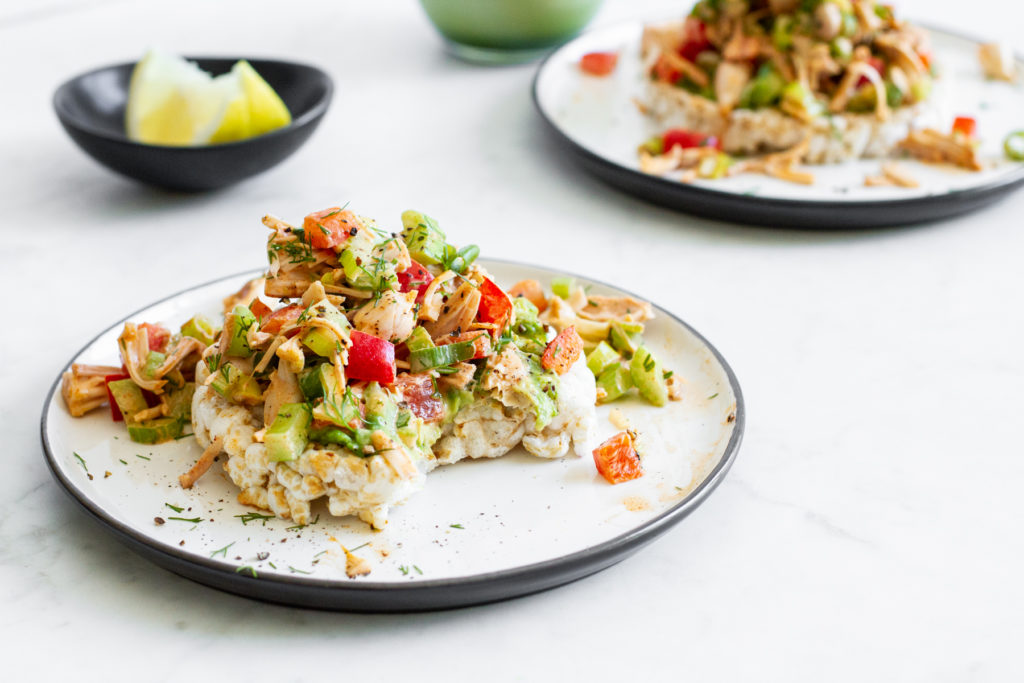 In case anyone is wondering, I served the salad on rice cakes with mashed avocado, hemp hearts, and a sprinkle of pink salt. So good! 
Let's get social! Follow Angela on Instagram @ohsheglows, Facebook, Twitter, Pinterest, Snapchat, and Google+