S'mores Muffins are a sweet and moist honey honey muffin filled with marshmallow cream, topped with a graham cracker crumble, and milk chocolate. The ultimate dessert for breakfast!
Not looking for something so indulgent? Try my Honey Wheat Muffins!
Looking For A Breakfast That's A Real Treat? S'mores Muffins!
Sometimes an idea is just too good…and since you know I love a good mash-up recipe, S'mores Muffins make complete sense! You have a sweet and moist honey-wheat muffin, filled with marshmallow cream, topped with a buttery graham cracker crumble and milk chocolate. If this isn't the best muffin idea I've had in a long time, I don't know what is!
Ingredients List:
For the Crumb Topping You Need:
4 full sized graham crackers, crushed (3/4 cup crumbs)
2 tablespoons light brown sugar
3 tablespoons butter, melted
For the Muffins You Need:
1 cup all purpose flour
1/2 cup whole wheat flour
1/2 teaspoon kosher salt
2 teaspoons baking powder
1/2 cup buttermilk
1 large egg
1/2 cup vegetable oil
1/2 cup honey
1 teaspoon vanilla
1/2 cup marshmallow creme
1/4 cup broken milk chocolate pieces or milk chocolate chips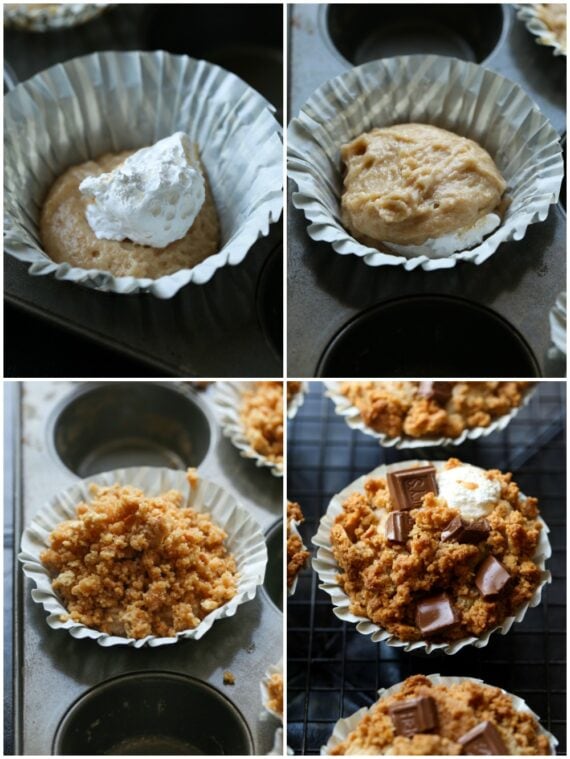 Instructions:
Preheat oven to 375°F. Line your large muffin tin with cupcake liners or coat with nonstick spray. Set aside.
Streusel: In a medium bowl combine the graham cracker crumbs, brown sugar, and melted butter. Stir to combine and streusel comes together. Set aside.
Muffins: In a large bowl whisk together the all purpose flour, whole wheat flour, salt, and baking powder. Set aside.
In a medium bowl whisk together the buttermilk, egg, oil, honey, and vanilla until smooth.
Add the wet ingredients into the flour mixture and stir until combined and smooth.
Assembly: place 2 tablespoons of batter into each of the lined muffin tins. Spoon a heaping tablespoon of marshmallow creme on top of the batter. Then spoon the remaining batter evenly on top of the muffins.
Sprinkle the streusel evenly on top of the batter.
Bake for 15 – 17 minutes, until the tops are golden and set.
When the muffins come out of the oven immediately press the milk chocolate evenly into the tops.
Allow the muffins to cool in the tin for 5 minutes and then transfer to a wire rack to cool completely.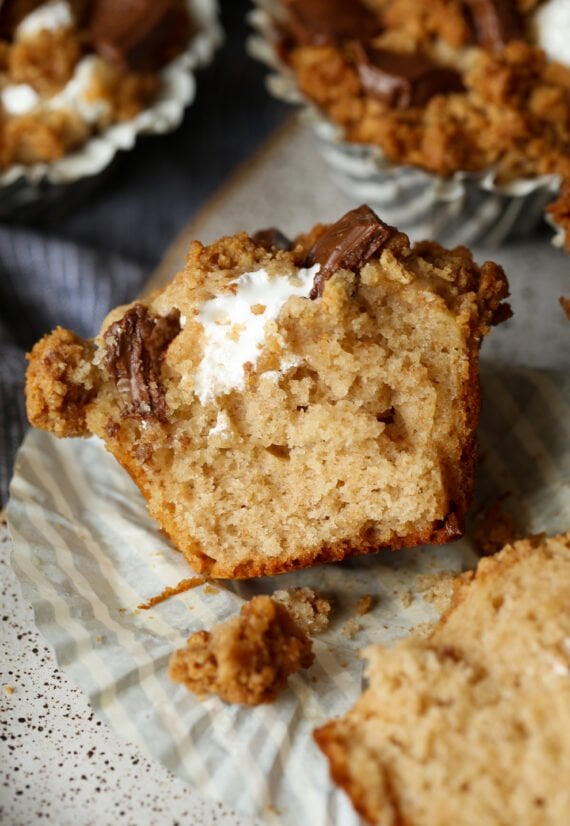 How To Store Muffins:
Muffins, in my opinion, are best warm out of the oven…I don't think anyone can argue with me. But you can ABSOLUTELY store these airtight at room temperature for up to 3 days.
You can also freeze these airtight for up to a month!
To Reheat:
Just pop them in the microwave for 10 seconds to make these warm and yummy. And don't forget that spread of butter!
PIN for later: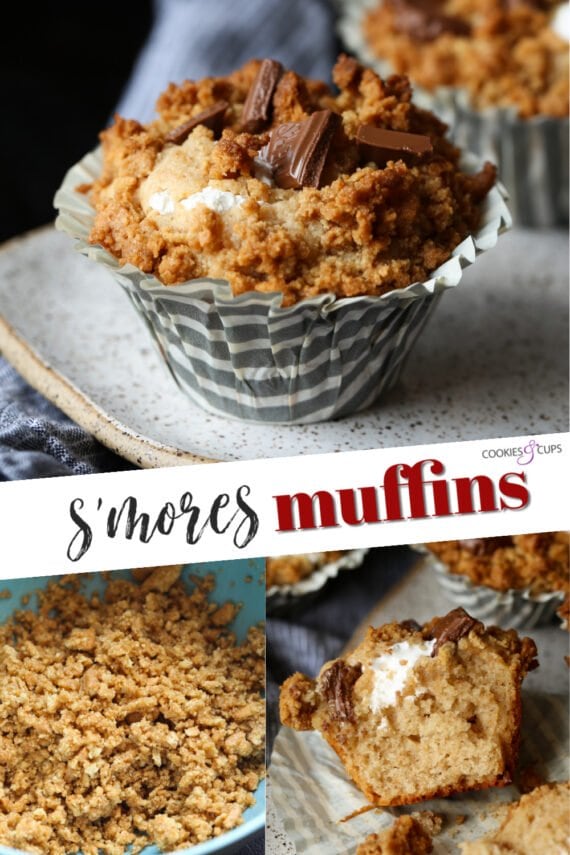 Looking For More S'mores Recipes? Try These:
*This recipe was developed as part of my long time partnership with Imperial Sugar