This roasted sweet potato lentil salad is next level delicious! It might look unassuming, but it is incredible and so easy to make!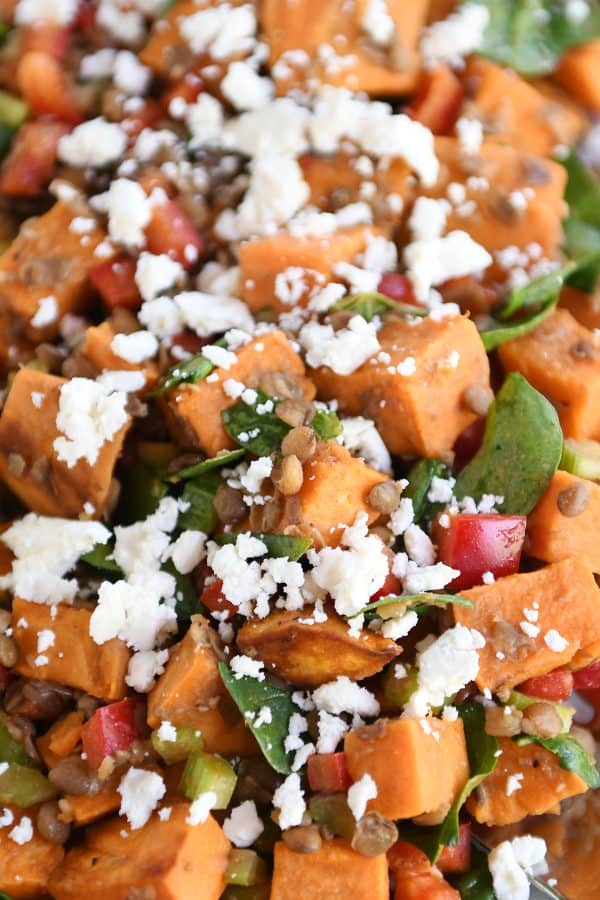 There is delicious.
And then there's next level delicious.
And this roasted sweet potato lentil salad is definitely next level delicious.
The flavors. The textures. The unique combination of ingredients.
It is incredible.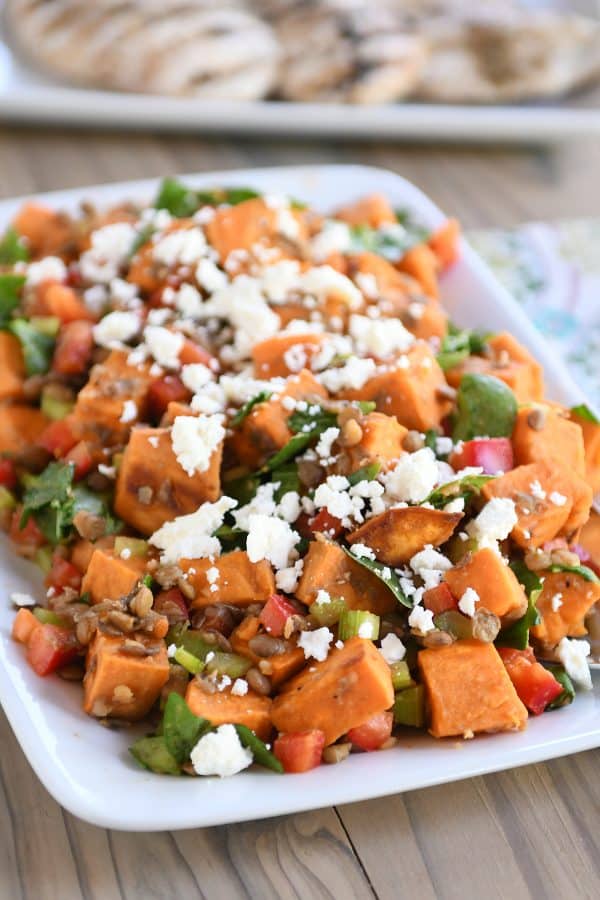 If you're like me, the ingredient list may not necessarily call to your soul right at the first. But the idea of this salad kept growing on me until I finally tried it.
And I have declared it The Salad That Shall Be Made All Summer Long.
Honestly, it is amazing.
Colorful and healthy, it's one of those nutritious salads that actually tastes so good, it might surpass the macaroni salad at your next BBQ.
And even if your plain-eating friends DO turn up their noses at next level deliciousness, instead of asking why you are friends with them in the first place (ahem, I'd never do that), console yourself knowing: MORE ROASTED SWEET POTATO SALAD FOR YOU!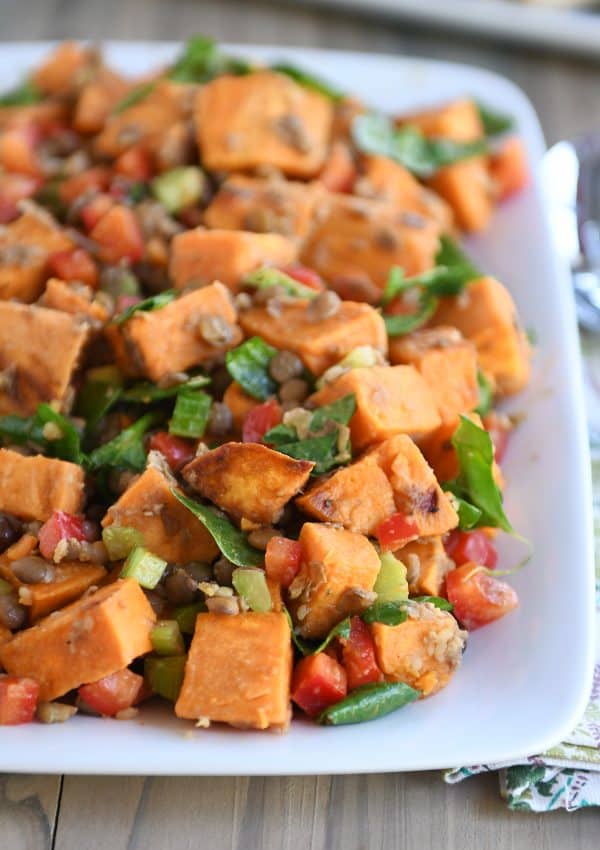 The feta cheese is totally optional, but I love the pop of tangy flavor it adds. If you want to keep things strictly dairy-free or vegan, you can leave it out.
But if you do want to add it, try and look for block feta vs precrumbled feta. It is worlds' creamier and softer when you crumble it from a block, and block feta is becoming more and more available (I snag it at my every day grocery store – Winco – or Trader Joe's).
Normally I'm not the biggest, hugest fan of celery in my salads. I almost always leave it out (a lot because Brian's a super salad celery hater), but I love, love it in this salad.
The peppery crunch is the perfect compliment to the sweet-tasting potatoes and wholesome lentils.
I can't wait to hear how you like this one!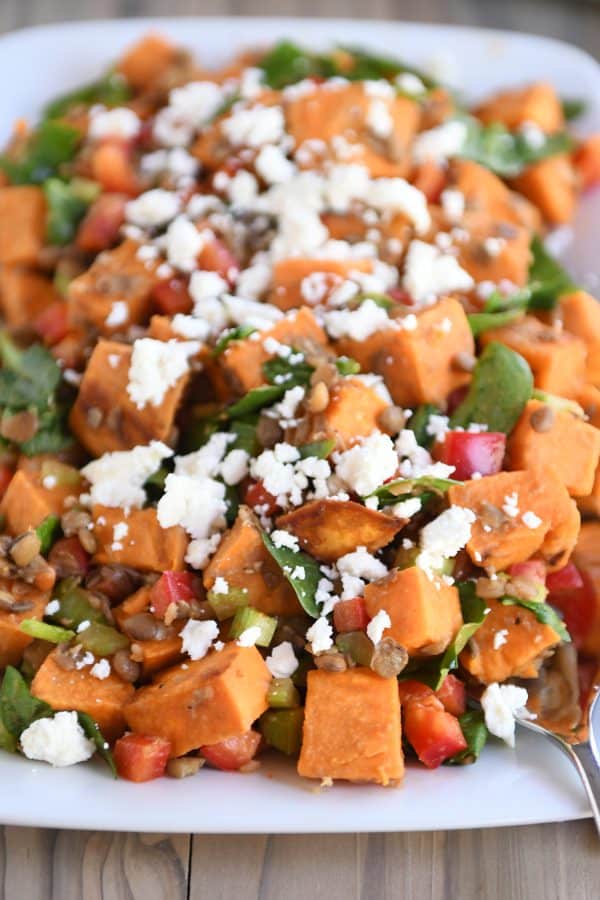 Yield: 6-8 servings
Roasted Sweet Potato Lentil Salad
Ingredients:
Salad:
2 pounds sweet potatoes or yams (about 3 medium)
Oil (avocado, olive, grapeseed, etc)
Salt and pepper
1/2 cup dry lentils, prepared (see note)
1 red bell pepper, seeded, cored and chopped small
1 to 2 large handfuls fresh spinach, torn into pieces
2 ribs celery, chopped small
Crumbled feta (optional but delicious)
Dressing:
2 tablespoons red wine vinegar
2 tablespoons olive oil, grapeseed oil, or avocado oil
1/4 teaspoon ground cumin
1/4 teaspoon paprika
1/4 teaspoon salt (I use coarse, kosher salt)
Directions:
Preheat the oven to 400 degrees F. Peel the sweet potatoes and chop into 1/2- to 1-inch pieces (keep them all as close to the same size as possible so they cook evenly). Place the sweet potatoes on the sheet pan and drizzle with a tablespoon or so of oil and sprinkle with a pinch or two of coarse, kosher salt and coarsely ground black pepper. Roast in the oven for 15-20 minutes until tender, flipping once, if desired; don't over cook or they'll fall apart in the salad.
Let the potatoes cool for 5-10 minutes on the sheet pan. While the potatoes cool, make the dressing, by combining all the ingredients in a jar, blender, or bowl and shake/process/whisk until smooth.
Add the cooled sweet potatoes to a large bowl. Add the cooked lentils, bell pepper, spinach, and celery. Toss lightly. Drizzle the dressing over the top, and gently mix to coat the salad ingredients with the dressing.
Garnish or serve with crumbled feta (optional but delicious). The salad is best served at room temperature, in my opinion.
Notes:
For the lentils, you can prepare them in advance and refrigerate until needed (same with the dressing). I use everyday brown lentils, but green or French lentils could be used as well. Just prepare according to package directions – take care not to overcook or they'll be mushy instead of holding their shape. My preferred method for cooking is in the Instant Pot: 1/2 cup lentils to 1 1/4 cups broth or water and a pinch of salt, cook on high pressure for 5 minutes, natural release for 10 minutes and then quick release the rest of the pressure. Drain any excess liquid. I use cooled or refrigerated lentils for this salad.
Also, it bears mentioning that if you have the option of block feta vs precrumbled feta, get the block. GET THE BLOCK! It's so much creamier and softer, it'll blow your mind. 
All images and text ©Mel's Kitchen Cafe.
Recipe Source: adapted from a recipe sent to me by MKC reader Julie H. by way of her good friend, Jenae B.