Upgrade your dinner with this incredible sourdough rolls recipe.
Updated January 14, 2021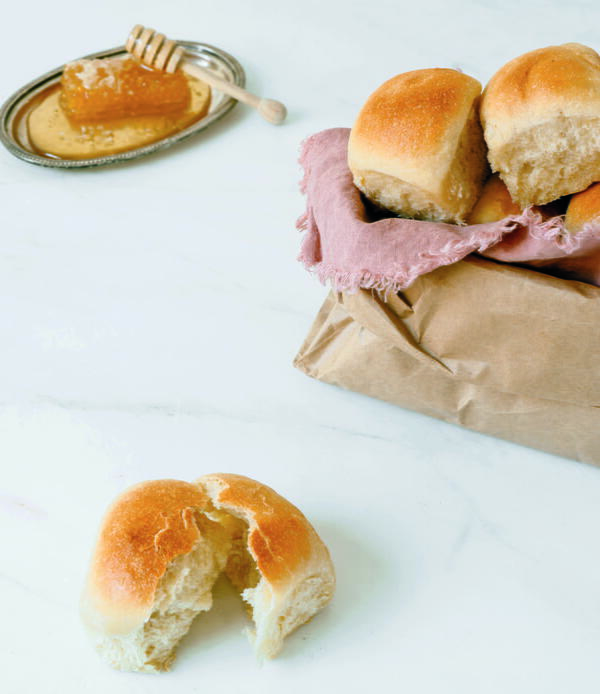 Honey Butter Rolls
Editor's Note: "We know what it's like to search and search for the perfect bread to pair with dinner, and so we are thrilled to share this delicious sourdough rolls recipe. These rolls are pillowy soft, with the perfect amount of sweetness. They are delectable as-is right out of the oven, but we won't judge if you want to top them with a little more butter or honey."
These rolls are fluffy with just a slight touch of floral sweetness from the honey. The secret to their soft texture is letting them proof until they fill an 8-inch (20-cm) square baking tray and have a texture similar to marshmallows.
Makes9 Rolls
Ingredients
Dough
240 grams (2 cups) all-purpose flour
120 grams (1 cup) bread flour
113 grams (1⁄2 cup) whole milk, warm
75 grams (1⁄3 cup) water
56 grams (3 tbsp) honey
150 grams (2⁄3 cup) active sourdough starter (see page 15)
7 grams (1 tsp) salt
57 grams (4 tbsp) unsalted butter, cut into 1-inch (2.5-cm) pieces, softened
18 grams (1 tbsp) honey
Topping
28 grams (2 tbsp) unsalted butter
Instructions
Day 1
To make the dough, in a large mixing bowl, combine the all-purpose flour, bread flour, milk, water, honey, active starter and salt. Mix until all the flour has been hydrated and the dough is well-combined. Add the butter into the dough 14 grams (1 tablespoon) at a time and mix until it is fully incorporated. Cover the bowl with plastic wrap and allow it to rest for 1 hour.

The dough should feel less sticky, appear smoother and be much easier to work with. Turn it out onto a lightly floured work surface and knead for 5 minutes. Return it to the bowl and cover the bowl with plastic wrap. Place the bowl in a warm place and allow it to rise for 4 to 5 hours, or until your dough has doubled in volume.

Deflate it by pushing down on it, then round it into a tight ball and place it in an airtight container in the refrigerator for an overnight rest.
Day 2
Line an 8-inch (20-cm) square baking pan with parchment paper. Turn the dough out onto a lightly floured work surface and divide it into nine equal portions. Shape each piece into a tight ball and evenly space each ball in your baking pan. Cover the pan with plastic wrap and a kitchen towel. Set it aside in a warm place and allow the dough to proof for 2 to 4 hours. You'll know the dough is ready to be baked when the balls have doubled in volume, filled the pan and have a texture similar to marshmallows.

Preheat the oven to 350°F (175°C).

In a small microwave-safe bowl, combine the honey and butter and microwave the mixture for 30 seconds to melt the butter. Mix again, then brush the tops of the rolls with the honey butter. Bake for 20 to 25 minutes, or until the rolls are evenly browned. Brush with any leftover honey butter.

These rolls are best served warm. Store any leftovers in an airtight container at room temperature for up to 1 week.
YOUR RECENTLY VIEWED RECIPES
Free recipes, giveaways, exclusive partner offers, and more straight to your inbox!
Thank you for signing up!
We were unable to sign you up – please try again.
We are adding your Comments.

Thank you! Your comment has been added.
We are sorry. There was an error tyring to post your rating and review.
Your comment will appear after our editors have had a chance to review it.