Updated July 11, 2017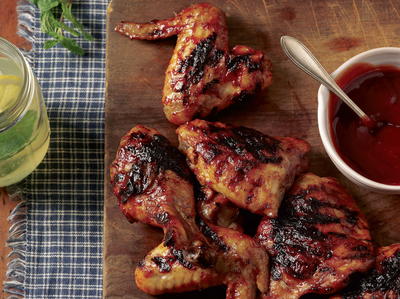 This image courtesy of Ben Fink Photography, Inc.
Editor's Note: You'll love this new take on the traditional Southern-style barbecued chicken! You'll use your oven and your grill in this recipe for Southern Barbecued Chicken, and whip up your own marinade and barbecue sauce, too. This delicious barbecued Southern-style chicken can be served for a casual dinner with family and friends, so get cooking the next time you're hosting everyone at your home. This Southern barbecued chicken is as easy to make as it is delicious, too! For a light and finishing touch to the meal, consider making this easy recipe for Peach Cobbler, which is by the same author.
I love having friends over and serving them this tangy chicken outside on the picnic table. The vinegary, smoky sauce is a little messy by design, but when eating any kind of barbecue, I always say if you don't get the sauce all over your face, you're doing it wrong! Making barbecued chicken is tricky; if just grilled it can often become burned on the outside, pink on the inside. My solution is to start the chicken in the oven so it cooks through and then finish it on the grill for a nice char.
Makes6 to 8 servings
Cooking MethodBaking, Grilling
Occasional Fresco, Buffet, Buffet Meal, Card Night, Casual Dinner Party, Family Get Together, Sports Party
Taste and TextureMeaty, Smoky, Spiced, Sweet, Tangy
Type of DishBarbecue Sauce
Ingredients
Marinade
½ cup

canola oil

Juice of 1

lemon

3 tablespoons

red wine vinegar

2 tablespoons

low-sodium soy sauce

2 teaspoons

garlic powder

1 teaspoon

dried thyme

Chicken
1 3½ pound

chicken

, cut into 8 pieces
Barbecue Sauce
1 cup

ketchup

¼ cup packed

dark brown sugar

2 tablespoons apple

cider vinegar

1 teaspoon

Worcestershire sauce

¼ teaspoon

liquid smoke

½ teaspoon

dry mustard

½ teaspoon

paprika

½ teaspoon

chili powder

¼ teaspoon

cayenne pepper
Instructions
To make the marinade, whisk together the canola oil, lemon juice, vinegar, soy sauce, garlic powder, and thyme. Arrange the chicken in a single layer in a shallow baking dish. Pour the marinade over the chicken to coat on all sides. Cover with plastic wrap and refrigerate for 2 to 4 hours.

Preheat the oven to 350 degrees F.

Remove the chicken pieces from the marinade and arrange in a single layer in a baking dish.

Bake the chicken for 25 to 30 minutes and remove it from the oven. The chicken will not be cooked through.

To make the barbecue sauce, whisk together the ketchup, brown sugar, vinegar, Worcestershire sauce, liquid smoke, mustard, paprika, chili powder, and cayenne in a bowl. Put half of the sauce in a separate saucepan to reheat later and serve with the chicken.

Brush the grill grate lightly with oil and preheat the grill. When the grill is hot, place the chicken on the grate and grill for 3 to 5 minutes on each side. Baste the chicken with the barbecue sauce and grill on each side for 5 to 7 minutes more. To test for doneness, insert an instant-read thermometer into the thickest part of a piece of the chicken, but don't let the thermometer touch the bone. The chicken is fully cooked when the thermometer reads 165 degrees F.

To cook the chicken indoors, remove the chicken from the oven after 25 to 30 minutes.

Brush the sauce on the chicken and bake for 20 to 25 minutes more, until an instant-read thermometer says 165 degrees F.

Reheat the reserved sauce and serve with the chicken.
2012 David Venable
YOUR RECENTLY VIEWED RECIPES
We are adding your Comments.

Thank you! Your comment has been added.
We are sorry. There was an error tyring to post your rating and review.
Your comment will appear after our editors have had a chance to review it.