Sparkling Sweet Tea Sangria is a refreshing summer cocktail that's perfect for sipping on the patio, poolside or at a picnic. It's easily made with sweet tea, sparkling wine, orange liqueur and fresh berries. The star-spangled fruit kabobs give each glass a fun and festive touch!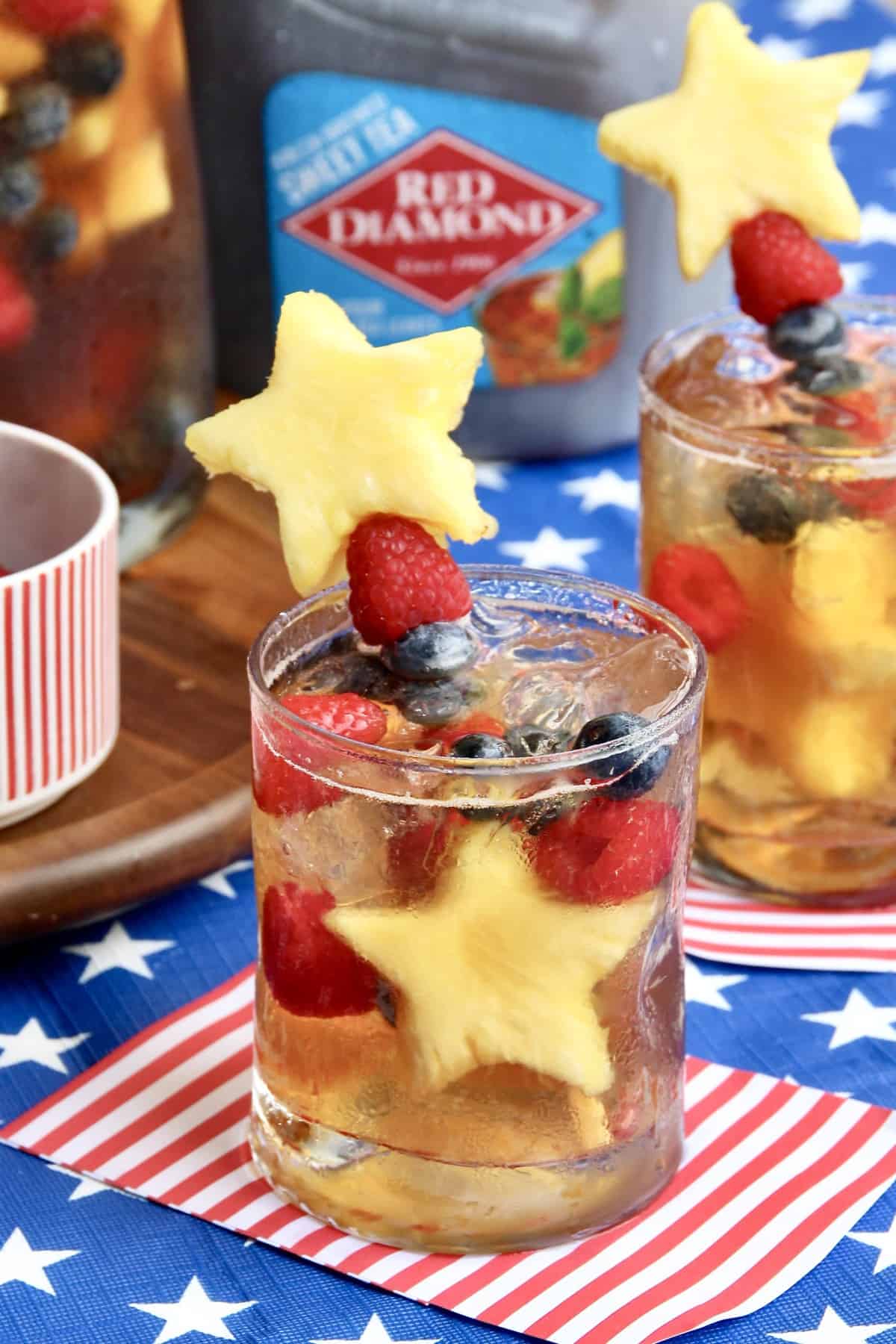 We're ready to beat the summer heat with this simple and delicious Sparkling Sweet Tea Sangria. Sweet tea is a staple here in Texas on a hot summer day while spending time with the family. There's nothing more enjoyable than an iced cold glass of sweet tea to cool you off, especially when it's spiked with some bubbly and loaded with fresh fruit to snack on between sips.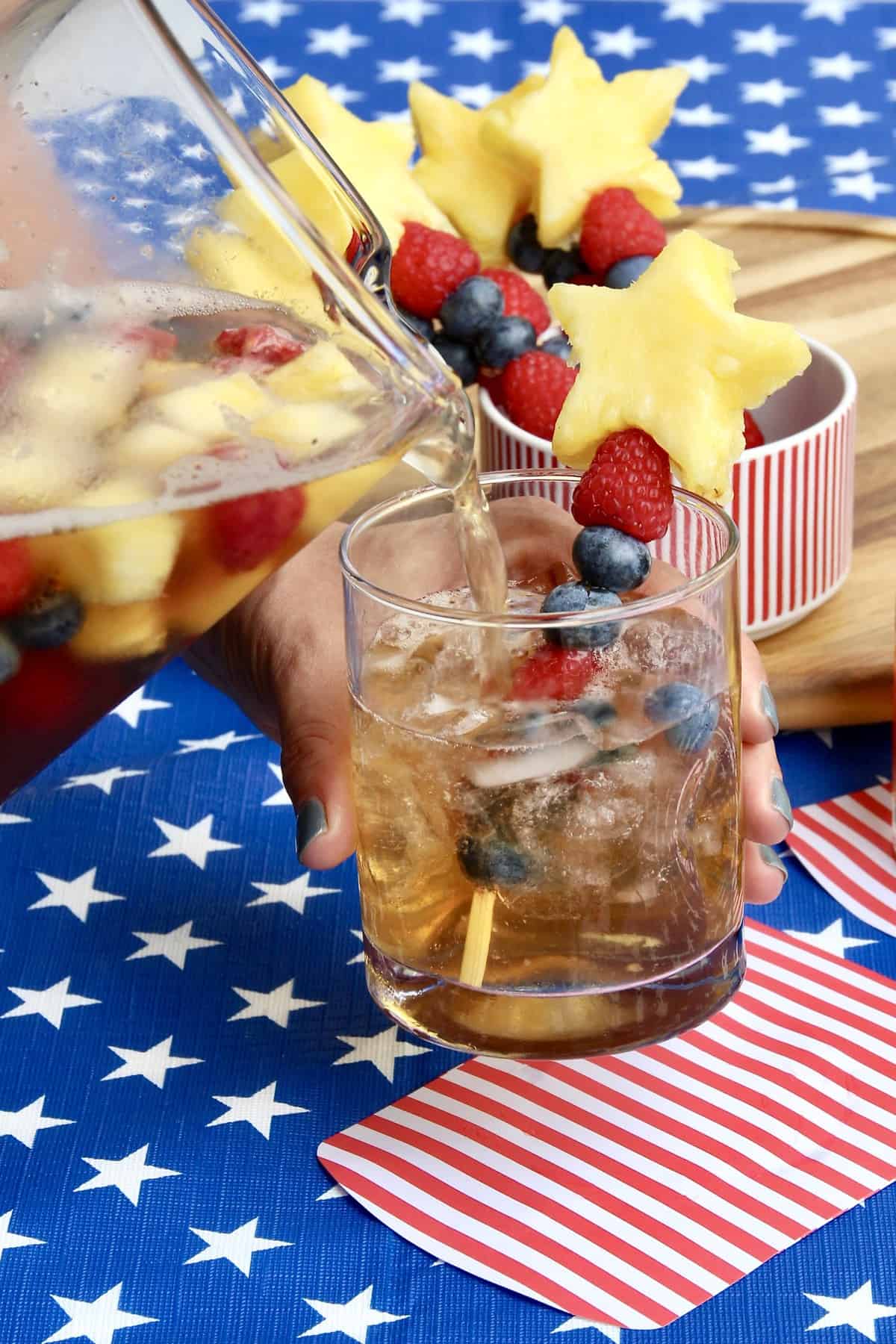 I just love how easy a pitcher of this sweet tea sangria is to make. I can mix it up in a matter of minutes thanks to our favorite ready-to-drink Red Diamond Sweet Tea. The pure flavor of the sweet tea combined with the bubbles from the sparkling wine and the hint of orange from the orange liqueur, along with lots of fresh berries, is irresistibly delicious.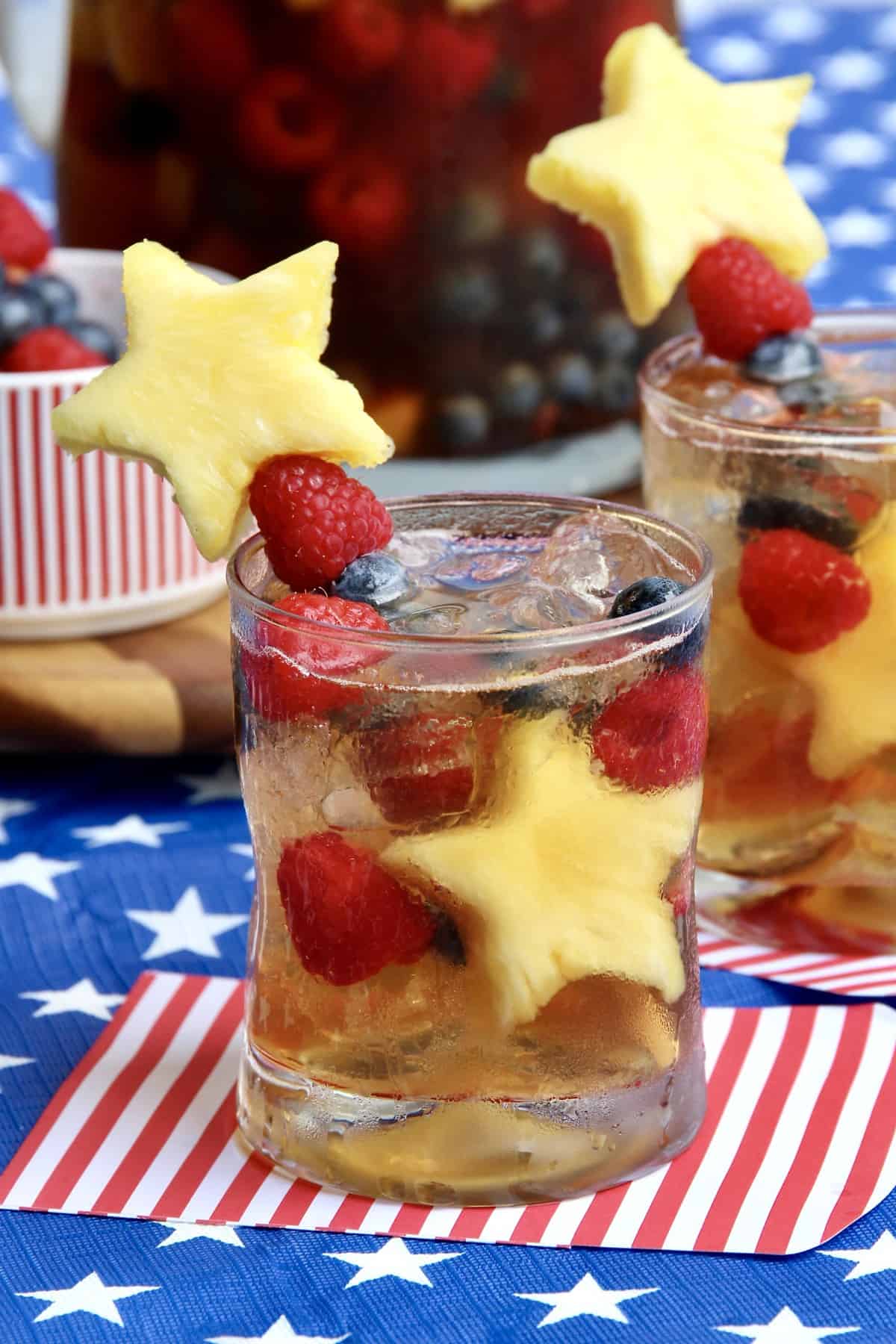 Red Diamond's Sweet Tea is made purely of tea leaves, water and sugar and nothing else. NO powders, concentrates, or preservatives. The tea tastes real (because it is!) and it always satisfies. The process is not easy, but they have perfected it. Red Diamond focuses on quality and consistency to ensure freshness every time, which is why it can only be found in the refrigerator section of the grocery store.
I love the slight sweetness that Red Diamond's sweet tea adds to this cocktail. It's sweet but not too sweet. It pairs so perfectly with the other ingredients in the drink.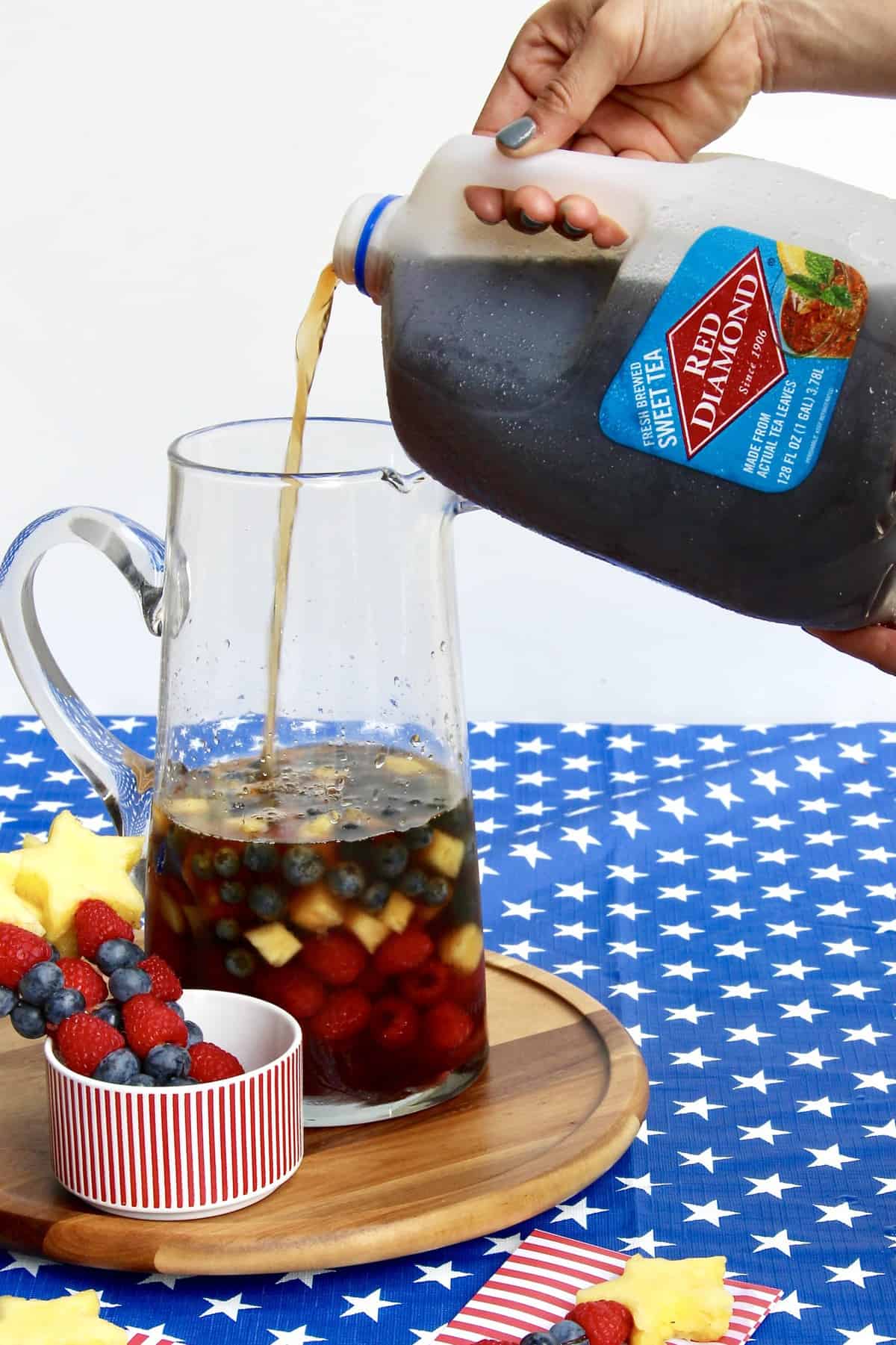 To make a pitcher of this fabulous Sparkling Sweet Tea Sangria, simply place raspberries, pineapple chunks, and blueberries in the bottom of a large pitcher. Add the orange liqueur, ready-to-drink Red Diamond Sweet Tea and a bottle of sparkling wine. Gently stir it all together and let it set in the refrigerator for at least 2 hours before serving. The longer it sits, the stronger the flavor of the drink.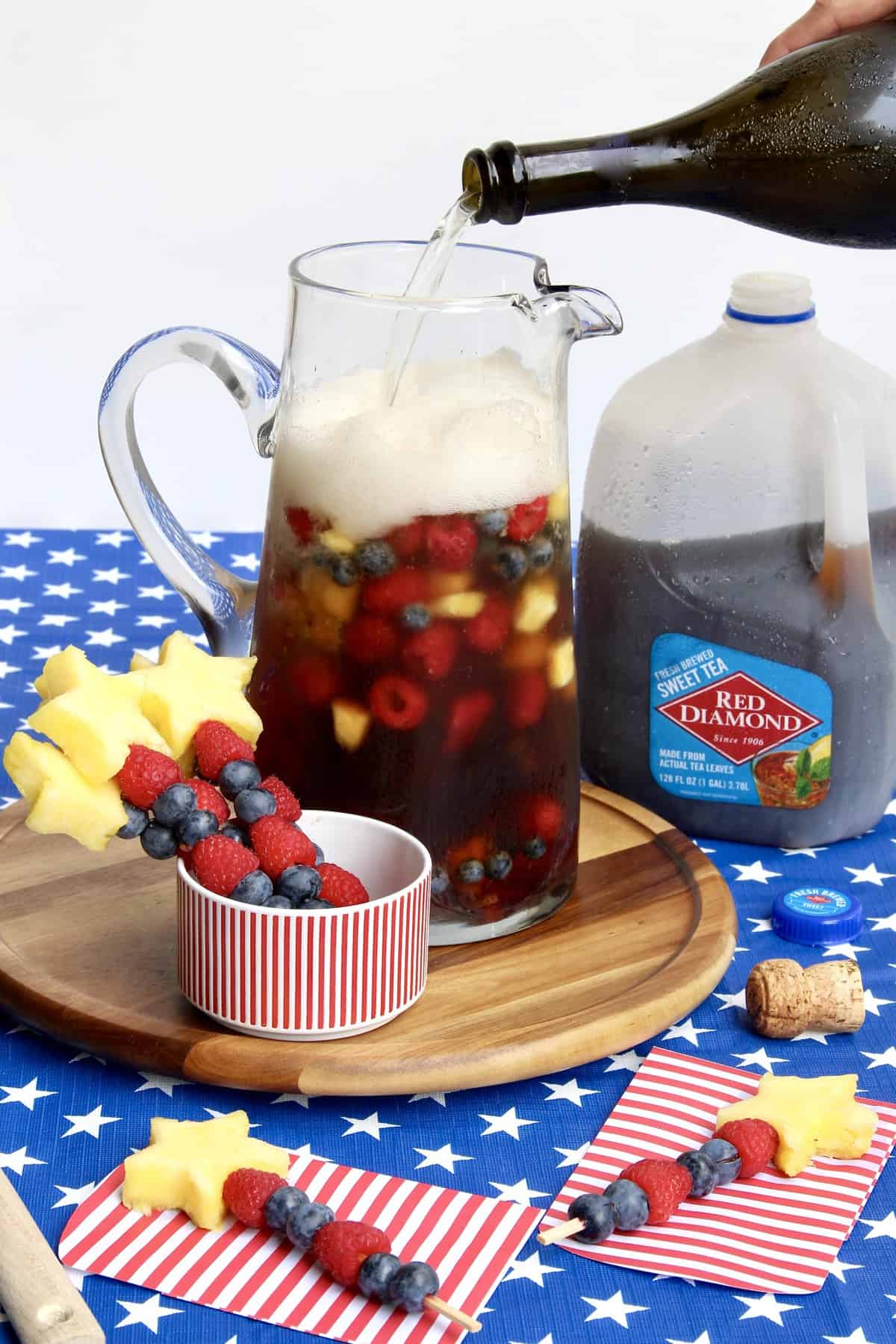 While the sweet tea sangria is refrigerating, make some adorable star-spangled fruit kabobs to garnish each glass with. They compliment the cocktail so well and make them perfect for a patriotic party.
To make them, start by cutting star shapes out of thick pineapple slices with a small star-shaped cookie cutter. On a 6-inch bamboo skewer, alternate blueberries and raspberries and then add a pineapple star to the top of each one. Super simple and so cute!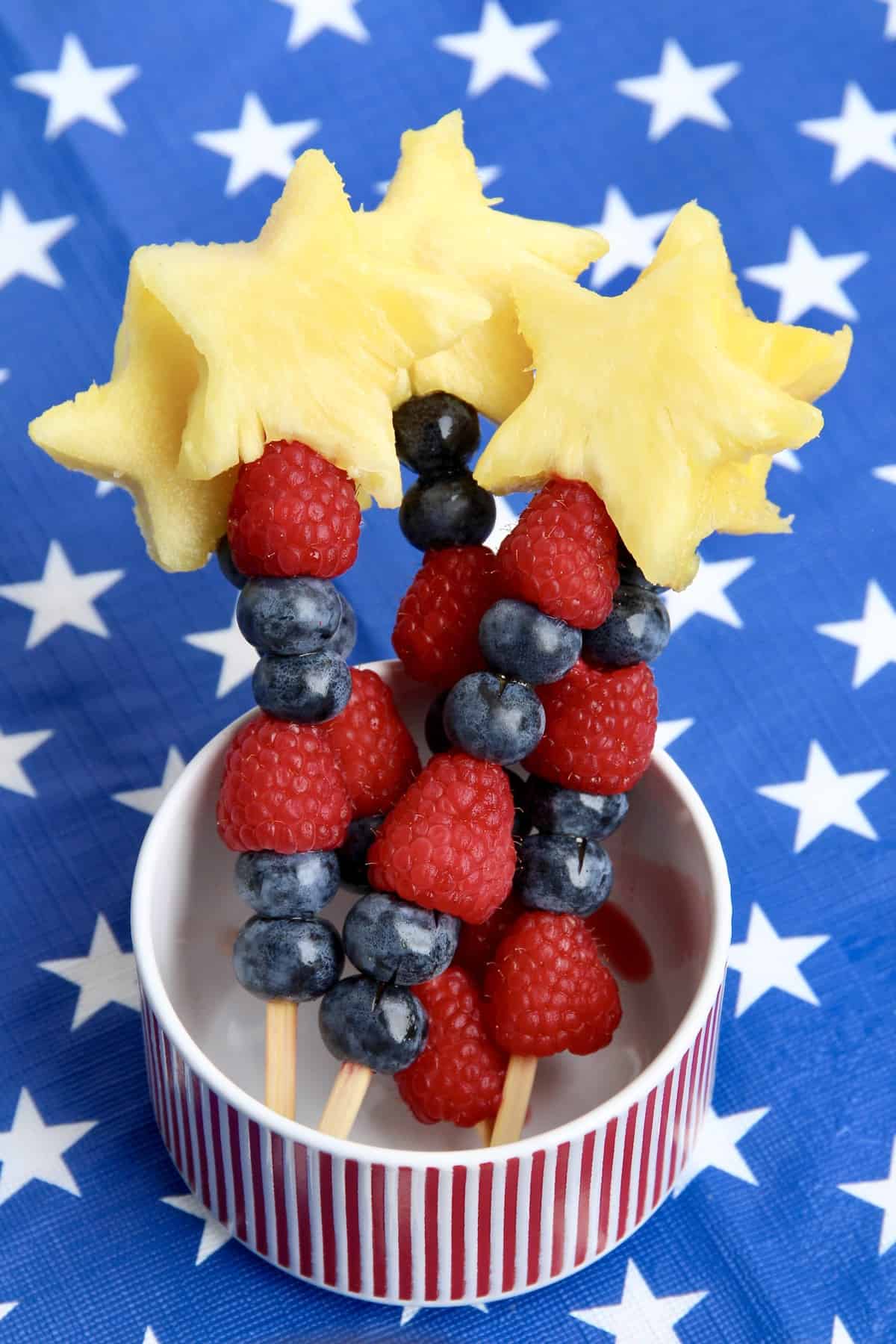 To serve the Sparkling Sweet Tea Sangria, fill each glass with some ice and a star-spangled fruit kabob. Pour the cold sweet tea sangria into each glass and enjoy!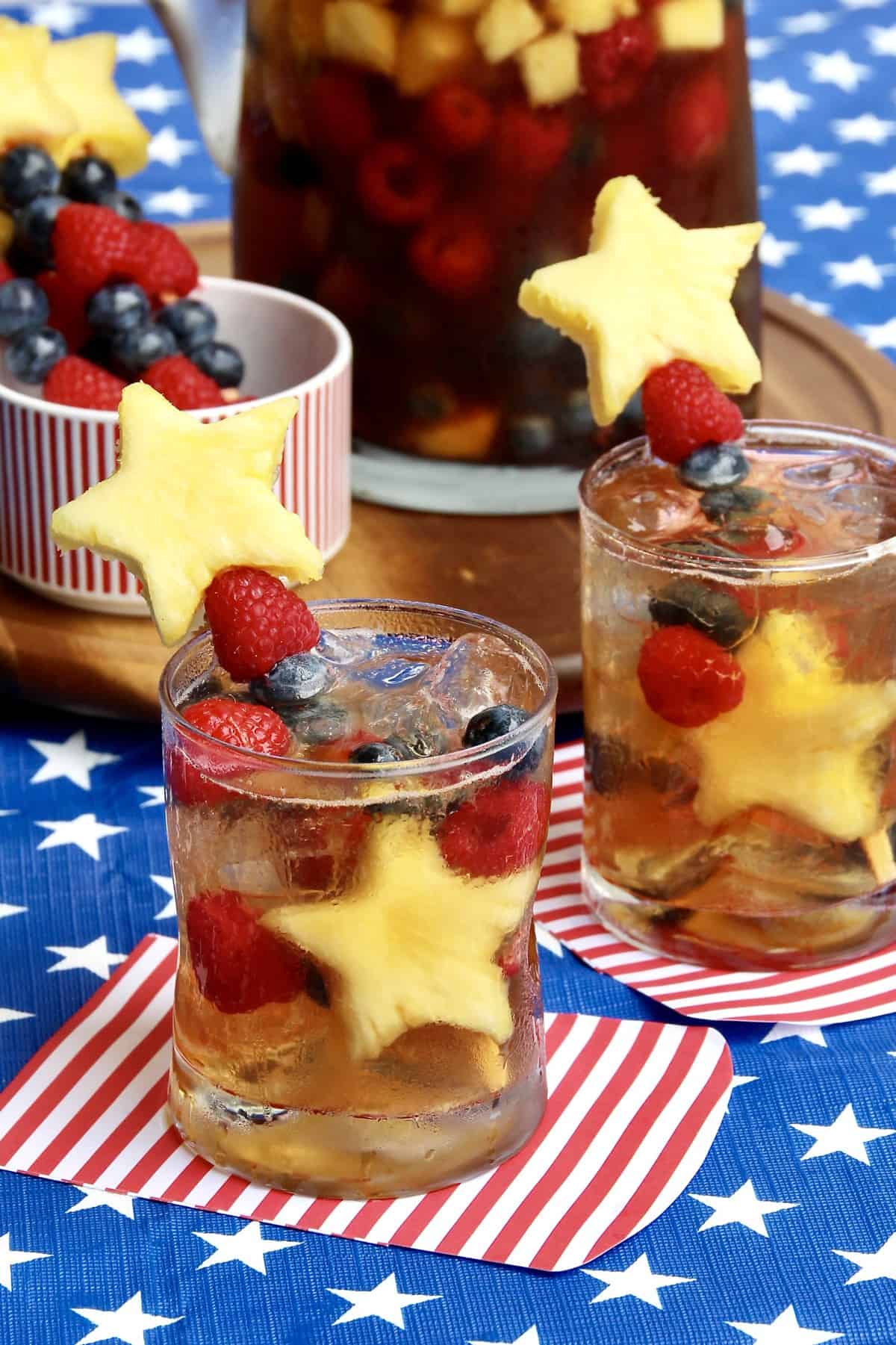 My family is looking forward to me making this sweet tea sangria all summer long, especially for our 4th of July and Labor Day gatherings. It's so great for prepping ahead so you can enjoy it with everyone and it's sure to be a summer hit!
If you're excited to try this Red Diamond sweet tea recipe, you're sure to enjoy the other great sweet tea recipes I have here on the blog: Peach Tea Slushies, Tailgate Tea, Cranberry Orange Spiked Sweet Tea.
Cheers to a great and safe summer, friends!
xoxo,