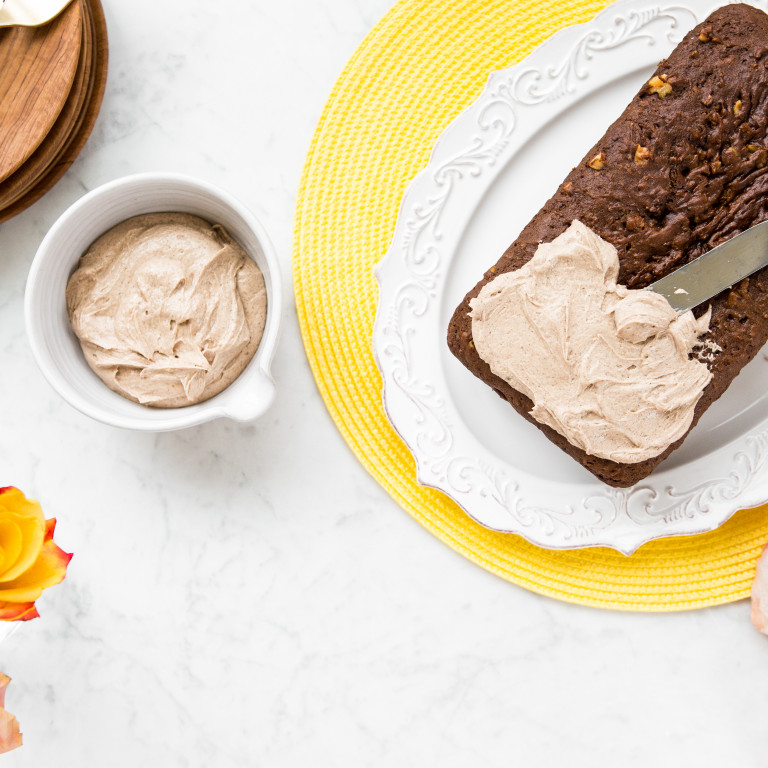 Spiced Vegan Buttercream Frosting
Vegan, gluten-free, grain-free, no bake/raw, nut-free

Yield

1 1/2 cups (375 mL)
Prep time

Rest time

20 minutes
Cook time

0 minutes
Total time

If a frosting tasted like your favourite fall or winter day, it would be this one! Generously spiced with cinnamon, ginger, cloves, and nutmeg (also known as Pumpkin Pie Spice), this vegan buttercream is the perfect pairing for my Pumpkin Gingerbread Loaf, or any of your go-to fall baked goods. It can be made a couple days ahead of time and stored in the fridge too; just be sure to let it sit at room temperature until it softens and stir until fluffy before using.
Ingredients
1/2 cup (125 mL) vegan butter, room temperature

*

2 to 3 teaspoons pumpkin pie spice, to taste

*

*

1 teaspoon (5 mL) pure vanilla extract
Small pinch fine sea salt or pink salt
2 cups (260 g) powdered icing sugar, more if needed
1/2 to 1 tablespoon (7.5 to 15 mL) non-dairy milk, as needed
Directions
To a large mixing bowl, add the vegan butter. With electric mixers, beat the butter on low speed until light and fluffy, about 30 seconds.
To the bowl with the butter, add the pumpkin pie spice (start with 2 teaspoons), vanilla, and a small pinch of salt. Beat again on low speed until well combined, about 15 to 20 seconds.
Sift the icing sugar if it's clumpy. Add it to the bowl along with 1/2 tablespoon non-dairy milk. Beat on low speed until the frosting is smooth and fluffy, about 30 to 45 seconds. You can add a touch more non-dairy milk if it's still too thick, and beat again briefly with the electric mixers. Taste, and beat in an additional teaspoon of pumpkin pie spice, if desired.
Tip:
* You can use any vegan butter you prefer. Note that different brands will have different water and fat ratios so the outcome may be slightly different. You may need to adjust the amount of icing sugar or milk used.
** I often use a full tablespoon (3 teaspoons) of pumpkin pie spice which is quite strong, but I find it pairs so lovely with my Pumpkin Gingerbread Loaf. You may want to use a bit less spice depending on your preference – add it slowly to taste and you can't go wrong! Store-bought pumpkin pie spice works great, or for a homemade version of pumpkin pie spice, see my Pumpkin Pie Spice.
Nutrition Information
(click to expand)