Instant Pot Puerto Rican Pernil is fall-apart tender, shredded pork loaded with garlic and spiked with Serrano peppers and citrus! And thanks to the Instant Pot, it only takes a fraction of the time to make it!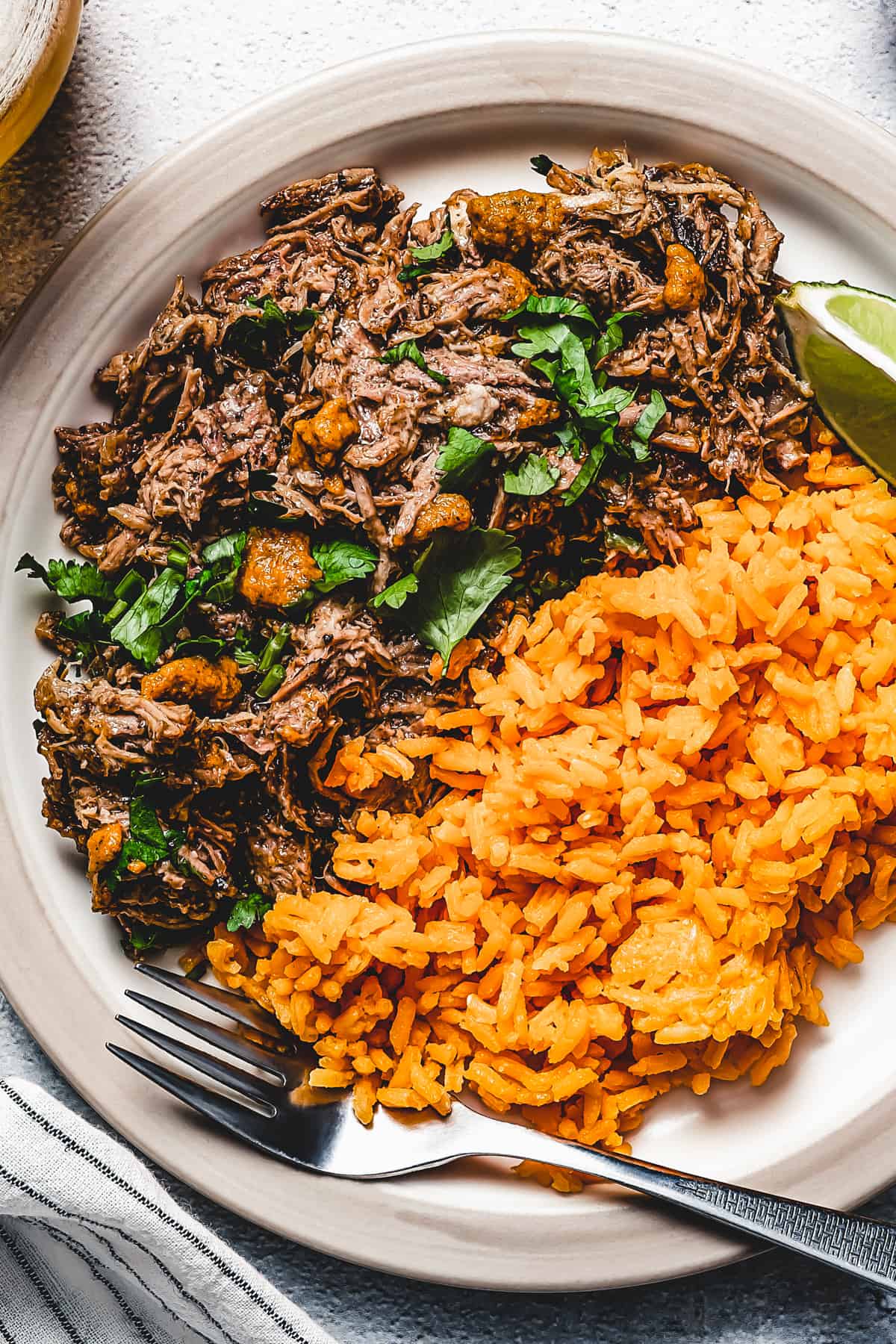 Mouthwatering Puerto Rican Pernil, Fast and Easy in the Instant Pot!
If you have ever tried pernil, then you know how incredibly flavorful this marinated, slow-roasted pork shoulder is. And if you've ever made pernil, then you know it's a time commitment. This classic Puerto Rican recipe can take hours to cook and a long time to marinate.
And that, my friends, is where the Instant Pot comes in. Now I realize that pernil purists might be a little skeptical, and, indeed, Instant Pot pernil isn't quite the same as traditional pernil. However, it is a great way to make hearty, tender, ultra-flavorful pernil fast! This easy recipe might be your new favorite way to cook a tasty pork shoulder quickly and efficiently.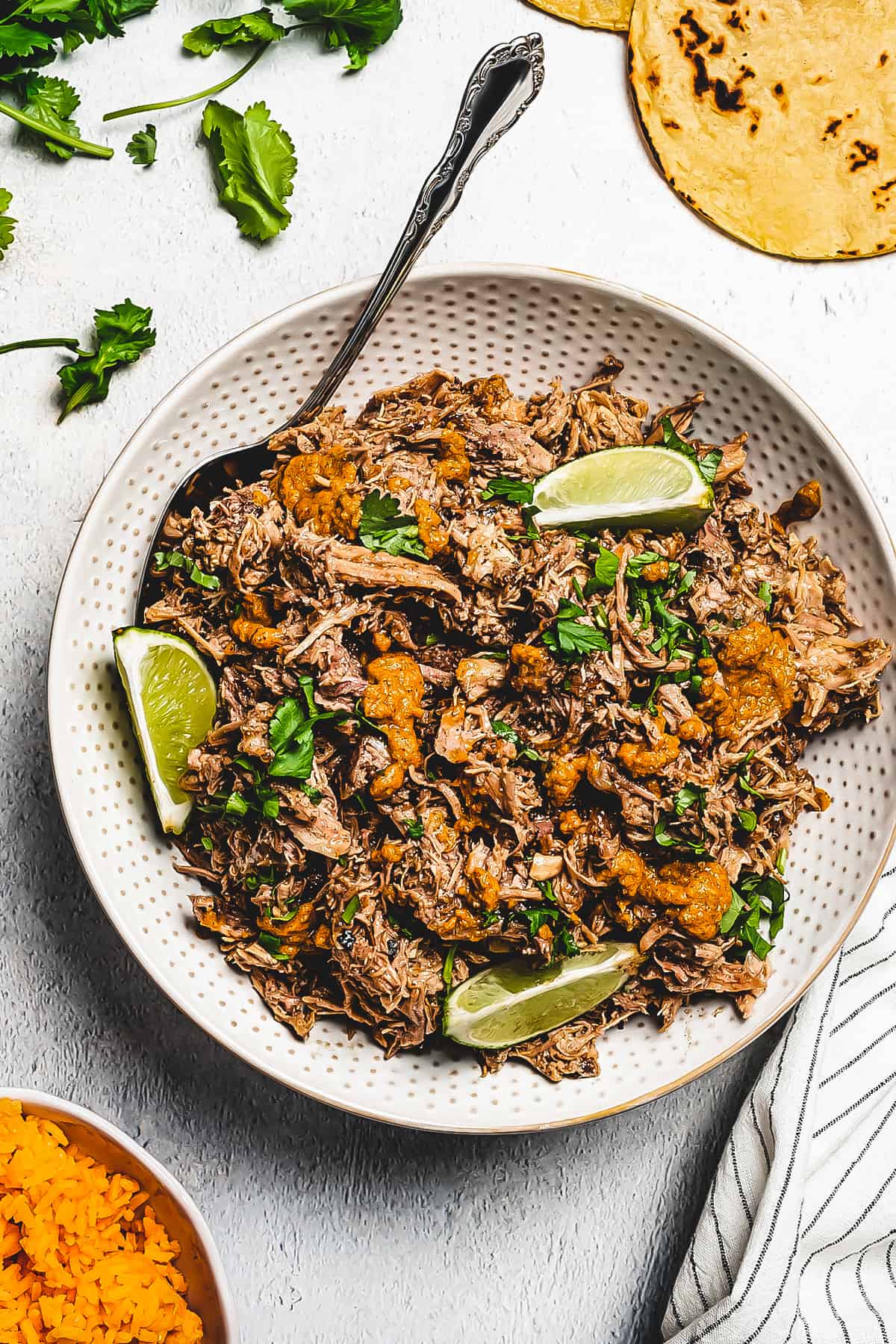 Is Pernil the Same as Pulled Pork?
Pernil and pulled pork are similar – both are usually made of shredded, slow-cooked pork shoulder, and both are highly seasoned. But "pulled pork" typically means barbecued or smoked meat, American-style, while pernil is Puerto Rican, with flavors closer to mojo than barbecue.
Is Pork Shoulder Better in the Instant Pot or Slow Cooker?
Traditional pernil is slowly roasted in the oven, but it can also be made in the Instant Pot or slow cooker. Which is best, you ask? That depends on your needs. Slow cookers are great for getting super tender results, but the process takes time. Instant Pot pernil is much faster but a little more hands-on. It can also turn out slightly less soft and tender, although it will still be fall-apart perfect.
The Ingredients You'll Need
To make this Instant Pot pernil recipe, you will need a pork shoulder, some fresh garlic, and onion, a Serrano pepper, and some pantry basics like chicken broth and spices. Here's the list (for amounts and nutrition information, see the recipe card at the bottom of this post).
Onion: A yellow onion, roughly chopped. White onion would also work.
Olive Oil
Orange Juice: Freshly squeezed is best.
Garlic: Separate a head of garlic into cloves, and peel each clove.
Serrano Pepper: Remove the seeds and ribs, and chop the pepper. Remember to wear gloves, and don't touch your face or eyes until you have carefully discarded the gloves and washed your hands thoroughly with soap and water.
Seasonings: Salt, pepper, cumin, dried oregano, and paprika (sweet or smoked, whichever you prefer).
Pork Shoulder: I used a 4-pound, boneless pork shoulder roast. 
Broth: Instant Pot cooking requires liquid to create the steam and pressure inside the pot. Chicken broth is a good option, but veggie broth is also fine. Even water would work!
Serving Ingredients: Serve this Instant Pot pernil with cooked rice, corn tortillas, and lime wedges.
Let's Make Pernil!
This cooking method is easy, but it includes a number of steps, so I recommend reading over them before you start. That way, you'll be familiar with the process from the get-go.
Make the Marinade. To start, get out your food processor and process the onion, orange juice, and serrano pepper with half of the garlic cloves, 2 tablespoons of olive oil, and the seasonings. Measure about a third of this mixture into a separate container, and store it in the fridge for serving.
Stuff the Pork with Garlic Cloves and Marinate. Pour the rest of the marinade into a large mixing bowl or dish, and set it aside. Next, use a sharp knife to cut small slits all over the pork shoulder. Stuff a garlic clove into each slit, and then put the whole roast in the dish with the marinade. Turn to coat, cover, and refrigerate for 1 to 8 hours. 
Bring the Pork to Room Temperature. When you're ready to cook the pork, take it out of the fridge and out of the marinade. Let the pork sit at room temperature for about 20 minutes to take some of the chill off. Discard the used marinade.
Brown the Meat. Press the "saute" button on your Instant Pot, and add a swirl of olive oil. Once the oil is hot, place the pork roast carefully into the pot, and brown it on all sides.
Deglaze the Instant Pot. Take the browned pork roast out of the Instant Pot and set it aside. Next, carefully pour in the chicken broth and use a wooden spoon to scrape all the browned bits from the bottom of the pot, stirring them into the broth. Select "cancel" to stop the sautéing.
Pressure Cook the Pork. Return your browned pork roast to the pot, and lock the lid into place. Pressure cook on HIGH, for 60 minutes.
Naturally Release the Pressure and Shred the Meat. When the 60 minutes is up, let the pressure release naturally for 10 minutes or so. Do a quick release to let the remaining pressure out, and when the safety indicator is completely down, unlock the lid. Take the pork out of the Instant Pot and move it to a cutting board. Shred the pork. 
Enjoy! Serve your homemade pernil with rice, tortillas, lime wedges, and the reserved marinade. 
Recipe Tips and Tricks
In addition to the actual recipe steps, I'm excited to share these helpful recipe tips for the best Instant Pot pernil. Here we go!
Marbling: It's important not to substitute lean pork in this recipe. It might be tempting to use pork loin or even pork tenderloin, but lean cuts will not be tender or juicy in this recipe – they'll be dry and tough! Stick with well-marbled pork shoulder for the best, mouthwatering pernil.
Excess Fat: In oven-roasted pernil recipes, a cap of fat on the pork shoulder is roasted into a crispy masterpiece. However, the Instant Pot won't create the same crispy result. You may want to trim away excess fat for this recipe.
Handle with Care. When you lift the pork out of the Instant Pot, be sure to use extra caution – if you accidentally drop it back into the pot, you (and anyone nearby) could be seriously burned by the hot liquid splashing out. A rack with handles designed for your Instant Pot (along with some oven mitts) can make lifting the hot food out much easier.
Side Dish Ideas
Serving pernil can be as easy as adding rice. You could also make some easy side dishes like these. They add great texture, color, and flavor to your menu!
Storing and Reheating
Store your leftover pernil in an airtight container in the fridge for 3 to 4 days. 
Reheat pernil in a covered skillet with some of the juices until it's heated through. 
Does Pernil Freeze Well?
Yes! You can freeze cooled pernil in freezer bags for up to 3 months. Thaw in the fridge before reheating.
ENJOY!
In a food processor combine the onion, 2 tablespoons olive oil, orange juice, half of the garlic cloves, serrano pepper, oregano, cumin, paprika, salt, and black pepper; process until smooth.

Reserve about ⅓ of the marinade in a separate container; put in the fridge and save it for serving.

Pour remaining marinade in a large separate mixing bowl or dish, and set aside.

Cut slits into the pork shoulder roast. Fill each slit with remaining cloves of garlic.

Place roast in the dish with the marinade and turn to coat. Cover and refrigerate for 1 to 8 hours.

When ready to cook, remove roast from the fridge about 20 minutes prior to cooking.

Remove pork from the marinade and drain off any excess liquid.

Select the "saute" button on your Instant Pot and add the remaining 2 tablespoons of olive oil.

To the heated oil, add the pork roast and brown on all sides; remove roast from IP and set aside.

Carefully pour in the chicken broth and stir all the browned bits from the bottom of the instant pot.

Return roast to the IP; lock lid and pressure cook on HIGH for 60 minutes.

Release pressure naturally for 10 minutes, then do a quick release.

Remove roast from the instant pot and transfer to a cutting board; shred the pork with two forks or meat-shredding claws.

Serve with rice, tortillas, lime wedges, cilantro, and reserved marinade.
Pork Shoulder: Pernil is the Spanish word for pork shoulder, which is why we are using pork shoulder for this recipe. For an evenly cooked roast, I suggest removing the pork shoulder from the refrigerator at least 20 minutes before you are ready to start with the recipe.
Serrano Pepper: If you can't find serrano peppers, use jalapeno peppers, but they're not nearly as spicy. If that's also not an option, you can use cayenne pepper or red pepper flakes. Keep in mind that substitutes are different from fresh peppers and will offer different textures and tastes.
Orange Juice: Freshly squeezed orange juice is always the better option, but you can also use store-bought orange juice.
Instant Pot Pernil: Traditional pernil takes 4 to 6 hours to roast in the oven, about 35 to 45 minutes per pound. Therefore, I like to use my Instant Pot and cook it for around one hour, or about 15 minutes per pound.  
Serving Pernil: Pernil is traditionally served with rice and beans, but I also like to serve it taco-style and stuff it in corn or flour tortillas.
Calories: 285 kcal | Carbohydrates: 3 g | Protein: 28 g | Fat: 17 g | Saturated Fat: 4 g | Polyunsaturated Fat: 2 g | Monounsaturated Fat: 10 g | Cholesterol: 93 mg | Sodium: 407 mg | Potassium: 560 mg | Fiber: 1 g | Sugar: 1 g | Vitamin A: 172 IU | Vitamin C: 6 mg | Calcium: 41 mg | Iron: 2 mg | Net Carbs: 2 g
Nutritional info is an estimate and provided as courtesy. Values may vary according to the ingredients and tools used. Please use your preferred nutritional calculator for more detailed info.
More Easy Instant Pot Recipes