Refrigerator Sprinkle Cookies are the ultimate DIY slice and bake cookie! Buttery, crispy on the outside, soft on the inside and loaded with sprinkles. Super easy, and perfect to make ahead!

This recipe is a throwback to the cookie dough of my youth. The kind that they sell by the log in the supermarket near the butter and eggs. You know, the kind that would never actually make it into the oven (and I survived! Take THAT salmonella!) I mean, I know it's still available to buy (it IS, right?) but I just haven't purchased log cookie dough in many moons. I'm a big kid now, and I make my own cookie dough that never makes it's way into the oven.
It's a wonder I'm still alive.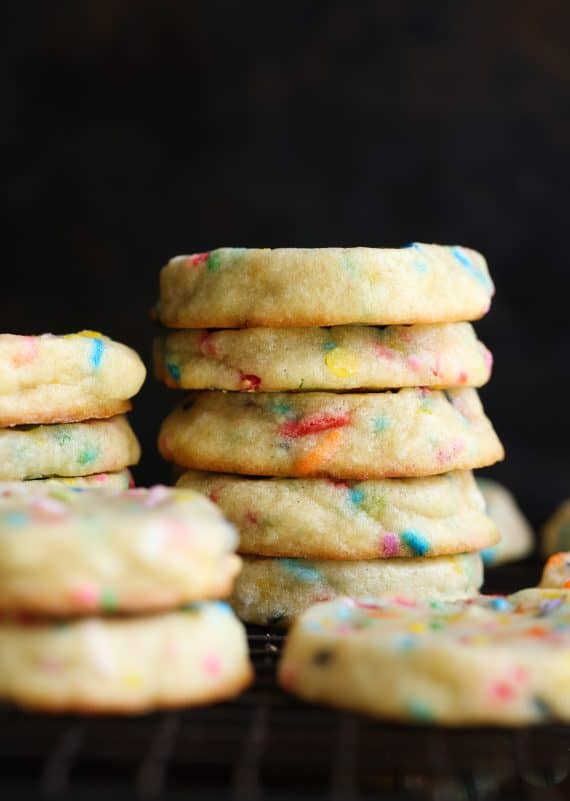 MY OTHER RECIPES
The whole objective with the cookie log is to slice it into round pieces and bake. Which is a pretty great idea, except my cookies were never round. They always squished, so I had sort of a "letter D" shaped cookie. I know you know.
And I won't say I solved the mystery to that problem today, but I did make a pretty fab slice and bake cookie dough recipe, that you should most definitely make asap.
Plus, sprinkles make everything better.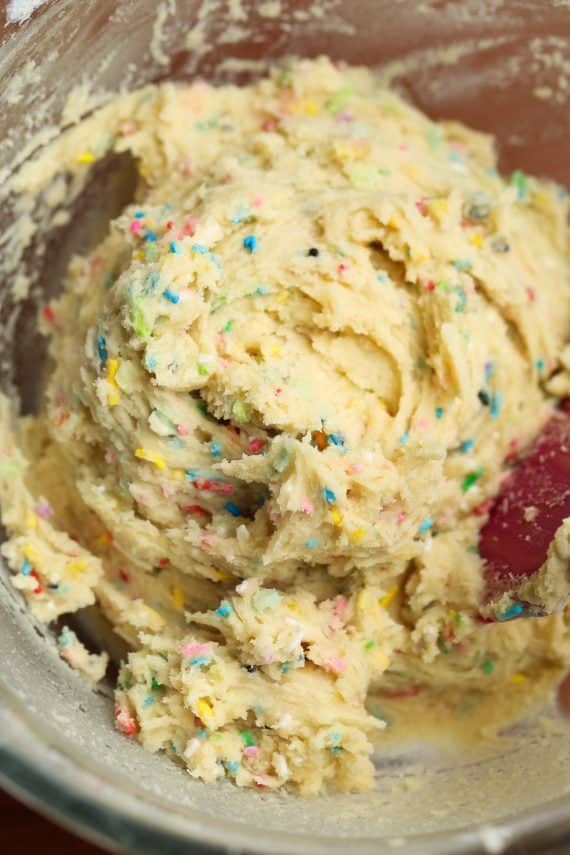 And you should definitely go heavy handed on the sprinkles.
The dough is extra easy to make. And once it's done you divide it into 3 equal portions, roll it in cling wrap and chill it for a few hours (or up to 3 days). You could even freeze the dough at this point if you only wanted to bake a few cookies. This is a great recipe to make way in advance, freeze it, and then pull it out of the oven to bake when you're ready.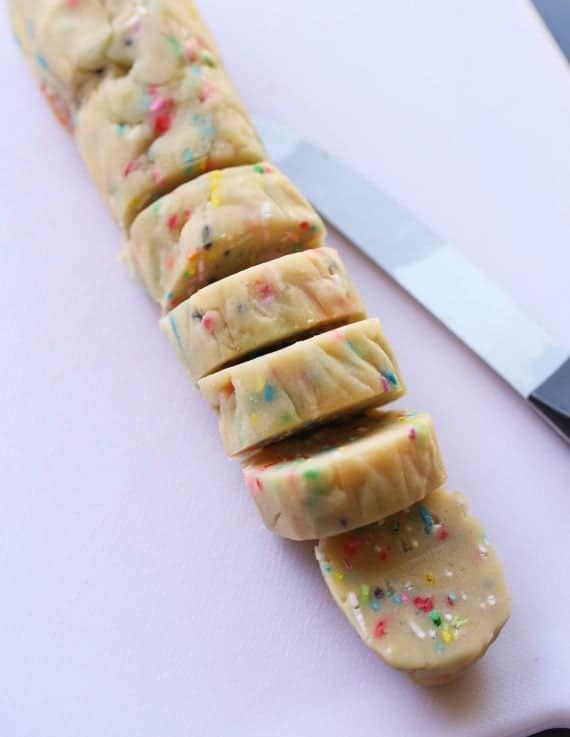 And when you are ready, just cut the dough into slices!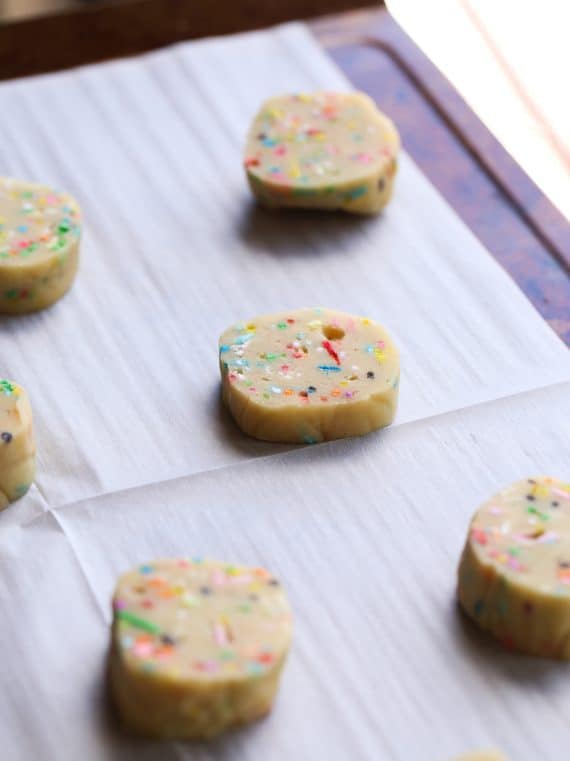 Bake them for 7-8 minutes, or until the edges are lightly golden.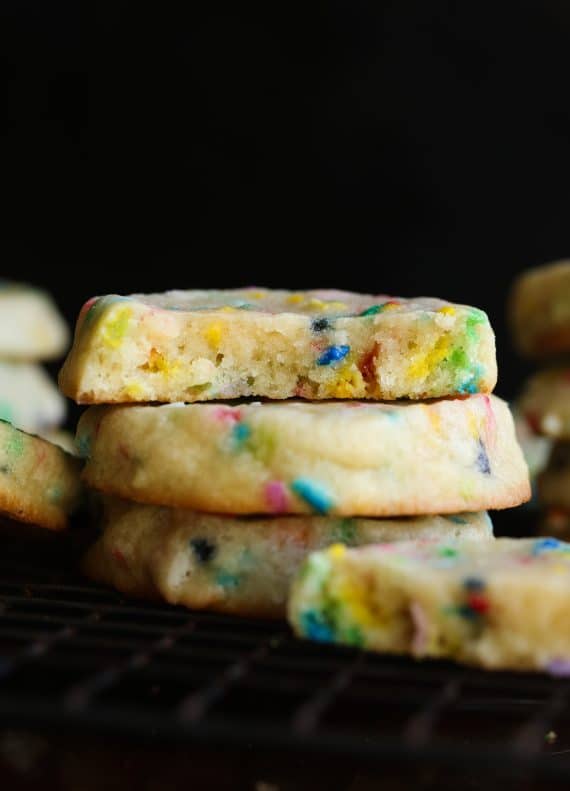 Such a throwback cookie, I love it! AND, let me just tell you…you could easy swap out the sprinkles for mini chocolate chips, or nuts, or just leave them plain. You could even roll the whole log of dough in sugar, or sprinkles. There are so many fun ways to enjoy this recipe!
And if you're looking for more sprinkle recipes, you should DEFINITELY make my Half Pound Sprinkle Cookies!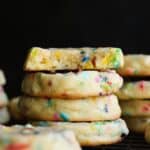 Sprinkle Refrigerator Cookies
Author:

Prep Time:

10 minutes plus chill time

Cook Time:

8 minutes

Total Time:

-25440612.05 minute

Yield:

30 cookies
---
Ingredients
1 cup butter, room temperature
1 cup granulated sugar
2 eggs
2 teaspoons vanilla extract
1 teaspoon kosher salt
1/2 teaspoon baking soda
3 cups flour
3/4 cup rainbow sprinkles
---
Instructions
In the bowl of your stand mixer fitted with the paddle attachment, mix together the butter and sugar on medium speed for 2 minutes.
Add the eggs, vanilla, salt, and baking soda and mix for an additional minute, scraping the sides of the bowl as necessary.
Turn the mixer to low and add in the flour, and mix until just combined.
With mixer still on low, add in the sprinkles and mix until evenly incorporated.
Divide the dough into 3 equal portions, and form into logs approximately 2 inches in diameter. Wrap each portion in plastic wrap and refrigerate for 3 hours or overnight.
Preheat oven to 375°F. Line your baking sheet with parchment paper and set aside.
Remove the dough from the oven and place on a cutting board. Unwrap and slice the dough into 1/3- inch slices. Place on baking sheet 2- inches apart and bake for 7-8 minutes, or until lightly golden around the edges.
Allow to cool for 3 minutes on the baking sheet and then transfer to a wire rack to cool completely.
---
Notes
Store airtight at room temperature for up to 3 days for best freshness.
You can freeze the dough as well. Place the wrapped logs into a large ziplock bag and store for up to 2 months. You don't need to thaw them out before slicing and baking. Just add an additional minute onto the bake time.
Related