Easy15 minsQuick
This Strawberry Burrata Salad recipe is quick and easy to make, and topped with the most heavenly fresh basil vinaigrette.  It's the perfect summertime salad.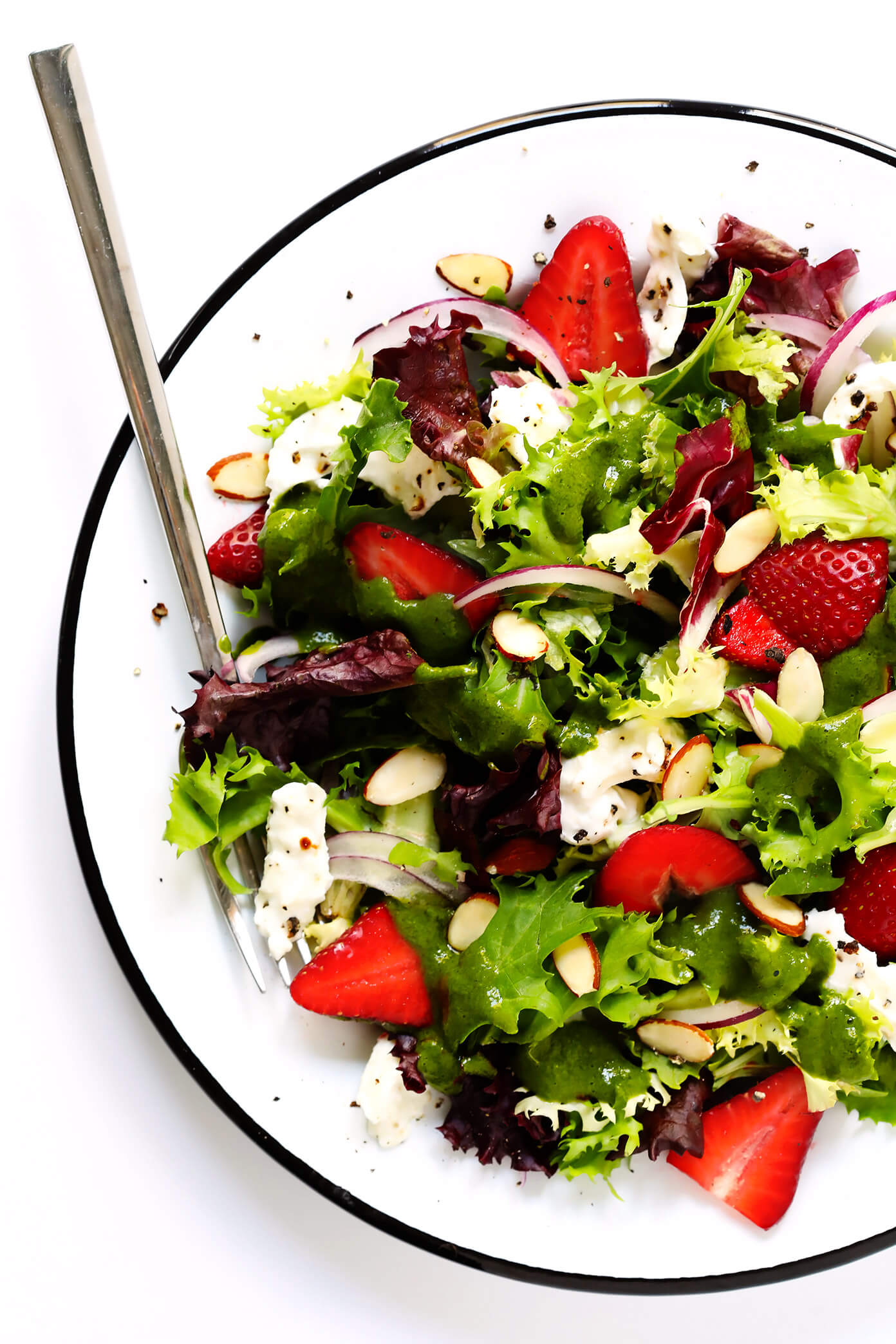 Can't stop won't stop with the odes to Spring.
This gorgeous Strawberry Burrata Salad is absolutely everything I adore about this season. ♡ 
Tender, leafy, fresh spring greens…perfectly ripe, juicy strawberries…chilled, creamy burrata cheese…crisp red onions and crunchy nuts of your choice…all drizzled and tossed with the most irresistible basil vinaigrette?!  We're talking about an all-star lineup of seasonal spring favorites here.  And after having made this salad a half dozen times this month — especially after discovering and getting a little too hooked on the fresh burrata stand at our neighborhood market — I can vouch that it perfectly hits the spot every time.
So if you're interested in giving your strawberry salad a lift this year, bring home some fresh produce, blend up a quick batch of this 5-minute basil vinaigrette, and this gorgeous salad will be ready to serve in no time.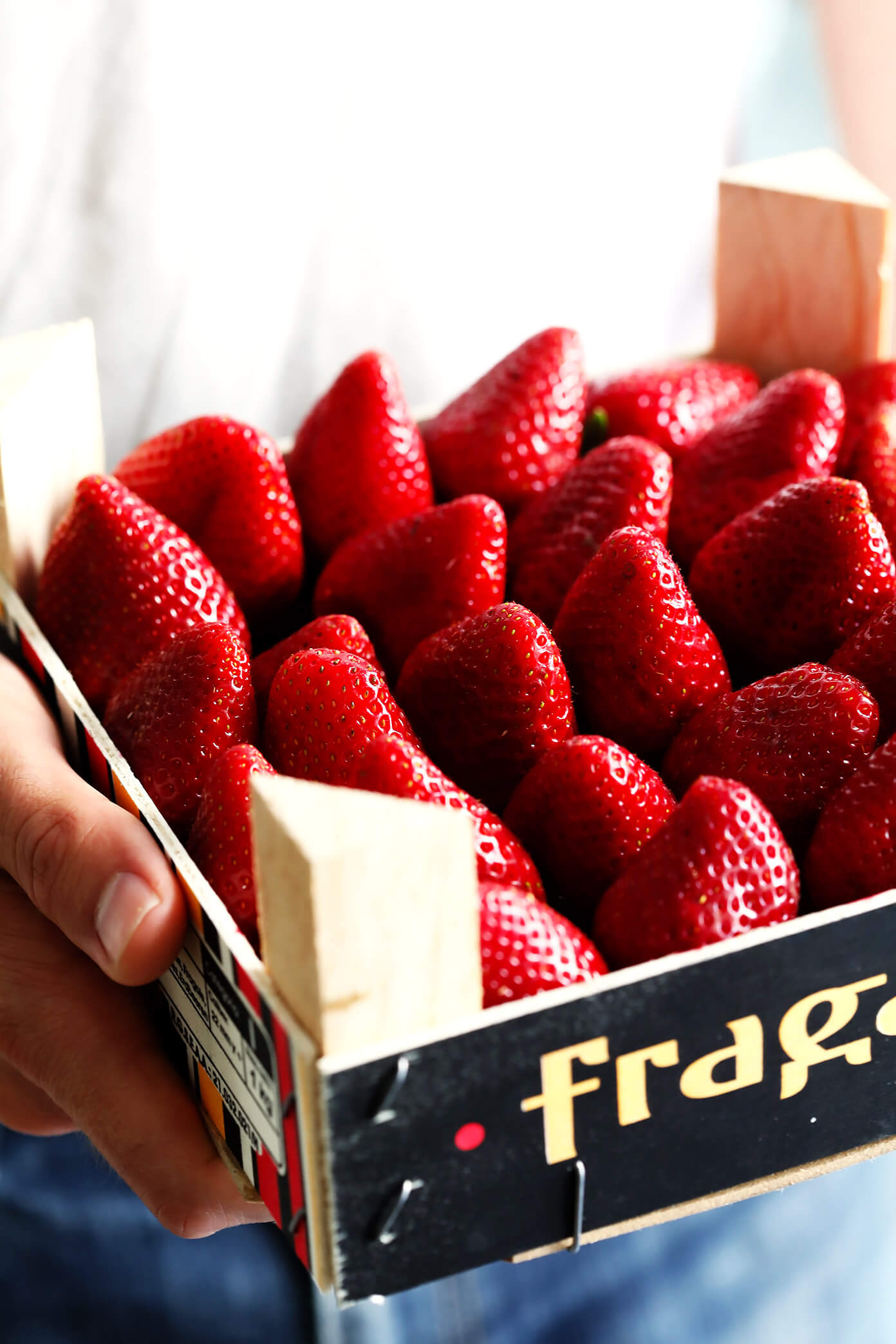 Strawberry Salad Ingredients:
To make this Strawberry Burrata Salad, we will need:
Fresh Strawberries: sliced or quartered
Burrata Cheese: the most heavenly soft buffalo milk cheese, made with mozzarella and cream

if you can't find burrata at your store, feel free to sub in a ball of fresh traditional mozzarella or feta cheese

Red Onion: thinly sliced (or you could sub in shallots)
Nuts: I used toasted sliced almonds, but any of your favorite kinds of chopped nuts will do
Greens: I used a spring greens mix here, but any of your favorite greens will do
Basil Vinaigrette: see below!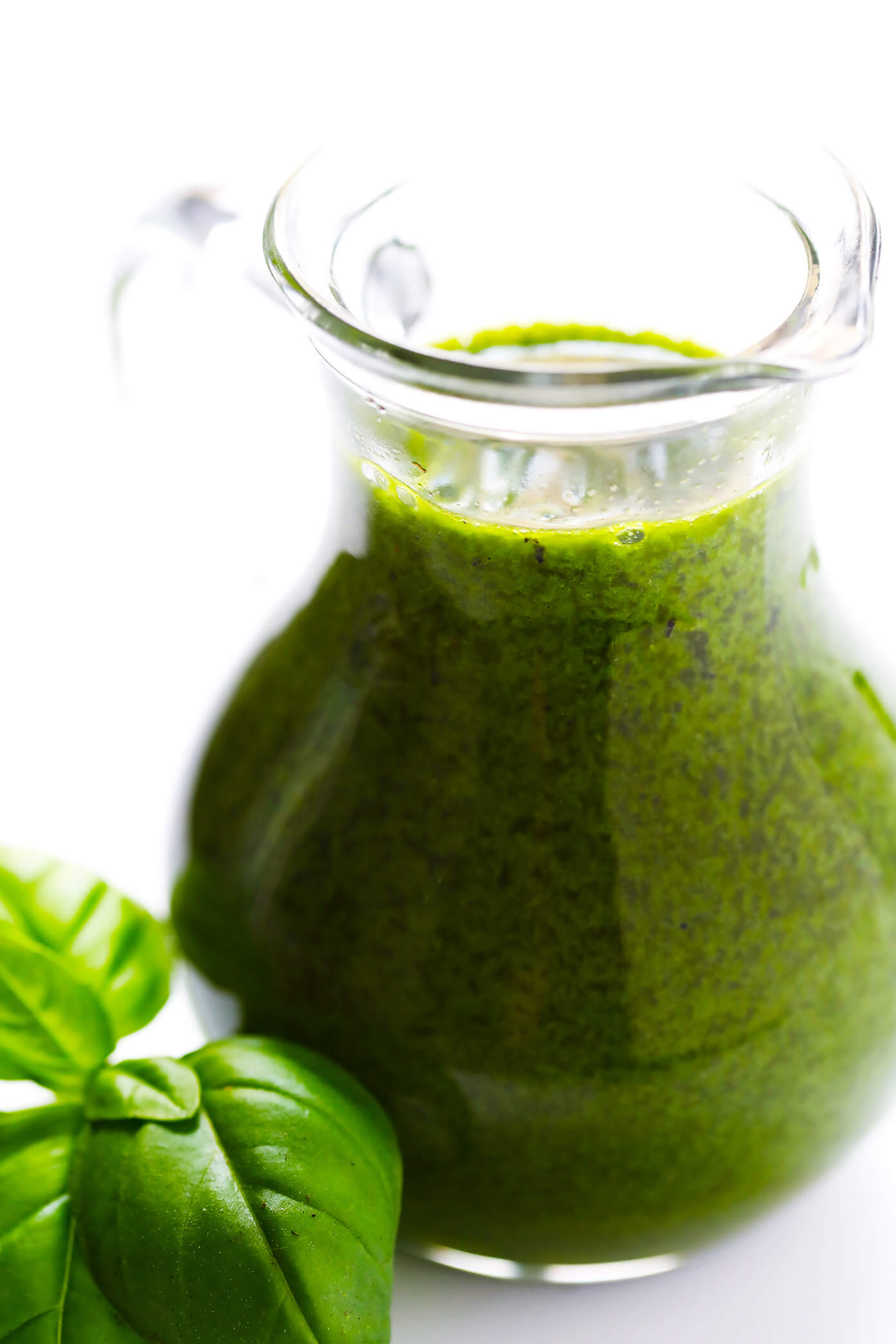 Basil Vinaigrette Ingredients:
This 5-Minute Basil Vinaigrette is easy to whip up in the blender or food processors, and is made with lots of fresh basil, olive oil, garlic, red wine vinegar, salt and pepper.  You can check out the full recipe for it here — it's the best!

How To Make Strawberry Burrata Salad:
To make this Strawberry Burrata Salad, simply combine all of your ingredients in a large salad bowl, toss, and serve!  You're welcome to toss the salad ahead of time with the vinaigrette, or drizzle it on top of each serving once the salads have been plated.  I also like to sprinkle on an extra few cracks of black pepper, for good measure. 🙂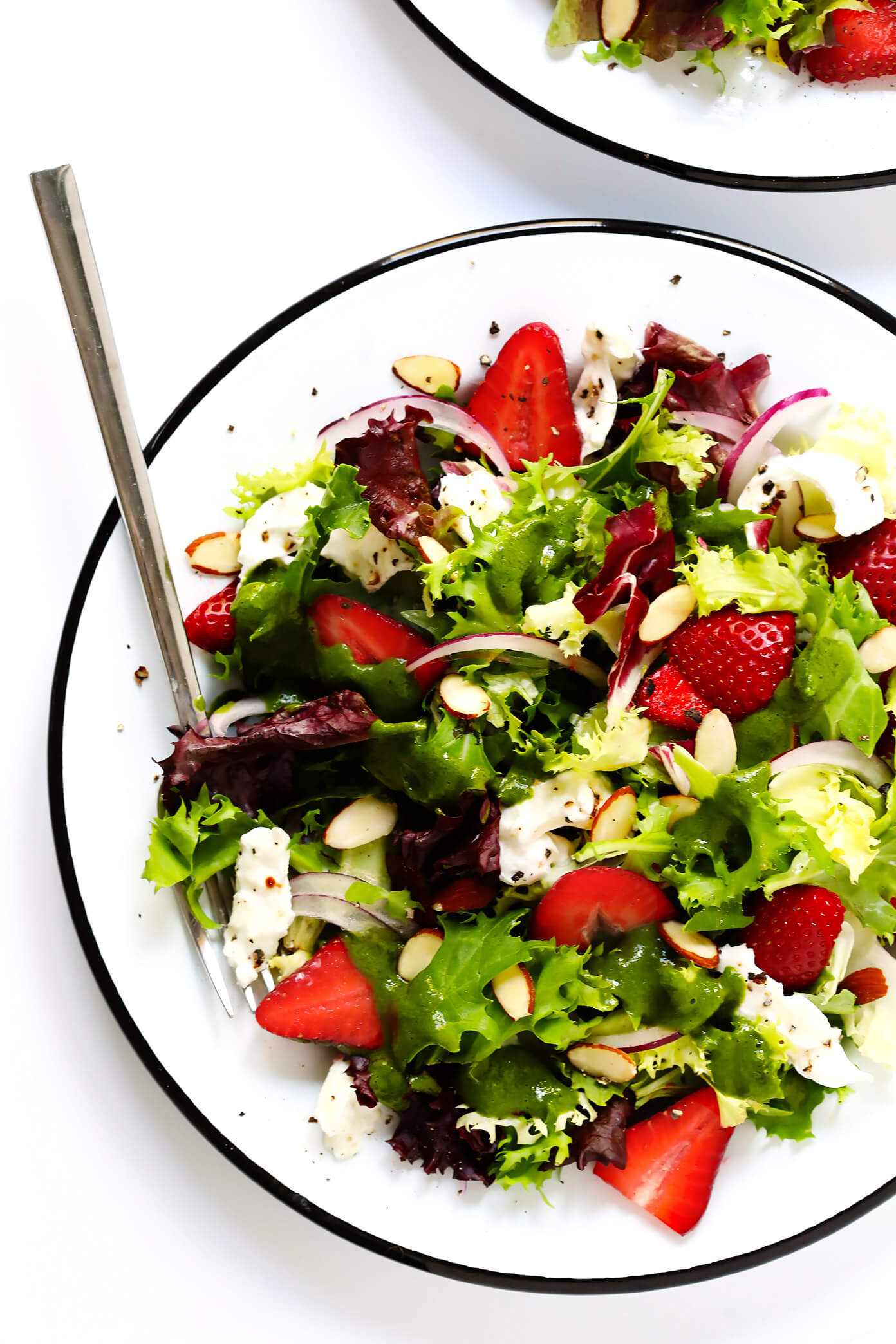 What To Serve With This Strawberry Salad:
If you happen to be grilling out, I would vote that any grilled meats and veggies would be delicious with this salad.  Also just about any kind of Italian main dishes.  But some other great options could include:
Chicken, Steak, Pork, Shrimp or Other Proteins, such as:
Vegetarian Entrees, such as:
Pasta, such as:
Soup, such as: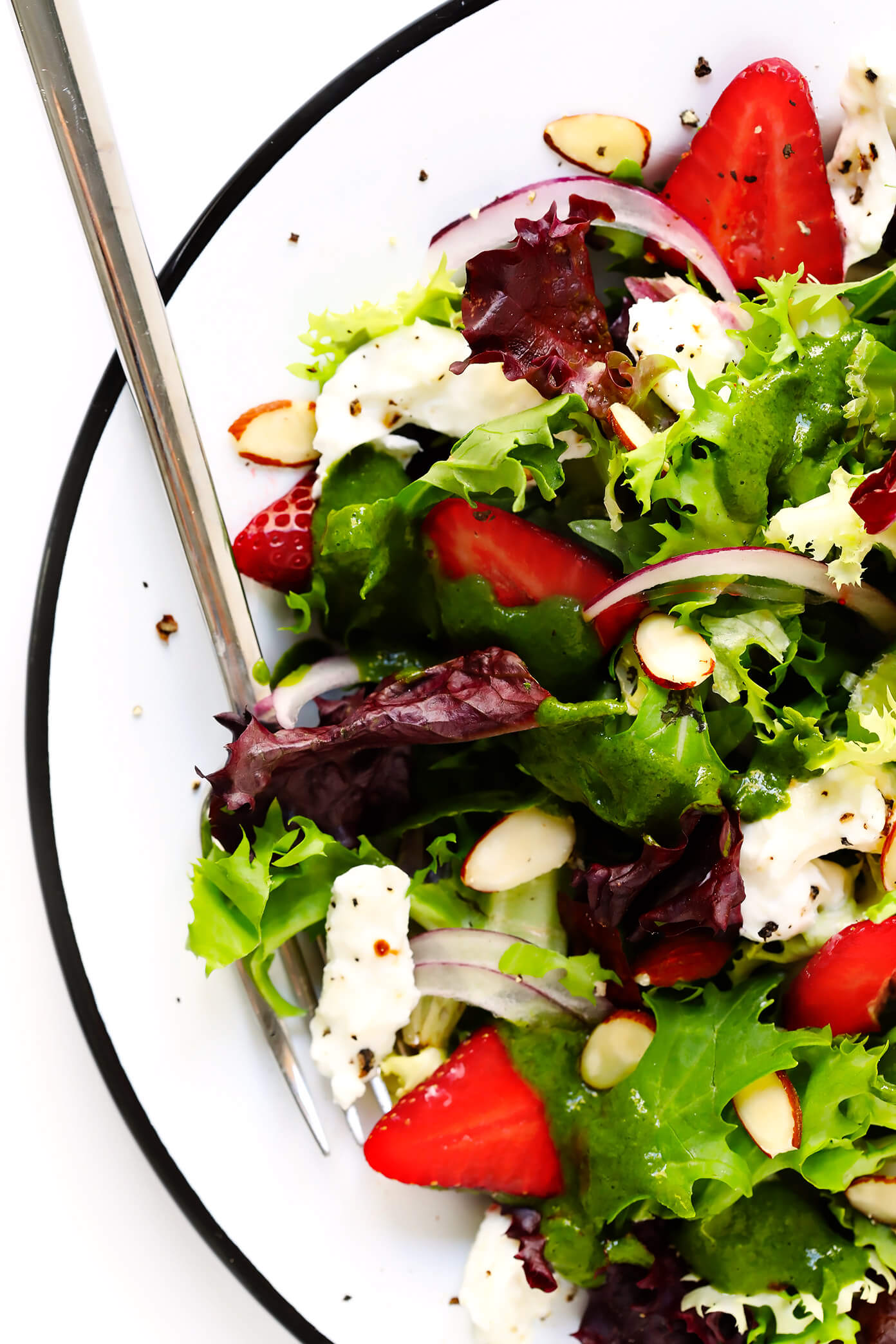 Enjoy, everyone!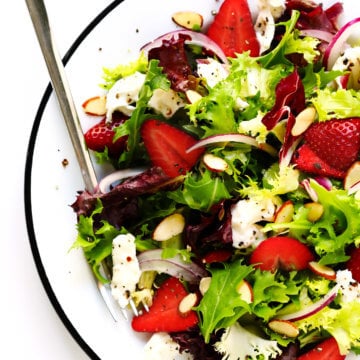 Yield: 4-6 servings
Strawberry Burrata Salad with Basil Vinaigrette
This Strawberry Burrata Salad recipe is quick and easy to make, and topped with the most heavenly fresh basil vinaigrette.  It's the perfect summer salad!
Ingredients:
5 ounces spring greens
1 pound (16 ounces) fresh strawberries, hulled and sliced
1 ball fresh burrata cheese, roughly chopped or torn
1/3 cup sliced almonds, toasted
1/4 medium red onion, thinly-sliced
1 batch Basil Vinaigrette
Directions:
Combine all ingredients together in a large mixing bowl, and toss until combined.
Serve immediately, and enjoy!
Difficulty: EasyCategory: Quick


All images and text ©Gimme Some Oven
If you make this recipe, be sure to snap a photo and hashtag it #gimmesomeoven. I'd love to see what you cook!