This Strawberry Shortcake Ice Cream Cake is a show-stopping strawberry dessert! Made with crushed shortbread cookies, strawberry shortcake ice cream, and homemade strawberry sauce, it's a no bake dessert everyone will love!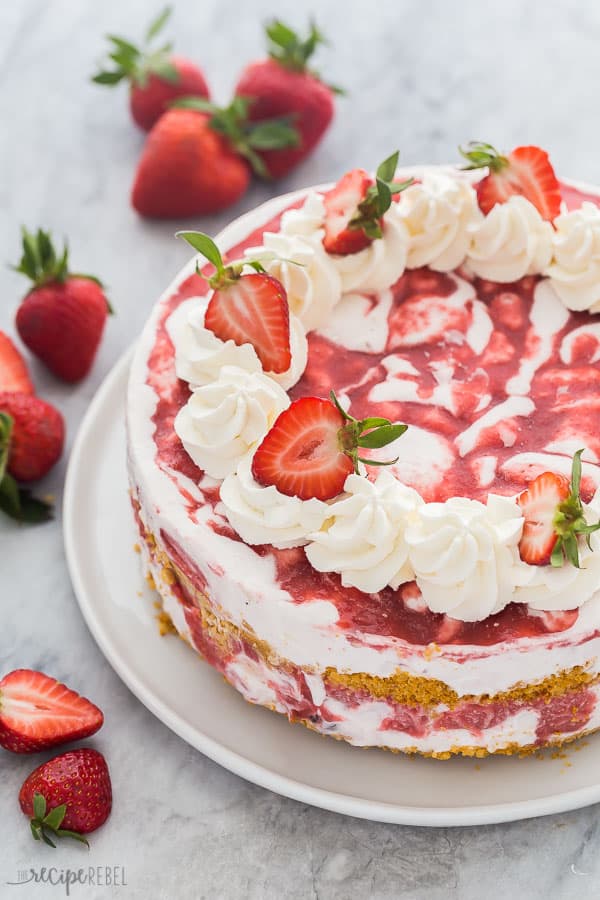 Everyone, meet the summer dessert of my dreams.
This Strawberry Shortcake Ice Cream Cake you guys…. it's crazy delicious.
I've mentioned this a few times now but the older I get, the more I prefer a fruity dessert over something crazy rich.
I will give you my cake with frosting if you'll just pass me a bowl of ice cream.
I recently discovered this Strawberry Shortcake Ice Cream from Chapman's (my ice cream of choice), and I can't get enough. It is easily my current favorite ice cream!
When I had the opportunity to work with Chapman's on a fun dessert recipe, I knew I had to include it somehow!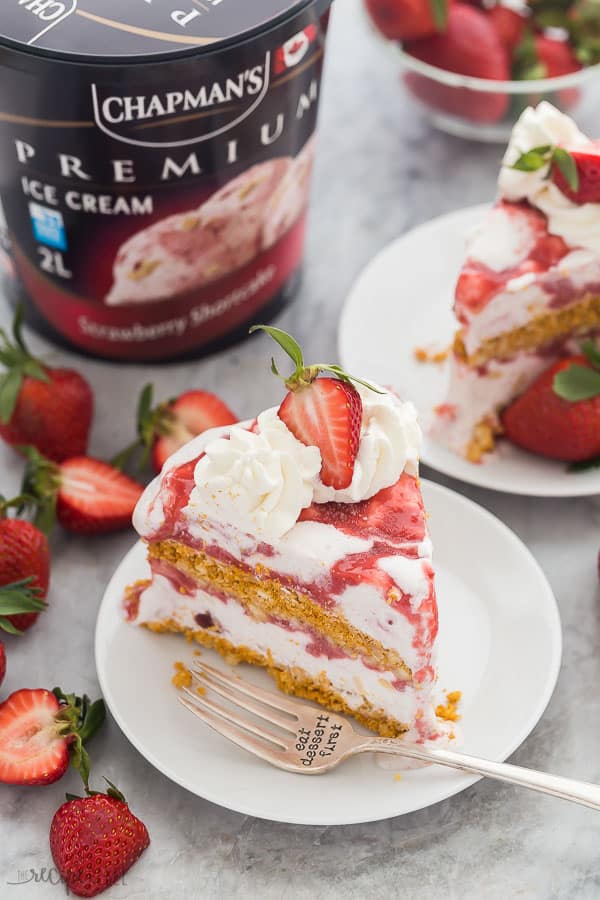 This Strawberry Shortcake Ice Cream starts with real cream (believe me — there are a lot of ice creams out there not made with cream!), and has loads of white cake chunks and real strawberries.
It really makes this ice cream cake recipe extra special!
How do you make a Strawberry Shortcake Ice Cream Cake?
Make the strawberry sauce first, because it has to cool to room temperature before assembly. You can even prep it the day ahead and store it in the refrigerator.
Mix together some cookie crumbs and melted butter — any vanilla cookies will do!
Make one layer of cookie crumbs, Strawberry Shortcake Ice Cream, and strawberry sauce. Then repeat once. These two layers will fill a 9″ springform pan, so don't go any smaller!
Freeze flat — clear some space in your freezer because you don't want this ice cream cake to spill over! Once it's firm, cover with plastic wrap and store up to 2 months before serving.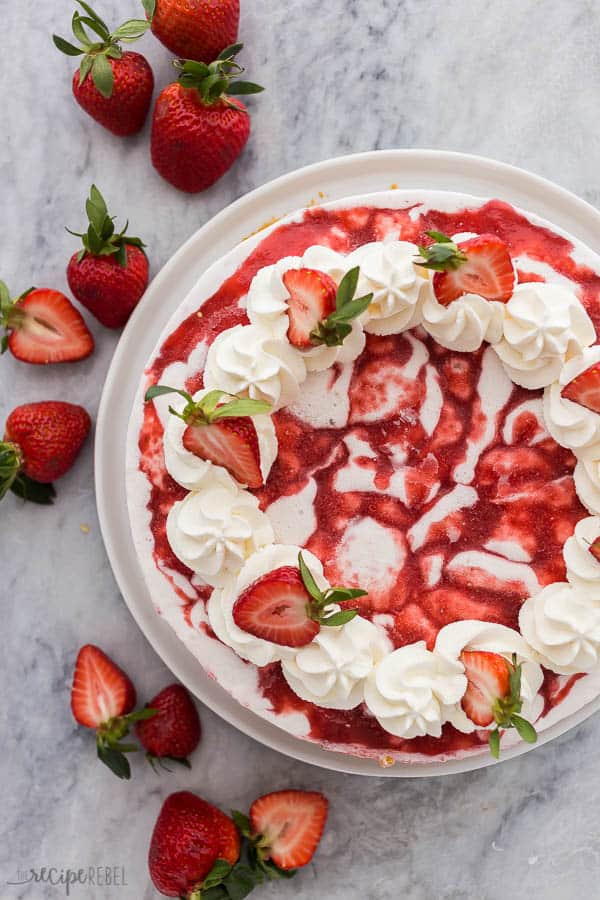 Variations on this Strawberry Shortcake Ice Cream Cake:
You can swap out the shortbread cookies for a thin, homemade blondie or a thin white cake layer. Personally, I prefer the crushed cookies as I find frozen cake hard to serve and I skipped the blondie because I wanted to keep it no bake.
You can swap out the ice cream for another variety and get a little crazy: try Chapman's Premium Chocolate Fudge Brownie or Black Cherry with the strawberry sauce — the options are endless!
You can make a single layer of everything and prepare it in a 9×13″ pan if you find that easier or if you don't have a springform pan.
How long can you store ice cream cake?
Ice cream is best eaten within about 2 months, but that's a pretty great shelf life for a dessert like this!
Make up a couple and store them for unexpected company, and then enjoy their shock and delight when you whip this beauty out of the freezer to serve.
How to serve this Strawberry Shortcake Ice Cream Cake:
I like to let my ice cream cakes sit at room temperature for 10-15 minutes before serving so they slice easily.
While I'm waiting, I like to whip up some extra whipped cream to pipe over the top for a fun presentation.
If you want to really take things to the next level, chop up some fresh strawberries and toss with a small amount of sugar and let sit while your cake warms slightly. They will become sweet and saucy and will add an extra strawberry punch to this fun strawberry dessert!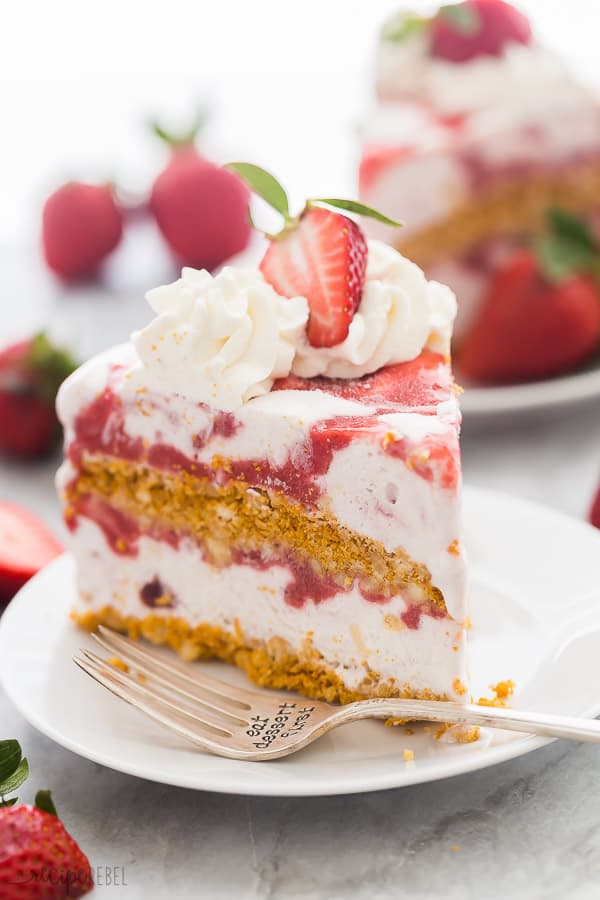 *This post is generously sponsored by Chapman's and I was compensated for my time in creating this recipe. Thank you for supporting the brands that make The Recipe Rebel possible.