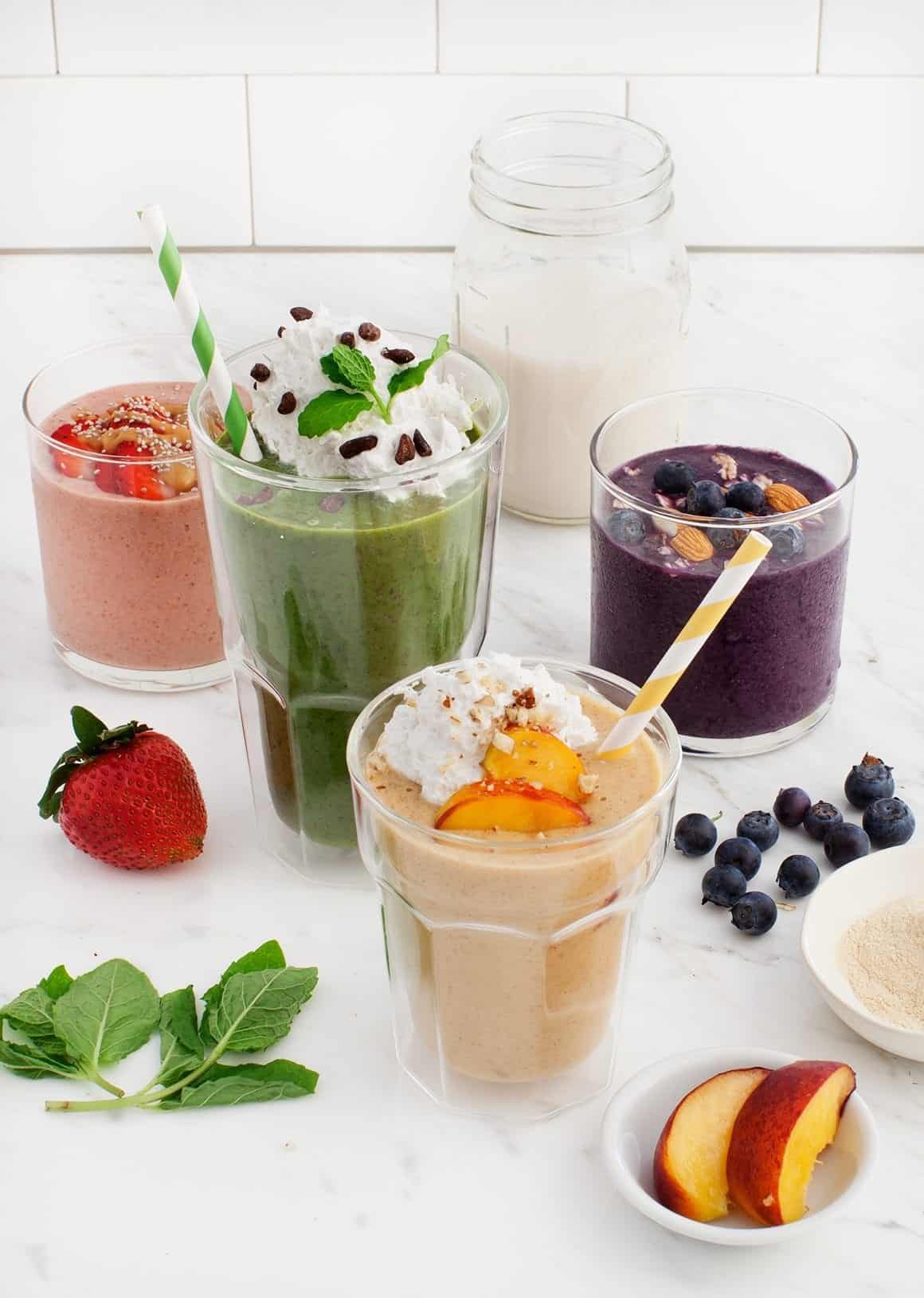 Every so often, I get on these mean green daily smoothie kicks that in all honesty, can get a little TOO green over time. The kick starts with delicious well-balanced smoothies but as the days go on, I start cutting corners. I add too much liquid so that the blender will blend fast, leaving me with a watery smoothie. And speaking of water, that's what I use when I run out of almond milk. I add ice in the name of "thickness" and I start skipping all ingredients that actually add flavor. What I (we) are left with to drink first thing in the morning is basically a Kale Icy. I know that sounds like it might be good and healthy, but it's really not – we gulp them down these leafy drinks are hungry a few hours later.
But now that it's summer, I've decided to re-up on my smoothie game – these new recipes are SO delicious and they're inspired by four of my favorite summer treats: blueberry muffins, peaches & cream, PB&J sandwiches, and mint chip ice cream. In other words – smoothies worth waking up for! For this post, I've teamed up with Whole Foods Market to try out some new plant-based protein powders. Their supplements are often on sale, click here to check out the sales flyer for your local store!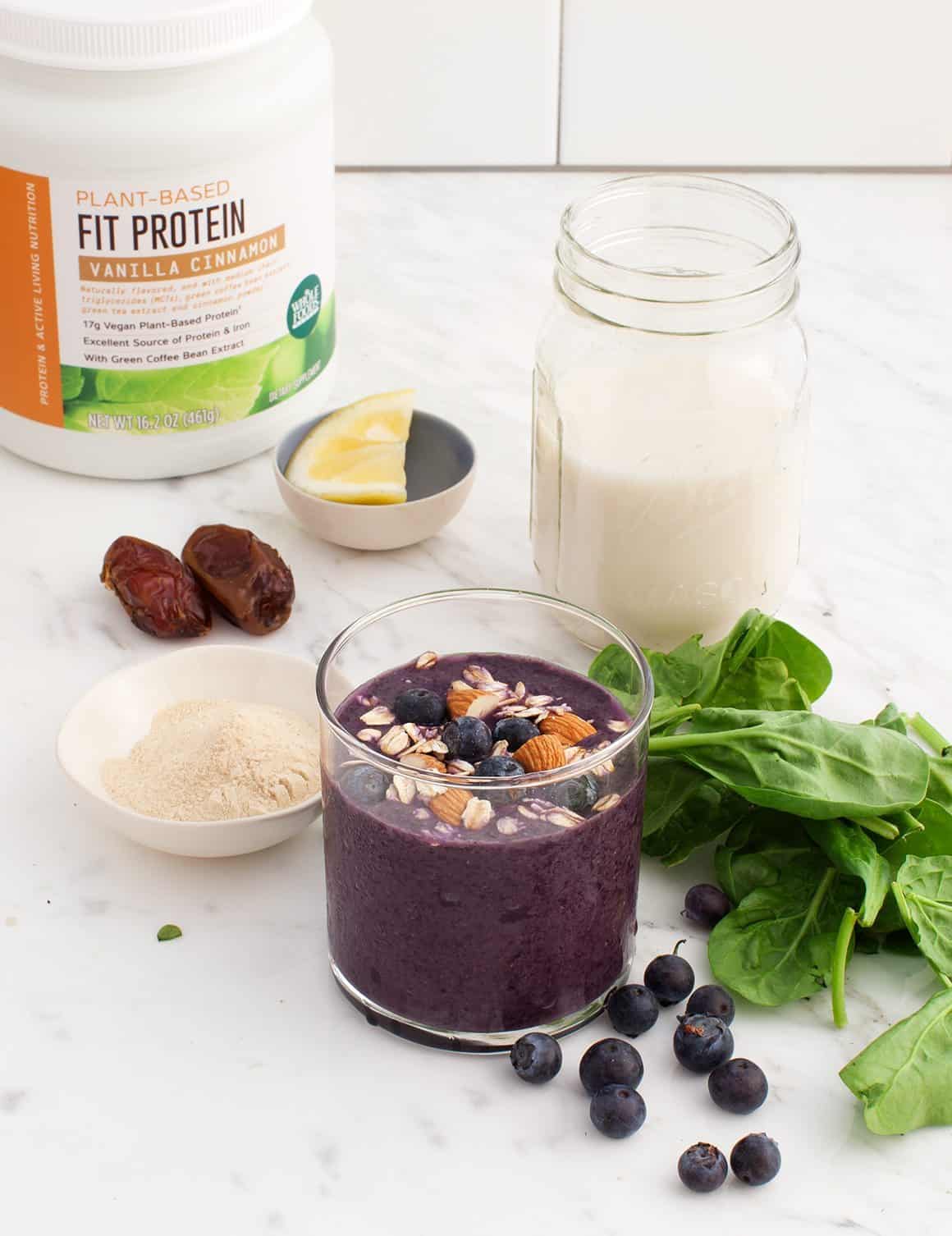 First up: Blueberry Muffin Smoothie
This is next best thing to cake for breakfast! Its muffin-like flavor and thickness comes from whole rolled oats. It's naturally sweetened with dates and a pinch of cinnamon. I used Whole Foods Market™ Plant-Based Fit Protein, which makes this a well balanced breakfast full of plant protein (pea protein, cranberry protein and hemp seed protein) as well as a little pick-me-up from the green coffee bean, and green tea extracts that are in the powder. I also snuck a handful of spinach in this smoothie which is pretty undetectable.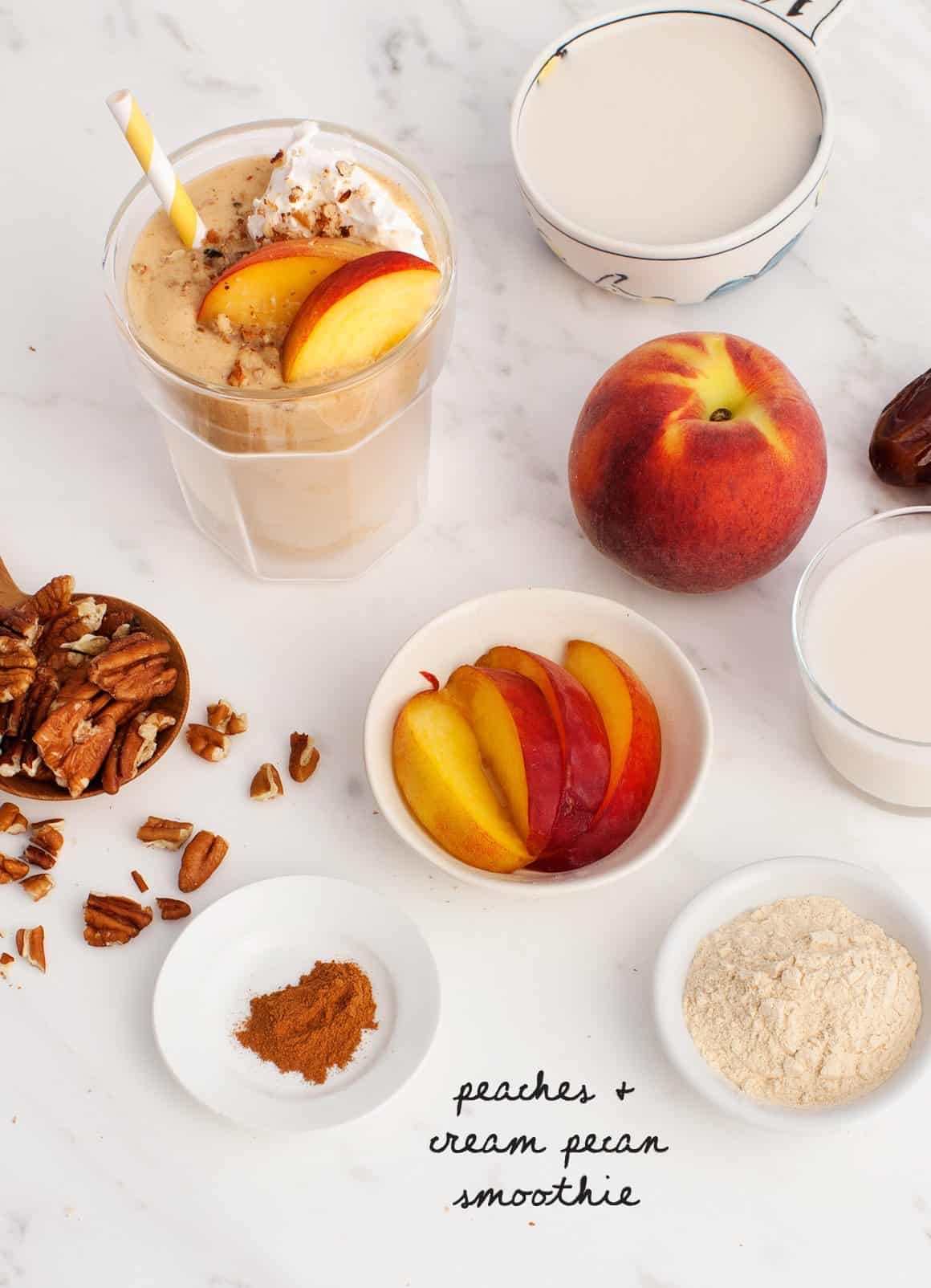 Peaches & Cream Pecan Smoothie
I love peaches more than any other fruit on the planet so this is by far my favorite smoothie. When I first made it, I tasted it and said "this is ice cream!" It works with almond milk or coconut milk, and the pecans make it so rich and creamy. The Whole Foods Market™ Plant-Based Fit Protein adds a nice vanilla and cinnamon flavor along with it's protein boost. I like to make this one really thick and eat it with a spoon. Beyond breakfast, I'll eat this for dessert any day.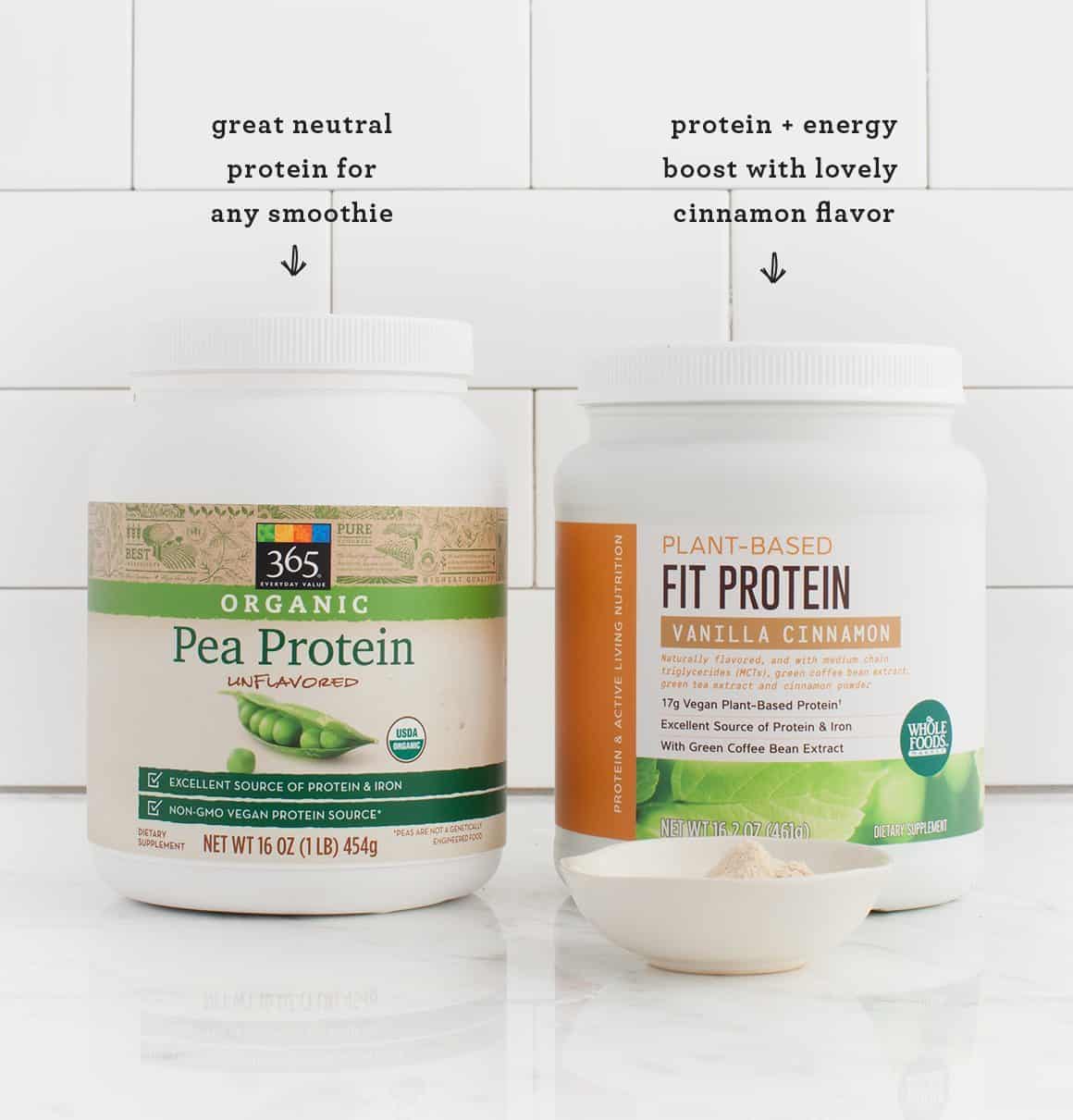 Last week while making these, I basically raided the Whole Foods supplement aisle to test out the protein powders that would best compliment my summer smoothies. In the end I chose 2 favorites – both are both fantastic plant-based protein options that have great texture and complimentary and/or neutral flavors. Whole Foods Market™ Plant-Based Fit Protein works especially well with in the Blueberry Muffin and Peaches & Cream Pecan smoothies. 365 Pea Protein is great in these last 2 smoothies – Strawberry PB&J and Mint Chip – because its flavor is so neutral.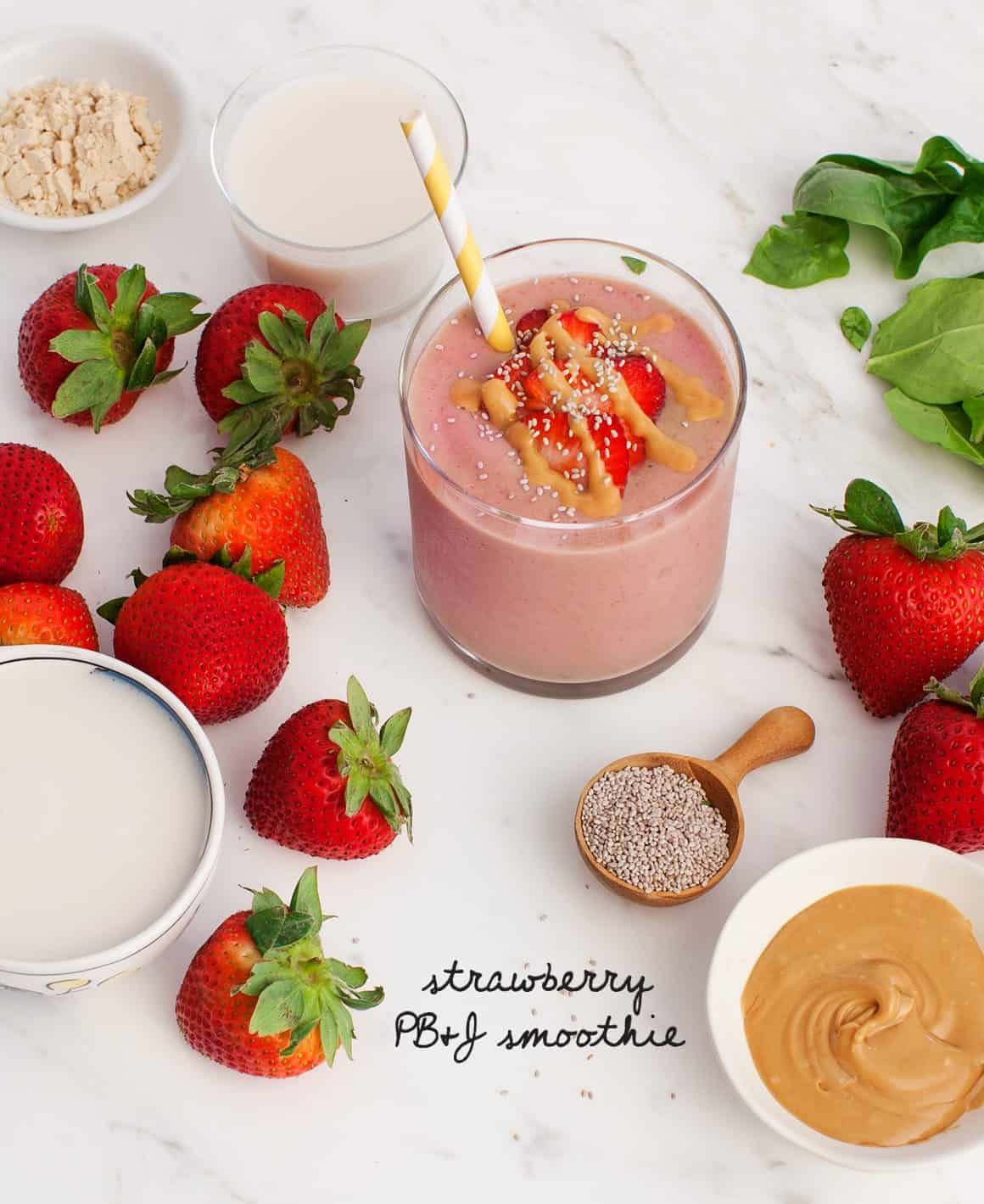 Strawberry PB&J
Berries and peanut butter (or almond butter) is a go-to smoothie combo for me but I never get sick of it. It always reminds me of a PB&J sandwich and it always leaves me full until lunch. To thicken this smoothie, I used chia seeds and 365 Everyday Value® Pea Protein. I added a bit of spinach to this one as well – just enough to keep it pink. If you add too much spinach it will turn brown but it's still delicious.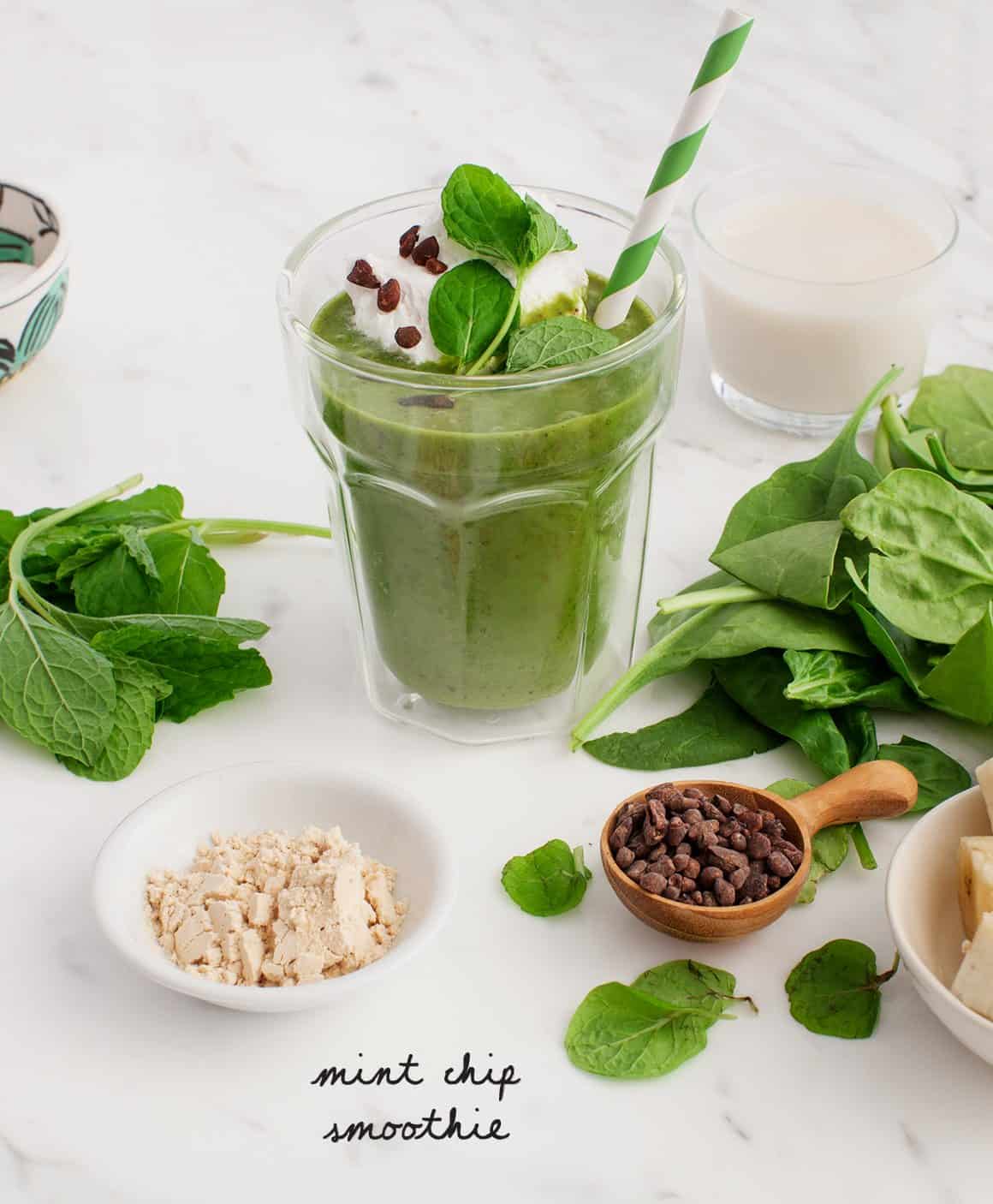 Mint Chip Smoothies
This one reminds me of summer as a kid because my sister would always order mint chocolate chip ice cream (I was a cookies & cream girl). To make this creamy, I used a frozen banana, coconut milk frozen into ice cubes, and 365 Everyday Value® Pea Protein. Its green color comes from a few handfuls of spinach and a good handful of mint. In lieu of chocolate, cacao nibs make this a healthy breakfast treat.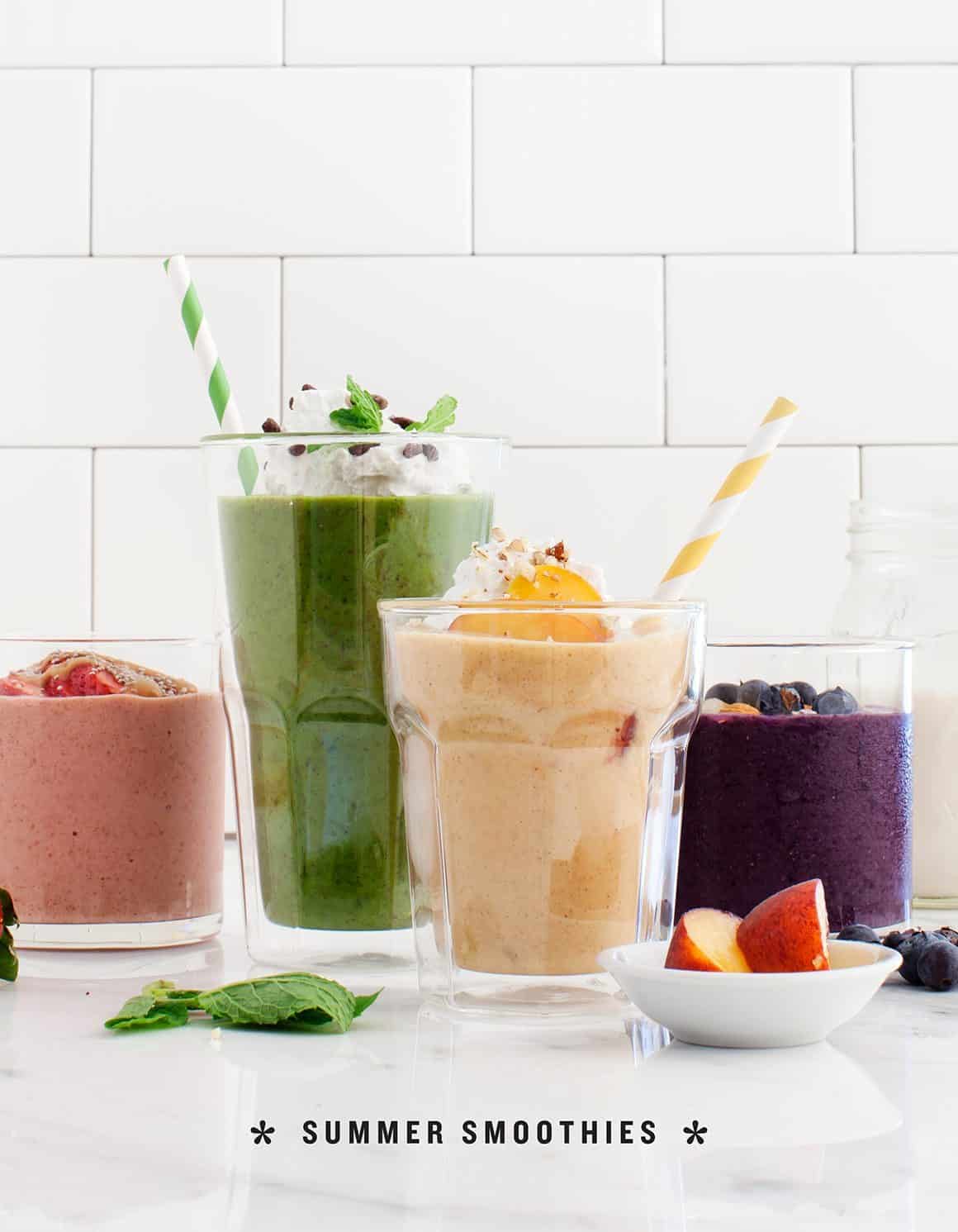 Super Fun Summer Smoothies!

Blueberry Muffin Smoothie
1 ½ cups frozen blueberries
3 tablespoons whole rolled oats
3 soft medjool dates
Handful of fresh spinach
½ tablespoon fresh lemon juice
¼ teaspoon cinnamon
Pinch of salt
1 tablespoon Whole Foods Market™ Plant-Based Fit Protein
6 ice cubes
¾ to 1 cup almond milk or light coconut milk, or as needed to blend
optional garnishes: fresh blueberries, oats, crushed almonds
Peaches & Cream Pecan Smoothie
2 peaches, sliced and frozen
2 heaping tablespoons pecans
2 soft medjool dates
¼ teaspoon cinnamon
1 to 2 tablespoons Whole Foods Market™ Plant-Based Fit Protein
¼ cup light canned coconut milk, or additional almond milk
¾ to 1 cup almond milk, or as needed to blend
optional garnishes: coconut cream, sliced fresh peaches, crushed pecans
Strawberry PB&J
2 cups frozen strawberries, plus 2 fresh strawberries, sliced for garnish
Small handful of fresh spinach
1 tablespoon chia seeds
3 soft medjool dates
2 tablespoons peanut or almond butter
2 to 3 tablespoons 365 Everyday Value® Pea Protein
1¼ cups almond milk, more as needed to blend
optional garnishes: sliced strawberry, drizzle of peanut butter, chia seeds
Mint Chip Smoothie
4 frozen coconut milk ice cubes
1½ cup frozen spinach leaves
¼ cup mint leaves, frozen
3 soft medjool dates
1½ tablespoon cacao nibs
3 tablespoons 365 Everyday Value® Pea Protein
1 to 1½ cup almond milk, or as needed to blend
optional garnishes: coconut cream, mint leaves, cacao nibs
For each smoothie – blend ingredients in a blender. Use the blender's baton (if you have one) to help blend before deciding to add more almond/coconut milk. The key to a thick smoothie is to add enough liquid to move your blender blade, but not too much to make the smoothie thin and watery.
for all smoothies: you can either buy fresh produce and freeze it, or you can buy frozen produce.
3.4.3177
3.4.3177
This post was created in partnership with Whole Foods Market. Thank you for supporting the sponsors that keep us cooking!