The holidays wouldn't be complete without a big jar of SuSu's scrumptious cereal snack mix to eat! A salty treat everyone loves!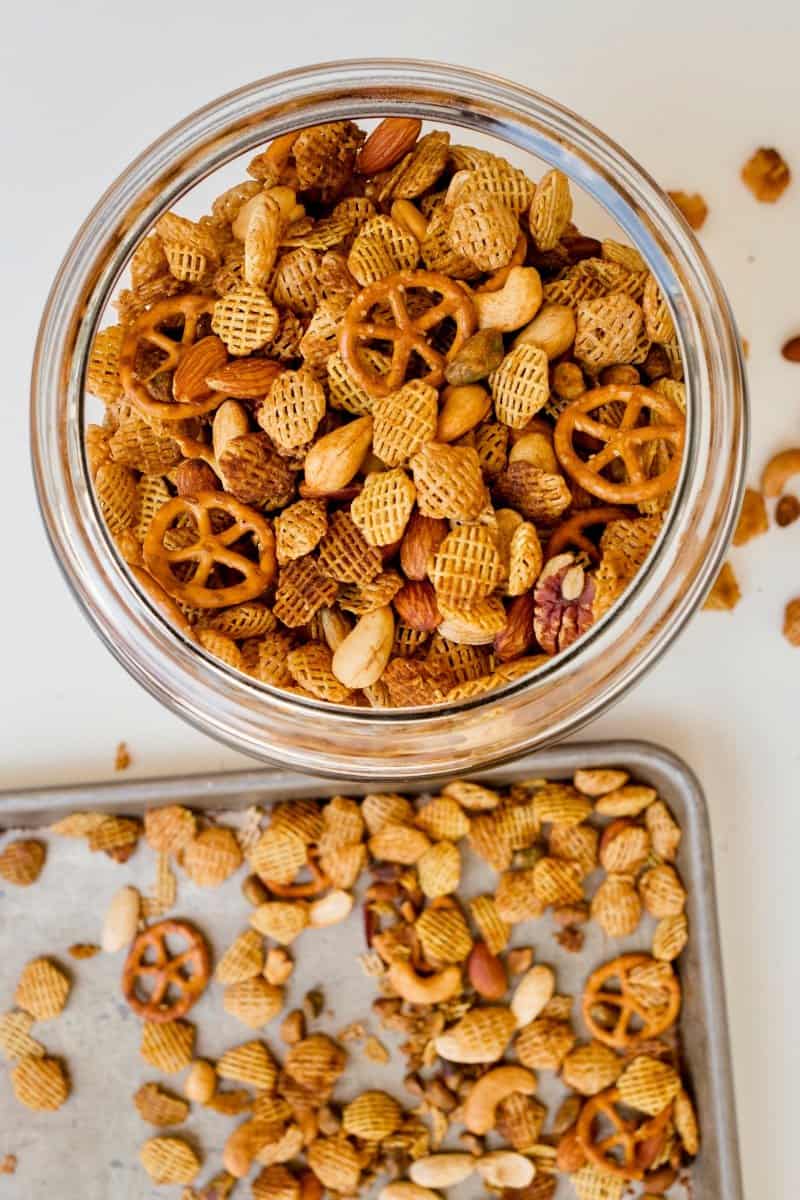 Happy Holidays! I hope your Thanksgiving was wonderful and filled with lots of food, family, friends and fun!
I just love this time of year, like most people! So much time spent with family, making memories, and soaking in all the season has to offer.
Most of our time around the holidays is spent up in Oklahoma at my parents' house. All 6 of us just roll in and make ourselves right at home. Haha! Thankfully, my parents seem to love it! There's just so much comfort and tradition that my parents' create in their home that makes us all so happy!
Some traditions are new since grandchildren came into the picture, but some have been around for as long as I can remember. One that we all count on is a big jar of my mom's (aka SuSu) cereal snack mix that is always on the kitchen counter. We literally walk in the door and everyone reaches in for a handful and then pretty much each time we pass the jar we reach in again.
Mmmm…mmmm! It's salty, buttery, crispy, crunchy, irresistibleness…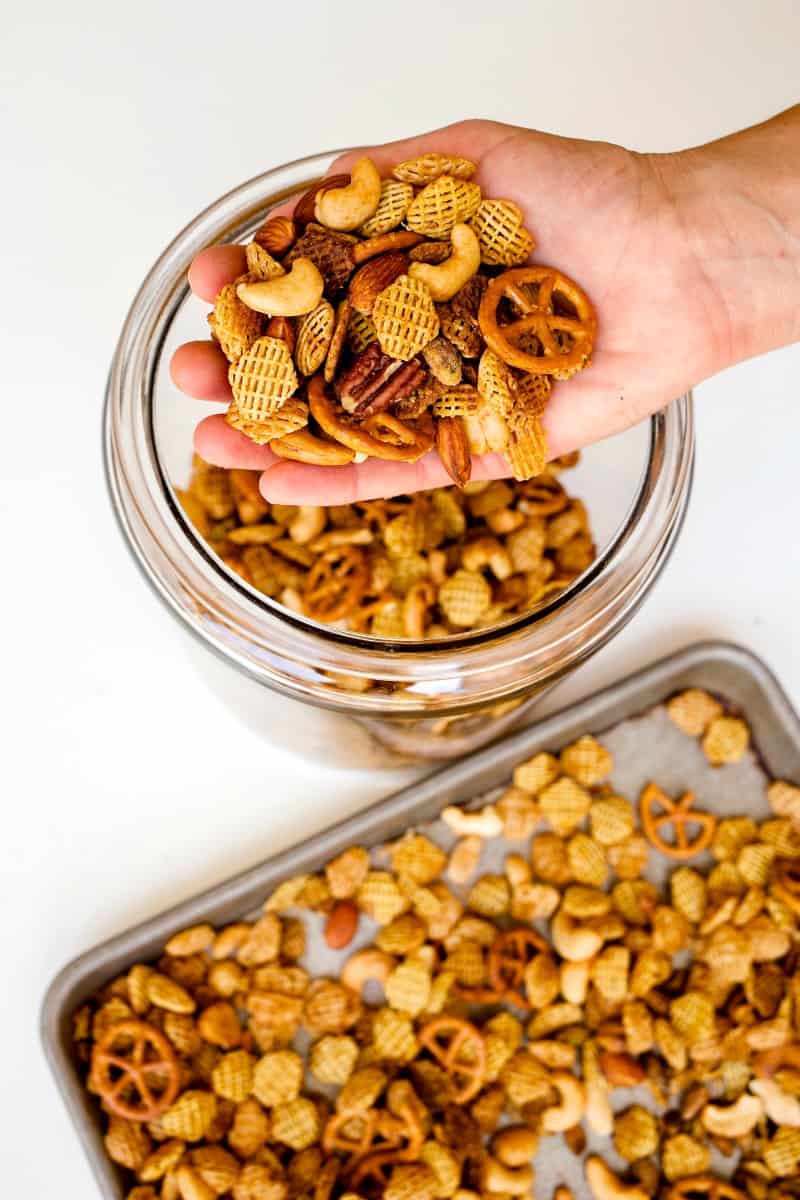 There's just something about "SuSu's Cereal" (what all the grandkids call it!) that makes it so much more yummy than any other snack mix out there.
Maybe it's the extra Worcestershire sauce or abundance of mixed nuts (including pistachios!) or overall assurance of crispiness throughout.
SuSu's cereal snack mix started as a holiday tradition, but honestly it's an every day tradition now. We all love it so much that SuSu keeps a fresh jar of it on her kitchen counter all the time. Score!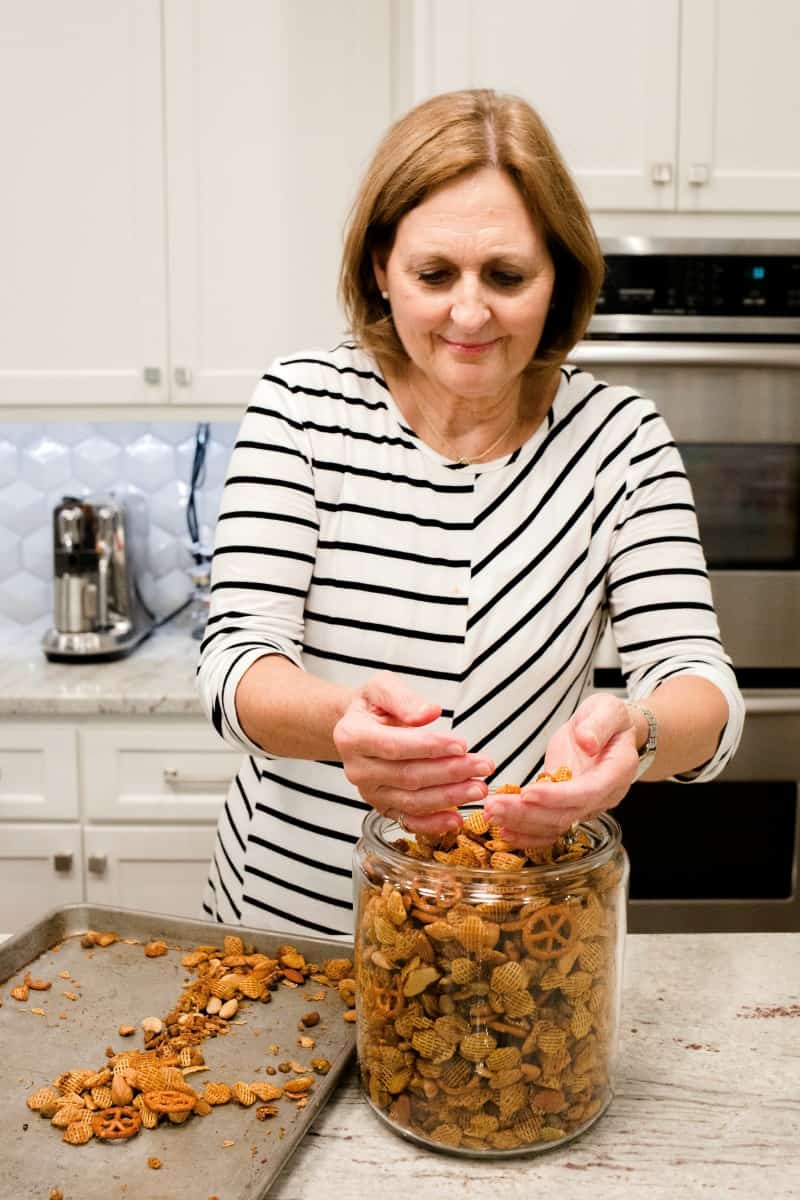 It's super easy to make and fills the house with the most amazing savory aroma there is.
You just melt the butter with Worcestershire sauce, fresh lemon juice, seasoned salt and garlic salt. Pour it over the Crispix cereal, nuts and pretzels and toss to coat. SuSu just gets in there and mixes it with her hands to make sure it's all coated evenly, but feel free to use a big spoon. ?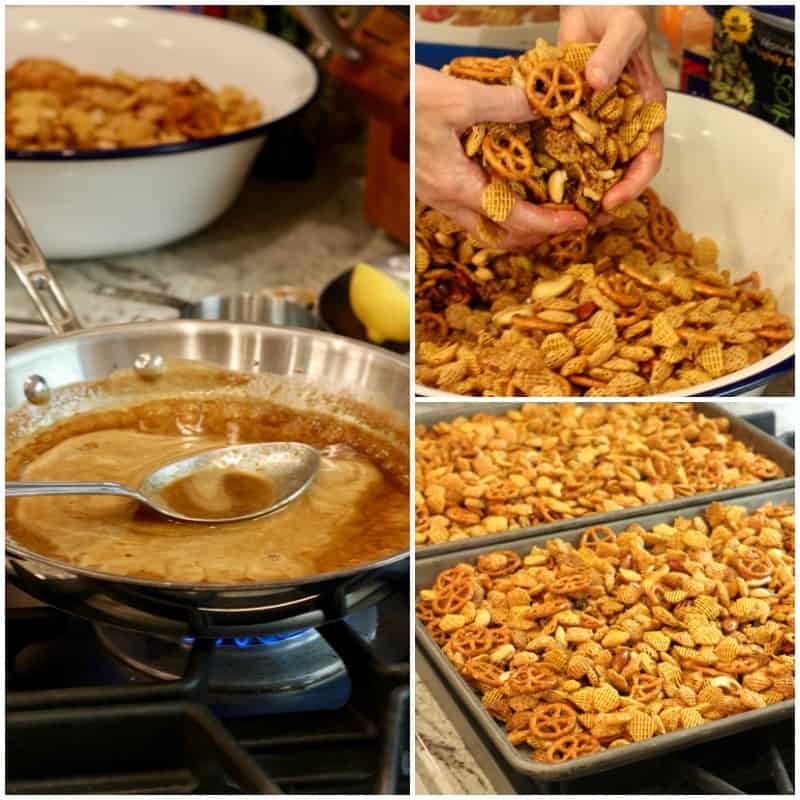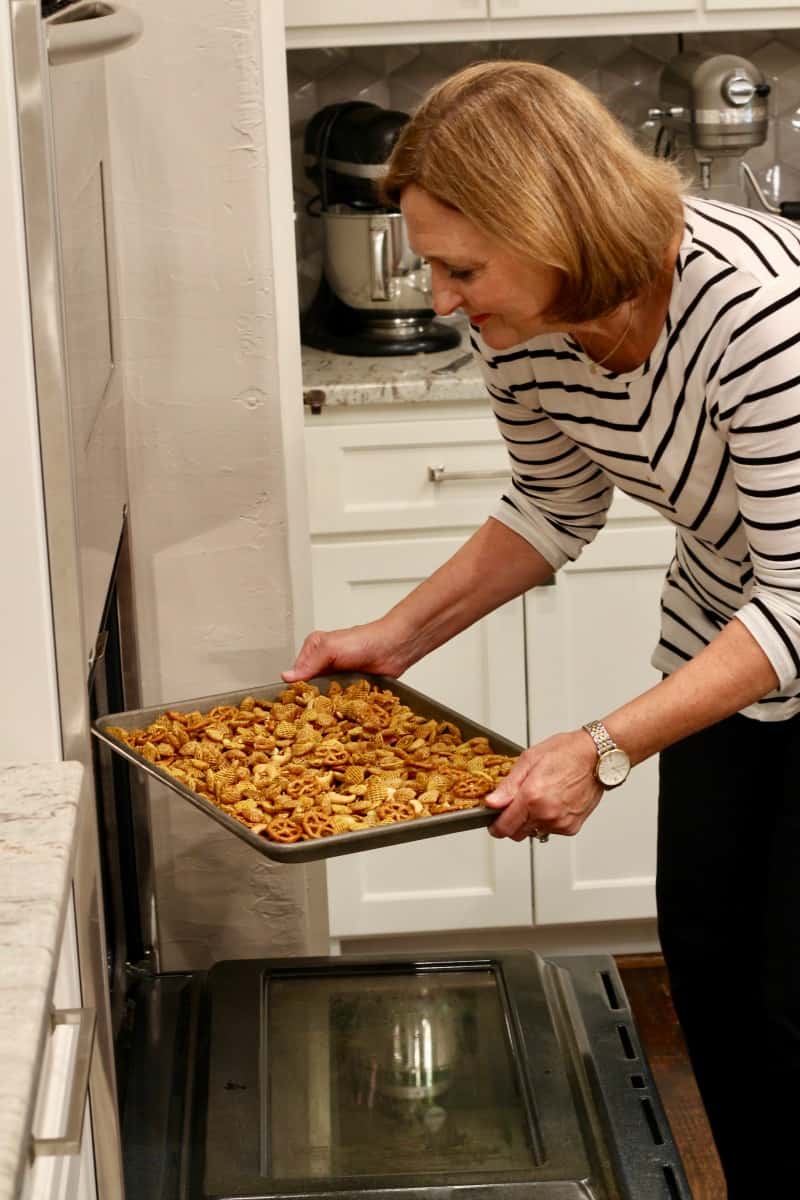 Into the oven it goes to bake low and slow at 300 degrees for 45 minutes, stirring gently every 15 minutes.
The way the cereal, nuts and pretzels absorb the sauce and crisp up while baking is just pure magic coming out of the oven…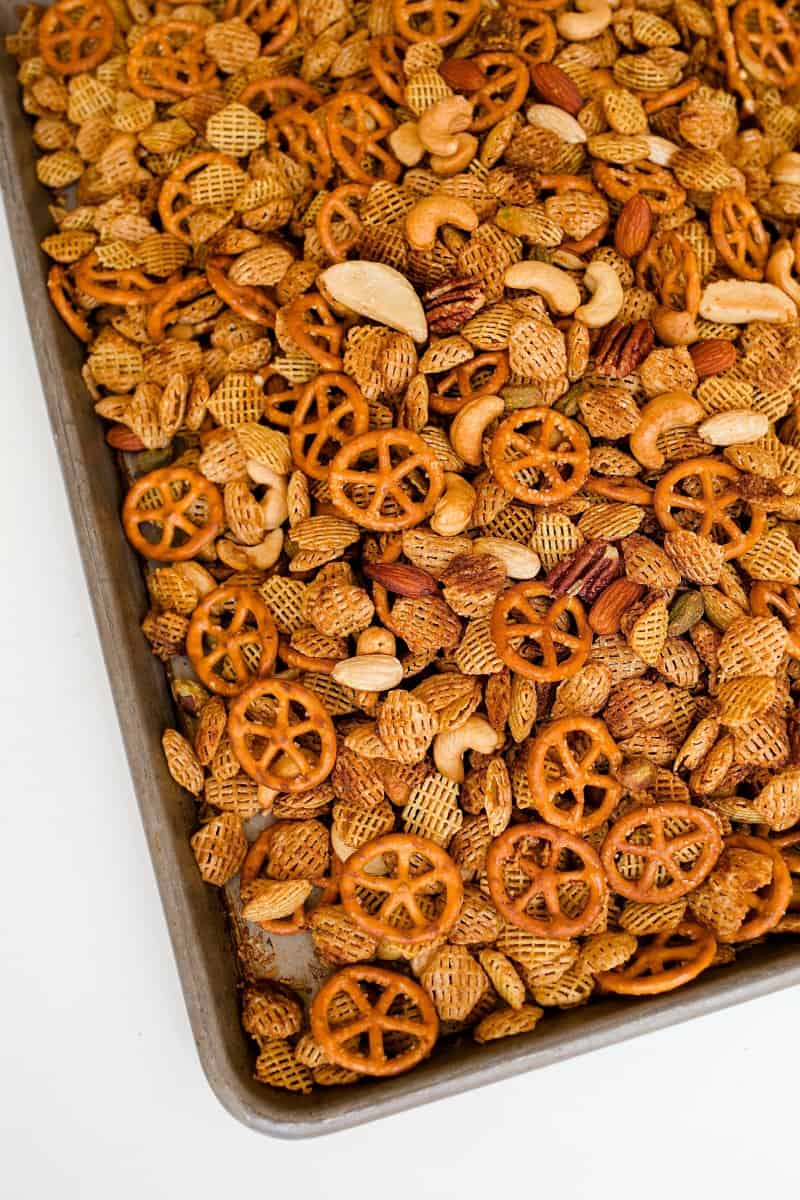 SuSu's cereal snack mix makes for such a great snack to put out for the holidays, game day or really any day. It's a real crowd pleaser!
Enjoy!
xoxo,

SuSu's Cereal Mix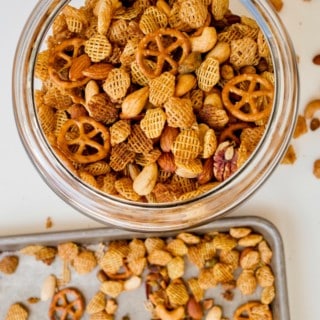 The holidays wouldn't be complete without a big jar of SuSu's scrumptious cereal snack mix to eat! A salty treat everyone loves!
Author: Maegan – The BakerMama
Recipe type: Appetizer
Serves: 40-45 servings
Ingredients
1 (12 ounce) box Crispix cereal (12 cups)
3 cups mixed nuts
1 cup pistachios
2 cups mini pretzels
½ cup (1 stick) unsalted butter
7 tablespoons Worcestershire sauce
1 tablespoon fresh lemon juice
1 tablespoon seasoned salt
1 tablespoon garlic salt
Instructions
Preheat oven to 300°F.
In a large mixing bowl, combine the cereal, mixed nuts, pistachios, and pretzels.
In a small saucepan, melt the butter and then stir in the Worcestershire sauce, lemon juice, seasoned salt and garlic salt. Bring to a simmer and then remove from heat. Pour sauce over cereal mixture and gently stir until evenly coated.
Spread mixture evenly out onto two 13×9-inch rimmed baking sheets. Bake for 45 minutes, rotating baking sheets and stirring the snack mix every 15 minutes.
Remove from oven and spread out onto paper towels to cool.
Notes
Store in a jar with a lid, resealable bag or airtight container.
3.5.3226
Recipe by Susan Miller/Photography by Madison Mentesana and Maegan Brown