Bang Bang Meatballs are the flavorful easy dinner idea, game day snack or party food that you've been searching for! These juicy ground beef and pork meatballs, coated in a sweet and spicy chili sauce, are bound to be an all-around hit.
Of course, make sure to try my Easy Baked Meatballs or Porcupine Meatballs as a classic dinner option too!
Easy Homemade Bang Bang Meatballs!
Homemade meatballs are kind of my kryptonite. They're total comfort food, they taste endlessly better than store-bought meatballs, and I know that everybody will gobble them up without argument. But the best part? You can put them in anything. We're talking spaghetti, subs, a cream sauce, etc. etc.
But today? Today we're gonna be making Bang Bang Meatballs, where the meatballs themselves are the stars of the show.
Ground pork and ground beef are combined with breadcrumbs to create juicy, tender, baked meatballs that you'll want to eat right out of the oven. Of course, you'll have to fight off that urge, because when you coat them in homemade Bang Bang sauce, they become a whole new kind of delicious.
These flavorful meatballs are perfect as an appetizer, a game day snack, or you could even make them a main course. Each of these is a good option!
What Are Bang Bang Meatballs?
The idea for this Bang Bang Meatballs recipe comes from Bang Bang Shrimp, which I have a great recipe for on my site! But, instead of using the "Bang Bang" sauce to coat seafood, you use it on meatballs. And oh my goodness, is it delicious. I mean, I'll eat any variation of a 'Bang Bang' recipe. That sweet chili sauce is just too good to pass up. Put it on chicken, shrimp, it doesn't matter – I'll eat it!
But today it's all about meatballs, so let's get going on those!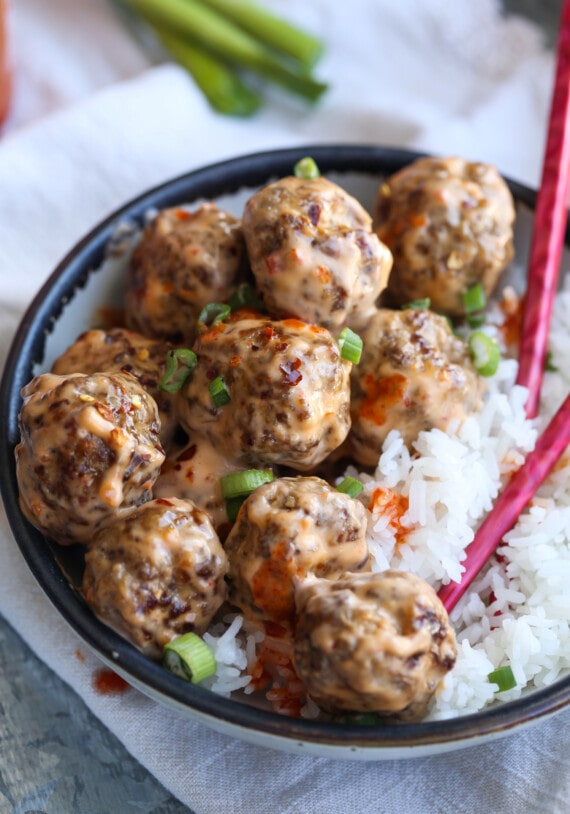 Recipe Ingredients
I broke the essential ingredients list for this recipe into two parts: meatballs and sauce. Here's what you'll need to make the best Bang Bang meatballs…
For the Meatballs
Ground Meat: I like to use a combination of ground pork and lean ground beef in my meatballs. If you don't want to use any lean ground meat, you definitely don't have to.
Breadcrumbs: Panko breadcrumbs are my breadcrumbs of choice, but feel free to use your favorite brand.
Eggs: To bind the meat, breadcrumbs, and spices together.
Spices/Seasoning: Combine grated ginger, onion powder, kosher salt, and ground black pepper.
Garlic: For extra flavor.
Sriracha Sauce: To add a little kick to the meatballs.
Soy Sauce: For some savory flavoring.
For the Bang Bang Sauce
Mayonnaise: Plain Greek yogurt could probably be used as a substitute if needed.
Sour Cream: To thicken up the sauce a little.
Sweet Chili: To add the classic spicy yet sweet flavor.
Sriracha Sauce: Feel free to adjust the amount used to fit your tastes.
Rice Vinegar: To introduce subtle sweet undertones to the sauce.
Optional Garnish: You can finish these meatballs off with chopped cilantro, crushed red pepper flakes, or a drizzle of sriracha if you want.
How to Make Bang Bang Meatballs
The best recipes are the ones that don't take long to make, but taste like a million bucks anyway. That's these easy Bang Bang Meatballs in a nutshell. They take just over 30 minutes to make, and all you have to do is form and bake the meatballs, then whip together the sauce, and you're done.
Here's how you do that:
Make the Meatballs
Preheat the Oven to 425°F: Line a large baking sheet with aluminum foil and coat it with nonstick spray, then set it aside.
Shape the Meatballs: In a large bowl combine the ground beef, pork, breadcrumbs, eggs, ginger, sriracha, soy sauce, garlic, onion powder, salt, and pepper. Mix until everything is evenly combined. Form the mixture into 1 1/2- inch meatballs and place them onto the prepared baking sheet.
Bake: Bake for 10 minutes and then flip the meatballs. Bake them for an additional 8 minutes, or until they're cooked through and no longer pink on the inside.
Make the Sauce
Combine the Sauce Ingredients: In another large bowl whisk together the mayonnaise, sour cream, chili sauce, sriracha, and vinegar.
Coat the Meatballs and Serve: Place the meatballs in the large bowl with the sauce and toss to coat. Place on a serving tray and garnish with chopped cilantro, more sriracha, and red pepper flakes, if desired.