Sweeten up weeknight dinners with these Sweet Korean BBQ Beef Tacos made with amazingly tender, super flavorful Korean beef prepared in the crockpot. Layered on tortillas with crisp veggies and sour cream!
Living for Taco Night or Taco Tuesday at home? Try more recipes that the whole family will love, like my easy Fish Tacos or Instant Pot Chicken Carnitas!
The Best Korean BBQ Beef Tacos
Every so often, I have one of those weeks that feels like I'm zooming in absolute circles. I can't tell if I'm coming or going! ? Luckily, I've picked up a few tricks to get ahead of the game. My crockpot is one of them. ?
Beef Chuck Roast is the other! Together they're my secret weapons, and I know I can always throw a chuck roast in the slow cooker and end up with something simply delish.
A few low and slow hours in the crockpot was all it took to transform some grocery store beef chuck into these insanely delicious and easy Korean beef tacos. This is truly one of the best slow cooker beef recipes EVER. The meat came out so saucy and succulent, to rave reviews from the hubs and kids. 
Wrapped up inside warm flour tortillas with fresh garnishes, the sweet-savory flavors of this Korean BBQ beef recipe really shine. Family Taco Night just got a MAJOR upgrade!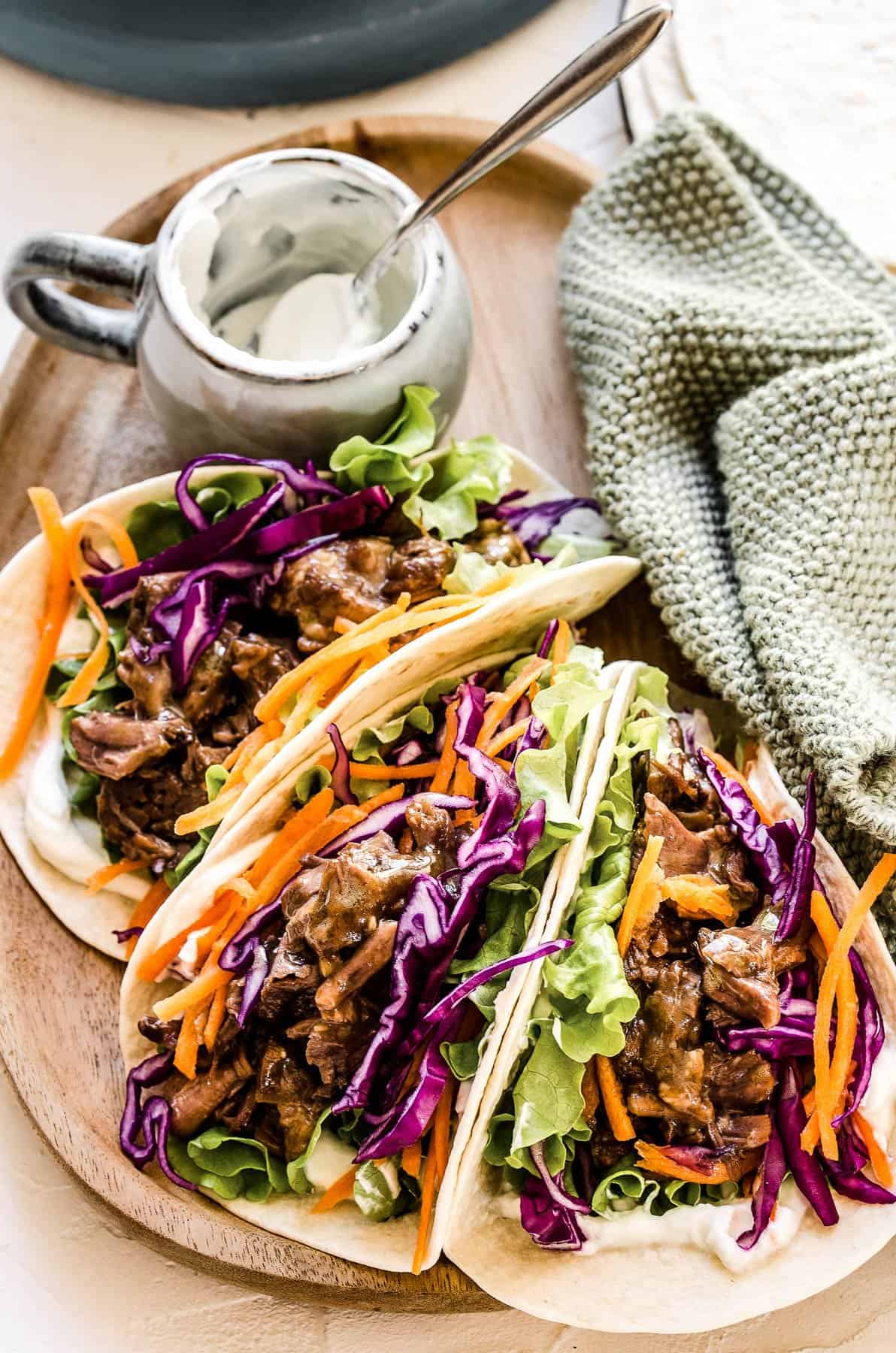 What You'll Need
Ok, so this may seem like a longer ingredients list than usual for an "easy" dinner, but trust me, the slow cooker takes care of almost everything! Here's what you'll need to achieve the most sensational and saucy Korean BBQ beef:
For the Korean BBQ Beef
Boneless Beef Chuck: You can find this cut in most grocery stores. Convenience in beef roast form!
Beef Broth: Choose a good quality broth for the utmost flavor.
Soy Sauce: I use the reduced sodium version, to have better control over the saltiness. You can sub in regular soy sauce if you prefer.
Brown Sugar: This is what gives this beef taco recipe it's super-awesome sweet and caramelized flavor. 
Garlic: Whole cloves, minced.
Sesame Oil: I strongly recommend investing in some sesame oil for the flavor it brings to Asian-inspired recipes. It honestly can't be matched!
Rice Wine Vinegar: Another staple, for some zesty acidity. Yum!
Hot Sauce: Use your favorite! Sriracha, Tabasco, or any chili sauce you prefer.
Cornstarch: This is used to create a slurry that will thicken the sauce a bit.
Onion Powder
Ground Ginger & Black Pepper: For seasoning.
For Serving
Flour Tortillas
Sour Cream
Lettuce
Shredded Carrot 
Shredded Red Cabbage
What Kind of Beef Should I Use?
I'm partial to tender beef chuck roast for its shredding abilities and also the rich, beefy taste. If you're not using chuck roast for your beef tacos, I'd recommend flank steak or sirloin, thinly sliced, as the next best alternatives.
How to Make Korean BBQ Tacos at Home
It doesn't get easier than setting the ingredients to cook first thing in the morning, and then coming back to delicious-smelling, unbelievably tender beef that's ready to shred and serve. Here's what's involved in making these amazing Korean tacos:
Make the Sauce: Whisk together the beef broth, soy sauce, sesame oil, vinegar, and other sauce ingredients as well as the onion. Add in the fresh cracked black pepper.
Assemble in the Slow Cooker: Place the chuck roast in the slow cooker, pour in the sauce mixture, and give it a stir.
Cook: Leave the beef to cook in your slow cooker for 7 to 8 hours on low, or 4 to 5 hours on high. This beef recipe cooks itself while you live your best life. ? When it's finished cooking, the beef will be super tender but still hold its shape.
Thicken: In a small bowl, create a slurry with water and cornstarch. Add the mixture into the crockpot and let the beef cook until thickened.
Shred: Shred the cooked beef and add it back into the crockpot while you prepare your taco accessories!
Serve: Prep your flour tortillas, give them a dollop of sour cream each, and then top them with shredded veggies and your delicious Korean BBQ beef.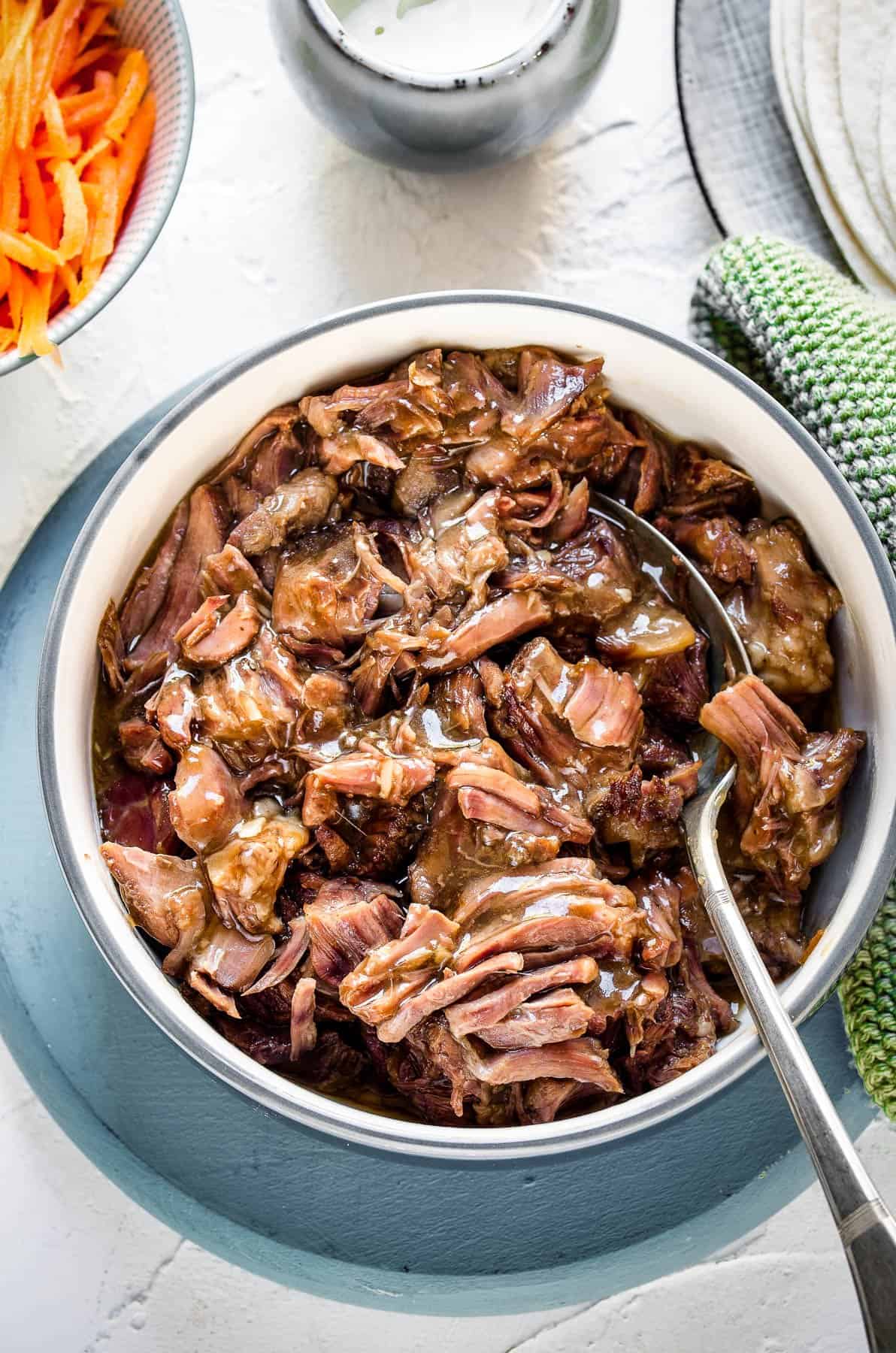 Tips for Success
Use Tender Beef: As mentioned, tender cuts of beef work best for this Korean beef tacos recipe. Beef chuck roast, beef sirloin, or flank are first choice.
Use Pre-Shredded Coleslaw Mix: If you're short on time, use a bag of pre-prepared coleslaw mix instead of shredding your own veggies. I won't tell! ?
Warm Up Your Tortillas: Heat the flour tortillas following the package directions, or warm the tortillas for a few seconds per side in an un-greased pan on the stovetop.
Double Up: Double the tortilla layer = double the filling! Ok, so maybe a girl can dream. But doubling up on the flour tortillas does help prevent tearing and also keeps everything together.
Variation Ideas
Tacos are the ultimate DIY dinner! From toppings to dressings, you can really spice things up at your kitchen table. 
Top beef tacos with other ingredients like avocado, pineapple, and green onions. 
Substitute the shredded vegetables with mild or spicy kimchi.
Garnish with cilantro, parsley, or sesame seeds.
Use your favorite dressing in place of sour cream. Spicy mayo is great, and I love these flavorful beef tacos with my Creamy Avocado Lime Dressing or Dijon Balsamic Dressing!
Serve your slow cooker Korean beef rolled up in Lettuce Wraps instead of tortillas.
Serving Suggestions
Not only is this crockpot Korean beef convenient, the sauce is also sooo, so tasty. Just add in your favorite meat or vegetables, and you have a delicious meal with lots of possibilities!
Like my Korean Beef Bulgogi, this easy homemade Korean BBQ recipe is just as perfect to serve over pasta and rice as it is wrapped up in taco tortillas! Here are some ways to serve it (with or without the tortillas!):
How to Store and Reheat Leftover Beef
Leftovers will keep airtight in the fridge for 3 to 4 days.
You can store it in containers or wrap the beef up tightly in layers of plastic wrap or foil. Reheat your BBQ beef in the microwave or sautéed on the stovetop until heated through.
How to Freeze Leftover Beef: If you'd like to freeze your leftover slow cooker beef, simply store it airtight in containers or bags and keep it frozen for up to 4 to 6 months.
Thaw the beef in the fridge overnight and then reheat it using the stove or microwave, for easy tacos in no time.
More Flavor-Packed Taco Recipes
ENJOY!
Sweet Korean BBQ Beef Tacos
Sweet Korean BBQ Beef Tacos made with amazingly tender, super flavorful Korean beef prepared in the crockpot!
Instructions 
In a large bowl, whisk together beef broth, soy sauce, brown sugar, garlic, oil, vinegar, ginger, sriracha and pepper.

Place meat and onion in the slow cooker and stir in the prepared beef broth mixture.

Cover and cook on low for 7 to 8 hours or high heat, 3 to 4 hours. The meat should be very tender but retain shape.

In a small bowl, whisk together the corn starch and water. Stir the mixture into the beef broth and continue to cook for 30 minutes or until thickened.

Remove beef and shred it; place it back in the slow cooker and stir around.

Prepare your tacos by spreading a tablespoon of sour cream on each tortilla.

Add lettuce, shredded carrots, and cabbage.

Top with meat mixture and serve immediately.
Nutrition Facts
Sweet Korean BBQ Beef Tacos
Amount Per Serving (1 taco)
Calories 353
Calories from Fat 153
% Daily Value*
Fat 17g26%
Saturated Fat 7g35%
Trans Fat 1g
Polyunsaturated Fat 2g
Monounsaturated Fat 8g
Cholesterol 83mg28%
Sodium 647mg27%
Potassium 572mg16%
Carbohydrates 25g8%
Fiber 1g4%
Sugar 12g13%
Protein 25g50%
Vitamin A 1098IU22%
Vitamin C 6mg7%
Calcium 73mg7%
Iron 4mg22%
* Percent Daily Values are based on a 2000 calorie diet.
Keywords: beef crockpot recipes, korean barbeque, korean tacos
Want To Save This Recipe?