Savory, healthy Zucchini Egg Bake is the perfect easy breakfast, light lunch, brunch specialty, or vegetarian dinner! A satisfying blend of fresh veggies, whole eggs, feta cheese, and fragrant herbs.
A Simple, Healthy Vegetarian Main Course
I can never make enough zucchini dishes around here – this mild veggie with its delicate flavor and firm-yet-tender texture is a favorite! Grilled zucchini, baked zucchini, and fried zucchini all find their way to my table regularly, and those are just for starters.
One reason I love working with zucchini so much is that it plays well with all kinds of other ingredients. You can serve zoodles (zucchini noodles) with marinara, stir-fry sauce, or alfredo. Sliced zucchini is wonderful tossed into just about any skillet dish. And zucchini with eggs? A match made in breakfast/brunch heaven!
That's what this hearty casserole-style zucchini egg bake is all about. It's a fantastic medley of fresh zucchini, wholesome eggs, and a few little extras for a pop of color and flavor (looking at you, bell pepper!).
Also?! You can make it ahead of time and just reheat, as needed! Also, also!? This is some healthy stuff. And it's filling, and easy to make, and low carb. Winning! ?
What You'll Need
Let's take a closer look at the ingredients, in detail. Basically, they're all wholesome, whole foods that are easy to find and easy to use – perfection!
Zucchini: Shred the zucchini – or if you prefer, use them thinly sliced. I like the texture you get with shreds for this recipe.
Olive Oil: For sauteing.
Scallions: Thinly sliced. You can replace these with a little bit of onion, chives, or leeks, minced or sliced.
Bell Pepper: Core the bell pepper, and chop it up.
Garlic: I like fresh minced garlic here, to go with the fresh, vibrant flavors – but garlic powder would also be fine.
Eggs: Large, whole eggs are the tastiest in this recipe. 
Whole Milk: Just a splash. 
Salt and Pepper
All-Purpose Flour & Baking Powder
Feta Cheese: A little goes a long way here – you need only about half a cup for the whole egg bake. 
Dried Herbs: Dill, thyme, and oregano are my favorites, but you could certainly substitute your own favorites. Basil, parsley, marjoram, or tarragon would all be good.
Should I Peel Zucchini Before Cooking?
In general, no, you don't have to peel zucchini or other tender summer squash. I never do. Their thin rinds are delicate and easy to eat. Just wash and cut! (Exceptions would be if you're using a very large squash from your garden, that has grown large enough to have a tough rind, or if you want to remove the maximum amount of rind so that you reduce your exposure to pesticides.)
Let's Bake!
Okay, so that's a summary of the ingredients. Now, let's take a look at the cooking method. The key to this recipe is the pre-baking saute. This will help reduce the watery-ness of the veggies, and give the zucchini egg bake a better texture.
Prep the Oven, Baking Dish, and Zucchini. To start, we need to do a little prep work. First, preheat your oven to 375˚F. Next, lightly grease your baking dish with butter, baking spray, or a little oil. Prep the zucchini by tossing the shreds with a teaspoon of salt, and letting them drain in a colander for about 10 minutes. Then use a clean kitchen towel, cheesecloth, or paper towels to pick up the shreds and squeeze out as much liquid as possible.
Saute the Veggies. Heat up your olive oil in a large skillet, over medium heat. Add in the scallions and bell pepper pieces, and cook them for a couple of minutes before stirring in the garlic. Cook that for just a few seconds, and then add the zucchini. Place a lid on the skillet, and let it cook for 5 minutes or so, until the zucchini releases its juices.
Reduce the Liquid in the Skillet. Uncover your skillet, and let it simmer for one more minute, so that some of the liquid evaporates. Then take the skillet off of the heat and let the veggies cool down a bit.
Make the Egg Mixture. Now it's time to get cracking – literally! Crack the eggs into a mixing bowl, and add the milk, salt, and pepper. Whisk to combine. Stir in the cooked, cooled vegetables, as well as the flour, baking powder, feta crumbles and herbs.
Bake! Pour the egg mixture into your greased baking dish, slide it into the oven, and bake for 20 – 25 minutes, or until the center of the bake is set, and the edges are starting to turn a nice golden brown. Take it out of the oven, and let it stand for about 10 minutes to cool and stabilize. Optionally, you can add finely shredded cheese on top and bake for 5 more minutes, or until melted.
Cut the finished zucchini egg bake into squares, and serve warm. 
Tips for a Perfect Zucchini Egg Bake
This easy recipe is basically fail-proof, but I still have some helpful hints for making the most out of your ingredients. Read on, and happy cooking!
Meal Prep: Zucchini egg bake makes a good make-ahead breakfast that you can use for quick, breakfasts. One casserole makes 6 servings – that's a week's worth of breakfast!
Cold or Hot: While you can definitely serve this warm, it's also nice cold, similar to a frittata. I sometimes drizzle Italian dressing or a pesto-based dressing over egg dishes like this.
Add Veggies: Feel free to substitute yellow summer squash for the zucchini here, or add other vegetables that you love: steamed broccoli, asparagus, sauteed mushrooms, etc.
Add Meat: Give the dish a little protein boost with chopped cooked ham, sausage, bacon, chicken, or beef. Even flaked tuna would probably be good here!
Side Dish Inspiration
If you'd like to make this a main course, you'll want a side dish or two to go with it. These easy sides are great options that would taste fantastic with zucchini, eggs, and feta:
Pan-Fried Mushrooms: Savory, meaty, and utterly addictive, these Pan-Fried Oyster Mushrooms add a special note to any meal, from classic steak and potatoes to this light and fragrant egg bake.
Kale Salad: Fruit, sunflower seeds, a homemade vinaigrette, and fresh kale? This salad has it all!  Crunchy Kale Quinoa Salad is a superfood favorite that goes with anything.
Air Fryer Broccoli: Quick and simple to make, this Crispy Air Fryer Roasted Broccoli is a lightly-caramelized version of basic broccoli, that really brings out its best flavors.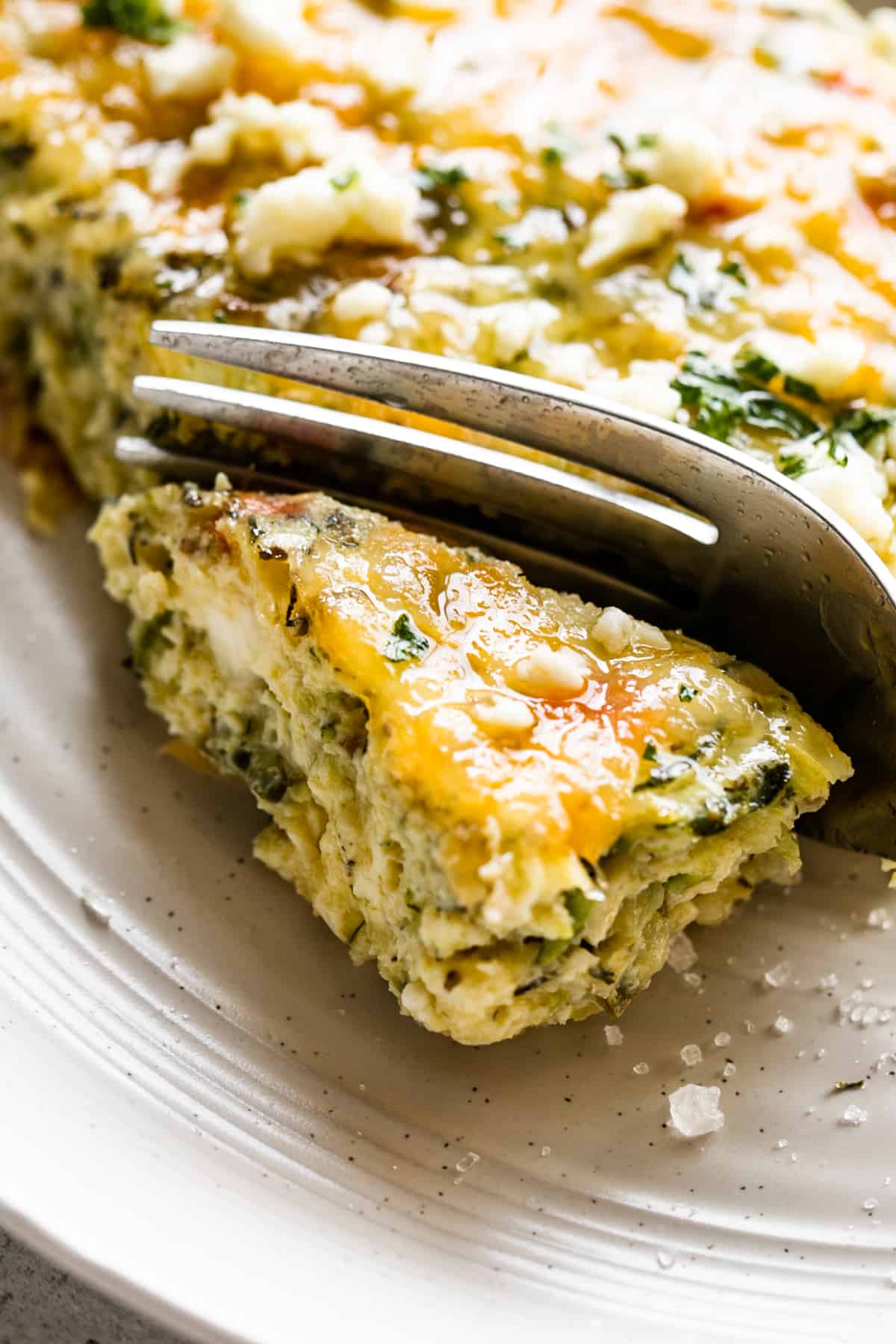 How to Store and Reheat Leftovers
Leftover zucchini egg bake can be stored in an airtight container in the refrigerator for 5 to 6 days. You can serve the leftovers cold, or reheat them in the microwave or oven.
If you go the oven route, just place the desired portion in an ovenproof dish, cover with foil, and bake at 350˚F until heated through.
Can I Freeze Zucchini Egg Bake?
Yes, you can! Just bake according to the recipe instructions, and then cool it down to room temperature. From there, pack squares of the egg bake into freezer bags, and freeze for up to 2 months.
Thaw in the fridge before reheating.
ENJOY!
Preheat oven to 375˚F.

Grease a 9×13 baking dish with cooking spray and set aside.

Toss the shredded zucchini with 1 teaspoon salt; let drain in a fine mesh strainer or colander for 10 minutes.

Then, wrap up the zucchini in a kitchen towel and squeeze out the liquid as much as possible; set aside.

Heat oil in a 12-inch skillet set over medium-heat.

Add scallions and bell peppers; cook for 2 minutes.

Stir in the garlic and cook for 15 seconds.

Stir in the shredded zucchini; cover and cook for 5 minutes, or until the zucchini has released its liquid.

Uncover and continue to cook for 1 more minute; remove from heat and let the mixture cool slightly.

Meanwhile, in a mixing bowl lightly whisk the eggs to break up the yolks; then whisk in the milk, salt, and pepper until thoroughly combined.

To the eggs, stir in the zucchini mixture, the feta cheese, flour, baking powder, dill, thyme, and oregano.

Transfer mixture to previously prepared baking dish.

Bake for 20 to 22 minutes, or until the center is set and the edges are beginning to brown.

Remove from oven; sprinkle top with shredded cheese and continue to bake for 5 more minutes, or until cheese is melted.

Remove from oven and let stand 10 minutes.

Cut and serve.
*To shred the zucchini, I use this simple ? Boxed Grater ? .
Calories: 197 kcal | Carbohydrates: 8 g | Protein: 12 g | Fat: 13 g | Saturated Fat: 5 g | Polyunsaturated Fat: 1 g | Monounsaturated Fat: 5 g | Trans Fat: 0.01 g | Cholesterol: 162 mg | Sodium: 409 mg | Potassium: 439 mg | Fiber: 2 g | Sugar: 4 g | Vitamin A: 913 IU | Vitamin C: 31 mg | Calcium: 311 mg | Iron: 2 mg | Net Carbs: 6 g
Nutritional info is an estimate and provided as courtesy. Values may vary according to the ingredients and tools used. Please use your preferred nutritional calculator for more detailed info.
More Simple Vegetarian Recipes