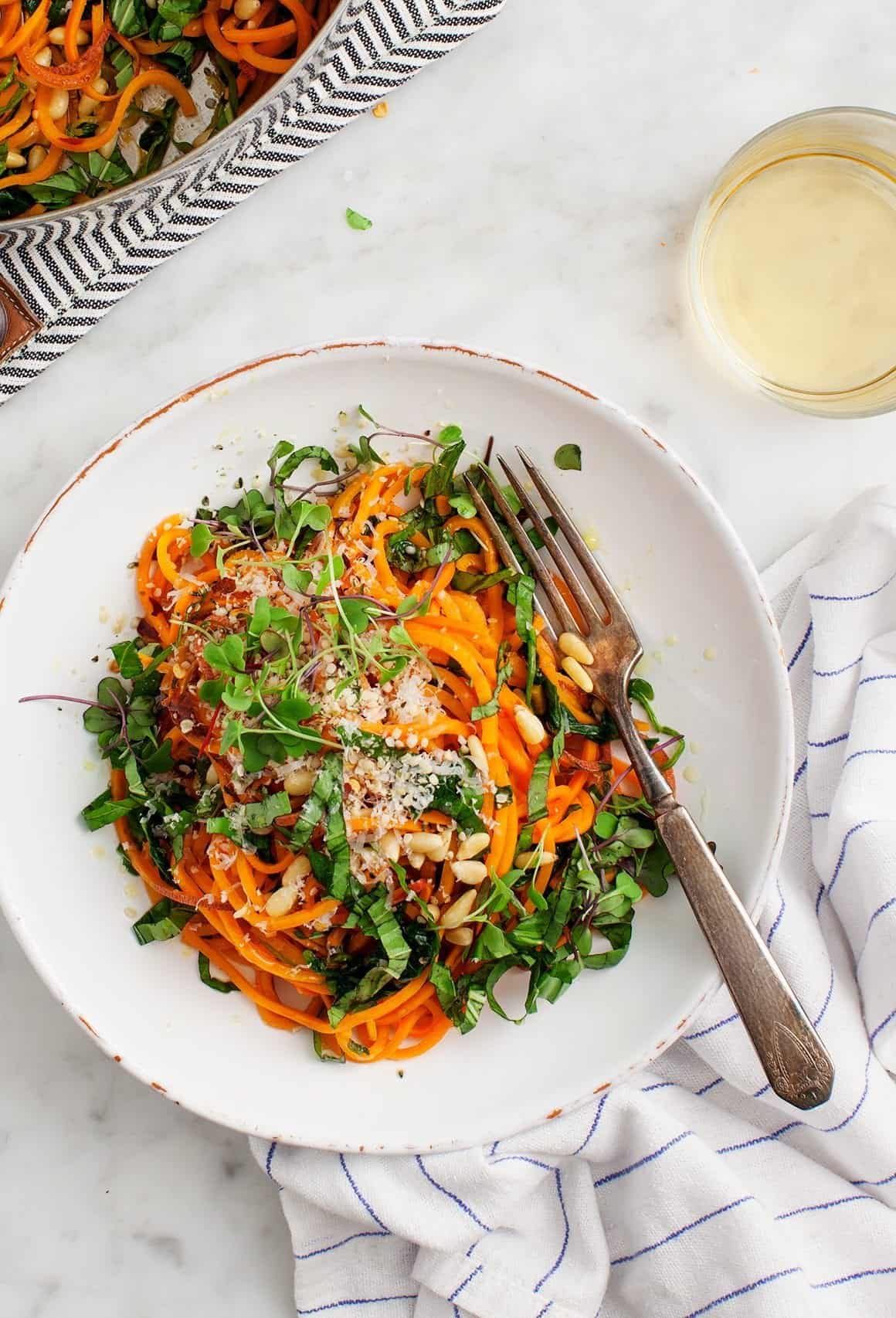 Have you tried sweet potato noodles? In the past, I've made zoodles and doodles (noodles made out of daikon radish), but it didn't occur to me until recently to make swoodles(?). Is that what we're calling them? Anyway, one night, with a hungry stomach and minimal ingredients on hand, I saw this gorgeous recipe for Spaghetti Aglio e Olio, and I realized I could make something similar using sweet potatoes in place of the pasta.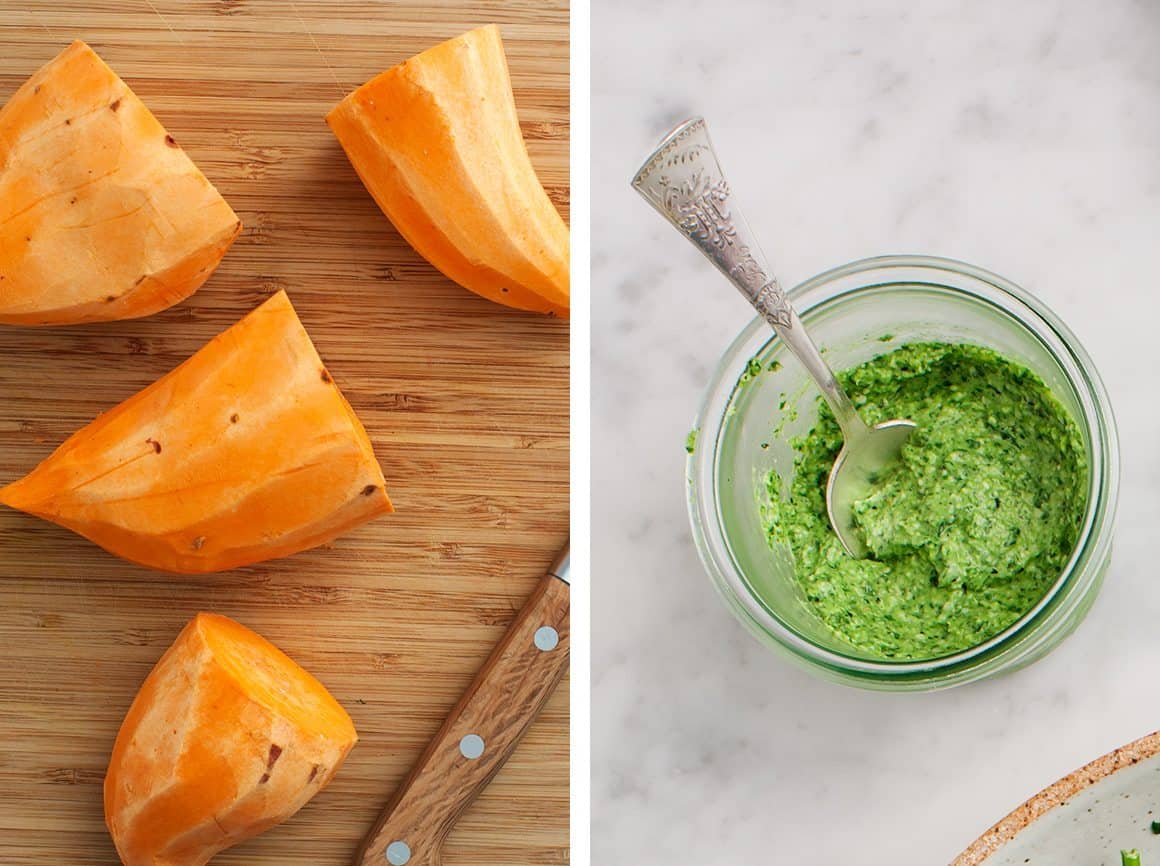 This recipe starts with 2 medium sweet potatoes – you'll be surprised how many noodles they make, and then you'll also be surprised by how much they cook down in the pan. This recipe will make about 3 decent-sized servings, depending on the size of your sweet potatoes.
P.S. I'm a big fan of the Inspiralizer because unlike the other types that I've tried, it clamps down to your countertop making the "noodling" process far less frustrating and you won't have sweet potatoes all over your floor.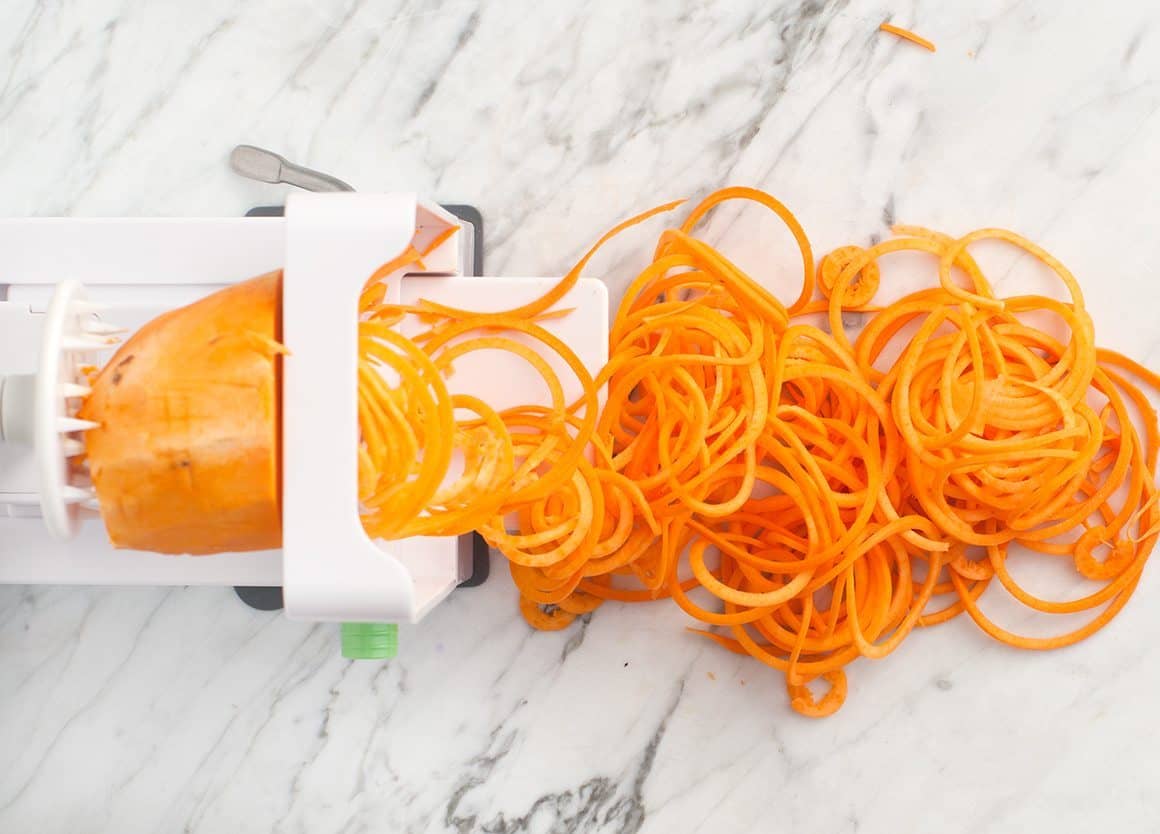 Because this is not actual pasta, more is more. The toppings are a really important component in this recipe to make the flavors and textures more exciting. Add plenty of toasted pine nuts, basil, grated cheese (or vegan "cheese" from this post), and serve with dollops of pesto.
You can also customize this to your liking: roasted tomatoes, sautéed mushrooms, roasted broccoli, and goat cheese (if that's your thing) would be great additions.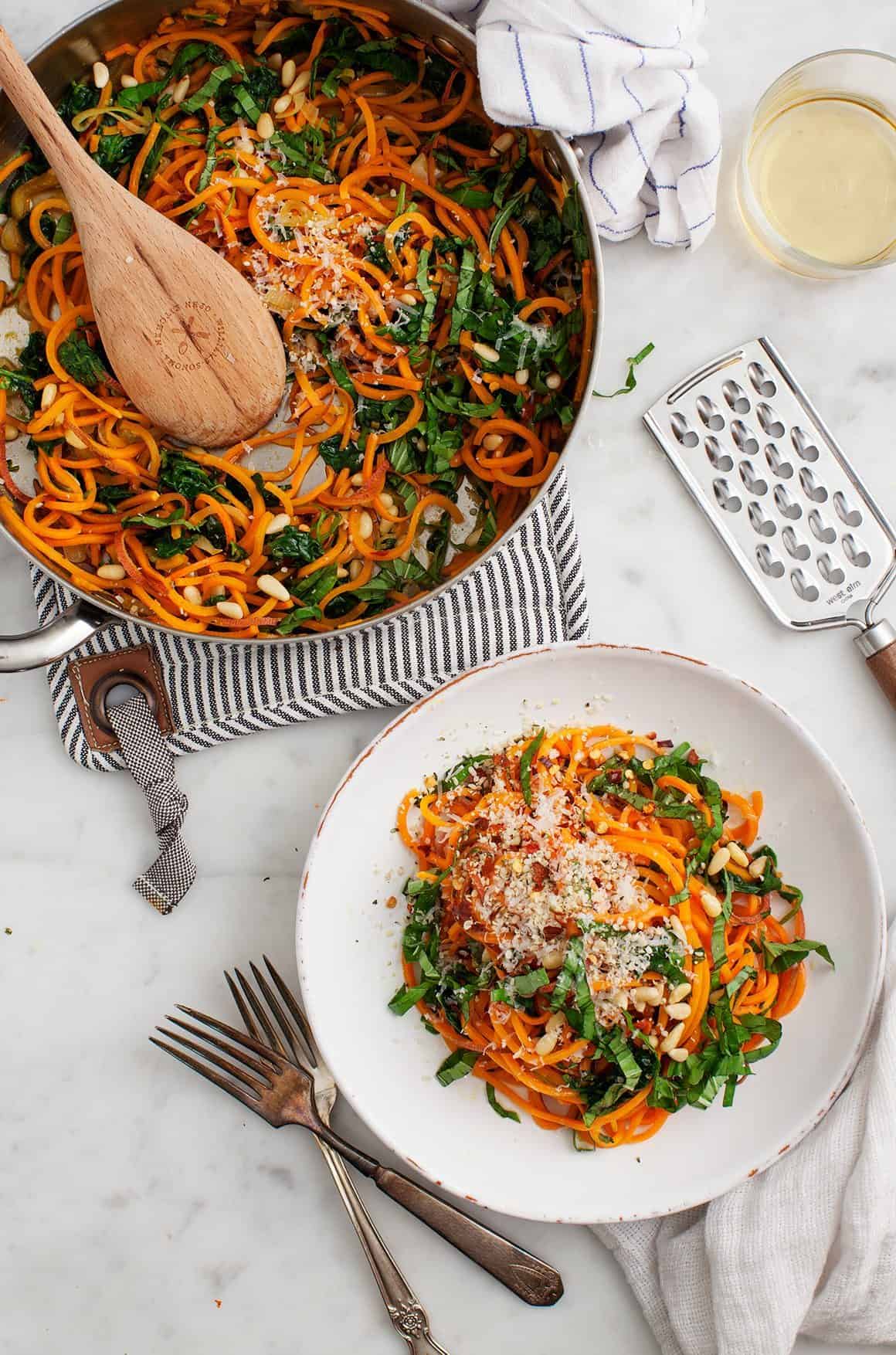 Sweet Potato Noodles with Garlic & Kale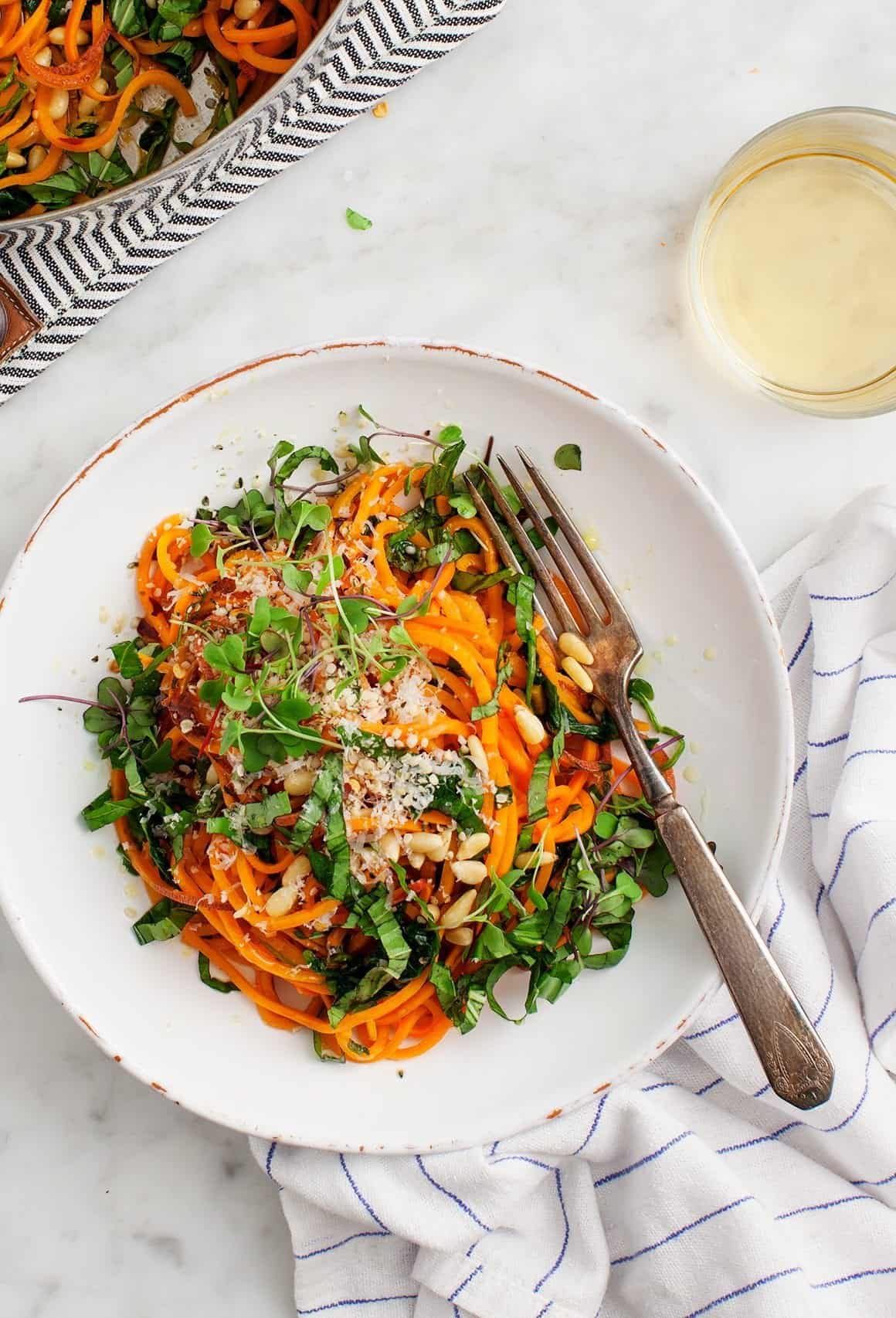 2 medium sweet potatoes, spiralized
1 to 2 tablespoons extra-virgin olive oil, enough to well coat the pan
3 garlic cloves, thinly sliced sliced
¼ teaspoon red pepper flakes, more as desired
2 to 3 tablespoons water
4 cups baby kale (or thinly sliced lacinato kale)
sea salt and freshly ground black pepper
⅓ cup fresh basil, sliced
dollops of pesto (this recipe with basil in place of kale)
2 tablespoons hemp seeds or toasted pine nuts
grated pecorino cheese, optional
Peel the sweet potatoes. Slice in half and and cut the pointy tips off. Place in the spiralizer and spiralize into noodles. Alternatively, you can use a julienne peeler (although this is more difficult, so I recommend spiralizing).
Heat the oil in a large deep skillet over medium heat. Add the garlic and cook until until the garlic slices are lightly golden brown, about 5 minutes, reducing the heat if necessary (ie, if the olive oil is bubbling too much, turn the heat down, you do not want the garlic to burn). Add a few generous pinches of salt, red pepper flakes, and a few grinds of freshly cracked black pepper.
Add the sweet potato noodles and toss to coat. Let cook for 2 minutes, gently tossing and scraping down the sides of the pan.
Add 2 to 3 tablespoons of water and toss again to ensure that nothing is sticking to the bottom of the pan. Cover and let the sweet potato noodles continue for 5 more minutes or until they start to soften and are tender but still have a crisp "al dente" bite. Check and toss occasionally so that they cook evenly. Be careful not to overcook or they will start to break apart (this happens quickly).
During the last minute of cooking, stir in the kale so that it wilts into the noodles. Remove from heat and transfer to 3 or 4 bowls.
Serve with the fresh basil, a dollop of pesto, hemp seeds or pine nuts and pecorino cheese, if desired.
3.4.3177