These Sweet & Spicy Slow Cooker Chicken Tacos are an easy, healthy, weeknight dinner! Just dump everything in the crockpot and forget about it. Step by step recipe video.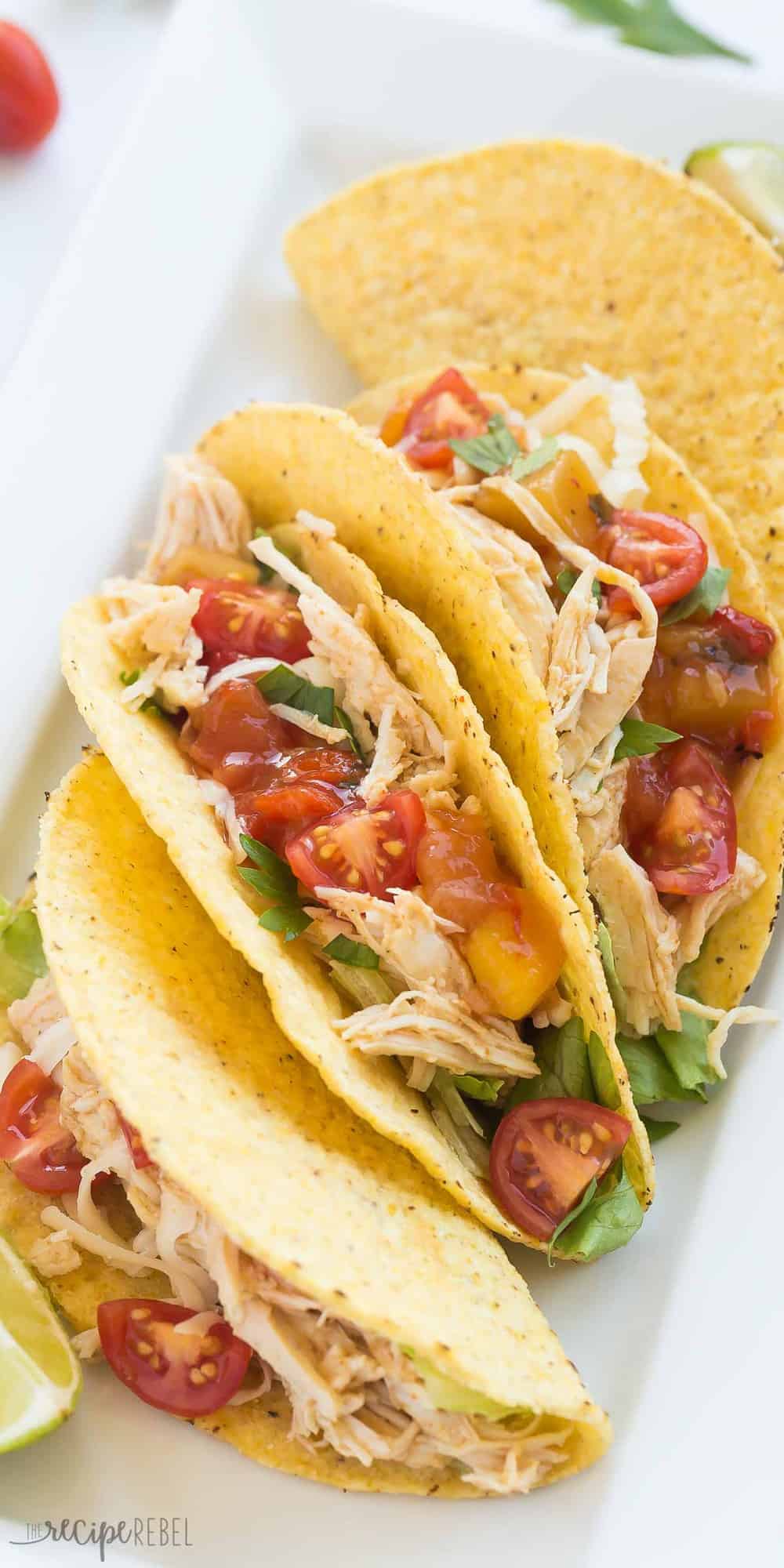 Recipe posted first on The Recipe Critic.
So a couple years ago, we threw a taco party for our oldest daughter's fourth birthday. When I was cruising the aisles of the grocery store, I saw some mango salsa and had to grab it. It was the most amazing thing on chicken tacos!
Since then, I've made my own version of that mango salsa (find the recipe right here!), and I highly recommend a batch for these chicken tacos ?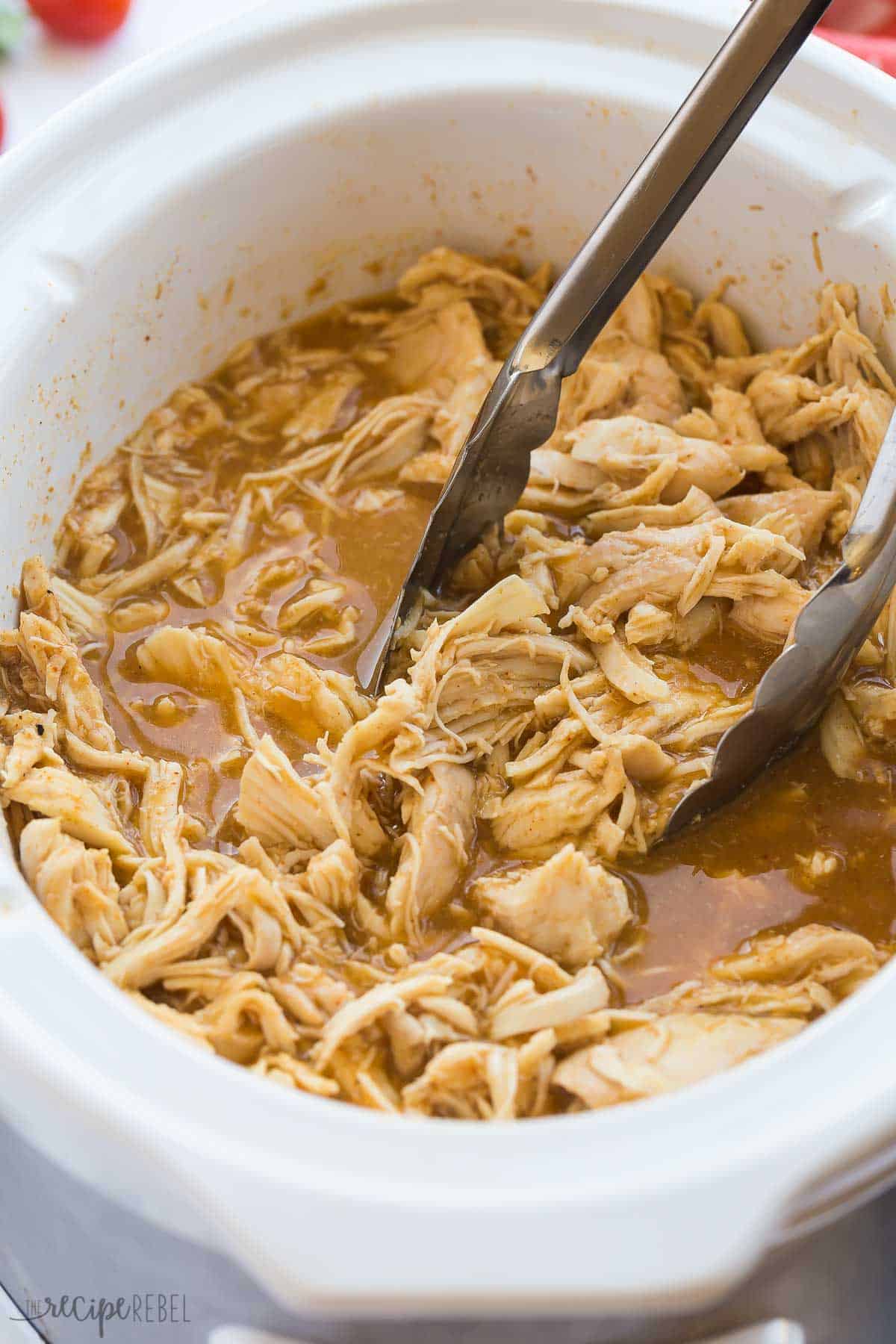 These slow cooker chicken tacos are so easy and also pretty healthy (depending on what you top them with!), making them the perfect crock pot dump meal for a busy weeknight.
Dump 'n' Go slow cooker recipes (<– find 20 more of my favorites!) are about the most that we can handle here most days, with school and the 2 year old and the baby, and all the chaos that comes with the 3 of them. We love serving this chicken in hard taco shells, tortillas, or even over rice or as a taco salad (<– a great way to lighten them up even more!).
You can definitely adjust the seasonings to suit your family's tastes. I like to keep things relatively mild to start, because it's a lot easier to add spice than it is to take it away. If you don't have mango or pineapple juice, try orange, or feel free to substitute chicken broth (though you'll miss out on that extra sweet, fruitiness!).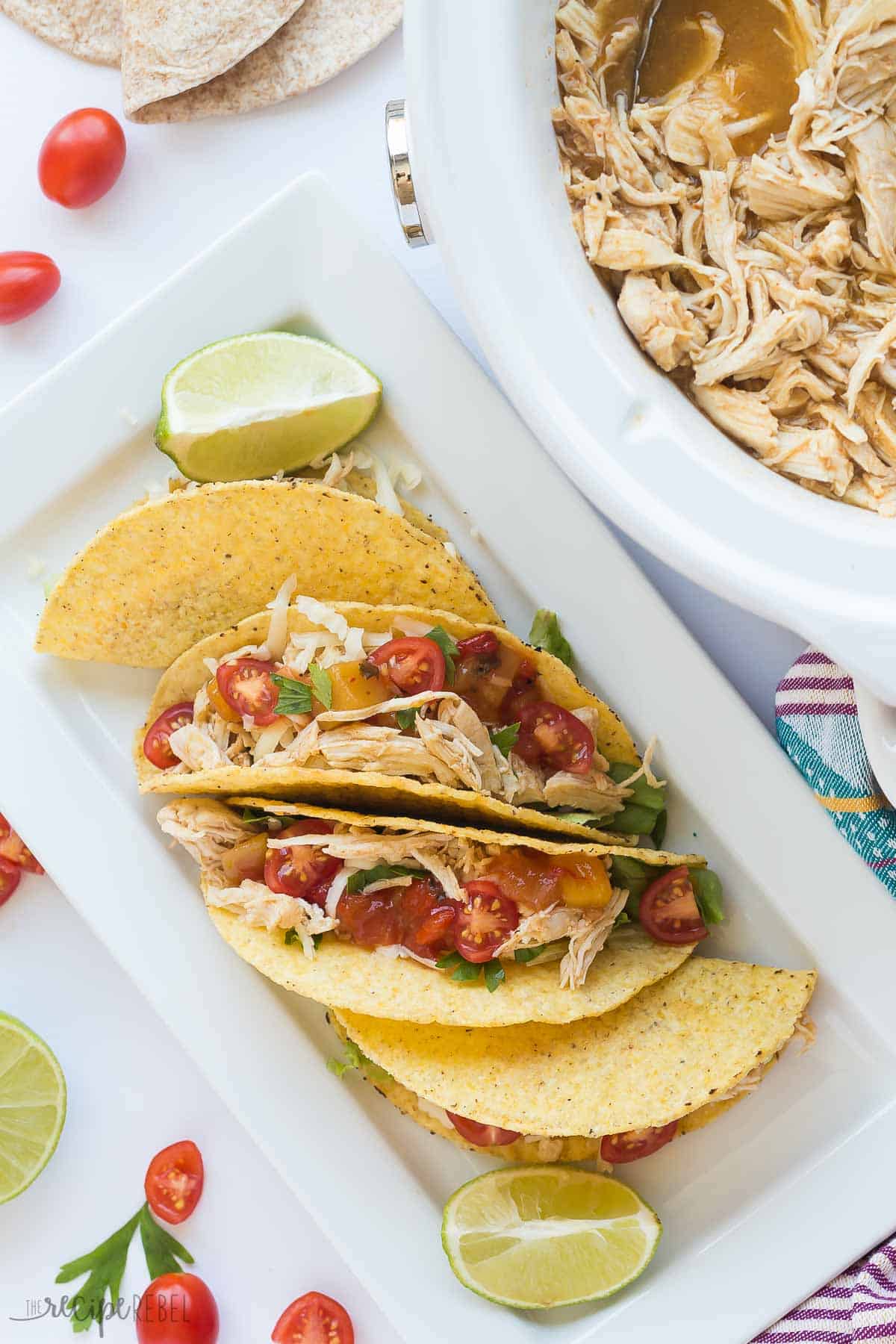 Tips and Tricks for Making these Slow Cooker Chicken Tacos:
Chicken breasts don't need all day to cook in the slow cooker. I know this can make things a little more difficult if you work from home 8 or 9 hours a day. To slow down the cooking process so you can let them go all day and not come home to overcooked chicken, place frozen chicken breasts in the slow cooker in the morning, along with the other ingredients.
I like to use my 2.5 quart slow cooker for recipes like this — it's the perfect size and heats up quickly! (Plus, you want your slow cooker around 1/2-3/4 full to cook properly, so you don't want to use one that's too big!)
I always start with my tacos fairly mild and then people who like extra heat can add jalapenos, a spicy salsa, or some sriracha sauce. Feel free to add some cayenne pepper or red chili flakes to the slow cooker as it cooks to take things up a notch!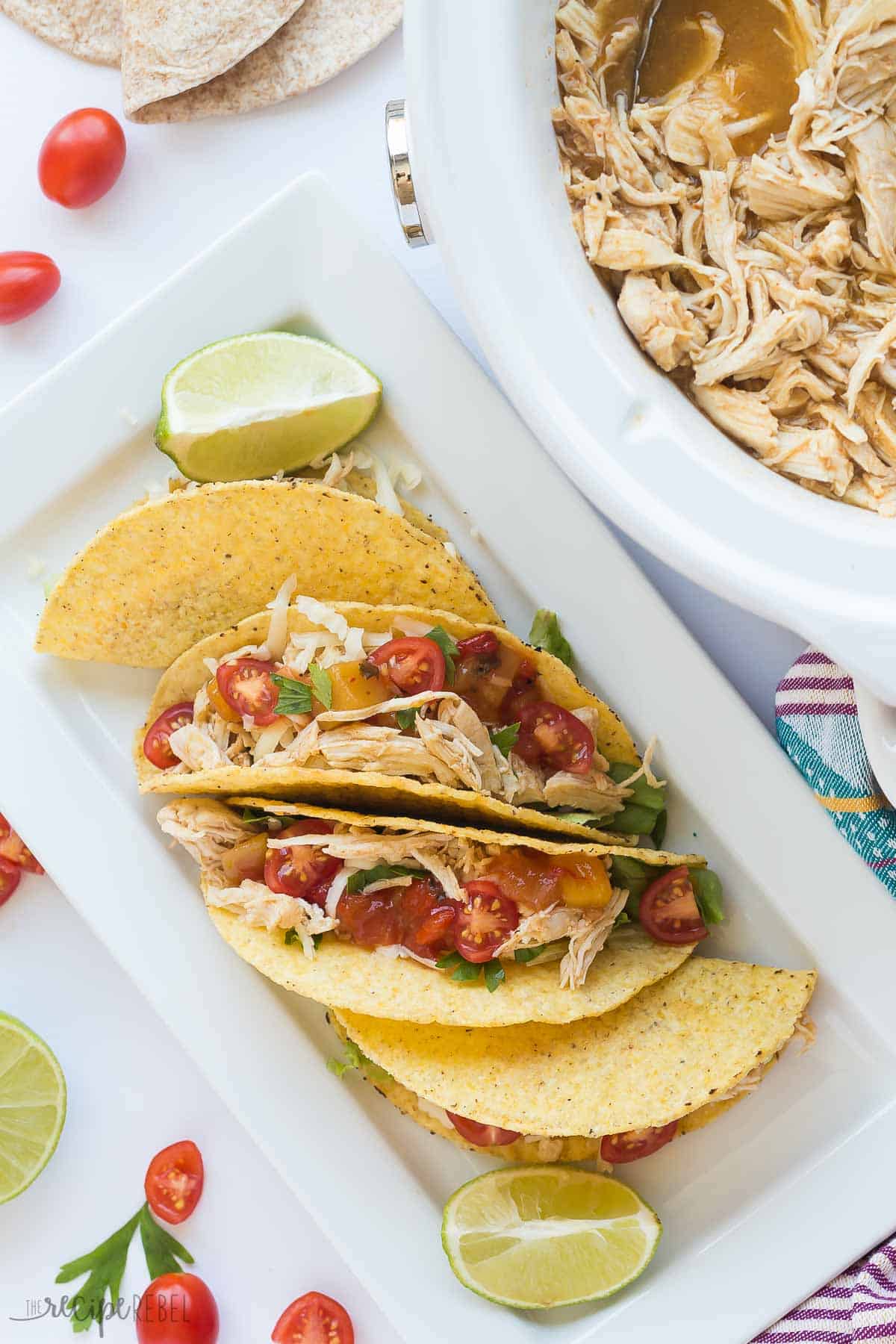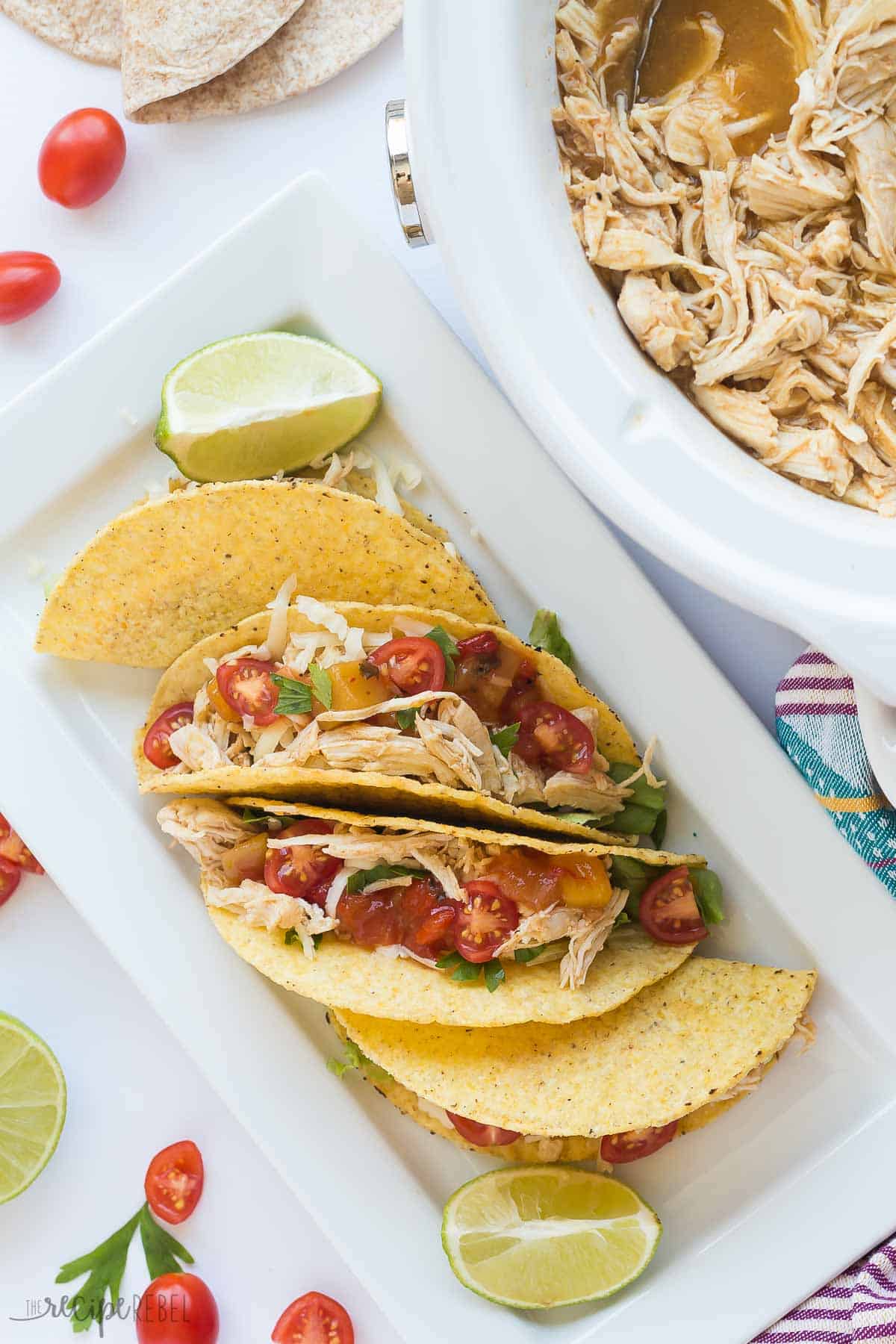 Ingredients
4 boneless, skinless chicken breasts
1 cup mango or pineapple juice (no sugar added)
2 teaspoons garlic powder
2 teaspoons chili powder
1 1/2 teaspoons cumin
1 teaspoon salt
1 teaspoon onion powder
1/2 teaspoon paprika
pinch of black pepper
16 hard taco shells
Directions
Place chicken in a 2.5-4 quart slow cooker.
In a medium bowl or large measuring cup, whisk together juice, garlic powder, chili powder, cumin, salt, onion powder, paprika, and pepper. Pour over chicken in slow cooker.
Cover and cook on low for 5-6 hours or high for 2-3 hours. Shred with two forks in the juices.
Serve in taco shells or small tortillas with diced tomatoes, shredded cheese, lettuce, salsa (I love using mango salsa!), lime wedges or avocado slices as desired.
Loading nutrition data…