Jumbo pasta shells filled with melty cheese, marinara and meatballs for an easy appetizer or meal that everyone will love!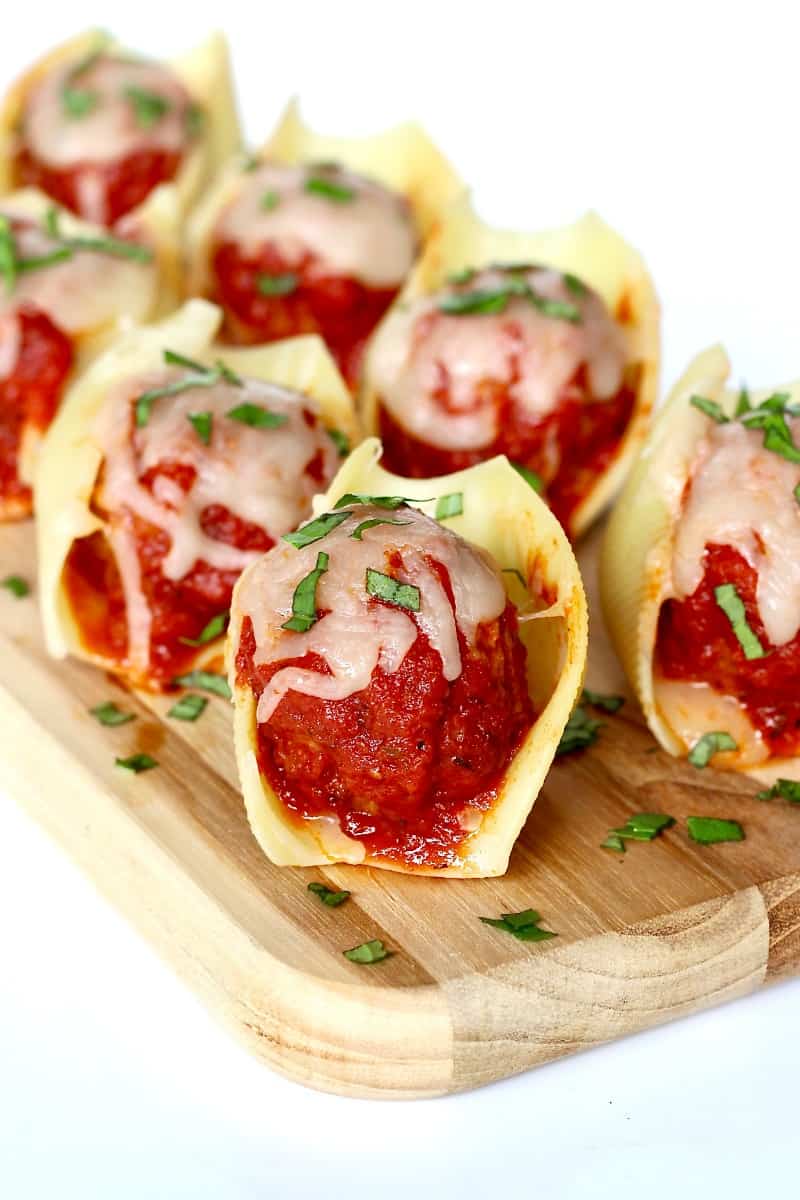 Mama Mia! These meatball stuffed pasta shells are marvelous in so many ways.
They're quick and easy to make with minimal ingredients.
They're impressive to serve. Everyone thinks they're such a creative way to serve and enjoy meatballs!
And most importantly, they're so delicious! All I hear is "mmmm…mmmm…mmmm" as people are eating them.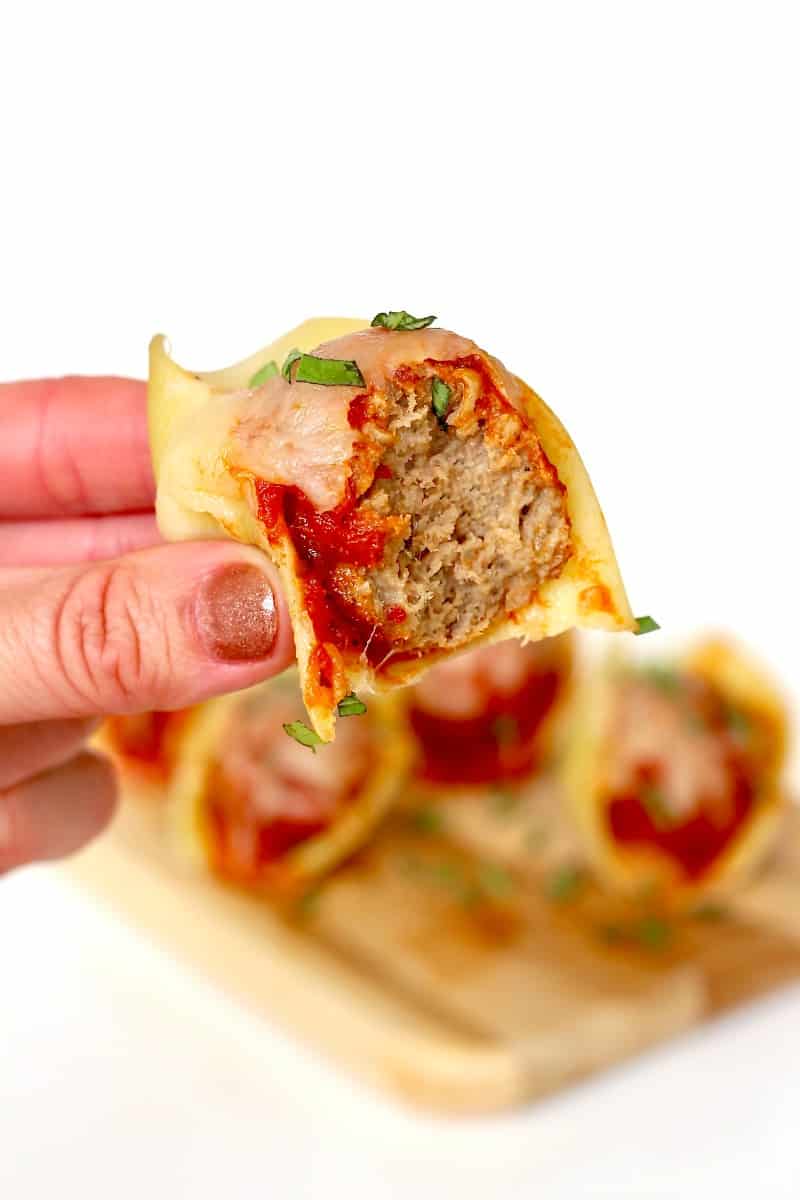 I've served these meatball stuffed pasta shells on so many different occasions and they're a huge hit every time. Kids and adults love them! Whether it's a quick-to-the-table family dinner on a busy weeknight, an easy-to-grab appetizer for a dinner party with friends, a comforting meal to take to a family who just had a baby or as part of our gameday spread, it's one of my current favorite recipes to make and serve.
Cooked Perfect® fully cooked frozen meatballs make this recipe, just that, perfect! These meatballs are always consistent. They're juicy, flavorful and sized just right for a finger food that you can eat in two tasty bites.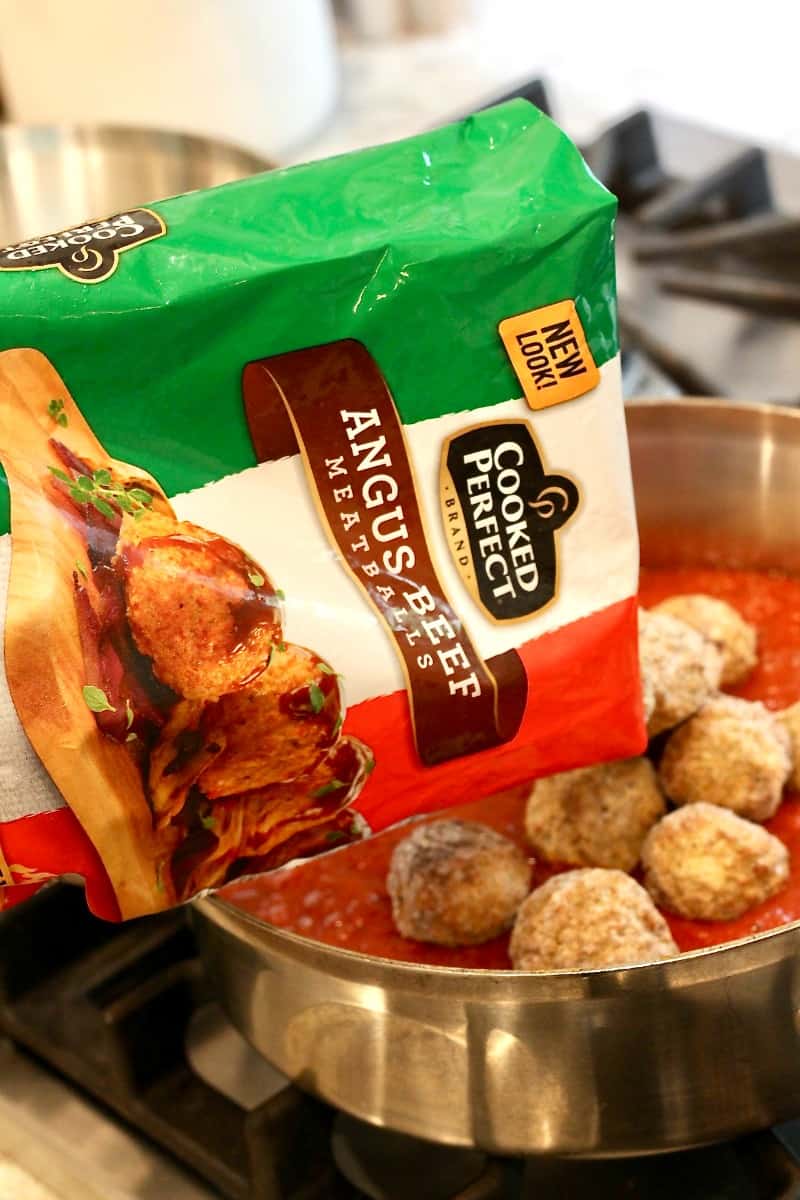 Just a few handy ingredients and a little prep time is all it takes to make these great meatball stuffed pasta shells. Let me show you how…
Start by boiling the jumbo pasta shells with a few teaspoons of olive oil while the meatballs simmer in your favorite marinara pasta sauce.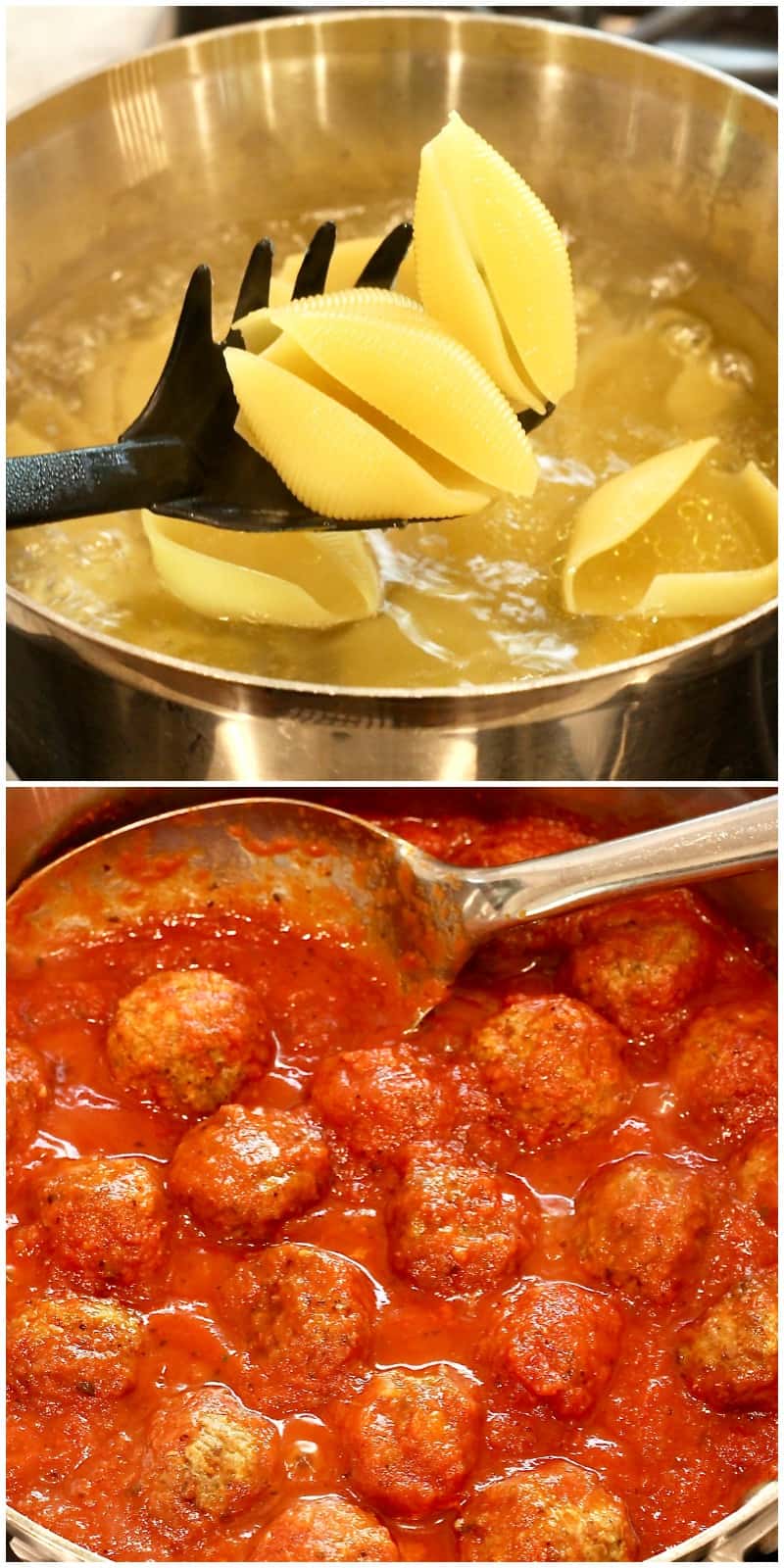 Drain the pasta shells and let them cool enough to touch. Arrange them on a parchment-lined baking sheet and start stuffing them with all the yumminess.
Fill each shell with 1 teaspoon shredded mozzarella cheese, a marinara simmered meatball topped with a little more marinara sauce, and another teaspoon of shredded mozzarella cheese.
The stuffed pasta shells then go into a 400°F oven for about 5 minutes or until the cheese is melted.

That's all there is to it! You can garnish each one with some chopped basil, if desired, and serve as an appetizer, side dish or main meal. They're truly perfect for any occasion!
I hope you find this recipe as fun to make and tasty to eat as we do. My family and friends beg for them which makes me so happy!
Enjoy!
xoxo,

This post was created as part of my partnership with Cooked Perfect however thoughts and opinions are certainly my own. Thank you for supporting the brands that make The BakerMama possible.
Meatball Stuffed Pasta Shells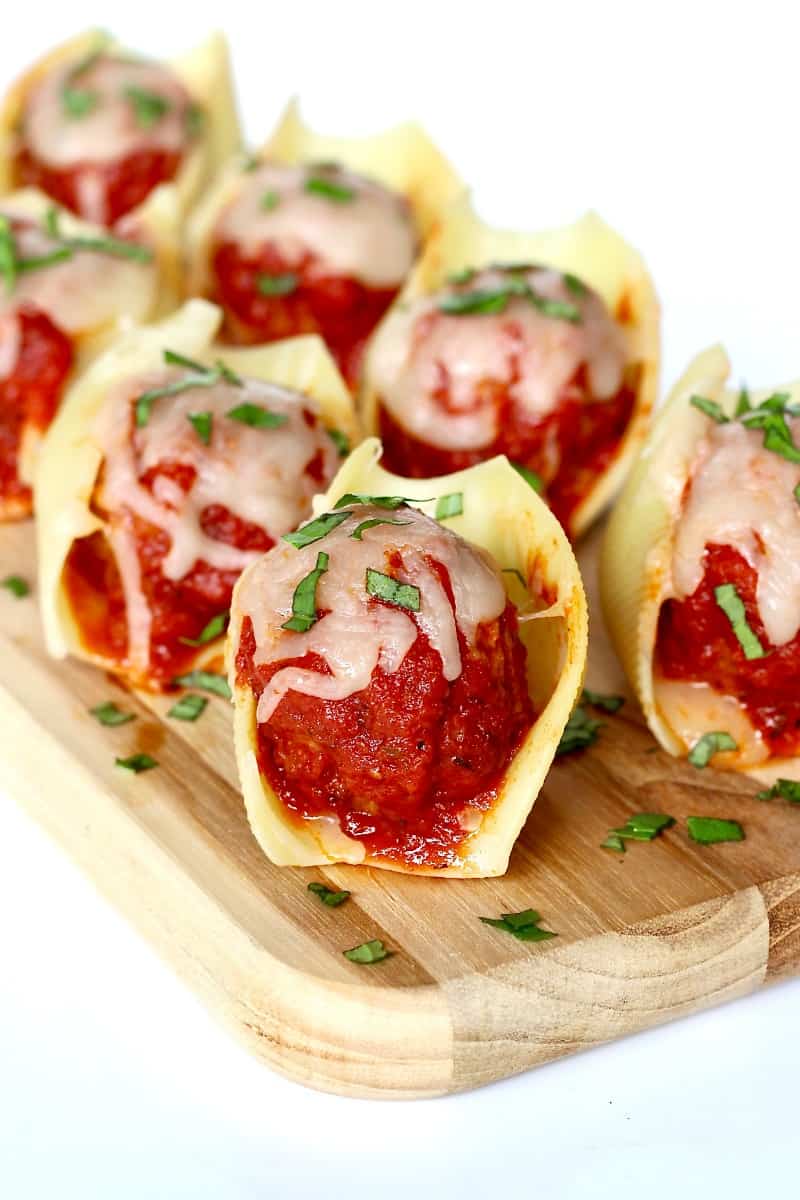 Jumbo pasta shells filled with melty cheese, marinara and meatballs for an easy appetizer or meal that everyone will love!
Author: Maegan – The BakerMama
Recipe type: Appetizer
Serves: 20
Ingredients
1 (25 ounce) jar marinara pasta sauce
1 (20 ounce) bag Cooked Perfect® fully cooked frozen meatballs
1 (12 ounce) box jumbo pasta shells
2 teaspoons olive oil
1 cup shredded mozzarella cheese
chopped fresh basil, for garnishing (optional)
Instructions
In a medium-sized saucepan, heat the marinara sauce over medium heat until it starts to simmer. Add the frozen meatballs, cover and let simmer over medium-low heat for 15 minutes, stirring occasionally.
Fill a large pot with 4-6 quarts of water and bring to a boil. Once the water is boiling, add 2 teaspoons olive oil and then add the jumbo pasta shells. Cook pasta shells for 9 minutes, drain and let cool enough so you can touch them, just a few minutes.
Preheat oven to 400°F. Line a large rimmed baking sheet with parchment paper.
Spread 20 of the cooked and cooled pasta shells out evenly on the parchment-lined baking sheet. Fill each shell with 1 teaspoon cheese, 1 marinara-simmered meatball, a teaspoon of marinara sauce from the saucepan, and another teaspoon of mozzarella cheese on top. Place the filled pasta shell back on the baking sheet. Repeat process until all meatballs have been stuffed into a pasta shell.
Bake for about 5 minutes or until cheese on top of each stuffed pasta shell is melted.
3.5.3239