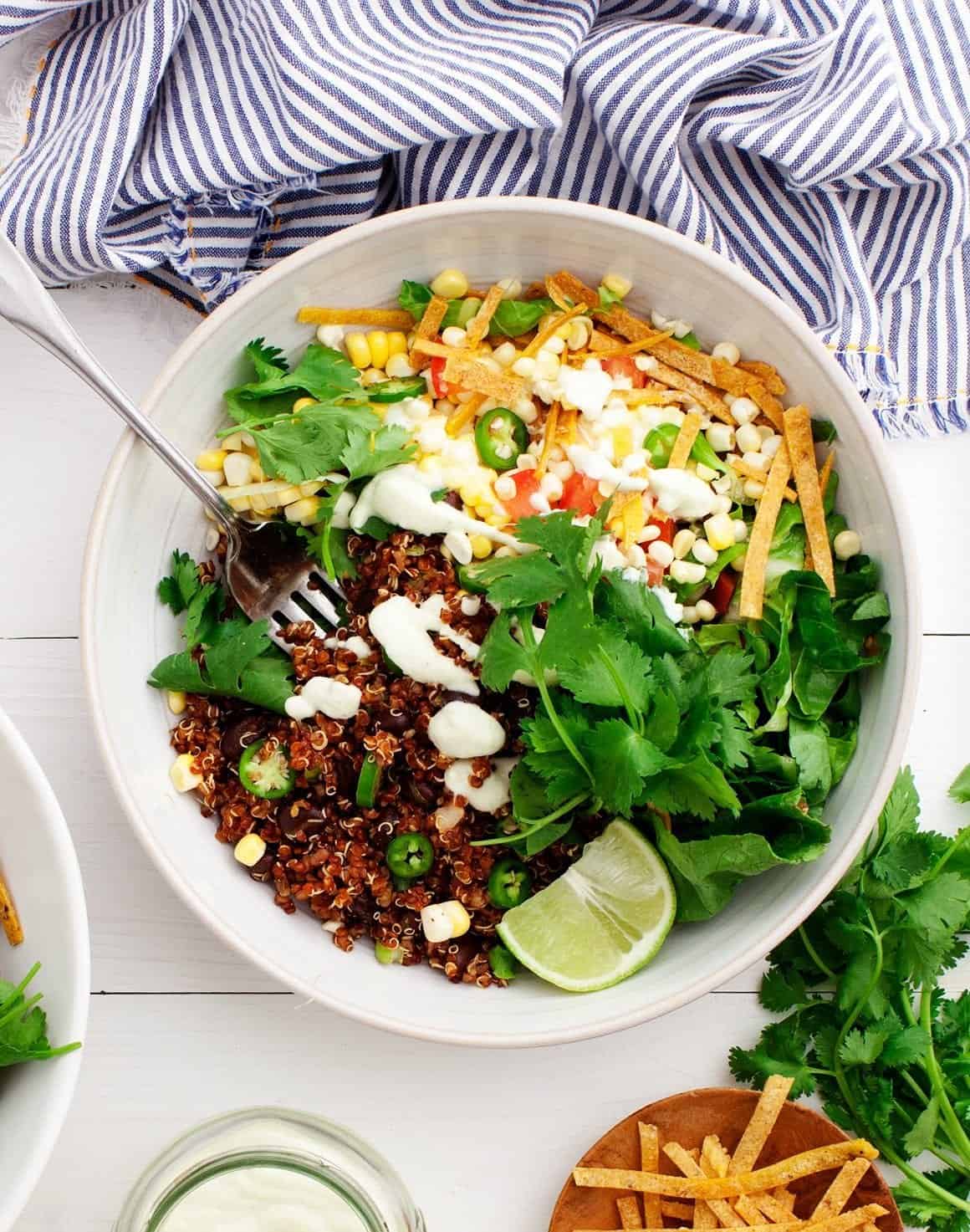 I've had this one planned for awhile now. Every few months, I'd glance at my upcoming list of potential recipes and start salivating over the idea of this summer taco salad. I love summer, I love tacos, and I really really love salads, so here we go!
Instead of taco meat, I mix red quinoa and black beans with lime juice, chili powder, smoked paprika, and a touch of maple syrup – all of this helps create a bit of a smoky flavor. Quick tip: keep this quinoa mix on hand in the fridge to build lunchtime salad bowls throughout the week.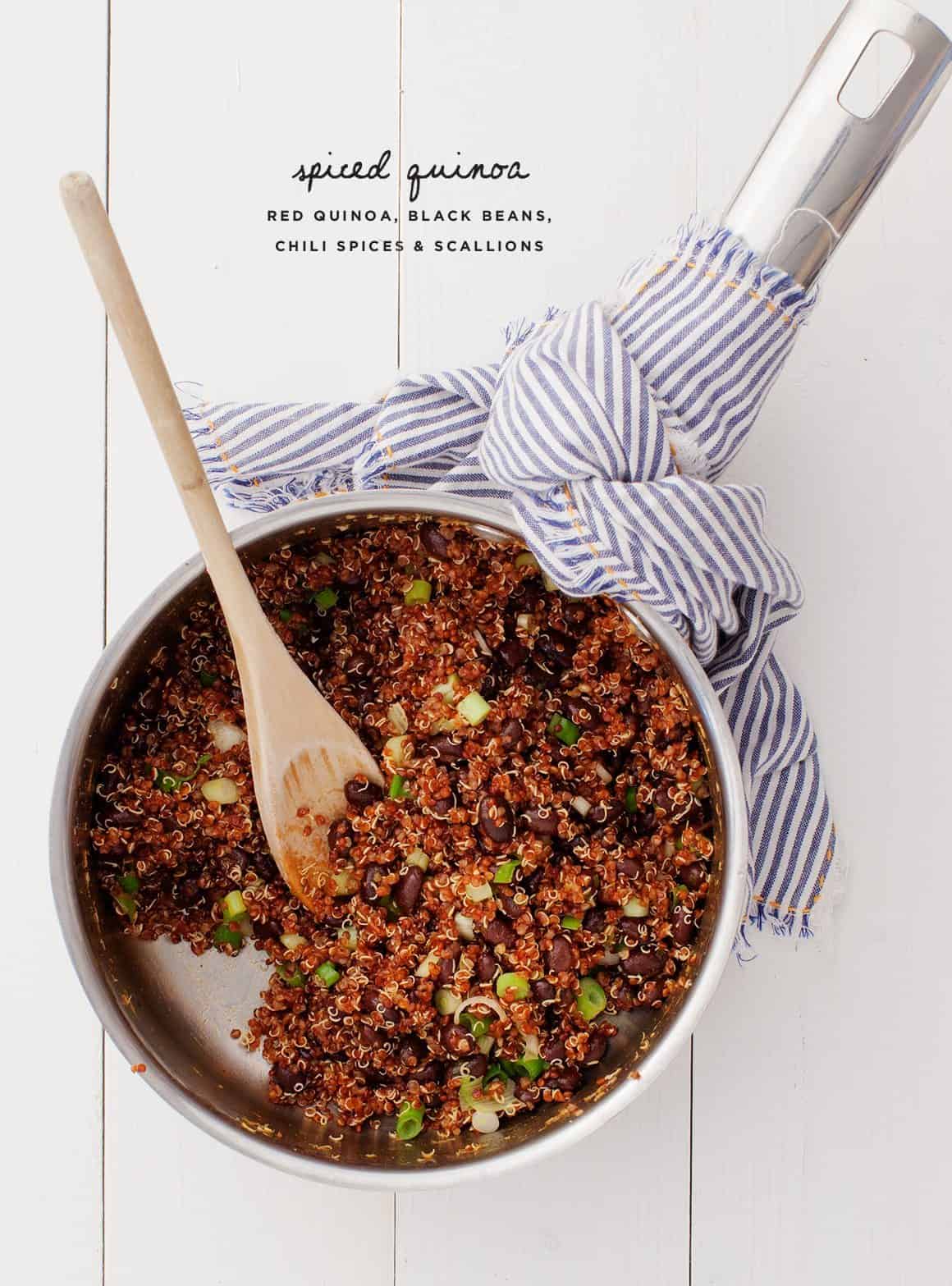 Now onto the "ranch" sauce – I used blanched, slivered almonds (unpeeled almonds work best and it's not fun to peel almonds yourself), Almond Breeze Almondmilk, cucumber, lime juice, jalapeño, and spices. It makes the perfect cool, creamy ranch-like sauce.
Jack and I had a long argument about whether this tastes similar to "authentically" bottled ranch dressing. He said "it tastes more like tzaziki because of the cucumber" and I said "that's the COOL part about cool ranch." The argument came to an abrupt, unsatisfying end when Jack found a bottle of ranch dressing in the back of my parent's fridge that expired last December that we both refused to try. I continued on, and once the taco bowls were assembled with this creamy vegan ranch-ish sauce, we were both very happy.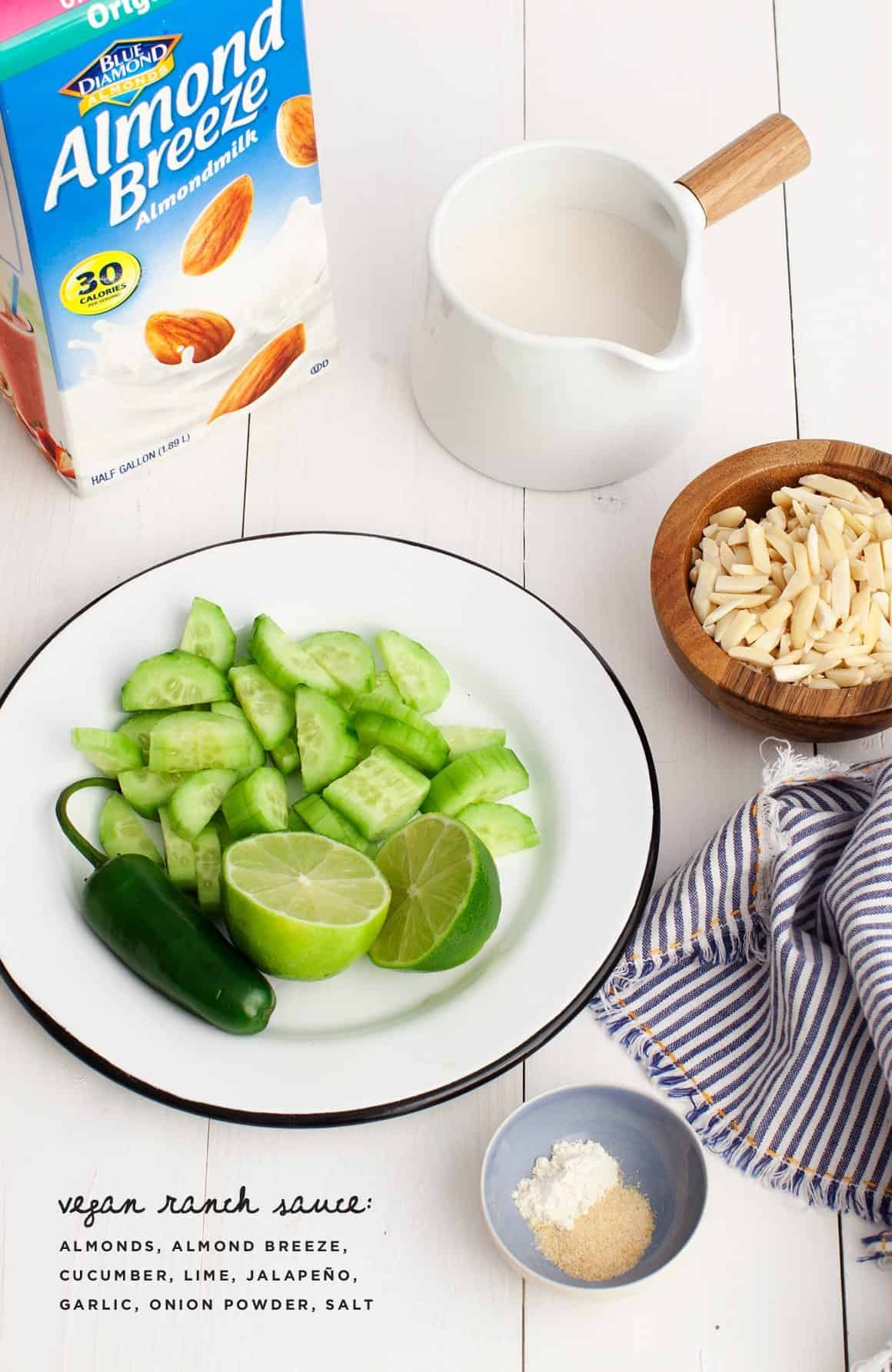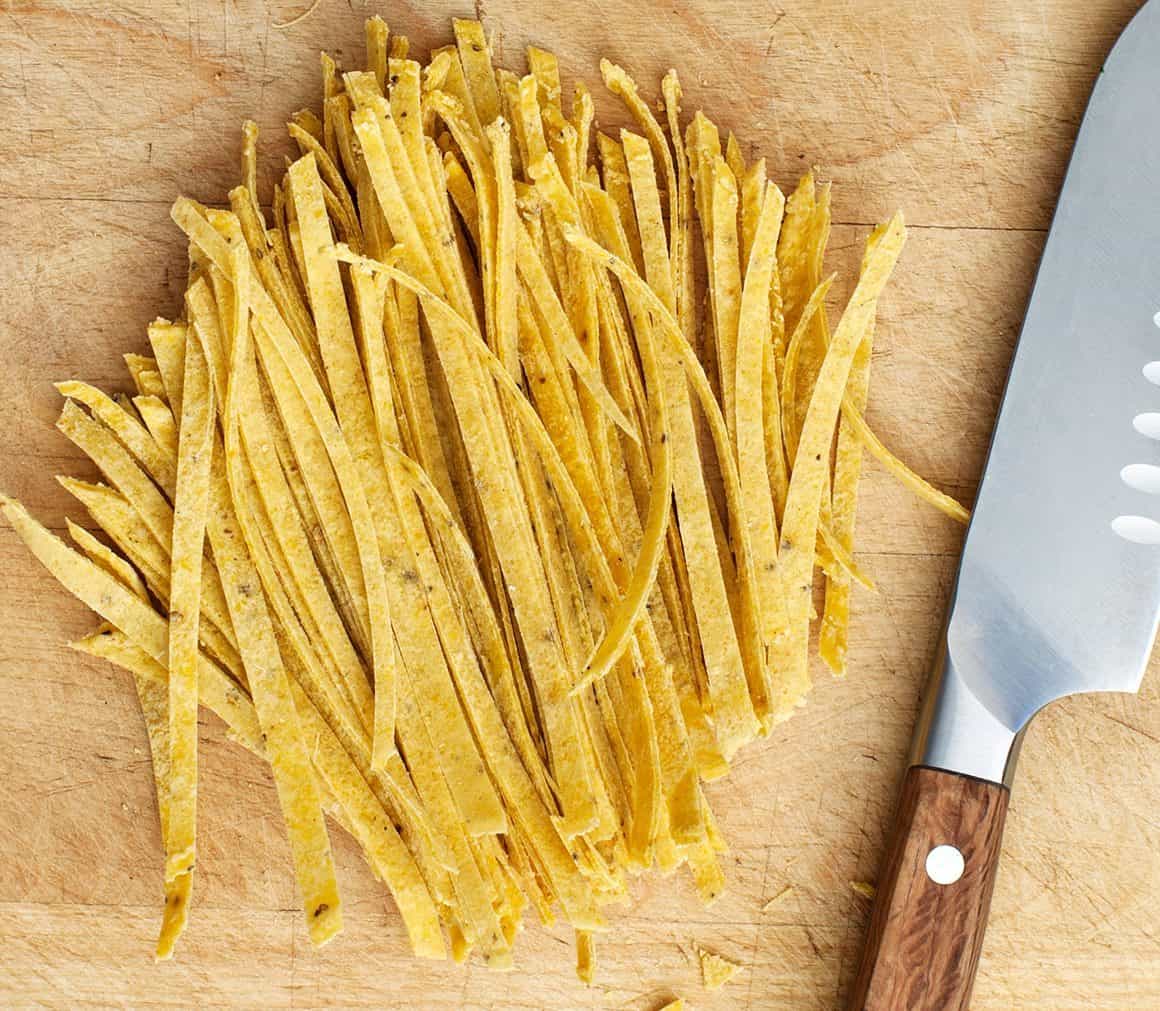 This recipe has a few components – but all of them can be made in advance: the sauce, the quinoa – even the baked tortilla strips.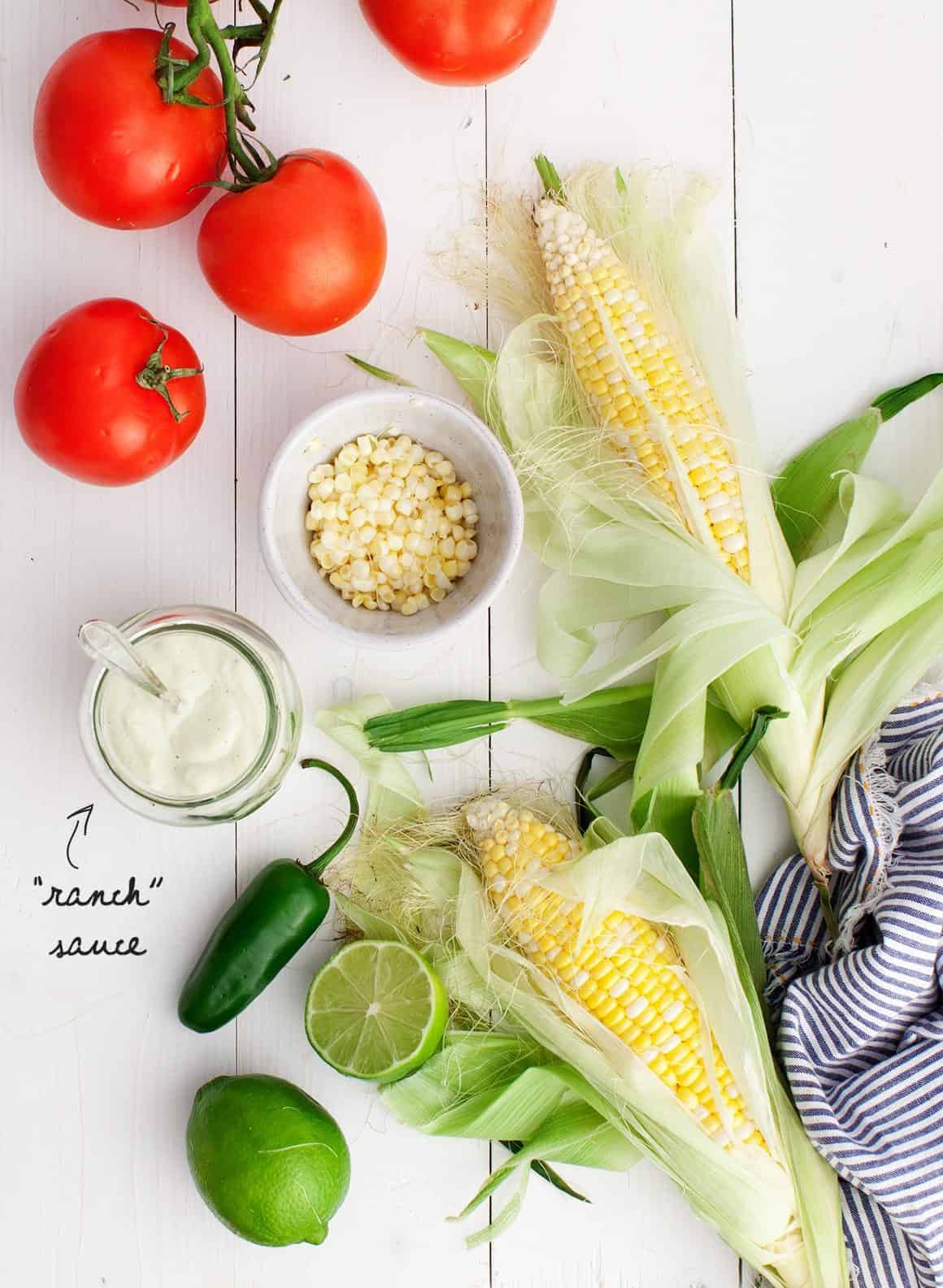 You can assemble your bowls however you like – I use chopped romaine lettuce, fresh raw corn kernels, chopped tomato, and tons of cilantro.
The sauce recipe makes extra – store it in the fridge and put it on more bowls, in tacos, or use it as a dip for raw vegetables.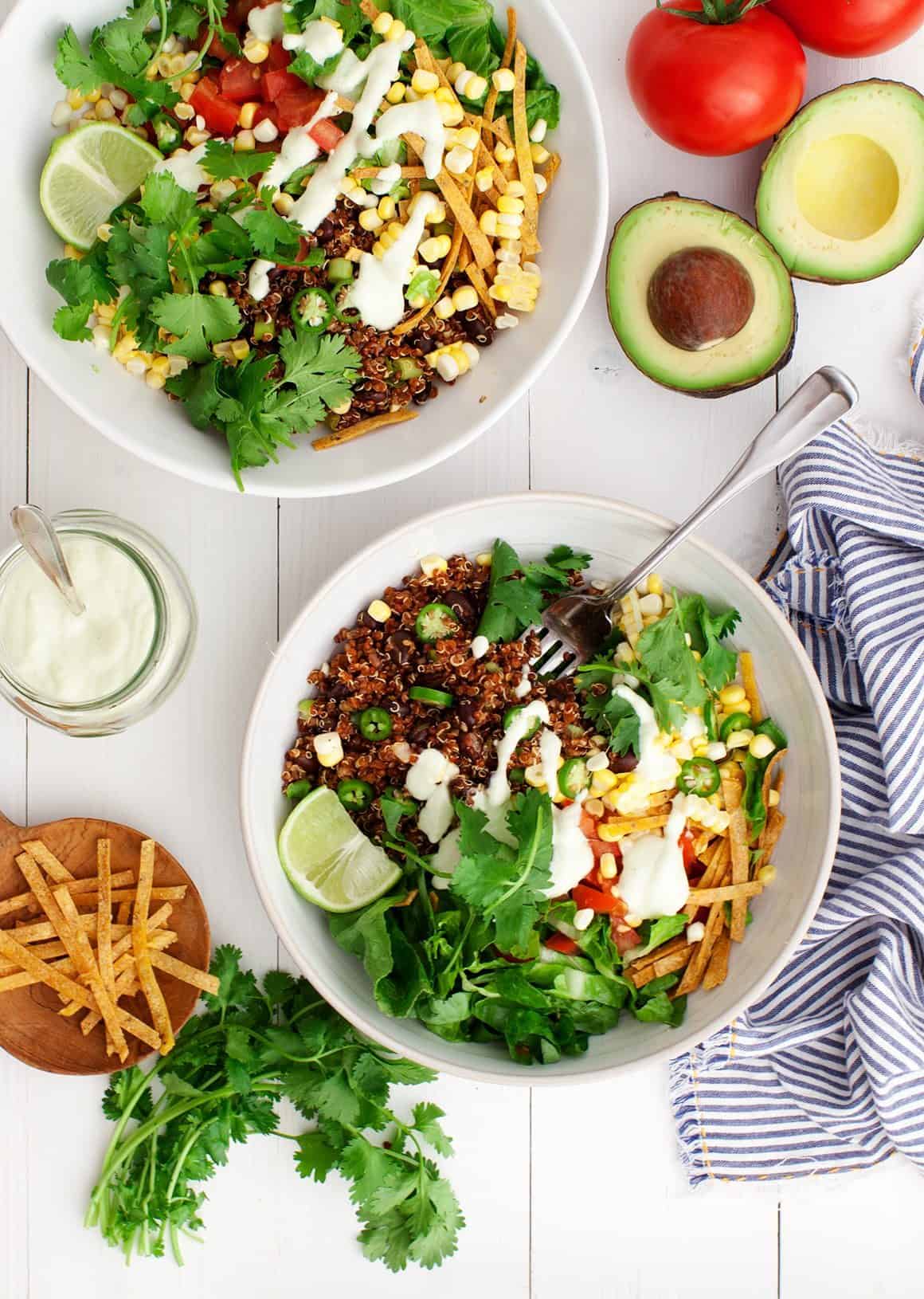 Taco Bowls with Cucumber Jalapeño Ranch

3 corn tortillas, thinly sliced
6 cups shredded romaine lettuce
Kernels from 3 medium ears of corn
2 tomatoes, diced, lightly salted
1 jalapeño, stem and ribs removed, sliced (optional)
1 avocado, pitted and diced (optional)
1 cup chopped cilantro
Lime slices, for serving
1 cup peeled and blanched slivered almonds
⅓ cup chopped peeled cucumber
1½ tablespoon lime juice + ½ teaspoon zest
1 tablespoon white wine vinegar
½ teaspoon onion powder
½ teaspoon garlic powder
½ to 1 jalapeño pepper, stem and ribs removed
½ teaspoon sea salt
Freshly ground black pepper
2 cups cooked red quinoa
1 cup cooked black beans, drained and rinsed
2 teaspoons extra-virgin olive oil
1 tablespoons lime juice + ½ teaspoon zest
Heaping ½ teaspoon chili powder
¼ teaspoon smoked paprika
¼ teaspoon maple syrup
½ teaspoon sea salt
Freshly ground black pepper
3 scallions, chopped
Make the Cucumber Jalapeño Ranch dressing: In a high speed blender, blend the almonds, almond milk, cucumber, lime juice, lime zest, vinegar, onion powder, garlic powder, jalapeño, salt, and several grinds of black pepper. Chill until ready to use.
Preheat the oven to 350°F and line a baking sheet with parchment paper. Toss the tortilla strips with a drizzle of olive oil and a few pinches of salt. Bake for 10 to 12 minutes, or until crispy.
Make the Spiced quinoa: In a medium pot, combine the quinoa, black beans, olive oil, lime juice, lime zest, chili powder, smoked paprika, maple syrup, salt, and several grinds of black pepper. If desired, heat until warmed through, then stir in the scallions. This can also be served cold.
Assemble the taco bowls with the romaine, Spiced quinoa, corn, tomatoes, jalapeño and avocado, if using, and the tortillas strips. Top with the cilantro and drizzle with the Cucumber Jalapeño Ranch dressing. Serve with the lime slices and extra sauce.
A high speed blender, such as a Vitamix, works best here to blend the creamy sauce.
3.4.3177




This post is sponsored by Blue Diamond Almond Breeze Almondmilk. Thank you for supporting the sponsors that keep us cooking!