Zucchini Cheddar Scones are the perfect savory scone recipe. Similar to a flaky biscuit, tender on the inside, and buttery and crisp on the outside, filled with zucchini and cheddar cheese! Absolutely perfect for a BBQ side dish, or even as a snack with butter and a drizzle of honey!
Don't forget to try my Banana Scones and Pumpkin Scones too…both recipes are AMAZING!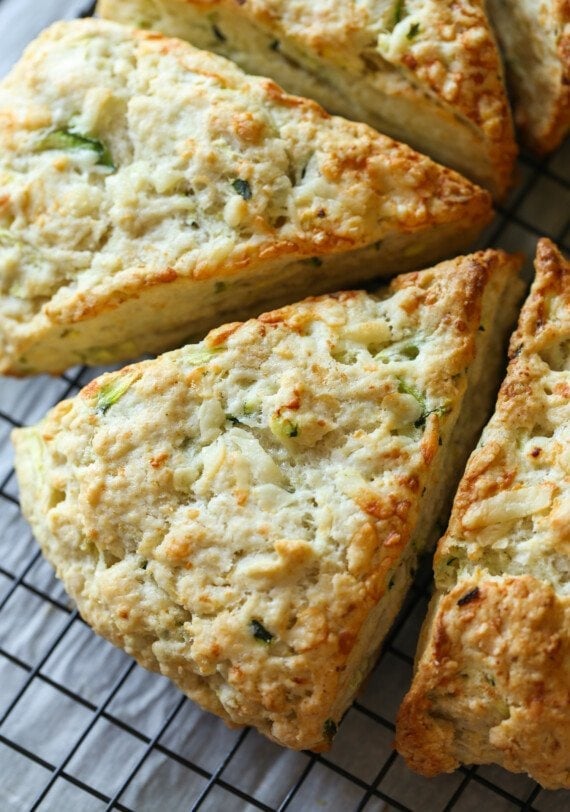 Zucchini Cheddar Scones Are A SUPER Easy Savory Scone Recipe!
If you're looking for something a little different as a side dish, this is it!! Savory scones are absolutely a thing! Don't get me wrong, I love a sweet scone…my Chocolate Chunk Orange Scones are absolutely killer, but a savory version is unexpected, but equally delicious! Think of it like an elevated biscuit. Honestly they're just as easy as biscuits, but somehow seem fancier. The flaky, tender center and the crisp, buttery edges are the perfect pairing to just about any dinner!
Use Up Summer Zucchini In These EASY Zucchini Scones!
If you have a garden and grow zucchini…or a neighbor with a garden that grows zucchini…you KNOW there's a point in the summer when you have so many squash you don't know what to do with! There are tons of fun ways to use up zucchini, but adding it into a scone? Totally genius! You don't taste the zucchini in these, but it does add to the moistness of the scone, while adding pretty green flecks throughout. Paired with the sharp cheddar, these zucchini scones are a dream…a lot like Cheddar Bay Biscuits from Red Lobster!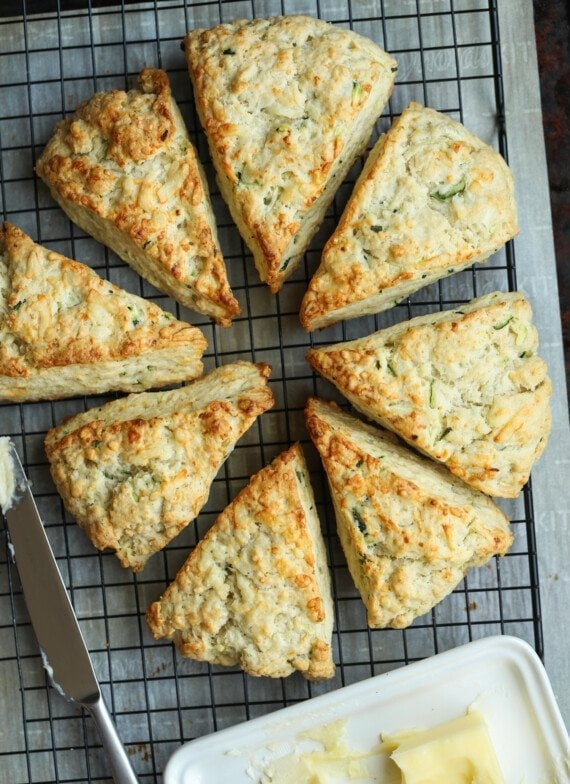 Looking For More Ways To Use Up Zucchini?
What To Expect When Making Zucchini Scones:
A simple recipe done in about 30 minutes!
Buttery, tender interior with a crisp, buttery exterior.
Easy to make!
No mixer needed.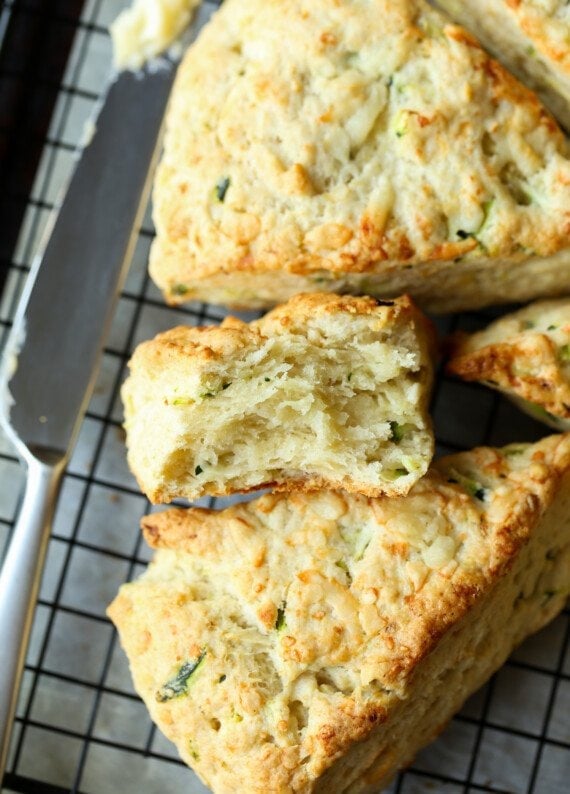 Are Scones the Same As Biscuits?
Well they are definitely similar, but they aren't exactly the same! Biscuits should be layered and light on the inside, and a scone is tender, but a bit more dense. There isn't a huge difference in making scones and biscuits, but there is a difference in texture. AND you could even cut your scones using a biscuit cutter if you prefer that instead of wedges.