This Thai Quinoa Crunch Salad is one of my new favorite quinoa salad recipes! So much flavor is packed into this healthy dish, it's a great light dinner, lunch, or side dish recipe!
This Protein Packed Thai Quinoa Salad Recipe is Bursting With Flavor!
This summer I have been super into chopped salads…the crunchier, and the more extra add-ins the better! So when I had the idea to make a Thai-inspired salad, I new I was going to try and get as many flavors packed in as possible!
AND I loved the thought of adding quinoa into a crunchy salad as well as adding some crispy quinoa on top for extra crunch! The crisp cabbage, carrots, edamame and red bell pepper pair beautifully with the easy peanut butter Thai dressing, and it's all balanced with some salty cashews and nutrient-packed quinoa. I DEFINITELY feel like this is a Power Salad!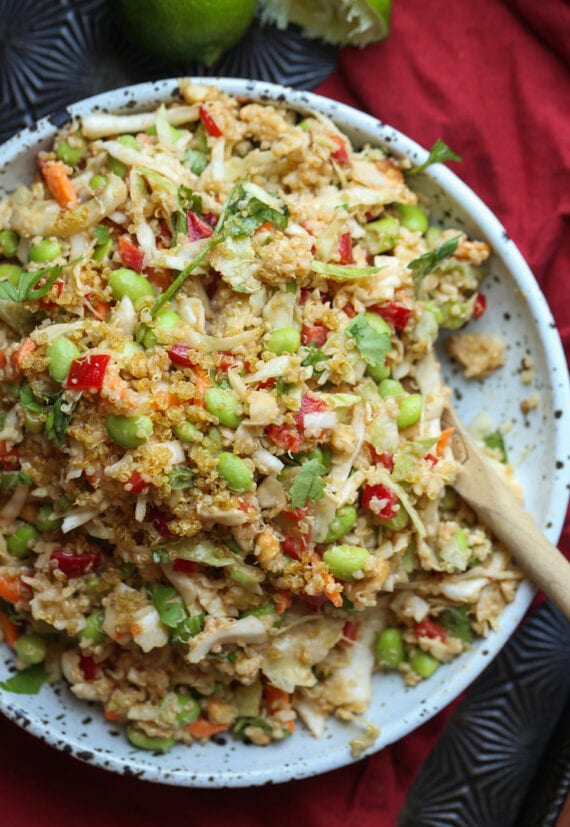 How To Make Thai Quinoa Crunch Salad
This is a fantastic salad recipe to make as a lunch, light dinner, or side dish. It's a great recipe to make in advance as well if you're entertaining, or to bring in your lunchbox to work or school. You can even prep the salad completely and keep the dressing on the side if you want to eat it throughout the week!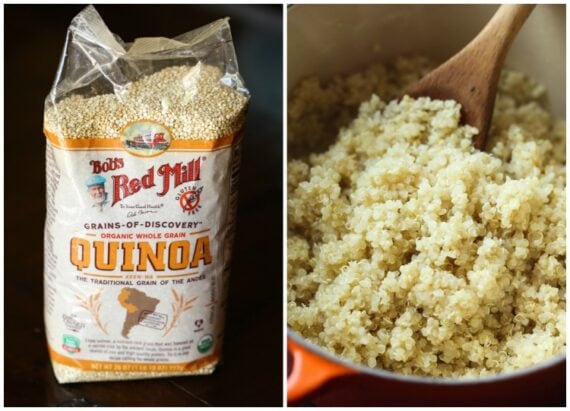 What Ingredients Do You Need?
Of course you need tons of veggies, but the protein packed ingredient in this salad is the quinoa! It's a great addition to make your salad more filling, as well as adding dietary fiber and iron too! I love Bob's Red Mill Organic Whole Grain Quinoa so much. Their Quinoa is Kosher, Vegan, and Gluten Free which are all added benefits. Quinoa has a naturally nutty flavor which pairs amazingly well with the peanut dressing in the salad. I just love this flavor combo so much and I know you will too!
And of course, beyond the quinoa there are lots of other great veggies added like:
Cabbage. I actually love using the prepackaged cole slaw mix for this salad. It saves a step in chopping, which is always a shortcut I will take! Plus, the cole slaw mix has carrots sliced up too! You can easily chop your own cabbage and carrots if you prefer.
Red Bell Pepper. The sweetness and crunch of a red bell pepper shouldn't be skipped in this salad, as I find it adds so much! You could definitely use an orange or yellow pepper too!
Green Onion. I am not a huge fan of onions, but a few green onions sliced up in this aren't overpowering, and add another layer of flavor.
Edamame. I adore edamame and love adding it to this salad. You can certainly leave it out if you're not a fan, but it's another protein packed ingredient that I adore.
Cilantro. I know everyone either loves or hates cilantro. I LOVE it, so I always add extra, but if you aren't on board with cilantro, totally omit it!
Cashews. I use salted cashews because I am a salty girl, but certainly use unsalted if you prefer. You could also sub in peanuts or almonds!
What Can You Add To Switch It Up?
This is an easy salad recipe to adapt and make it your own! Here are a few ideas:
Shredded Chicken
Soba Noodles
Ground Pork
Shrimp
Shredded Kale
Mango
Mint Leaves
What Can You Serve With This Quinoa Salad?
Like I said, this salad is great as a main dish, but is also an amazing side dish. Here are some great ideas of what to serve with this salad:
Grilled Chicken. Or any kind of chicken, really!
Burgers. Of course. I feel like this is a great salad to pair with anything off the grill!
Shrimp. Bake them, skewer them, steam them…up to you!
Steak. A nice sliced flank steak would even be great sliced on top of this salad!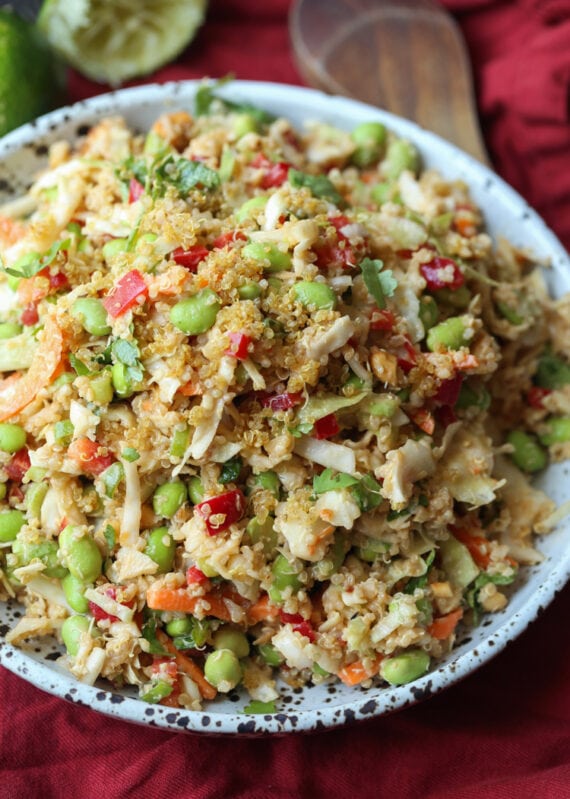 Looking for more Salad Recipes? Try These:
* I have partnered with Bob's Red Mill on this post and many others throughout the years. They are a brand that I love and use in my kitchen on a regular basis. Thank you for supporting the brands that make this website possible.