This post may contain affiliate links. Please read my disclosure policy.
My favorite recipe for homemade Alfredo sauce.  It's easy to make in just 15 minutes, full of the best creamy and garlicky flavors, and always ultra comforting and delicious.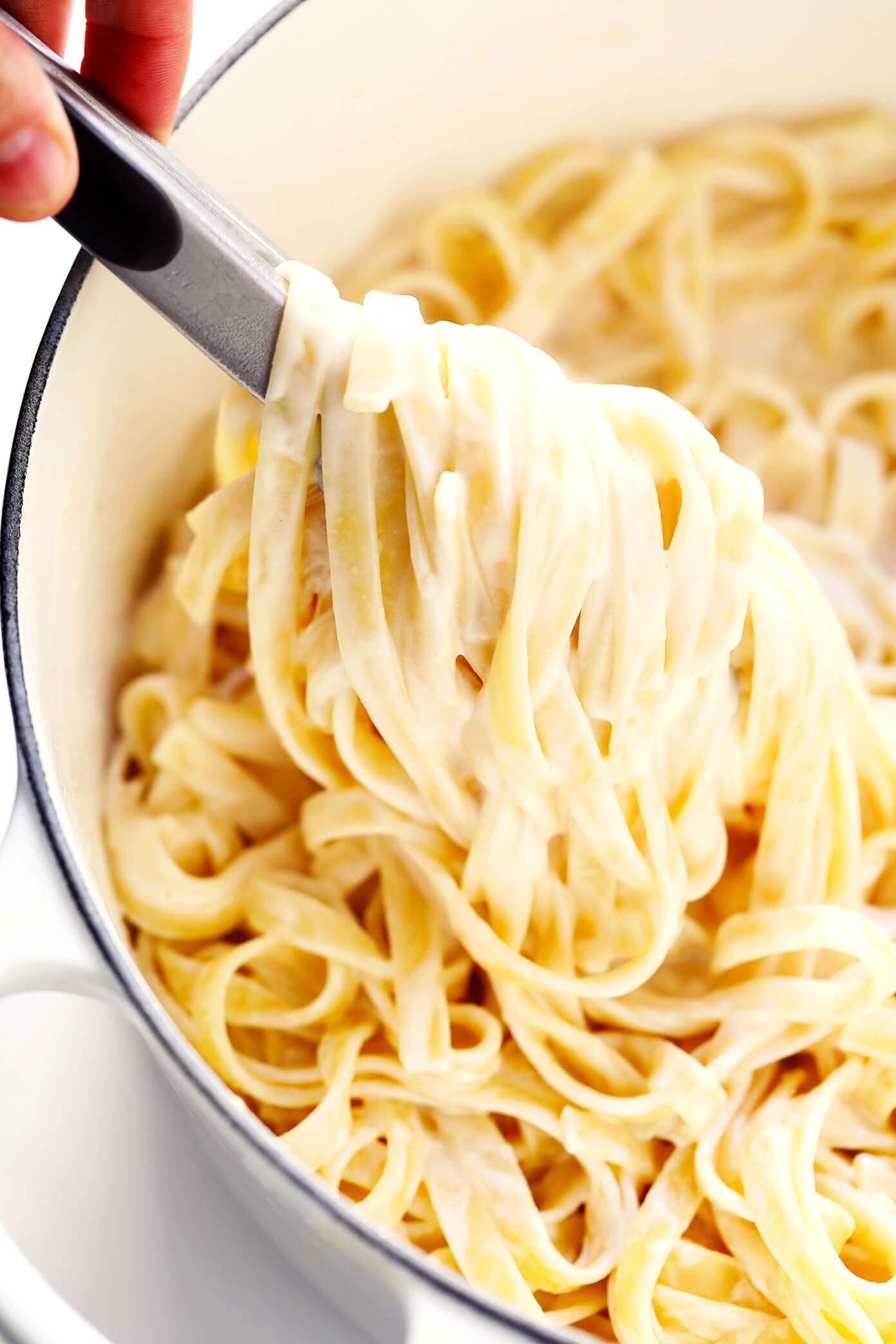 After sharing my favorite marinara sauce recipe with you yesterday, today I'm sharing my go-to recipe for its creamy, cheesy, ultra-comforting counterpart…
…my favorite homemade Alfredo sauce. ♡
Now I will be the first to note that this Alfredo sauce recipe is "American-style," a la the Olive Garden version that zillions of us grew up loving.  By contrast to its Italian-style origins, in which the sauce was created in Rome with just butter and cheese (more similar to my cacio e pepe recipe), American-style Alfredo sauce is famously a bit more indulgent and complex.  Heavy cream and/or milk are typically added to make the sauce creamier, differing levels of flour are added to create a roux and make the sauce thicker, and a number of different seasonings are often added (especially a hint of white pepper and nutmeg) to give it an extra flavor boost.  So while this may come as a surprise to some, the American-style version of this sauce would definitely not be considered authentic in Italy.  But hey, I think we can all agree that the creamy version of this sauce has become an iconic favorite of its own. ♡
That said, though, all American-style Alfredo sauce recipes are definitely not created alike!  I don't know about you guys, but I have been served far too many Alfredos over the years that were gloppy and greasy and devoid of good flavor, which simply will not do.  (Especially when indulging in a cream sauce…I want it to be amazing!)  So today, I'm sharing my favorite homemade Alfredo recipe that I have tweaked over the years to perfection.
My version is made with a base of half milk and half cream, so that it's still rich and creamy but not overly heavy.  It's seasoned with plenty of garlic plus a hint of white pepper and nutmeg, all of which serve to balance out those creamy flavors nicely.  It's just slightly thickened with a tablespoon of flour, which you are also welcome to leave out entirely if you prefer.  And best of all, it's made with lots and lots of freshly-grated Parmesan, which is really the main flavor we all want and love in a good Alfredo.
Oh and bonus?  The entire recipe is incredibly easy to make and comes together in just 15 minutes.  And, of course, it tastes a million times better than anything that you can buy in a jar.  Perfect for tossing with pasta, topping grilled chicken, spreading as a white pizza sauce, mixing into lasagna and baked ziti, or whatever else sounds good.
I'm telling you, this Alfredo sauce is always a winner.  So let's make some!
Alfredo Sauce Recipe | 1-Minute Video
Homemade Alfredo Sauce Ingredients:
To make this American-style Alfredo sauce recipe, you will need the following ingredients:
Butter: Or you could also substitute olive oil, if you prefer.
Garlic: Finely-minced or pressed.
All-purpose flour: To help form a roux and thicken the sauce.  If you are making gluten-free Alfredo sauce, however, you are welcome to omit the flour and have a slightly thinner sauce.  Or you can use a cornstarch slurry to thicken it (see details below).
Heavy cream and milk: We will use this blend as the base for our sauce.
Parmesan cheese: I recommend freshly-grating your Parmesan cheese so that it will melt more smoothly into the sauce.  Also, grated Parmesan cheese can be tricky to measure correctly simply with a measuring cup, so I recommend using a kitchen scale if you own one.
Salt and 

white

pepper: I like to use fine sea salt and white pepper to season this sauce.  If you are new to cooking with white pepper, please note that it has a slightly different flavor and is significantly more potent than black pepper, so you do not need to use as much.  That said, if you only have black pepper in the house, that will work too.
Ground nutmeg: A pinch of nutmeg is typically used in American-style Alfredo, but you can omit this if you prefer.
How To Make Alfredo Sauce:
Alright, let's talk about how to make Alfredo sauce!  Simply…
Sauté garlic. Briefly sauté the garlic in butter until it is lightly golden (be sure not to overcook it).  Then stir in some flour to form a roux.
Add the milk and cream.  And whisk until evenly combined.
Simmer. Continue cooking the sauce until it reaches a simmer, then reduce heat to maintain the simmer, add in the Parmesan, salt, white pepper and nutmeg, and whisk until the cheese is completely melted and the sauce is smooth.
Season. Don't forget to taste and season with extra salt and/or white pepper, if needed.
Serve.  And…enjoy!  So simple, right?!
Possible Recipe Variations:
There are all sorts of ways that you can customize this basic Alfredo sauce recipe, so feel free to experiment and get creative!  Here are a few of my favorite variations…
Make it gluten-free: To make gluten-free Alfredo sauce, just omit the flour (and have a slightly thinner sauce).  Or, you can omit the flour and use a cornstarch slurry (equal parts cold water and cornstarch, added to the sauce as it is simmering) to thicken the sauce.
Make it lighter: To make a lighter Alfredo sauce, use milk in place of heavy cream (so 2 cups of milk total, no cream).
Use roasted garlic: If you want to kick those roasted garlic flavors up another notch, skip the minced garlic and instead roast an entire head of garlic and stir the cloves into the sauce to make a delicious roasted garlic Alfredo sauce.
Add Cajun seasoning: To make Cajun Alfredo sauce, stir your desired amount of Cajun seasoning (I recommend 2 to 4 teaspoons, to taste) into the sauce.
Add pesto: If you happen to have some basil pesto on hand, try stirring in a few tablespoons to make a delicious pesto Alfredo sauce.
Ways To Use Alfredo Sauce:
There are endless ways that you can put this Alfredo sauce recipe to delicious use!  For example, feel free to make…
Alfredo Pasta: Fettuccine Alfredo is obviously the most famous option here, but any shape of pasta will do.  To make traditional fettuccine Alfredo, cook 1 pound of fettuccine until al dente, drain, then toss with the Alfredo sauce until combined.  Feel free to add in cooked proteins of your choice (for example, to make chicken Alfredo pasta or shrimp Alfredo pasta).  And of course, veggies such as broccoli, mushrooms, asparagus and more are delicious additions too!
Alfredo Pizza: Use this sauce in place of marinara pizza sauce.
Alfredo Dip: Use this sauce as a dip for breadsticks, veggie sticks, pretzels and more.
Alfredo Casserole: I also love using this recipe as a sauce in casseroles, baked ziti and white lasagna.
More Italian Sauce Recipes:
Looking to try some other classic Italian sauces?  Here are a few of my faves:
---
Description
This homemade Alfredo sauce recipe is easy to make in just 15 minutes, it's rich and creamy and full of the best garlicky flavors, and always ultra comforting and delicious.  See notes above for possible variations too.
---
Scale
Ingredients
1 tablespoon

butter

4

 cloves garlic, pressed or finely-minced

1 tablespoon

all-purpose flour

1 cup

heavy cream

1 cup

milk (I used 2% milk)

1 cup

(

1 1/2 ounce

s) freshly-grated Parmesan cheese

1/2 teaspoon

 salt
pinch of white pepper
pinch of ground nutmeg (optional)
---
Instructions
Sauté garlic. Melt butter in a large saucepan or sauté pan over medium-high heat.  Add garlic and sauté for 1 minute, stirring frequently.  Stir in the flour and sauté for 1 minute more, stirring frequently.
Add the milk and cream.  Add in the heavy cream and milk and whisk until evenly combined.
Simmer. Continue cooking until the mixture reaches a simmer.  Reduce heat to medium-low and continue cooking for 1-2 minutes, until thickened.  Add in the Parmesan, salt, white pepper and nutmeg, and whisk until the cheese is completely melted and the sauce is smooth.
Season. Taste and season with extra salt and/or white pepper, if needed.
Serve.  Serve warm and enjoy!
---
Notes
Batch Amount: This recipe yields enough sauce to toss with a 1-pound (or 500g) package of uncooked pasta, which should be cooked until al dente, drained and then immediately tossed with the sauce.
Storage Instructions: To store this Alfredo sauce, let it cool until it reaches room temperature.  Then transfer to a mason jar or food storage container and refrigerate for up to 3 days.  I do not recommend freezing this sauce.