This Easy Homemade Blueberry Cobbler Recipe is such a classic dessert! Sweet blueberries paired with the buttery, biscuit topping creates a nostalgic dessert that is simple to make from scratch!

Have You Ever Made Homemade Blueberry Cobbler?
I will tell you, I am not much of a pie maker. I can do it, don't get me wrong, but it's definitely not my go-to dessert. I much prefer a fruit crisp or cobbler because they are just a little less fussy to make than pie. And we are right in the middle of blueberry season here in New Jersey and I am READY! Bring on all the blueberry desserts! So I decided to start with Blueberry Cobbler. With ice cream, obviously.
Looking for more Blueberry Recipes? Try These: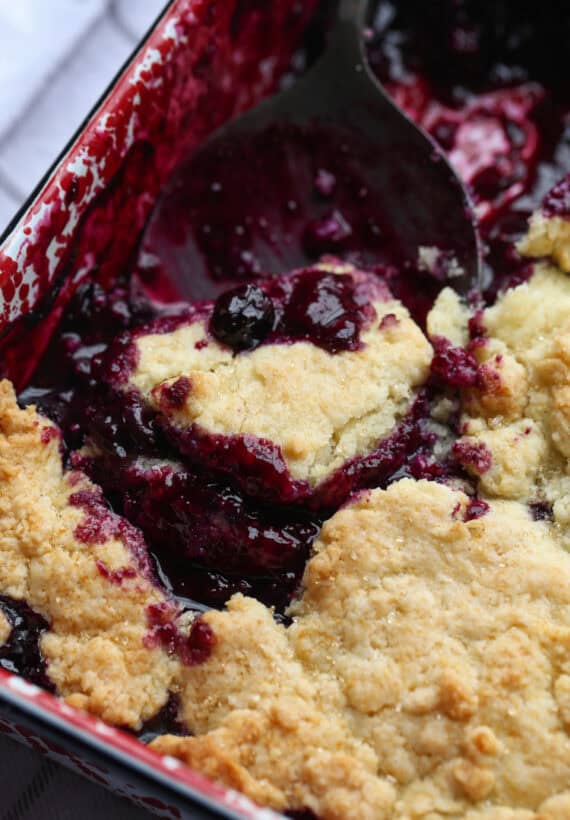 What Is Blueberry Cobbler?
Cobbler is a dish that can be sweet or savory, but is mostly known to be sweet. Fruit filling is the most popular, and it's topped with a buttery, biscuit-style batter on top. As it bakes the fruit bubbles up and the biscuit topping bakes and becomes golden brown and crisp on the tops. Topping cobbler with fruit my favorite way to enjoy the classic dessert!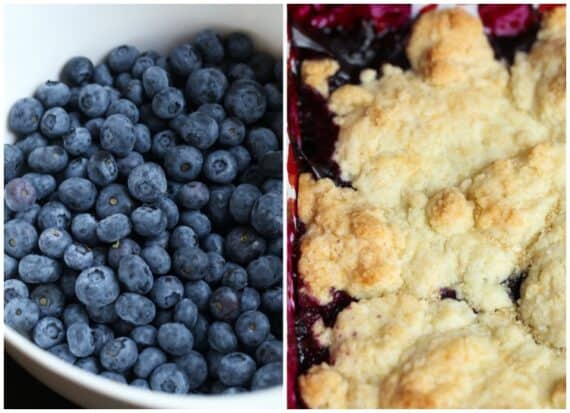 How To Make Blueberry Cobbler From Scratch
What's so great about cobbler is how easy it is! I used blueberries because they are season right now in New Jersey nad I have plenty on-hand. But you can really use any type of fruit!
What Ingredients Do You Need For Blueberry Cobbler?
Cobblers contain very simple ingredients, which makes them easy to make in a pinch! Here are a few of the key ingredients you will need:
Blueberries. I mean this is a blueberry cobbler!
Granulated Sugar. This will sweeten the berries a little more and also aid in creating the syrup that forms as the berries bake. And you add a little into the biscuit topping!
Lemon Zest. This can be optional, although I really like the slight tartness the zest gives the berries.
Flour/Baking Powder/Salt. These dry ingredients are all essential in creating the biscuit topping.
Butter. Use cold butter in this recipe, as the topping is a lot like a biscuit. The cold butter will create a flakier biscuit!
Heavy Cream. This is what you need to create a rich biscuit topping. You can sub this out for buttermilk if you prefer.
Turbinado Sugar. Sprinkle some of this on top of the cobbler topping before you bake it for a sparkly topping, and a sweet crunch! Also known as Sugar In The Raw.
What other types of Fruit Can You Use in Cobbler?
This is a great recipe that can other fruits can easily be subbed in place of the blueberries. Here are a few ideas:
Apples
Strawberries
Peaches
Cherries
Mixed Berries like Blackberries, Raspberries, Blueberries, and Strawberries
Can You Use Frozen Blueberries?
Yes! Just thaw out the blueberries at pat them dry!
Can You Freeze Blueberry Cobbler?
Yes! Blueberry Cobbler is a great recipe to bake if you have lots of blueberries to use. You can bake this recipe, allow it to cool, cover tightly in plastic wrap, and then again in foil and freeze for up to a month!
To thaw it out just bake in a 350°F oven until warm and bubbly again. Do note that the topping might be slightly soggier than if freshly baked and served.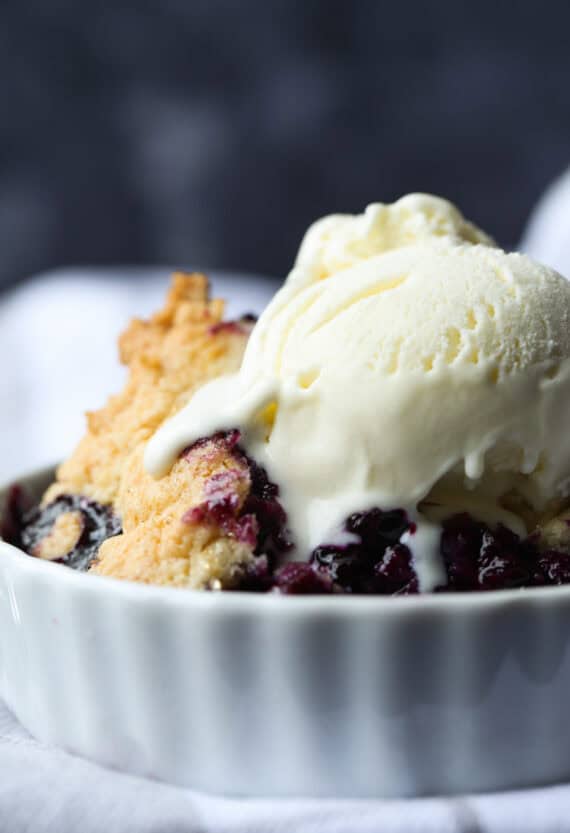 Looking for More Cobbler Recipes? Try These: