This post may contain affiliate links. Please read my disclosure policy.
The best homemade enchilada sauce recipe!  It's super-simple to make and a million times better than the canned stuff.  (Check out my recipe for Green Enchilada Sauce too!)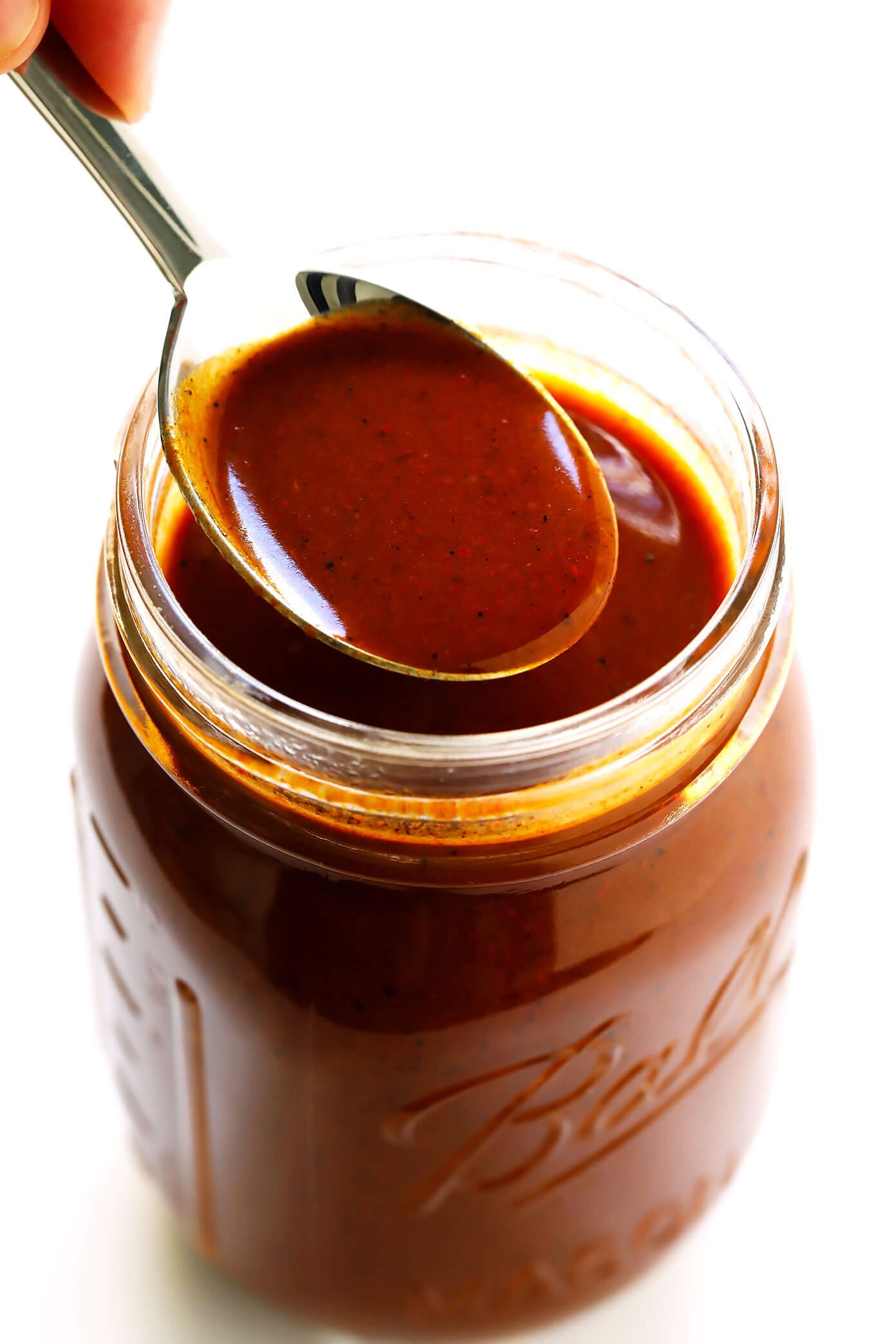 My best tip for how to make a killer pan of homemade enchiladas?
This homemade enchilada sauce recipe. ♡
It has been the secret ingredient in my favorite enchilada recipe for over years and years.  And every time I make a pan of chicken enchiladas for a dinner party, or take some enchilada soup to a friend with a new baby, or whip up a quick batch of enchilada nachos or enchilada cups for a party…this enchilada sauce always gets rave reviews and someone inevitably always asks for the recipe.
It's a million times better than anything you can buy in the can and is made with the coziest, warm chili flavors.  But best of all, this homemade red enchilada sauce recipe only takes about 20 minutes to make and calls for a few simple ingredients that you probably already have sitting in your pantry.  So if you have yet to try this recipe, I say it's time!
Let's make a quick batch together!
Homemade Enchilada Sauce Recipe | 1-Minute Video

Homemade Red Enchilada Sauce Ingredients:
To make this easy enchilada sauce recipe, you will need the following ingredients:
Oil and flour: To make our roux, which will thicken the sauce.  Feel free to use any type of oil or butter that you prefer.  And see notes below if you need a gluten-free option for the flour.
Chili powder: Very important note — this recipe calls for American-style chili powder, which is actually a blend of various mild chilis and seasonings.  (It is 

not

cayenne!)  I recommend investing in a good-quality brand of chili powder for this recipe, since it is the main seasoning used here.  And if you happen to be an international reader, please (please) note that you need to look for a specifically American-style chili powder.  Many readers have reported over the years that most international chili powder blends are typically more similar to straight cayenne and can be overwhelmingly spicy.
Garlic powder, ground cumin, dried oregano: These are the other dried seasonings that we will use in the sauce.
Veggie or chicken stock: I also recommend using some good-quality stock in this recipe, which will add some delicious depth of flavor to the sauce.
Fine sea salt: And finally, don't forget to season the sauce!  I typically add in about 1/2 teaspoon, but please note that the amount of salt you'll need will directly relate to how salty your veggie/chicken stock happens to be.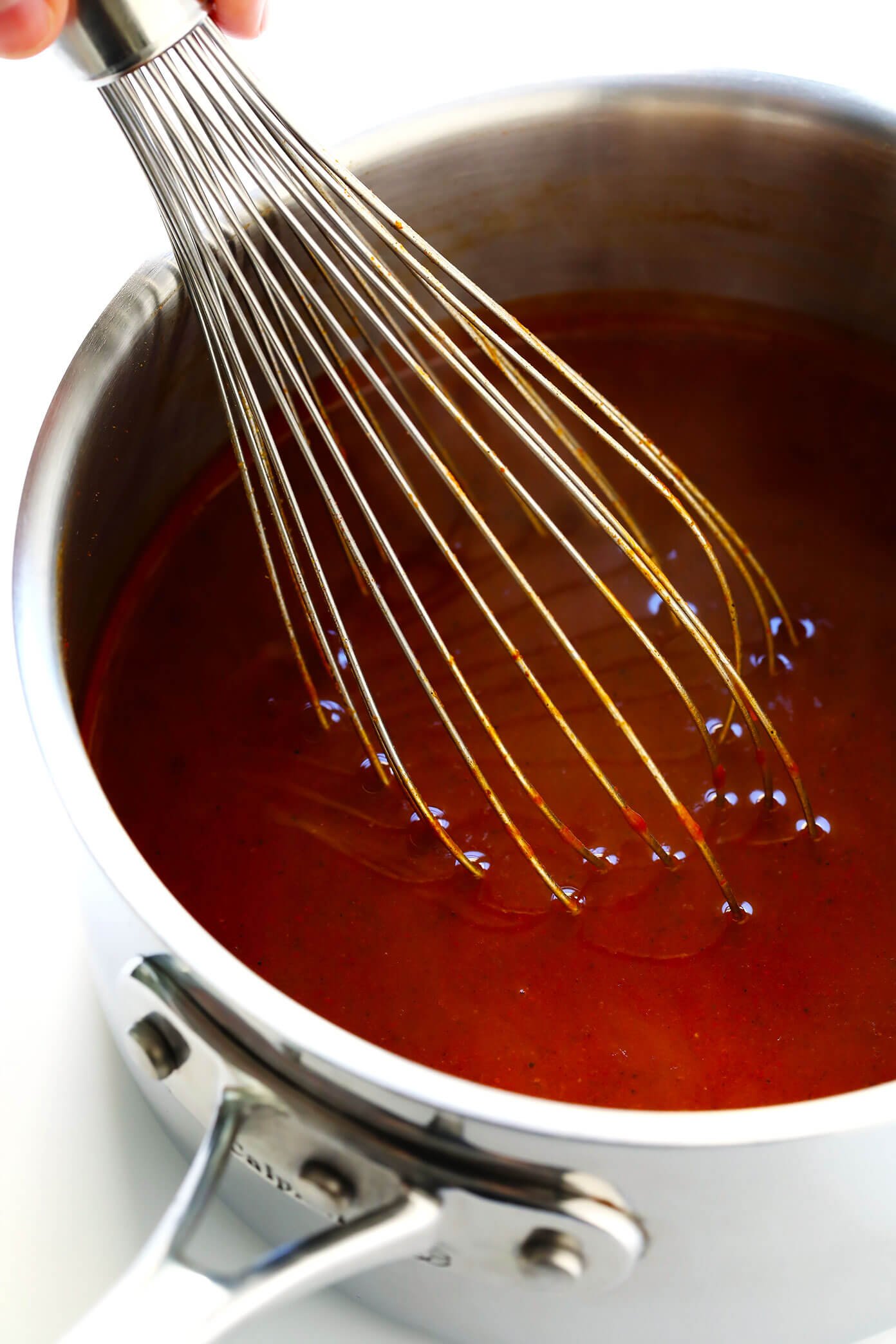 How To Make Enchilada Sauce:
Here are the basic steps for how to make enchilada sauce (full instructions included in the recipe box below):
Cook the roux and spices: In a small saucepan, we'll cook the flour and oil together to form the roux, and then whisk in the spices to briefly toast them before adding in the stock.
Simmer: Gradually add in the stock, while whisking the sauce to blend in any lumps.  Then heat to a simmer, and let it simmer for about 10-15 minutes until it has reduced and thickened a bit.
Season: Season with salt (or any extra seasonings that you might like to add), to taste.
Serve: Then serve it up in a pan of enchiladas or whatever recipe sounds good…and enjoy!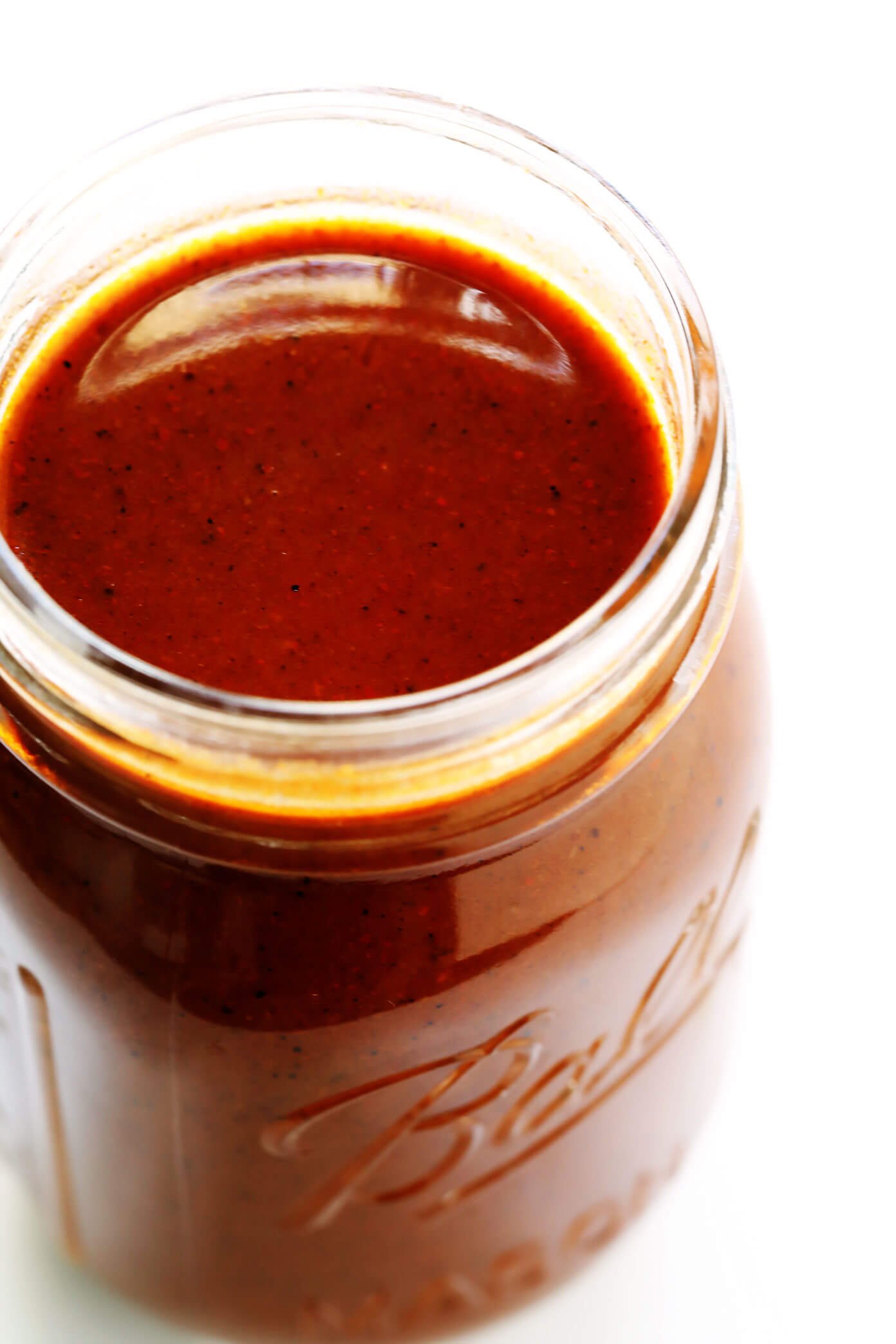 Possible Variations:
This recipe is quite flexible, so please feel free to tinker around with ingredient amounts and customize it however you prefer!  For example, you could…
Make it gluten-free: You can either use an all-purpose gluten-free flour blend, in place of the AP flour.  Or you can nix the flour and instead add a cornstarch slurry (equal parts cornstarch and cold water whisked together) to the sauce once it is simmering to thicken it.
Make it creamy: Whisk in 1/2 cup of heavy cream to turn this recipe into an epic creamy enchilada sauce.
Make it spicier: Feel free to add in a pinch or two of cayenne to make this sauce even spicier.  Or alternately, you can choose to use ancho chili powder in place of standard American chili powder.
Make it milder: American chili powder should naturally be quite mild.  But if you are wary of heat, feel free to start with 2 tablespoons (instead of 4 tablespoons) of chili powder in the recipe.  Then once the sauce has simmered, give it a taste and feel free to add more if you would like.
Make it smokier: Feel free to swap some of the American chili powder for chipotle chili powder, if you would like this sauce to have a smoky chipotle kick.  (Also note that chipotle powder is considerably spicier, so this version would pack more heat too.)
Add tomato sauce: If you would like to have a more tomato-y enchilada sauce, you are welcome to add 1/2 cup tomato sauce to the recipe in place of 1/2 cup of the stock.
Ways To Use Enchilada Sauce:
Here are a few of my favorite ways to use this easy enchilada sauce!
---
Description
My all-time favorite homemade red enchilada sauce recipe.  It's quick and easy to make, and a million times better than the canned stuff!
---
---
Instructions
Cook the roux and spices: Heat oil in a small saucepan over medium-high heat. Add flour and cook for 1 minute, whisking constantly.  Add in the garlic powder, cumin and oregano and cook for 1 more minute, whisking constantly.
Simmer: Gradually pour in the stock, whisking constantly to combine until no lumps remain.  Continue cooking until the sauce reaches a simmer.  Then reduce heat to medium-low to maintain the simmer (the sauce should continue lightly bubbling) for about 10-15 minutes, uncovered, until the sauce has slightly thickened.
Season: Give the sauce a taste and season with salt, as needed.  (I typically add 1/2 teaspoon fine sea salt, but the saltiness of the sauce can vary depending on the brand of stock that you use.)
Serve: Use immediately in your favorite recipe and enjoy!
---
---
Notes
Chili powder (important note): As mentioned above, this recipe calls for traditional American chili powder — which is not cayenne.  American chili powder is actually a blend of spices and is quite mild, whereas international chili powders are usually incredibly spicy.  So if you live outside of the United States, please look specifically for an American-style chili powder blend.
Gluten-free option: Feel free to use a 1-to-1 all-purpose gluten-free flour blend in place of the all-purpose flour.  Or alternately, you can thicken the sauce with a cornstarch slurry (equal parts cold water and cornstarch whisked together, then added to the sauce once it has reached a simmer).
Storage instructions: Let the sauce cool to room temperature.  Then transfer it to a mason jar or food storage container and refrigerate for up to 5 days.  Unfortunately this sauce separates a bit once it has frozen, so I don't recommend freezing it.