Easy35 minsGluten-Free
This truly is the BEST healthy granola recipe!  It's quick and easy to make, it's naturally sweetened with (just a little!) maple syrup, it's totally customizable, and so flavorful and delicious.  Homemade granola FTW!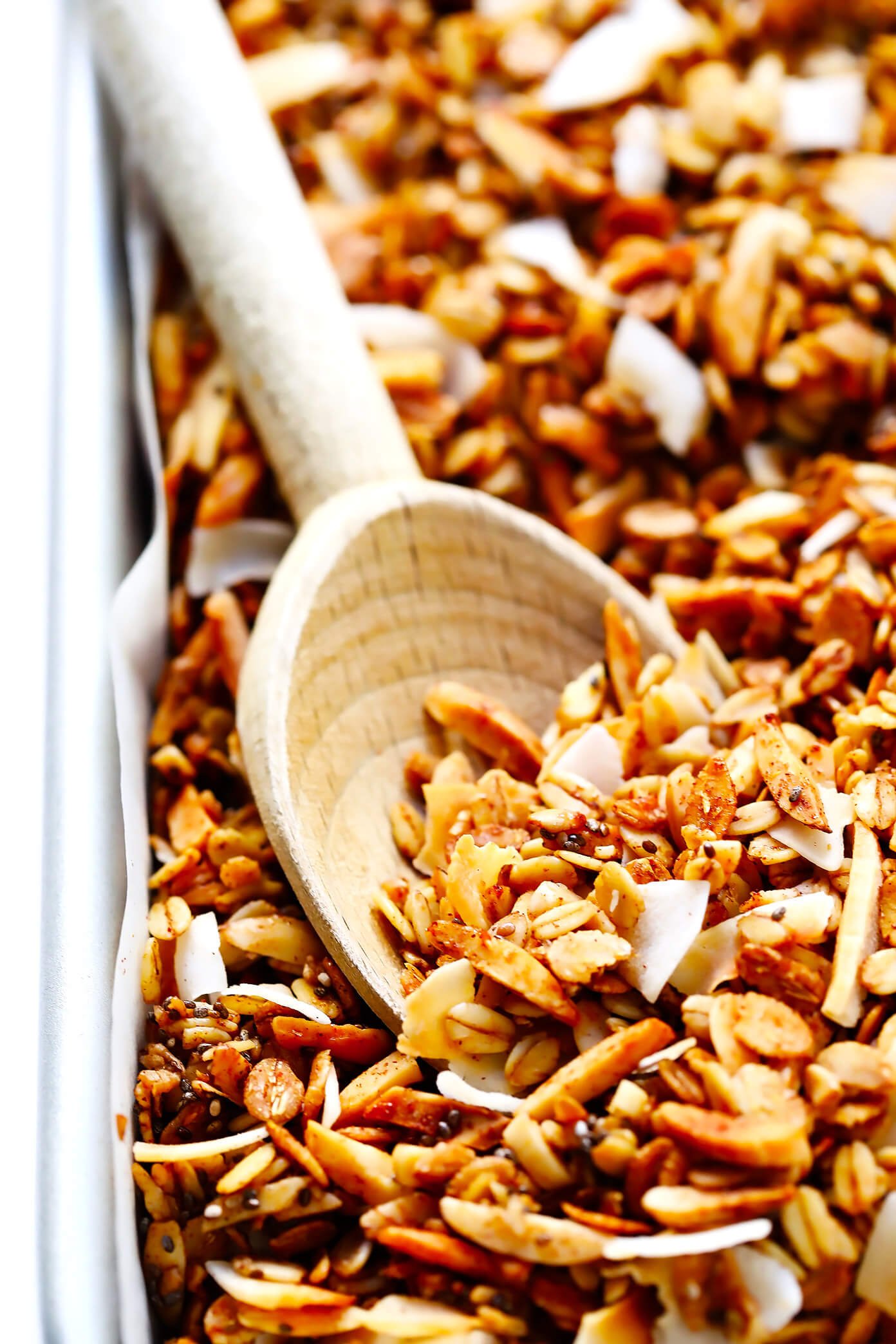 Happy New Year, friends!  ?
I thought we'd kick off the year with a month full of my go-to, feel-good, no-fuss, delicious favorite recipes this year, starting with the recipe that Barclay and I cook up constantly for breakfasts but I have never officially shared on the blog — my favorite homemade healthy granola recipe!!
I've shared a half dozen customized granola recipes over the years, each with various add-ins and seasonings.  But I realized recently that I've never shared my base healthy granola recipe with you.  It's one I've made a zillion or so times over the years, and tweaked along the way to make it even healthier (with minimal sweetener!) and more flavorful.  And I stand by it.  It's seriously the tastiest, crunchiest granola recipe I know.  Plus, it only takes about 10 minutes to prep, it's easy to customize with your favorite nuts, sweetener, and add-ins (i.e. dried fruit, chocolate chips, etc.), and it's full of protein and omega-3s and other healthy nutrients that will help get your day off to a good start.
Let's bake up some homemade granola together, shall we?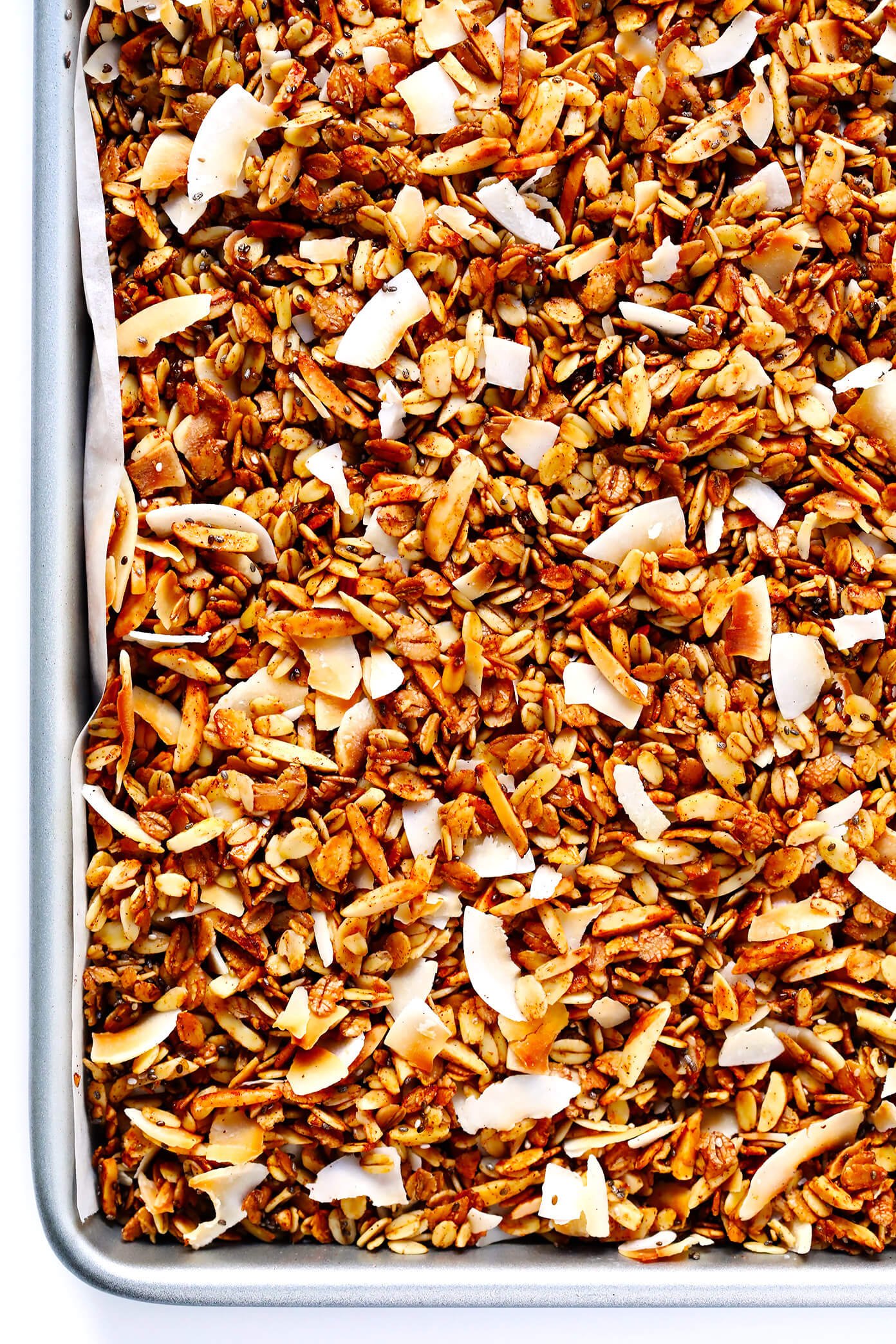 So I've gotta say — I'm a big fan of dried fruit in my granola.  But I did a little Instagram survey last week asking whether people were pro-fruit or heck-no-fruit, and the results were neck-and-neck…but the no-fruit votes won in the end.  So this base recipe is notably unfruitful. ?
That said, I've included instructions below for my fellow dried fruit lovers, if you'd like to sprinkle some in.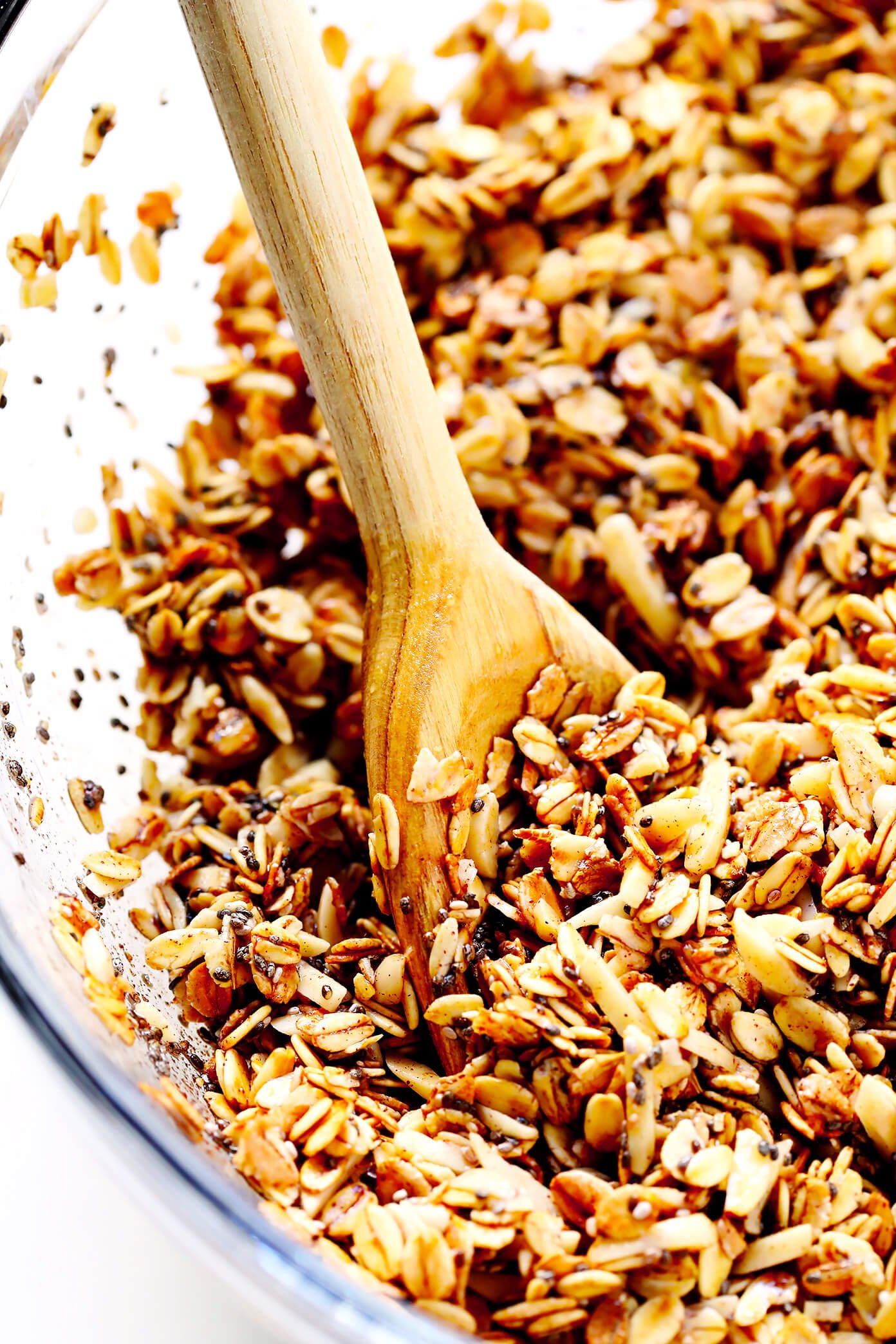 Basically, the base recipe is simple.  You need
old-fashioned oats (and certified gluten-free, if making this GF)
slivered almonds (my fave, but you can sub in any favorite kind or combination of nuts)
chia seeds (extra omega-3s!)
coconut oil (or any favorite neutral-flavored oil)
maple syrup (or honey)
ground cinnamon, salt and vanilla extract (musts for flavor)
flaked coconut (my fave, or you can use shredded coconut)
Then, of course, you can add in any other favorite ingredients, such as dried fruit, chocolate chips, various seasonings, etc.
Mix everything up in a large mixing bowl…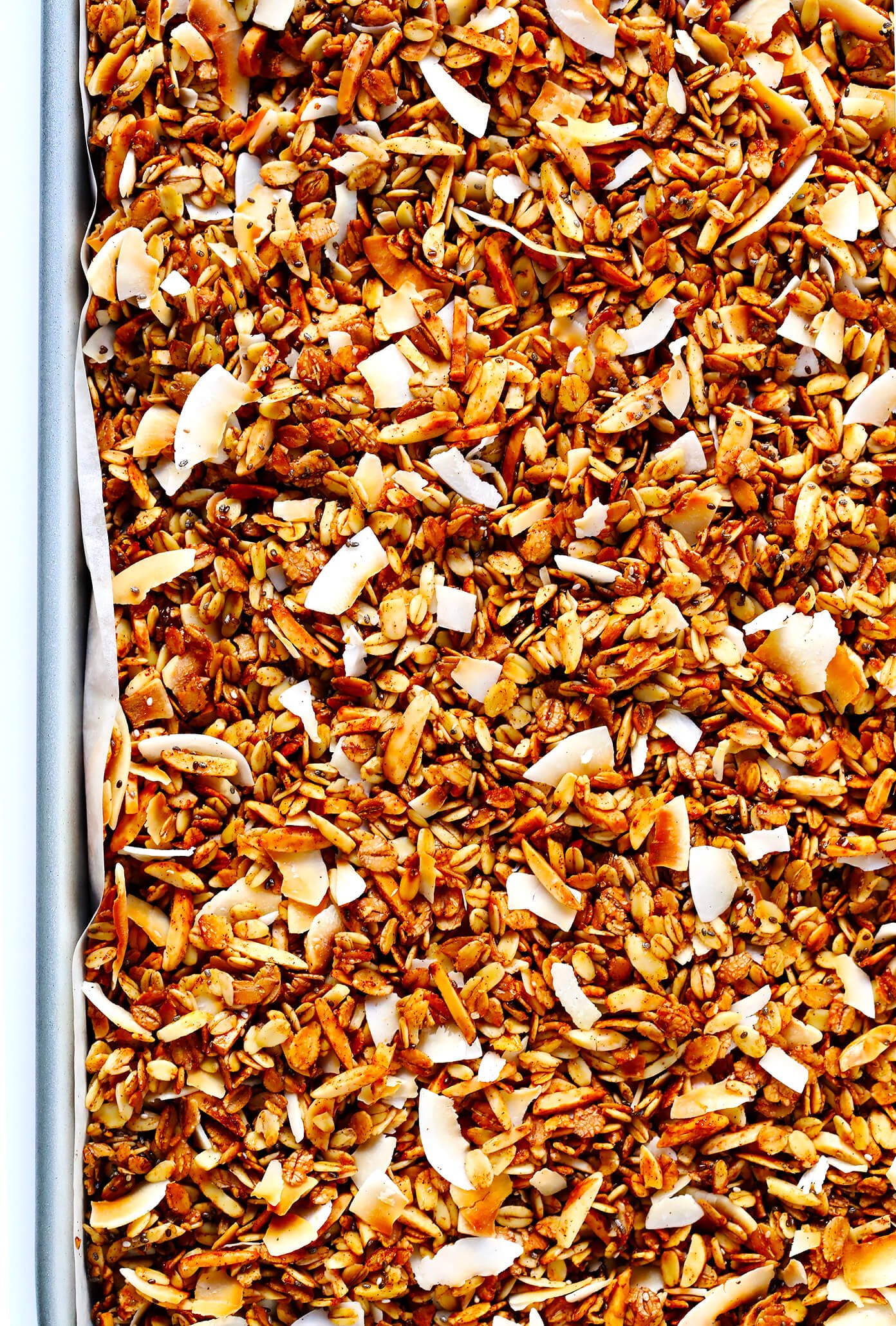 …then bake on a parchment-covered baking sheet until golden (waiting to add the coconut in until halfway through cooking, so that it doesn't burn).  Then once the granola is out of the oven, let it rest on a cooling sheet (without messing with it!) until it reaches room temperature.  That way, some of those delicious clumps will form, and you can just break them up with your fingers to your preferred texture once the granola has cooled.
And then…voila!  Your healthy granola is ready to enjoy!
Dive right in…
…or store in an airtight container for the weeks ahead.  (Breakfast and snacking meal prep FTW!)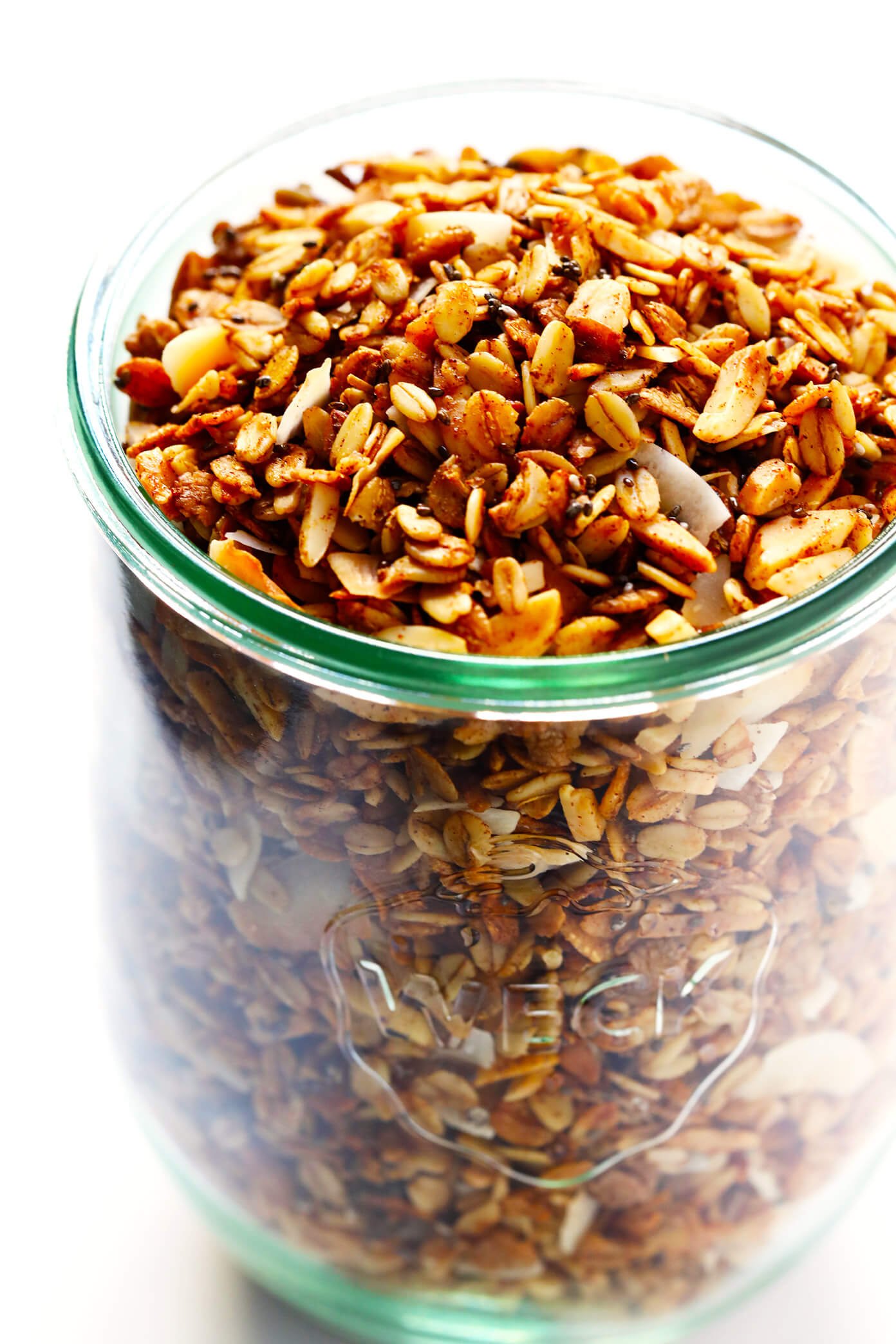 Enjoy, everyone.  And cheers to a happy and healthy new year ahead.  ?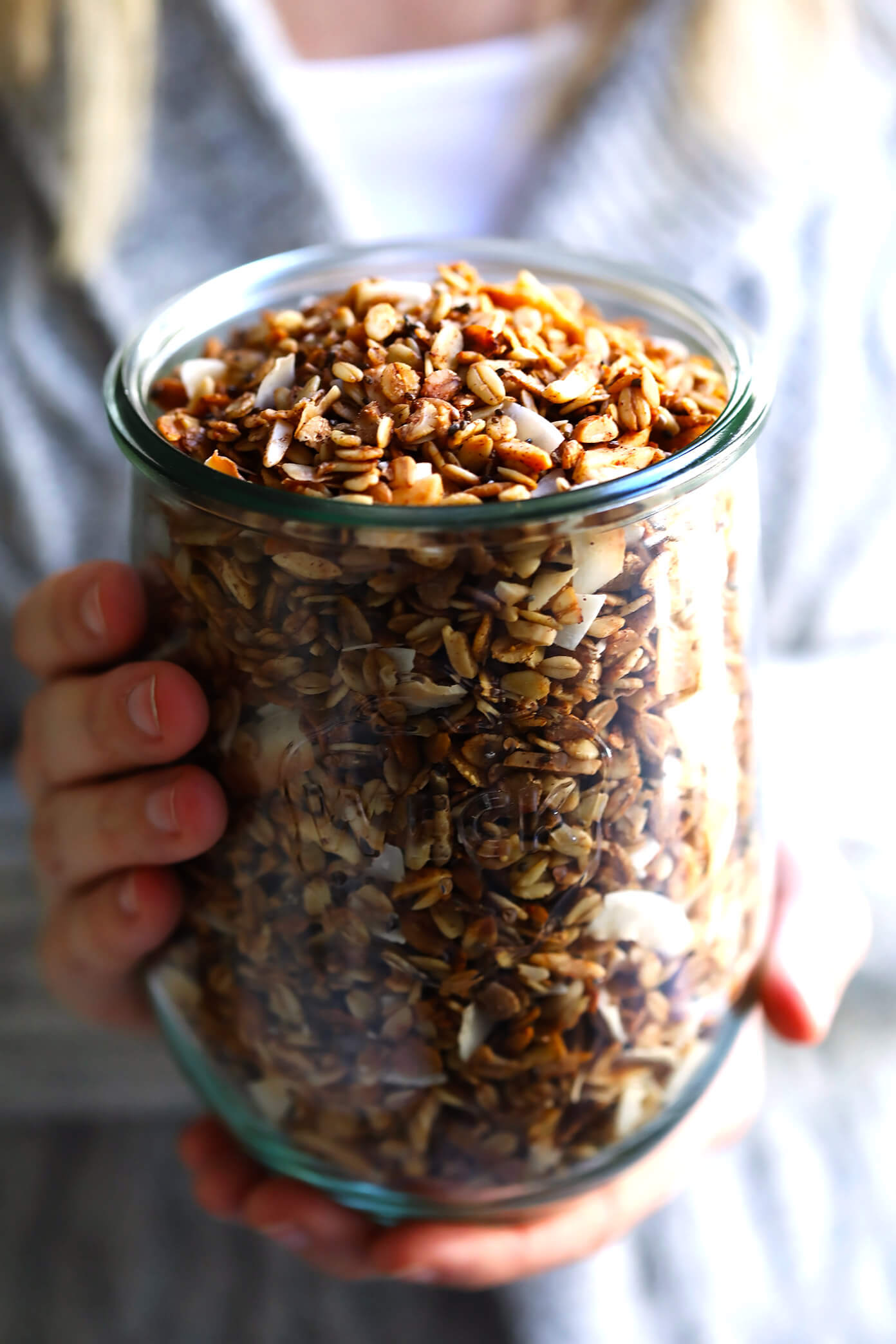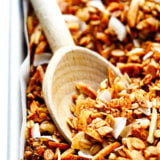 Yield: About 6 cups
The BEST Healthy Granola!
This truly is the BEST healthy granola recipe!  It's quick and easy to make, it's naturally sweetened with (just a little!) maple syrup, and so flavorful and delicious.  See below for ideas on how to customize your granola too!
Ingredients:
4 cups old-fashioned oats*
1 cup slivered almonds (or your preferred nuts)
1/4 cup chia seeds
2 teaspoons ground cinnamon
1 teaspoon sea salt
1/2 cup melted coconut oil
1/3 cup maple syrup
2 teaspoons vanilla extract
2/3 cup unsweetened flaked coconut (or 1/2 cup shredded coconut)
1/2 cup chopped dried fruit (optional)
Directions:
Heat oven to 350°F.  Line a large baking sheet with parchment paper, and set aside.
In a large mixing bowl, stir together oats, almonds, chia seeds, cinnamon and sea salt until evenly combined.
In a separate mixing cup, stir together the melted coconut oil, maple syrup and vanilla extract until combined.  Pour the coconut oil mixture into the oats mixture, and stir until evenly combined.
Spread the granola out evenly on the prepared baking sheet.  Bake for 18 minutes.  Then remove from the oven, add the coconut, and give the mixture a good stir.  Bake for 7 more minutes, until the granola is lightly toasted and golden.
Remove from the oven and transfer to a wire baking rack.  Let cool until the granola reaches room temperature.  Then stir in the dried fruit, and any other optional add-ins you might prefer.
Serve immediately, or store in an airtight container at room temperature for up to 1 month.
Other optional add-ins could include:
Dried Fruit: raisins, dried cranberries, dried cherries, dried apricots, dried pineapple, banana chips, you name it!
Chocolate: semisweet/dark/white chocolate chips, cacao nibs, etc.
Peanut Butter: feel free to stir up to 1/3 cup natural peanut butter into this recipe
Spices: a pinch of ground ginger, cloves, and/or nutmeg are great in this recipe; or I also love adding in everything bagel seasoning or chai spices
Also, feel free to sub in your favorite nuts in place of slivered almonds.  Options could include:
almonds (sliced or whole), cashews, macadamia nuts, peanuts, pecans, pepitas, pistachios, sunflower seeds or walnuts.
If making this recipe gluten-free, be sure to use certified gluten-free oats (and other ingredients).
Difficulty: EasyCategory: Gluten-Free


All images and text ©Gimme Some Oven
If you make this recipe, be sure to snap a photo and hashtag it #gimmesomeoven. I'd love to see what you cook!