If you're obsessed with salads, you have to try this quick & easy Homemade Ranch Dressing recipe. It is the best salad dressing you'll ever taste!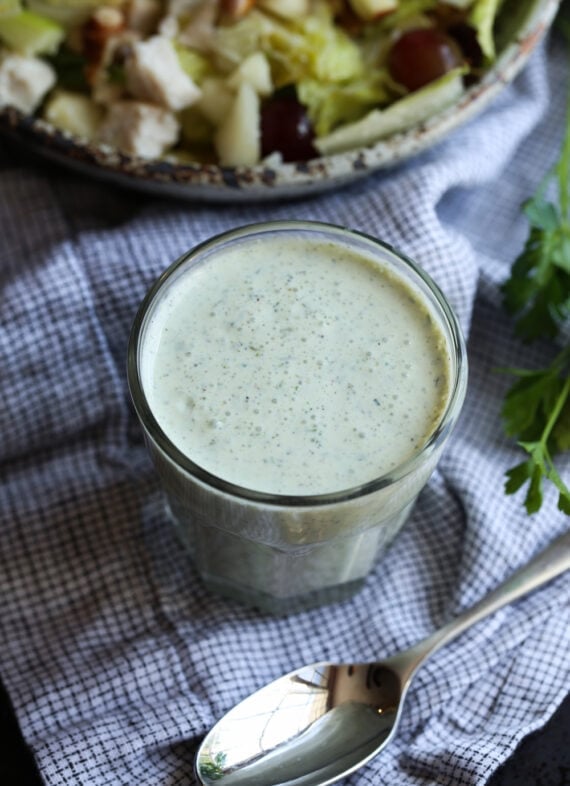 This Easy Homemade Ranch Dressing Is Perfect On EVERYTHING!
Whether it's an appetizer dip or a salad topping, a good ranch dressing can really change the game. This super simple ranch recipe is so delicious.
It only takes 5 minutes to make and the flavor is totally worth the effort. You'll never have to buy a bottle of ranch again!
Why Make Ranch Dressing From Scratch?
If you're one of those people who puts ranch on everything (ahem, like me), going the homemade route makes it near impossible run out of your favorite dressing. You can also adjust the recipe to suit your personal preference. It couldn't be easier to prepare and you'd be surprised by how much more flavorful homemade ranch dressing can be!
Dressing Ingredients
This creamy ranch dressing is made with simple, flavorful ingredients. Here's what goes into it:
Garlic
Dill
Chives: For the dill & chives, you'll need both fresh and dried herbs.
Fresh Parsley
Sour Cream
Buttermilk: Substitute 1/4 cup mayonnaise if you want a thicker dressing.
Kosher Salt
Fresh Black Pepper
Onion Powder
Worcestershire Sauce
Cayenne (Optional)
How to Make Ranch Dressing
Blend Ingredients: Place all the ingredients in a food processor or blender. Blend together until smooth.
Adjust to Taste: Adjust seasonings as desired and pulse.
Chill: Transfer to an airtight container and refrigerate for at least an hour before serving.
Tips for the Best Ranch Dressing
Use Mayonnaise for Added Thickness: This recipe is ideal for salads because it's nice and thin. If you want your dressing to have a thicker consistency, just use 1/4 cup of mayonnaise in place of buttermilk!
Turn Up the Heat with Cayenne: If you like a spicier ranch dressing, be sure to add a pinch of cayenne.
Make Homemade Buttermilk: If you don't keep a stash of buttermilk in the fridge, use my easy substitute! There's a vegan version included.
Dressing Thickens with Time: Your dressing will thicken up a bit as it sits in the fridge. If you want to thin it out at any time, add a splash of buttermilk until it reaches your desired consistency.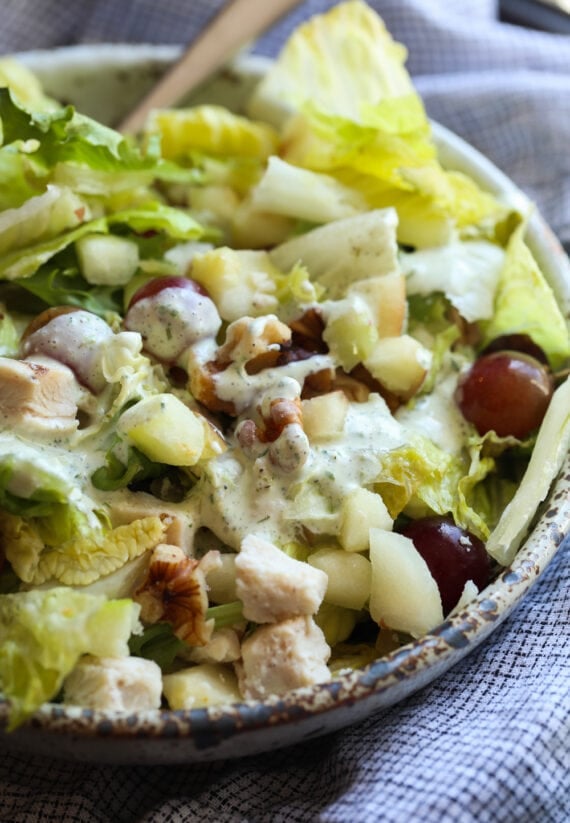 How to Use this Dressing
On Salad: Pretty much any salad tastes good with ranch, but I especially love making my Southwestern Quinoa Salad with this homemade dressing.
On Pizza: Drizzle your ranch over this Buffalo Chicken Pizza or dip your slice right into it! So yummy.
With Wings: Wings and ranch come hand-in-hand. Make your favorite chicken wings taste even better with this homemade ranch.
With Vegetables: I love snacking on raw veggies dipped in ranch.
How to Store Homemade Salad Dressing
You can store your dressing in a lidded jar or an airtight container. Keep it in the fridge and enjoy it within 5 days for best freshness.