This Pumpkin Cheesecake Recipe is festive, fall spin on classic cheesecake. It's creamy, with the perfect amount of pumpkin, on top of a cinnamon graham cracker crust!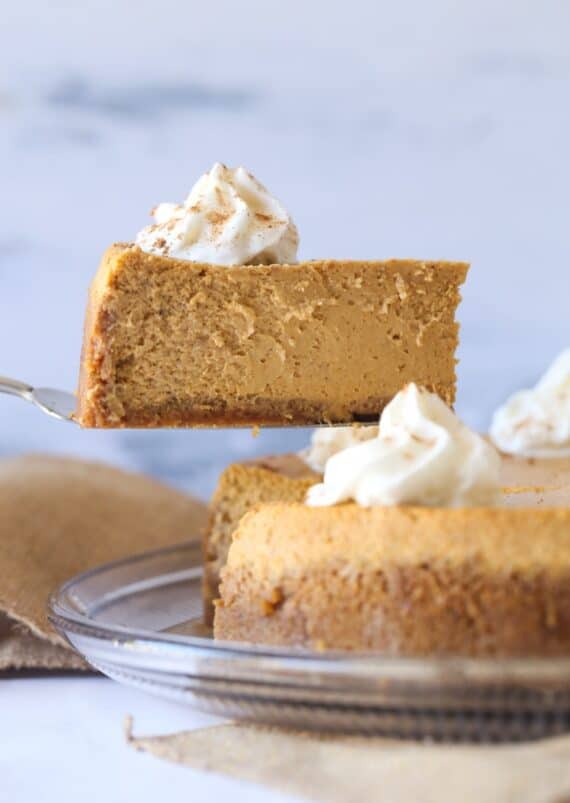 Cheesecake is and will always be my favorite dessert. For so long I was a little scared to make cheesecake at home because 1) I heard they were finicky and 2) I was scared I would eat the whole thing myself.
Turns out neither of those are actually true. SO a few years ago when I posted my IN DEPTH look into cheesecake with my PERFECT CHEESECAKE RECIPE the response from you guys was overwhelming! Apparently cheesecake intimidates a lot of you as well!
And since then I have really dove headfirst into cheesecake baking! And today's we're talking all about the PERFECT Fall Cheesecake!! Today's recipe is like a Cheesecake and a Pumpkin Pie had a baby. It's super creamy, with the exact right combo of the two flavors. AND you can make it ahead, which is a solid win if you're entertaining.
Looking for More Cheesecake Recipes? Try These: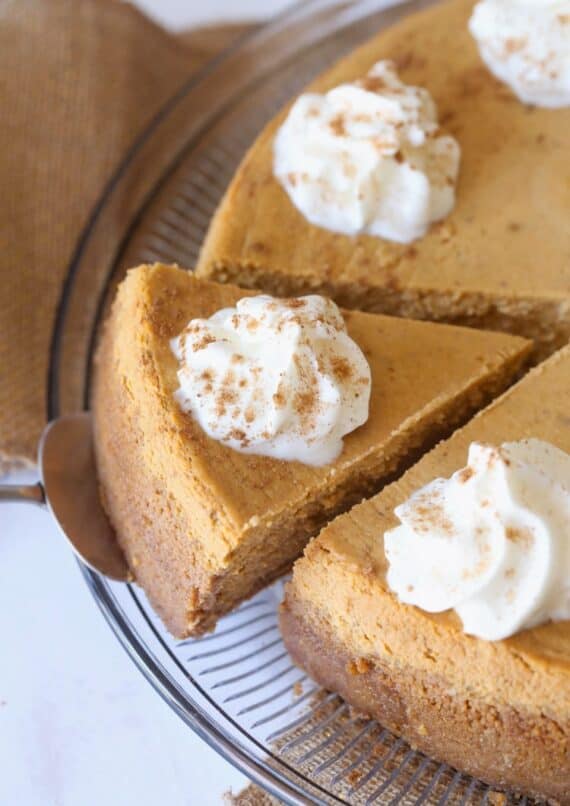 How To Make Homemade Pumpkin Cheesecake
Ok, I'm going to show you how easy cheesecake can be. Obviously before you get started I always recommend making sure you have all the ingredients so read the recipe in full before starting. Honestly, this is a great trick in any recipe you're making.
Do You Have To Use a Springform Pan?
I will always say yes to this question. When baking cheesecake, the best option is a springform pan. I know folks who bake cheesecake in a deep dish pie plate and have success, but I prefer the easy release method that a springform pan allows. You release the sides and are able to present and slice your cheesecake perfectly!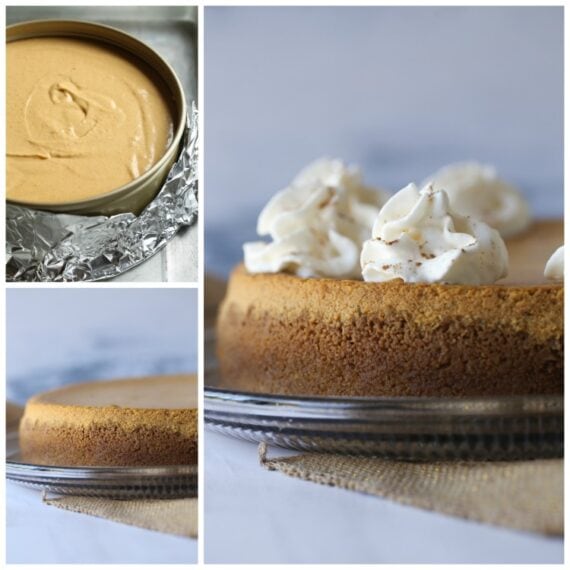 Tips on Making Cheesecake
Like I said above, I really dive deep into all the ins and outs of making cheesecake in my Perfect Cheesecake Recipe, and think I've done a great job in answering any questions that you may have, like:
How To Prevents Cracks
Do You Have To Use a Water Bath?
How Long Does a Cheesecake Need To Chill?
Do My Ingredients Need To Be Room Temperature?
So definitely check out that recipe first if this is your time baking a cheesecake!
How To Incorporate Pumpkin Into Cheesecake
Pumpkin is a super easy ingredient to add into cheesecake. I only had to tweak my Perfect Cheesecake Recipe a little bit to make it work perfectly!
You will use a whole 15- ounce can of 100% Pure Pumpkin, like Libby's and well as Pumpkin Pie Spice!
I decreased the amount of cream cheese, sour cream and egg slightly to accommodate the additional moisture the canned pumpkin adds!
Can You Use Fresh Pumpkin Instead of Canned Pumpkin?
The answer here is yes, if you would like to go to the trouble of cleaning a pumpkin, baking it, and pureeing, you absolutely can. I've tried making pumpkin pie from scratch before, and found the whole process to be…well…not worth it. But of course, feel free to give it a try.
However, if using homemade pumpkin puree follow these tips:
Make sure you process the pumpkin until it's completely smooth. You don't want any chunks in your cheesecake!
A 4-5 pound pumpkin will give you about 4 cups of puree.
You can boil or bake the pumpkin to cook it, but I recommend baking to prevent any extra water.
Allow your puree to drain excess liquid by using a cheesecloth to squeeze out extra moisture. I find that fresh pumpkin is more watery than canned, so you will need to remove as much liquid as possible, otherwise the texture of your cheesecake will be wet.
What Kind Of Crust Is Best For Cheesecake?
I always prefer a graham cracker crust, but this recipe would be a great place to switch it up if you desire! I added cinnamon to my graham cracker crust in this recipe, which pairs wonderfully with the pumpkin, you could also use Cinnamon Graham Crackers! But here are a few other fun ideas for crust options:
Biscoff Cookie Crust
Gingersnap Crust
Oatmeal Cookie Crust
Nilla Wafer Crust
NOTE: You will use the same recipe measurements as written if you sub out a different kind of cookie for graham crackers.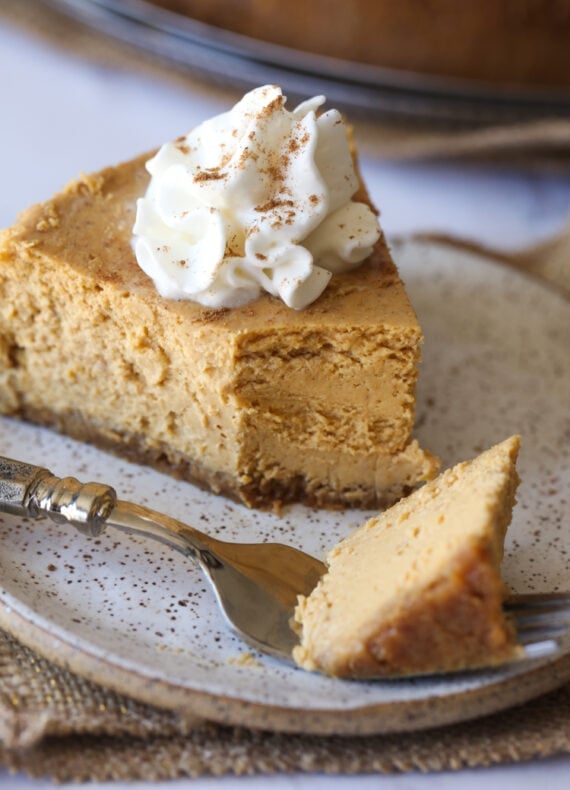 Still Looking Fore More Cheesecake Recipes? Try These:
Shop This Post:
Pumpkin Cheesecake Recipe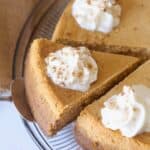 ---
Description:
Pumpkin Cheesecake is the PERFECT fall recipe! Creamy cheesecake with the exact right amount of pumpkin baked right in, this deserves a spot on your holiday table!
---
Ingredients:
Crust
1/3 cup

butter, melted

1 3/4 cup

s graham cracker crumbs (about

15

full crackers)

1/4 cup

granulated sugar

1/4 teaspoon

kosher salt

1/2 teaspoon

ground cinnamon
Cheesecake
3

(8- ounce) blocks cream cheese, room temperature (

24 ounce

s total)

1 1/4 cup

light brown sugar

3

eggs, room temperature

1

(15- ounce) can pumpkin puree, like Libby's

1/3 cup

sour cream, room temperature

2 teaspoon

s vanilla extract

2 teaspoon

s pumpkin pie spice
---
Instructions:
Crust
Preheat oven to 350°F.
In a large bowl mix the butter, graham cracker crumbs, granulated sugar, salt, and cinnamon together evenly. Press the mixture into the bottom and up the sides of 9-inch springform pan.
Bake the crust for 8-10 minutes, or until lightly golden. Set aside while you make the cheesecake, cooling until it reaches room temperature.
Cheesecake
In the bowl of your stand mixer fitted with the paddle attachment mix the cream cheese and sugar together on medium speed for 2 minutes, until smooth, scraping the sides of the bowl as necessary.
Turn mixer to low and add in the pumpkin, sour cream, vanilla, and pumpkin pie spice until combined and smooth, scraping the sides of the bowl often to make sure everything is combined. With mixer still on low, add the eggs, 1 at a time, mixing after each addition just until just combined. Don't over-mix, but make sure all the ingredients are mixed in evenly and mixture is smooth.
Pour the cheesecake filling on top of the cooled crust.
Double wrap the bottom of the springform pan with foil, sealing it tightly to prevent water from getting into the pan.
Place the springform pan into a larger pan and pour very hot water into the pan, until it's 3/4- inch deep, careful to make sure the water level doesn't come up higher than the foil.
Bake for 60 minutes, or until the center is almost set. It will still jiggle a little bit.
Turn the oven off and prop the door open slightly. Allow the cheesecake to sit in warm oven for 15 minutes. Remove from the oven, run a knife around the edges of the pan to loosen it from the sides and cool for at least an hour until it reaches room temperature.
Cover the pan and place in the refrigerator for at least 6 hours, or overnight.
Release the sides of the springform pan when ready to slice and serve.
---
Notes:
Store airtight in the refrigerator for up to 5 days.
Keywords:: cookies and cups, fall baking, cheesecake, pumpkin recipe, pumpkin cheesecake. thanksgiving
Want To Save This Recipe?
PIN for Later: