These are the BEST Soft Gingerbread Cookies ever! They are buttery, soft cookies with the perfect amount of ginger and cinnamon. These will make you forget about any dry, hard gingerbread you have had in the past!
And if you love gingerbread, make sure to check out my Gingersnap Cookies recipe too!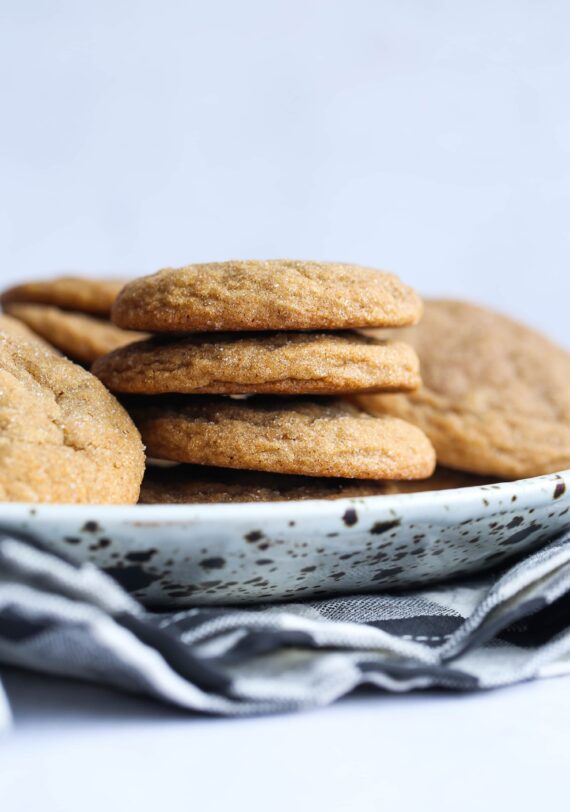 Soft Gingerbread Cookies Are A Classic Holiday Cookie Recipe!
I have to admit, I have never been a gingerbread cookie girl. I mean, I love how ridiculously cute they are when they are decorated with their little bow ties…and I totally adore beautifully decorated gingerbread houses But does anyone really EAT those? I feel like most of the time they are a little dry, kind of boring, and sometimes overly spiced.
So I decided to take matters into my own hands, and I'll admit, I NAILED it. My recipe for gingerbread is soft and buttery, with the perfect amount of spice added AND rolled in sugar to give the outside a sweet little crunch.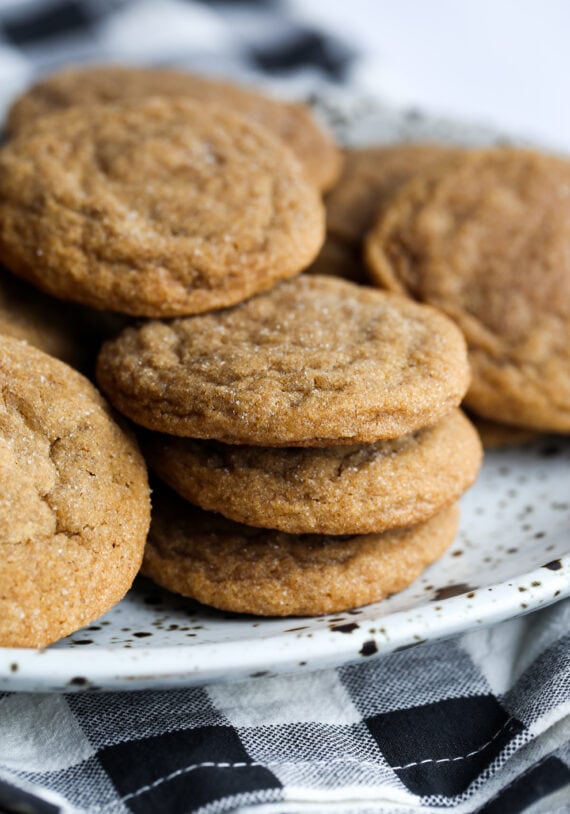 This gingerbread has the exact right amount of molasses, that combined with the granulated sugar, cinnamon, ground ginger, and cloves gives you that classic gingerbread taste without being overpowering.
Gone are the days of dry, cardboard gingerbread and enter the days when the gingerbread cookies are the first cookies to be eaten on your holiday cookie platter!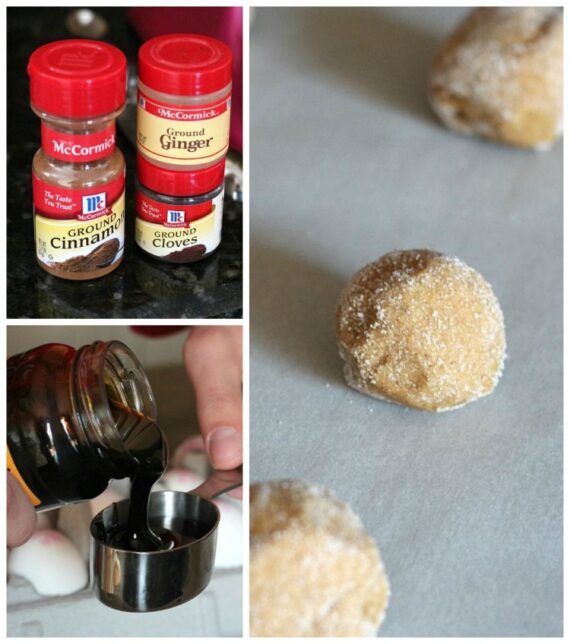 How Do You Make Gingerbread Soft?
Well, this is not only a delicious recipe, it's MEGA easy! I approached this recipe as I was developing it like a snickerdoodle cookie recipe. The idea is very similar, but I added in molasses, as it wouldn't be a gingerbread recipe without it! And of course ground ginger…I mean…
Do You Have To Chill the Dough?
NO! These cookies are soft, thick and come out perfectly shaped every time without chilling! Just use a medium (2- tablespoon) cookie scoop to portion the dough out to ensure they all bake evenly and the same size!
Do You HAVE To Use Molasses?
Unfortunately yes. I know it's not an ingredient everyone always has on-hand. OR it's potentially years old because it sits in the back of your pantry only to be pulled out around the holidays when you make gingerbread.
If you just don't have it or REALLY don't like it you can sub in dark brown sugar for all the sugar and molasses in the recipe. You won't get that true gingerbread flavor, but it's the closest you will come without molasses.
Dark corn syrup will give you the same texture and color but not the same flavor.
What Can You Add To Soft Baked Gingerbread Cookies?
Just about anything! I know lots of people really like white chocolate and gingerbread together, and this is a great recipe to do that! You can melt the chocolate and dip half the cookie OR go ahead and add chips right into the dough like you would a chocolate chip cookie recipe! Here are some other ideas:
1 1/2 cups White Chocolate Chips
1 1/2 cups Semi-Sweet Chocolate Chips
1 cup White Chocolate Chips + 1/2 cup Dried Cranberries or Dried Cherries
1 cup Cinnamon Chips
3/4 cup Chopped Candied Ginger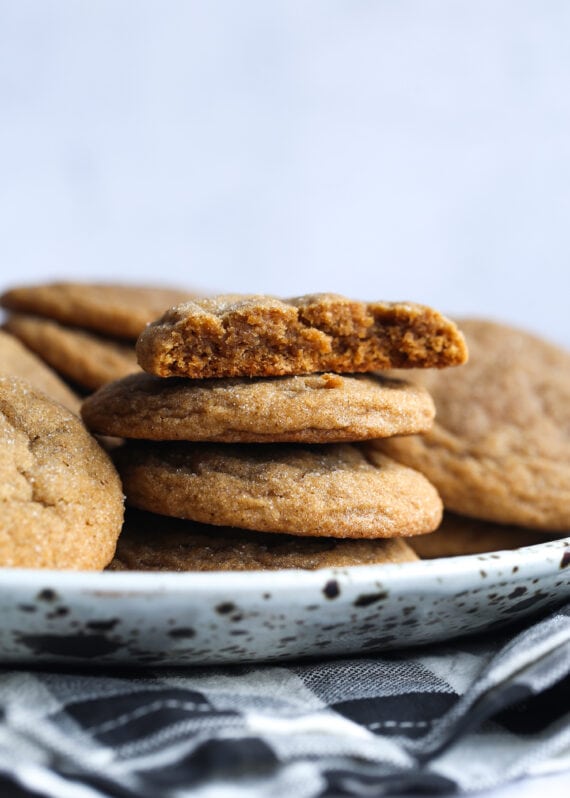 How To Store Gingerbread Cookies
These are easy to store: airtight at room temperature for up to 5 days! OR you can absolutely freeze these.
To freeze the baked cookies, allow them to cool completely and stack them in a plastic container, or carefully place them in a large zip-top bag and freeze them for up to a month.
To freeze cookie dough I recommend prepping the dough as stated, portion out the dough, roll them into balls and then roll them in sugar as stated in the recipe. Place the dough balls on a baking sheet and place the baking sheet in the freezer for about an hour or until they are frozen. Then place the dough balls in a large zip-top bag to store until you're ready to bake!
You can bake the dough frozen, just add an extra minute or so to the bake time!
Enjoy!
*This recipe was originally published in 2013, but the pictures and tips were updated in 2019. The recipe remains the same.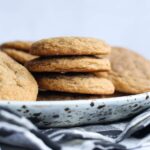 ---
Description:
These are the perfect soft gingerbread cookie! Soft and buttery with the perfect amount of ginger spice!
---
Ingredients:
3/4 cup

butter, room temperature

1 cup

granulated sugar

1

egg plus 1 yolk

1/4 cup

molasses

1 teaspoon

baking soda

1/2 teaspoon

kosher salt

2 1/2 teaspoon

ground ginger

1 teaspoon

cinnamon

1/2 teaspoon

ground cloves

2 1/4 cup

s flour

1/3 cup

additional sugar for rolling
---
Instructions:
Preheat oven to 350°F. Line a baking sheet with parchment paper, set aside.
In the bowl of stand mixer fitted with the paddle attachment mix the butter and sugar together for 2 minutes on medium speed.
Add in molasses and mix until incorporated.
Beat in egg plus additional yolk, baking soda, salt, ginger, cinnamon and cloves. Mix until smooth, scraping the sides of the bowl as necessary.
Turn the mixer to low and add in flour until dough comes together.
Using a medium (2- tablespoon) cookie scoop portion out the dough and roll into balls. Roll balls in extra sugar and place on baking sheet 2-3 inches apart.
Bake for 9-11 minutes until edges are golden.
Allow to cool on baking sheet for 3 minutes and then transfer to wire rack to cool completely.
---
Notes:
store airtight at room temperature for up to 3 days
Keywords:: cookies and cups, gingerbread, christmas cookies, soft gingerbread, cookies, cookie recipe
Want To Save This Recipe?