If you're looking to make a silky smooth, creamy vegan soup, today is your day. This gem caught my attention because it is quite different than most "creamy" vegan soups I come across. It uses a clever trick to achieve its signature texture. And the resulting soup doesn't rely on heavy cream or lots of coconut milk. Bingo.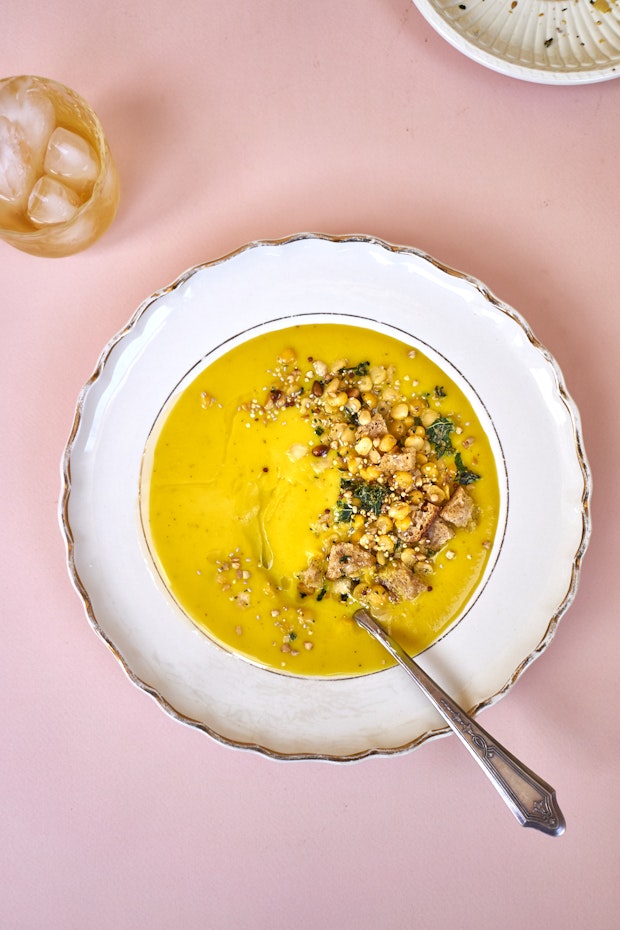 The lineage of this soup goes something like this. Genius recipe-spotter Kristen Miglore highlighted this Paul Bertolli recipe on Food52 back in 2011. The CAP Beauty ladies gave it a turmeric and mustard twist in their new book, and I went from there. Adding yellow split peas on top make it a one-bowl meal, nutritional yeast tees up some cheesy flavor notes. I also upped the quantity because, leftovers.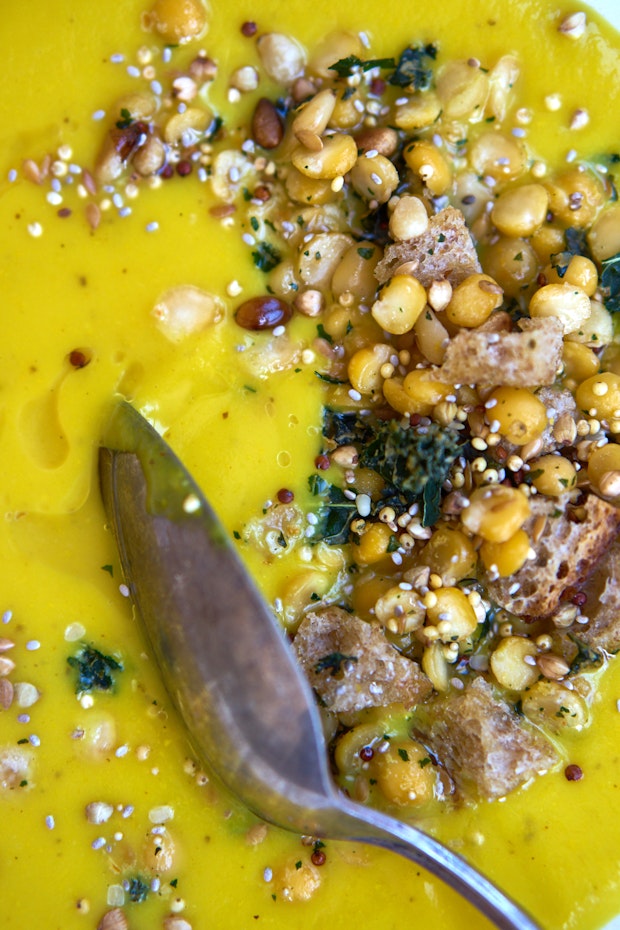 The Technique: Make a Vegan Soup Super Creamy
The base of this soup is cauliflower. I make cauliflower soup all the time. The thing that makes this recipe special is the cooking technique. You let the cauliflower steam, in the pot, for 15 minutes. You can do this with cauliflower and get tender delicious florets out of the process. When you do this with vegetables like asparagus you end up with sad, overcooked, off color asparagus. Long way of saying, cauliflower is a great ingredient for this technique. Carrot and sweet potato also love the steam approach.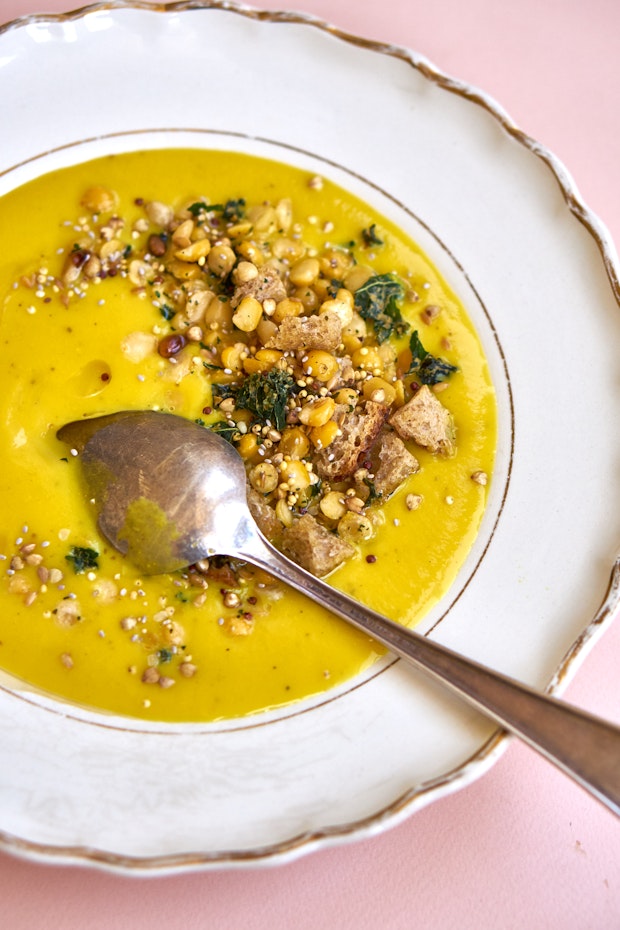 This is a vegan soup.  It is also gluten-free, boosted with turmeric, and relatively quick to make on a weeknight. Leftovers are great and endlessly adaptable.
Other Ideas
This version is spike with  turmeric and mustard. You can certainly explore other directions. Grated ginger would be a great addition. Or, if you have spices left over from chana masala, perfect! I even stir a cup of rice porridge into the leftovers, for an excellent rice soup.
Use a large 2 1/2 – 3 pound head of cauliflower here.
2 tablespoons extra virgin olive oil

1 1/2 yellow onions, chopped

1 1/2 teaspoon fine grain sea salt, plus more to taste

1 1/2 teaspoons ground turmeric

1 1/2 teaspoons mustard seeds (optional)

7 cups water, plus more if needed

1 large head of cauliflower, cut into florets

2 tablespoons nutritional yeast

black pepper, to taste

2 cups yellow split peas, cooked

topping ideas: freshly squeezed lime, black pepper, crushed croutons, seeds, crumbled kale chips
In a heavy-bottomed soup pan, heat the oil over medium heat. Add the onions and salt, and cook for 7 minutes, stirring occasionally, until the onions are translucent. Stir in the turmeric and mustard seeds and cook for another couple of minutes. The mustard seeds might pop, but don't let them burn.
Next, add 2 cups of the water, bring to a simmer, and stir in the cauliflower. Cover and allow the cauliflower to steam for 10-15 minutes. Add the remaining water and nutritional yeast, and let simmer, uncovered, for another 5 minutes or so.
Blend using a hand blender or high-powered blender. Thin with more water if needed. Taste and adjust with more salt and lots of black pepper, to taste. Serve topped with a big squeeze of lime, a big scoop of yellow split peas, and any other toppings you like.
Serves 6-8.
Prep time: 10 minutes
– Cook time: 25 minutes