RIVA Ristorante has launched a brand-new breakfast menu in partnership with RIPE Organic Company.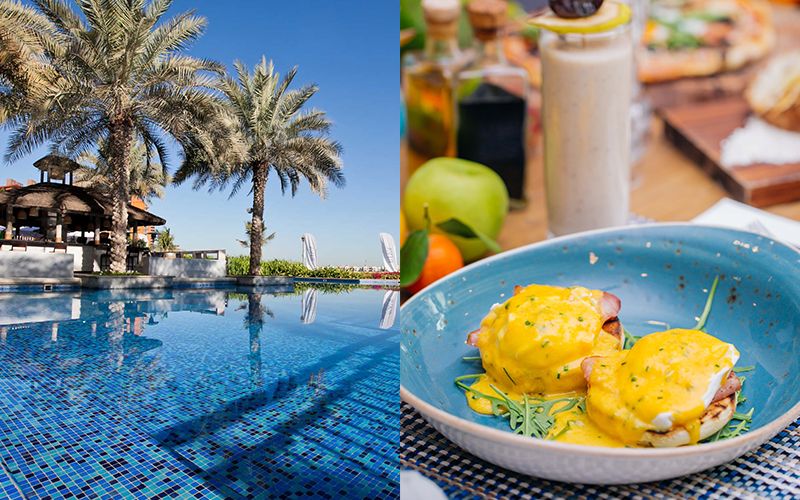 The beachside favourite has created a new menu filled with delicious organic and nutritious options, available from 7:30am until 11am every day, extended to 1pm on weekends. With each and every item on the menu made within the venue freshness is guaranteed at the chic beach spot.
There's plenty to choose from on the new menu to suit the health conscious, the vegans, the ones who appreciate the classics and for those who can't wait until brunch.
Highlights include the 'Super Berry Granola', the 'RIVA Benedict', a homemade spin on the well-known dish as well as the 'Skinny Omlette', made using bio-spinach and feta cheese. Vegan-friendly options include the piquant 'Power Quinoa Salad', the 'RIVA Super Bowl', and the  'Coco-Mango Chia Pudding'.
Those who indulge in cheat day everyday can sample an array of goodies from the 'Banana Pancakes' served with a salted caramel sauce and 'Wholegrain French Toast', drizzled with maple syrup.
Long-standing signature favourites including RIVA's famous  'Eggs Benedict', and 'RIVA English breakfast', offering a spread of sausages, eggs, baked beans, tomatoes, hashbrowns and homemade bread can still be enjoyed to kick start the day the right way.
There's also a quirky addition to the menu, inspired by the venue's popular artisan pizzas, made to order throughout the remainder of the day, that regular patrons know and love.
The RIVA Signature Breakfast Pizza incorporates freshly prepared ingredients, such as forest mushrooms, vine tomatoes, peppers and eggs, over a just out-of-the-oven base, topped with a rich tomato sauce, mozzarella and basil. The breakfast special promises to boost energy levels of patrons, as they tuck into a slice of the unique goodness, whose ingredients have been collated by none other than the RIPE Organic Company, the masterminds behind the RIPE Markets.
The Mimosa Breakfast is ideal for those looking for breakfast with an added kick. Priced at just AED 149, weekenders can savour one of any of the delicious breakfast items, alongside unlimited glasses of the popular beverage every Saturday, from 11am until 1pm.
Guests can also add on full-day beach club access for AED 100, and enjoy the chance to lounge besides the pool after breakfast and soak up the sunshine whole overlooking the pristine Palm views.
Guests can opt to experience the all new breakfast menu, with the addition of a day-beach club pass for just AED 100, whereby the fun doesn't stop after the food – as they can make the most of the chilled out atmosphere, private beach access and the chance to lounge besides the pool, and soak up the sunshine whole overlooking the pristine Palm views.
Details: For more information and bookings contact RIVA on +971 4 430 9466 or visit the website.