One of my biggest challenges when photographing beige- or blah-coloured recipes is making them look as appealing as they taste…the struggle is real! Dishes like curries, brownies, oatmeal, energy balls, etc. tend to look a bit sad through the camera's lens. If you want a giggle, check out one of the very first beige/brown recipe photos I ever took on the blog. I posted this Pumpkin Banana Bran & Oatmeal Muffin recipe way back in 2008 (holy cow, I'm a blogging DINOSAUR! lol). 
A good trick I've learned through countless trial and error (mostly error…and a few curse words) is that I need to add a lot of colour to photos even if the food itself isn't colourful. It probably seems obvious, but with so many other things going on for a photo shoot (cooking, food styling, camera settings, lighting, etc.) it can be easy to forget the importance of planning for colour. If I'm shooting oatmeal or plain Jane muffins, I try to add some enticing fruit on top and more pops of colour on the table itself—a bright green Matcha tea, fresh flowers, a glass of OJ, or a colourful cloth napkin (without being too busy) can all create a gorgeous photo when the food itself looks pretty blah. This approach helped me photograph these flourless breakfast muffins (recipe to come!) and I'm pleased with how the app photo turned out!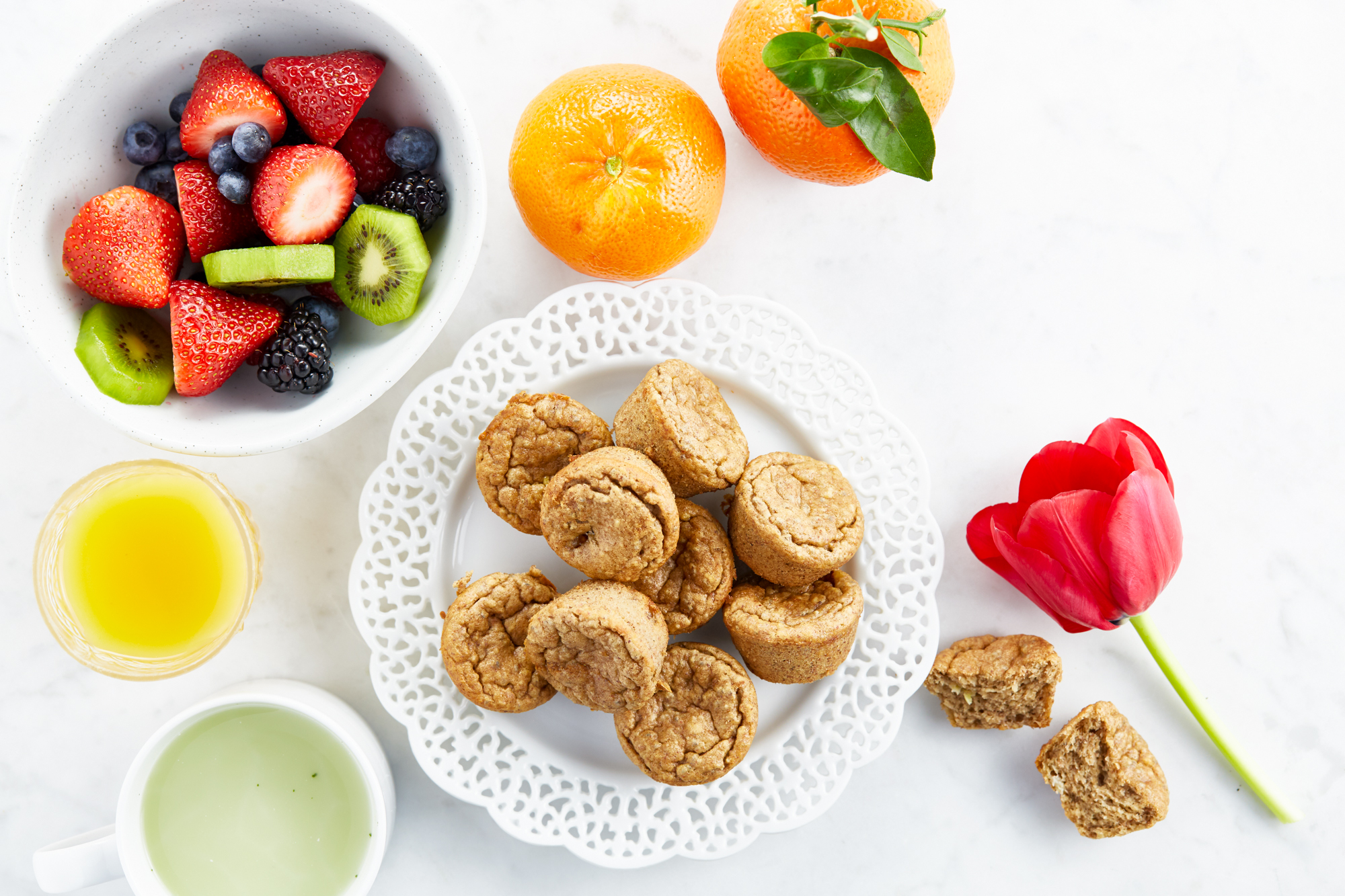 I wasn't quite as happy with the photo shoot of these energy balls because I had to rush (when naptime's over, it's OVA), but they'll just have to do! I love how the colourful garnishes I added made the energy balls go from blah and beige to vibrant and enticing. I rolled them in fun pops of colour and a variety of textures: beet-coloured shredded coconut, ground pistachios (so pretty and chewy!), hemp hearts, and cocoa powder. I loved them all. I also tried rolling some in Matcha green tea powder, but they were soooo bitter. That one was a big NOPE! Cutting the Matcha with powdered icing sugar might've worked better, but I wanted to keep these bad boys naturally sweetened, so I opted to skip the Matcha altogether. To make the pink-hued shredded coconut, I added some beet juice (prepared the same way as my Vegan Sugar Cookies' Pink Frosting) to the shredded coconut in a bowl. I put a plastic bag over my hand so it wouldn't get stained in the process (#fancy) and then I "massaged" the beet juice into the shredded coconut until it was dispersed. It worked wonderfully and the result was so pretty! I sprinkled my leftover coconut on oatmeal.
Rest assured though, these nutty energy bites are just as good eaten as-is!  I love keeping a stash in the freezer for quick snacking, and find the texture gets even better when they've been frozen too.
Also a quick note that I won't be posting this Friday's Ask Angela as I've come down with the flu (luckily today's blog post was created last week so I could still share it). It was bound to happen as I've been taking care of two sick little ones, while up a lot at night and nursing to boot. I hope everyone has a very happy weekend and that you're feeling well. I know where I'll be…curled up with a big bowl of soup (hopefully my Golden Spiced Lentil Soup!) and warm lemon water. I'll be a bit delayed replying to your reviews, questions, and comments this week, but please know that I will reply as soon as I'm feeling better!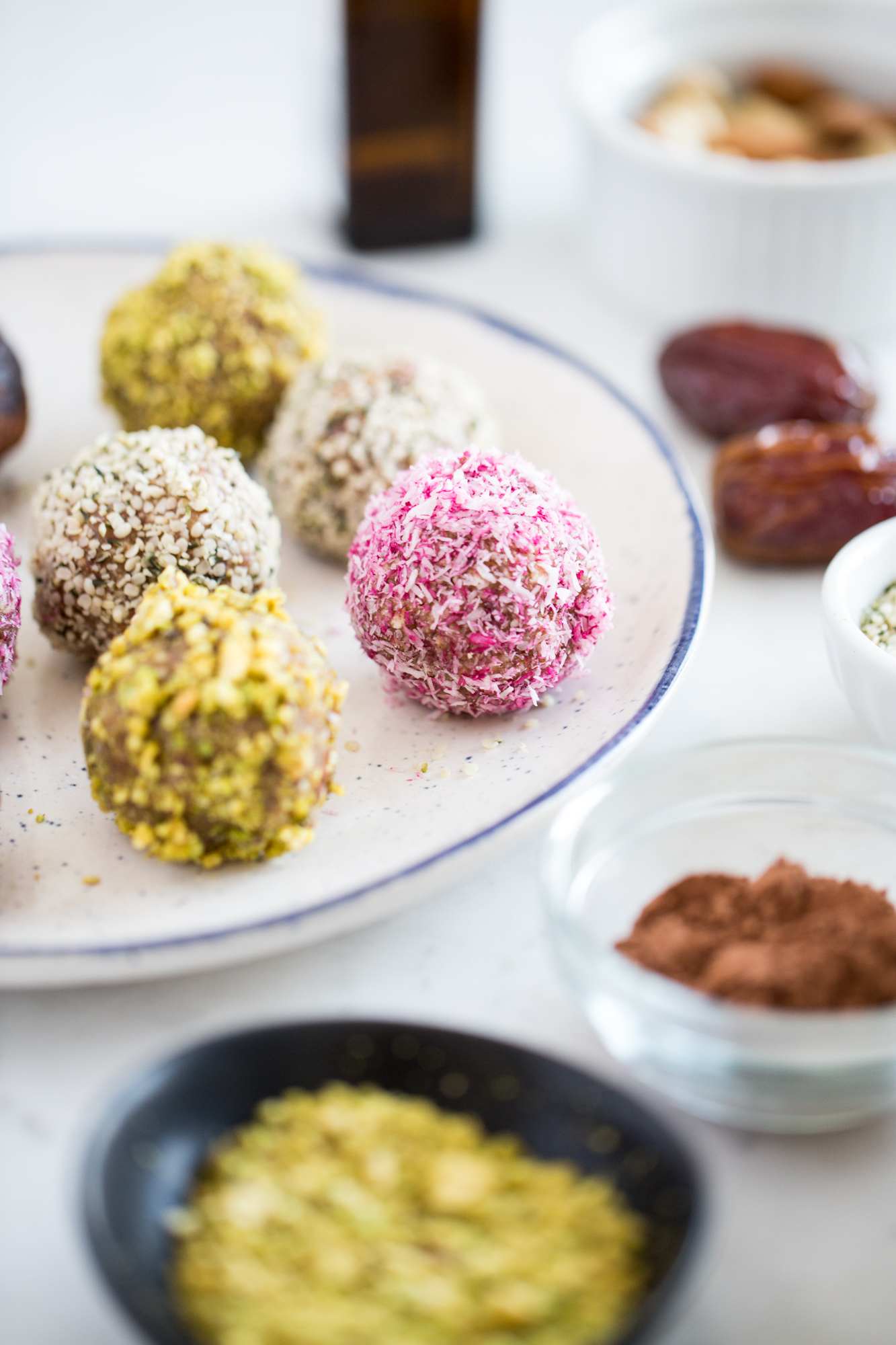 Let's get social! Follow Angela on Instagram @ohsheglows, Facebook, Twitter, Pinterest, Snapchat, and Google+