If you are looking for a tasty way to use up your Thanksgiving leftovers, then I might have just the thing for you! This turkey wild rice soup is so delicious and easy to make, hearty, comforting and packed full of flavor.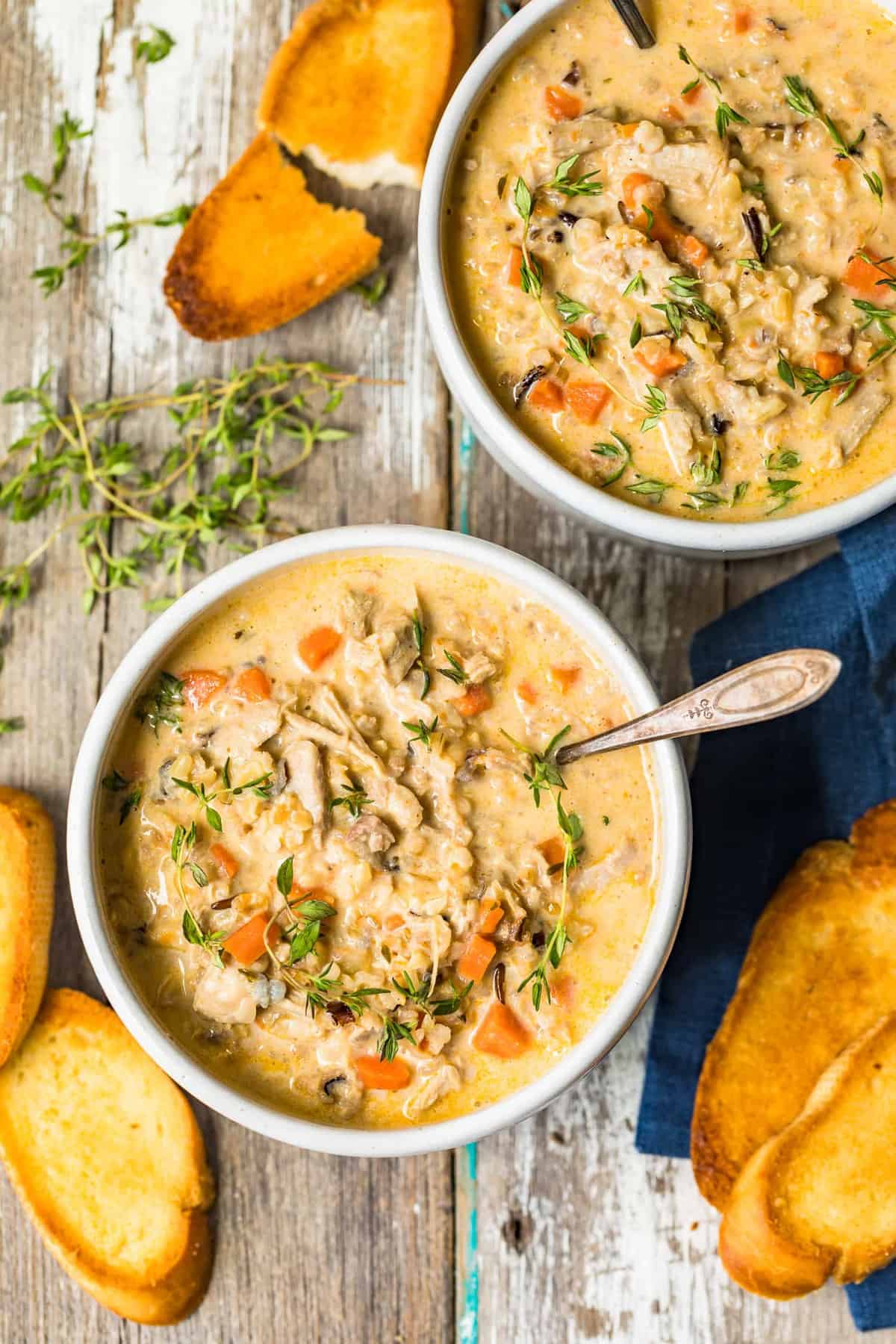 If you are like me, you've probably cooked way too much turkey for Thanksgiving and looking for yummy ways to use it up other than sandwiches! This soup is so yummy, I can't wait for you all to make it!
How to Make This Turkey Wild Rice Soup Recipe
Heat a large Dutch oven over medium heat and add butter and oil.

Add onion, carrots, celery and uncooked rice. Cook 6-8 minutes or until the vegetables have softened and the rice begins to pop. Stir often.

Add baking soda, thyme and wine. Cook 1 minute, stirring often.

Add 4 cups broth, salt and pepper and bring mixture to a boil. Reduce heat to low (simmer) and cover. Cook, covered, 30 minutes. Check the rice and if it isn't softened, cook an additional 10 minutes with the lid on.

Remove the lid, add cream and chicken and cook 30-60 minutes or until the soup reduces and thickens.

(If the soup is too thin, whisk in 2 tablespoons flour or cornstarch that has been mixed with ¼ cup cold heavy cream. Bring just to a boil, reduce heat to low and cook until soup has desired consistency.)

(If soup is too thick, add an additional 1-cup broth.)

Season, to taste, with kosher salt and freshly ground black pepper.

Enjoy!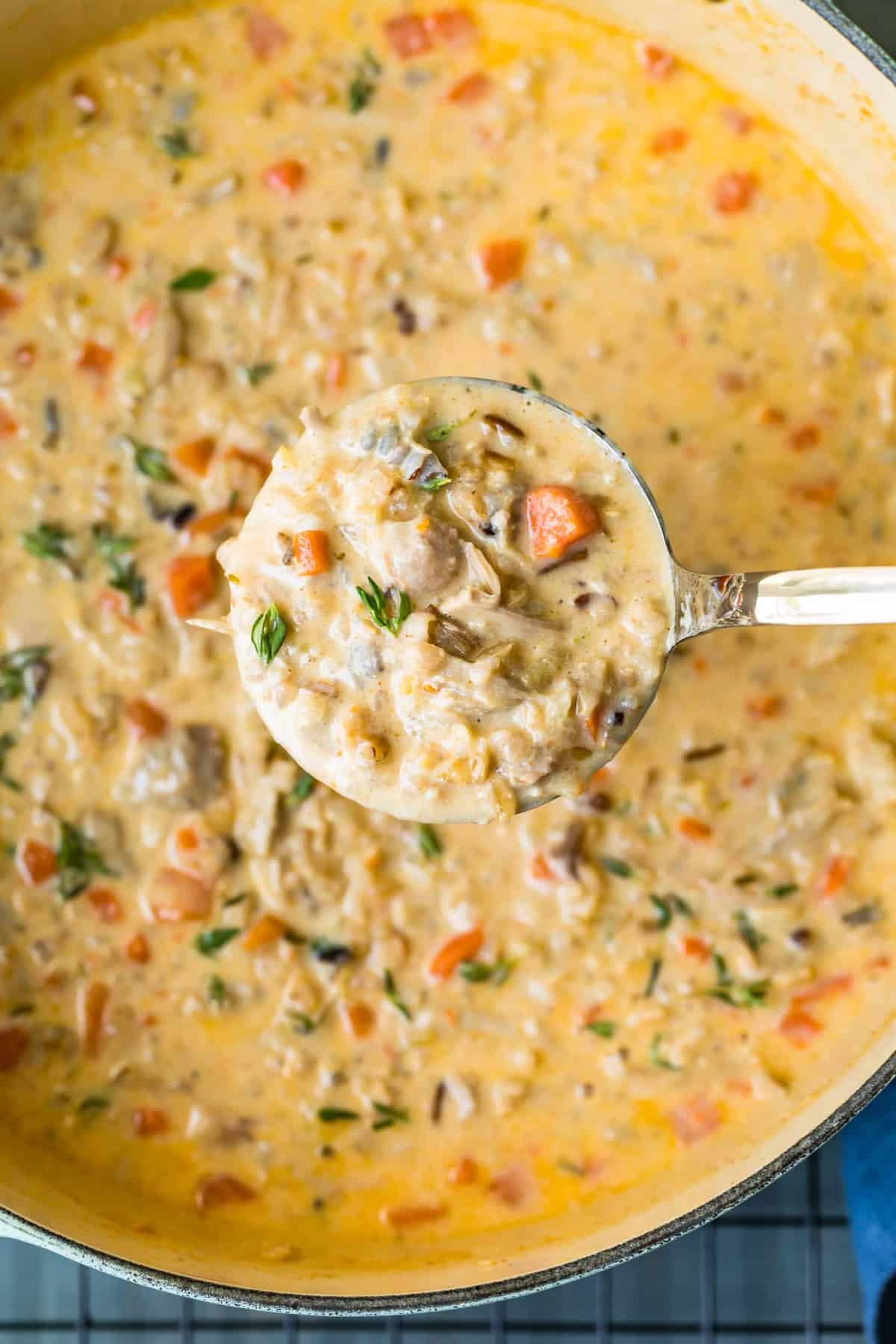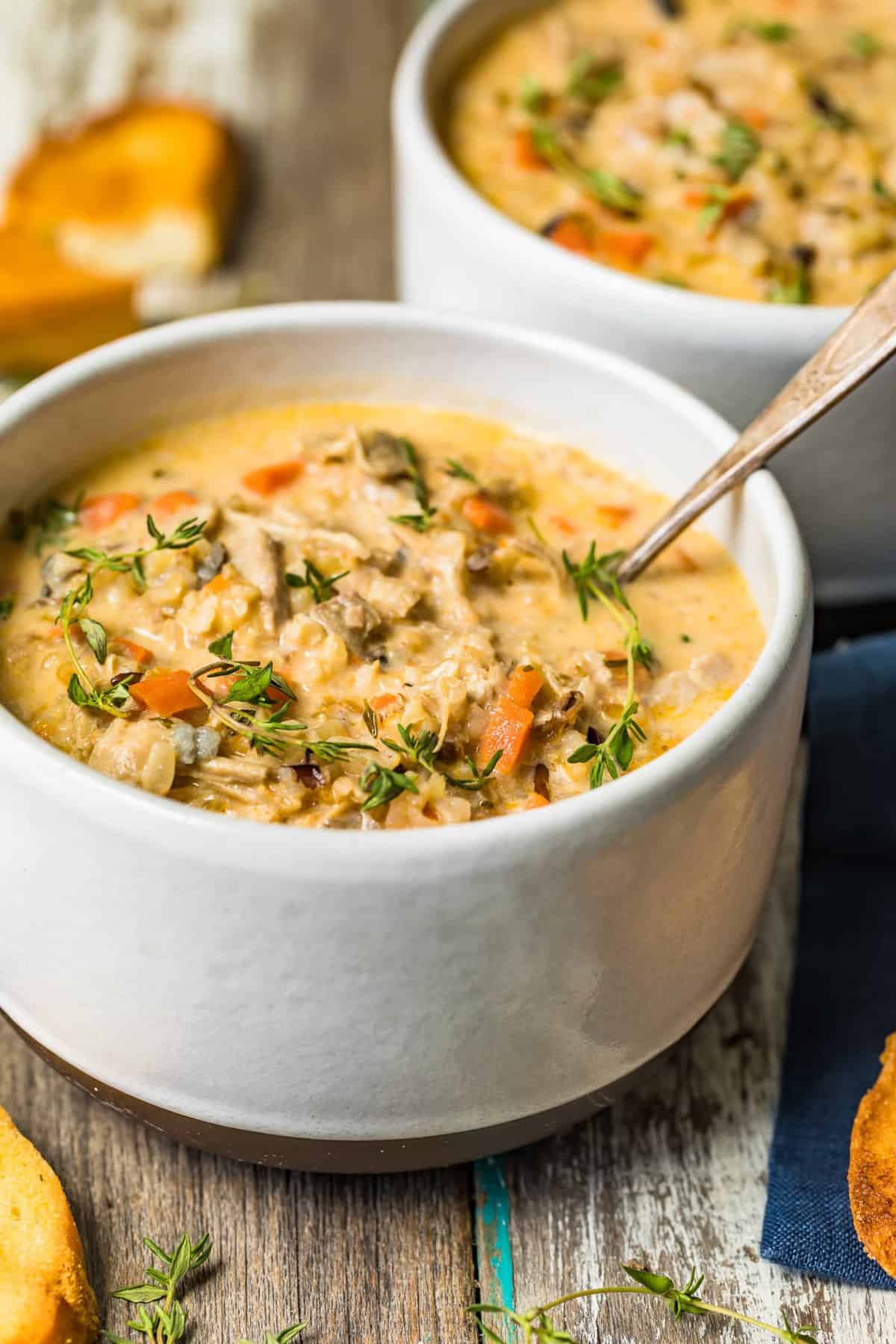 Leftover turkey dishes
Every year I try to come up new and tasty ways to use up what is left from Thanksgiving – I'd rather walk over hot coals than throw out food! This year I opted for a hearty and filling turkey wild rice soup to make the most of the roasted bird. Be sure to check out these other leftover recipes too!
Easy turkey rice soup recipe
Soups are a great way to make a hearty meal with little effort, it's definitely what's needed after a hectic day cooking a feast for everyone! Everything is cooked in one pan and it's the ultimate in comfort food. The rice turns this into a fuller meal, just serve it along with some crusty bread.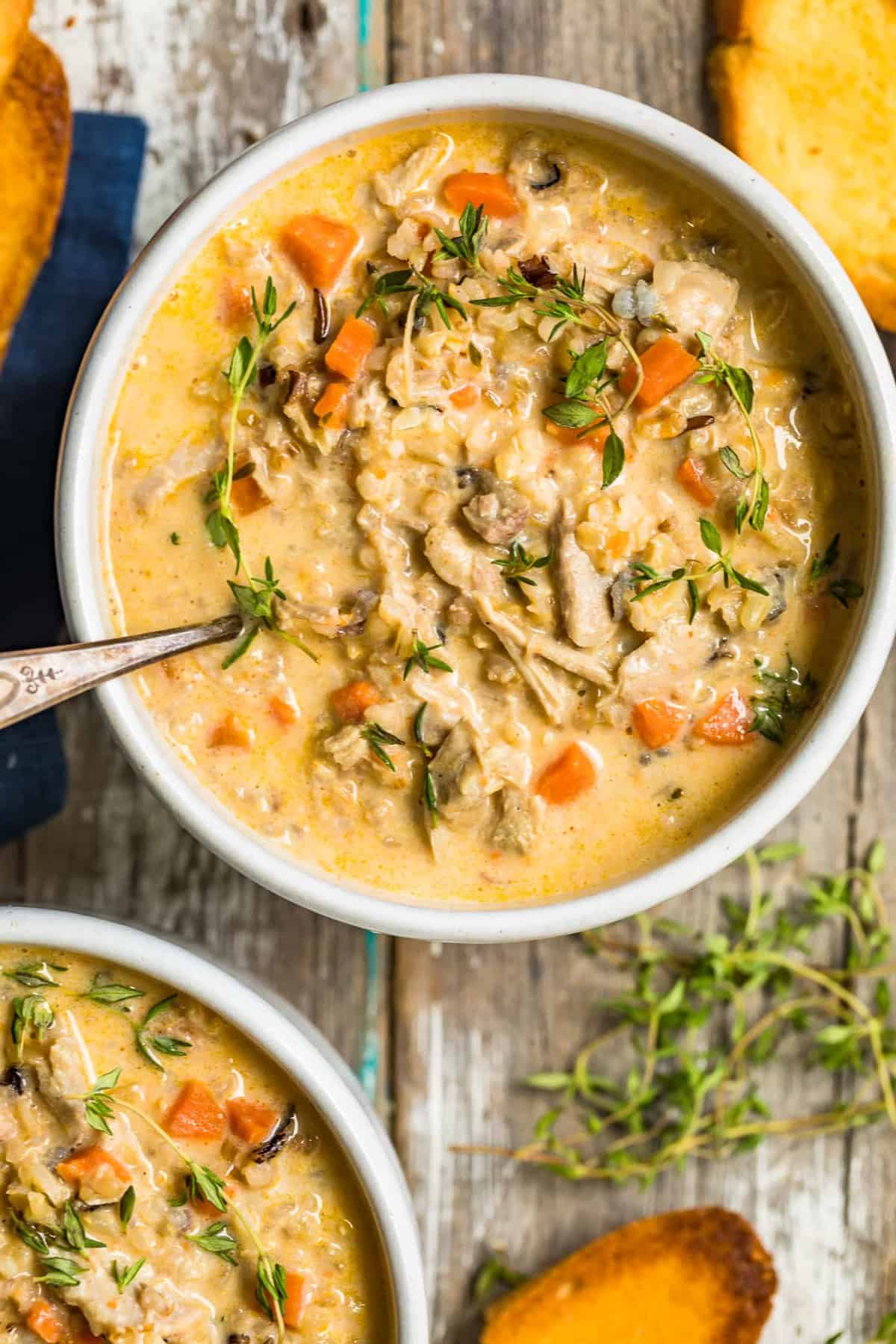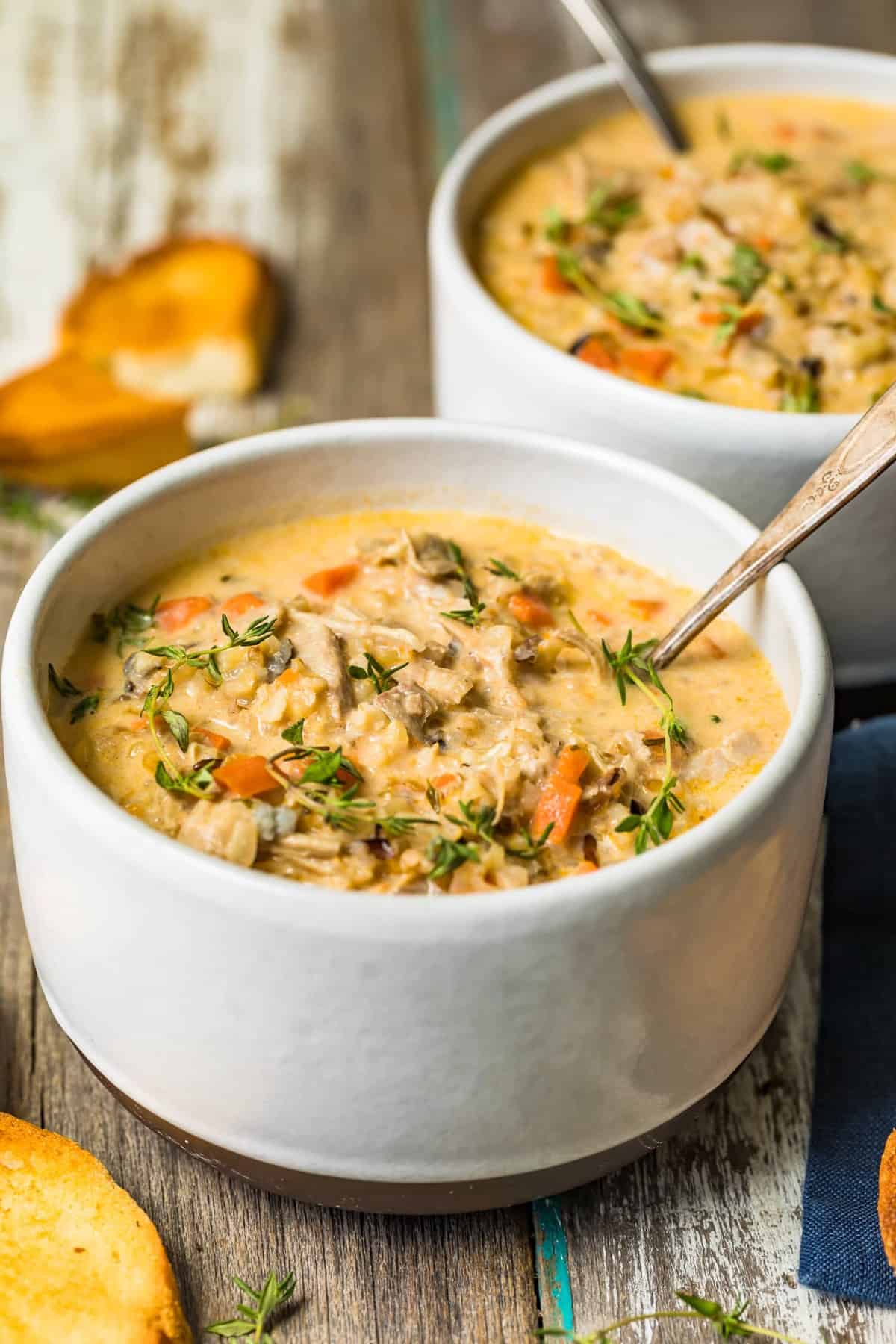 Creamy Turkey Wild Rice Soup
I love how rich and thick this soup is, it's perfect to enjoy on a chilly fall evening. This recipe will yield 8 hearty servings, so it's perfect if you have guests staying over. Like all good soups, this also freezes well so it's a great way to stock up your freezer.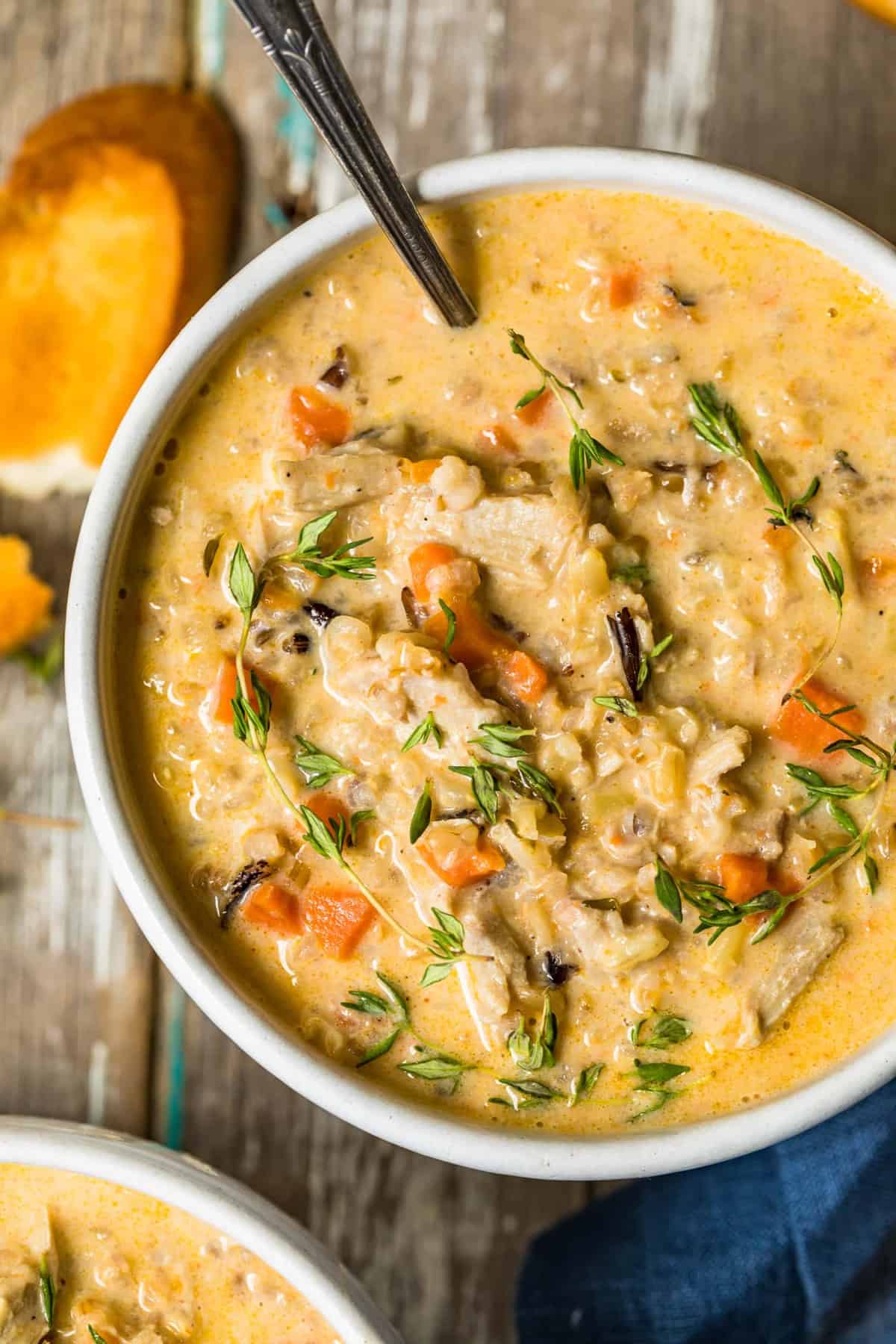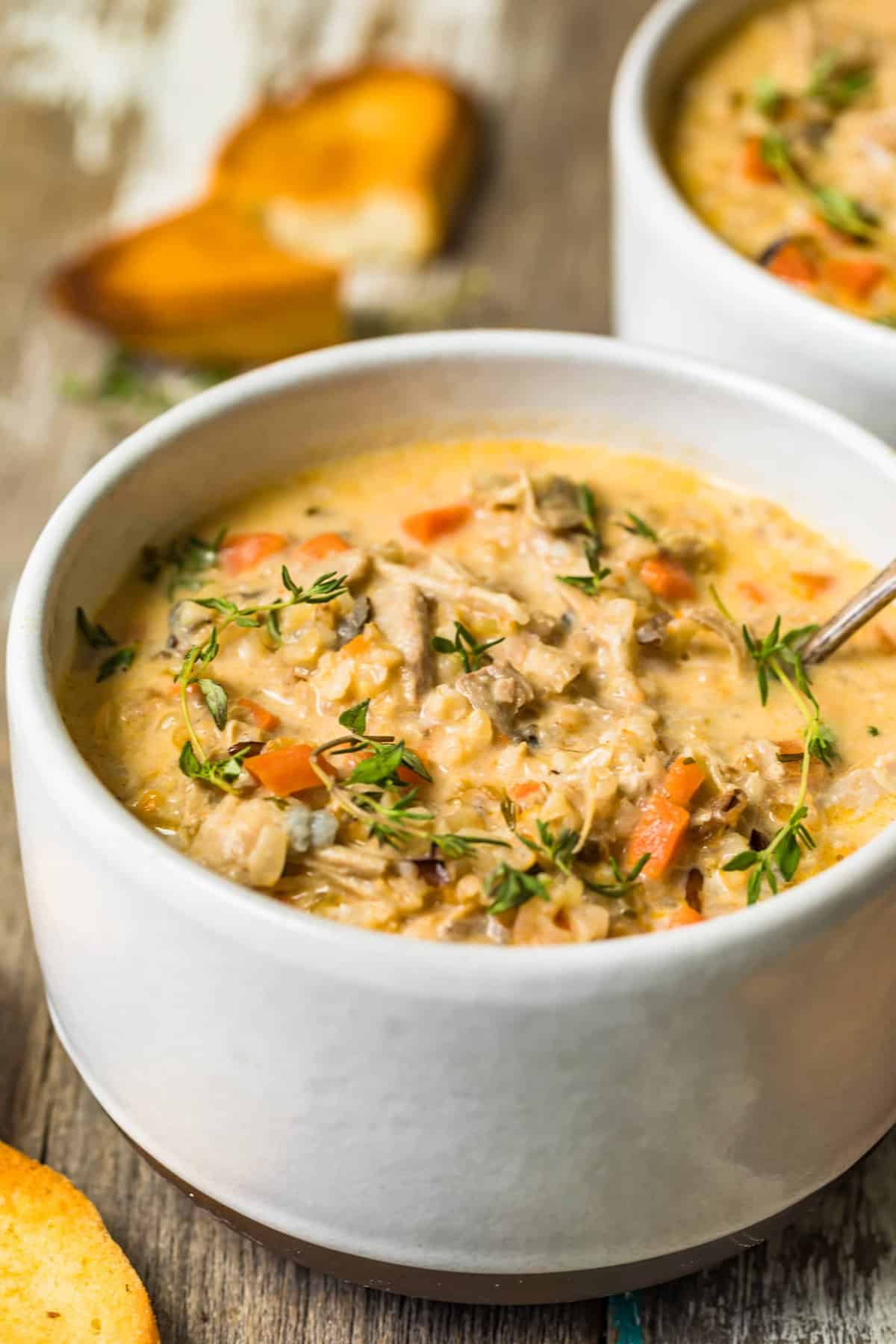 Top Tips to Make Turkey Wild Rice Soup
Use a low sodium / no added salt chicken or turkey broth in this recipe.
After cooking, if the soup is too thick stir in additional broth.
Leftovers can be stored in an airtight container in the fridge for 3 – 4 days.
Adding baking soda to the soup breaks down the tough rice fibers and reduces cooking time, so don't skip it!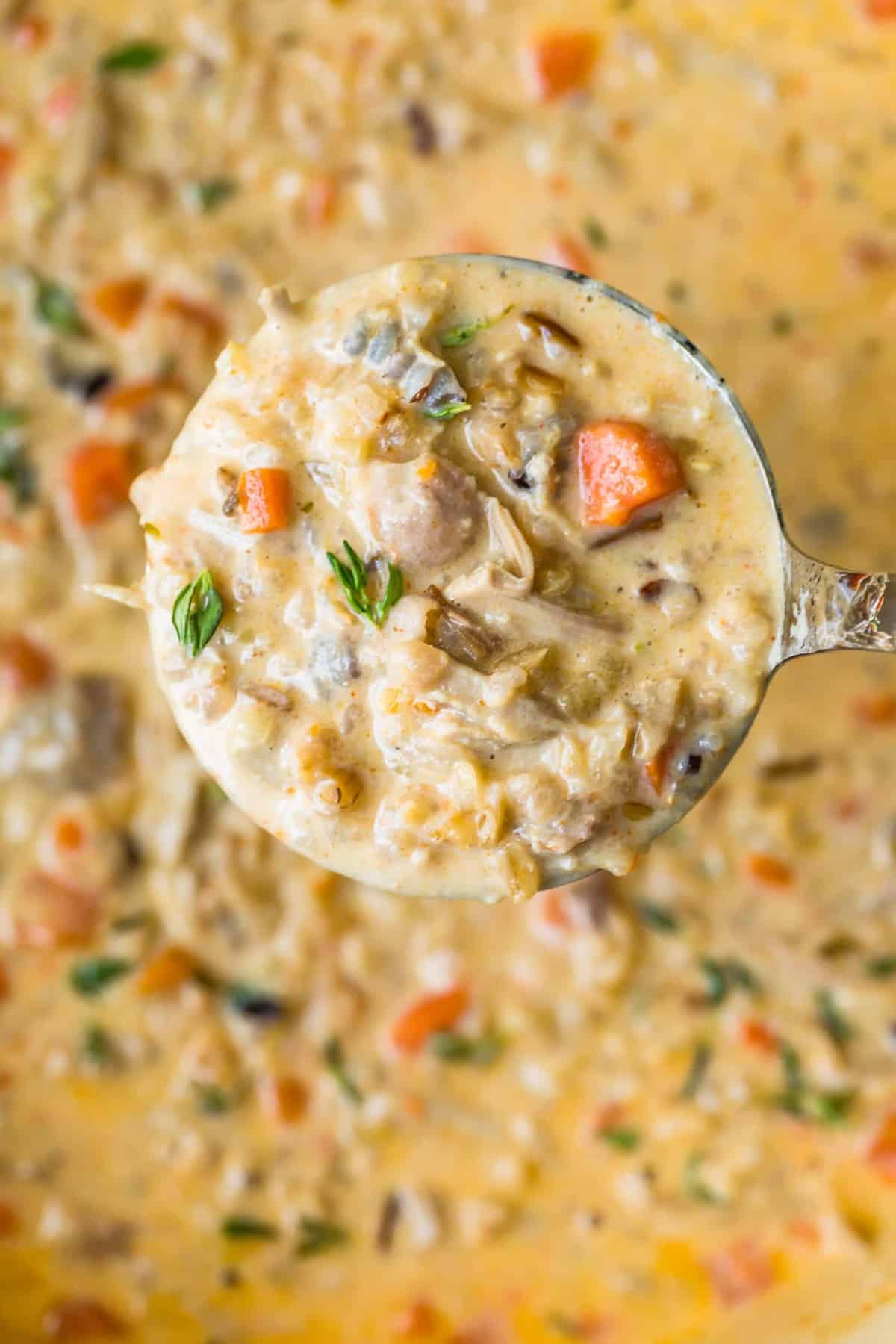 Be sure to check out these other comforting soup recipes!
Did you make this recipe?
Use the tag #thecookierookie when posting a photo of your recipe, and make sure to follow The Cookie Rookie on Instagram!
Becky woke up on her 30th birthday and realized she didn't know how to cook, ANYTHING! She started The Cookie Rookie as a way to document her journey to learn how to cook, one recipe at a time! The Cookie Rookie is a place to find easy recipes that anyone can make, and everyone will love!