Sweet Banana Blueberry Muffins are made with ripe bananas and fresh, juicy blueberries. These homemade fruit-filled muffins are a delicious make-ahead breakfast, and they're freezer-friendly, too!
Make sure to check out my classic Blueberry Muffins recipe OR my Blueberries and Cream Muffins too!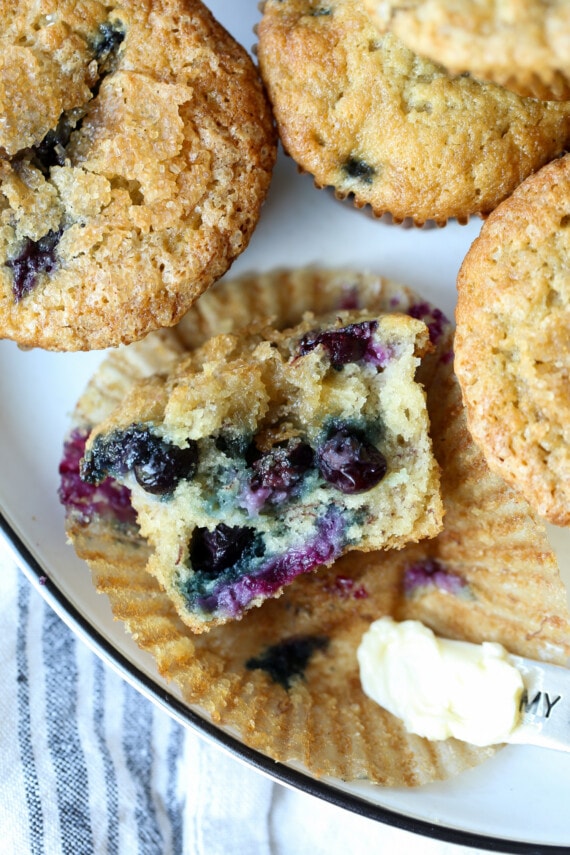 Crazy Moist Banana Blueberry Muffins!
Just when you thought Blueberry Muffins couldn't get any better, I went ahead and added in banana! Honestly it was out of pure necessity, as I had some old bananas to use up, but it turned out to be a delicious discovery! Two fruits, one muffin. Pure deliciousness. These simple homemade muffins are an absolute delight. The tangy blueberries combine with the rich banana flavor for a sweet, fruit-flavored explosion that you don't want to miss.
What To Expect:
The texture: Extra moist and cake-like thanks to the combo of banana and sour cream
Ease of Prep: Just a bowl and a spoon, no mixer required!
Bake Time: 25-ish minutes
Topping: I simply sprinkled some coarse sugar on top for a little crunch, but you could make a streusel topping like on my Banana Muffins if you love crumble!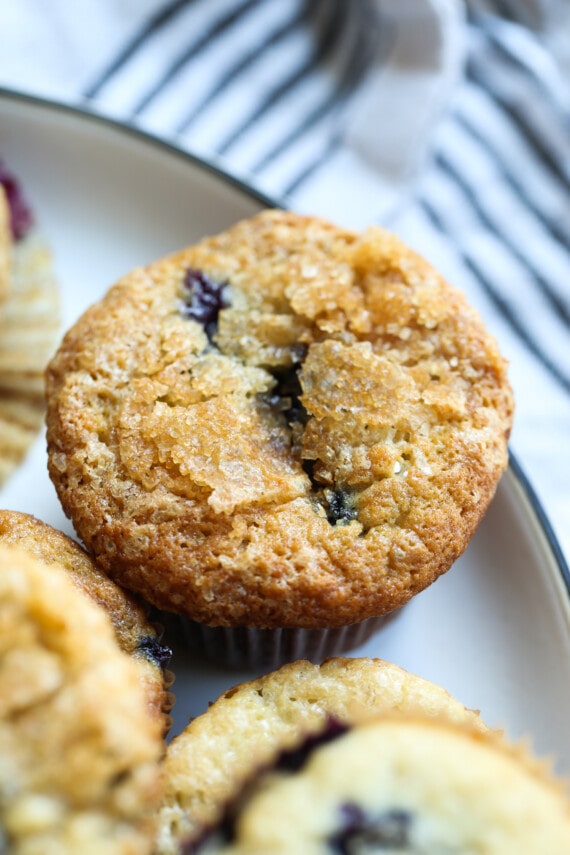 What You'll Need
Before we get started, let's go over the key ingredients. Here's what you'll need to make these banana blueberry muffins happen:
Bananas: The riper the bananas are, the better. Try to use bananas with lots of brown spots on the peel if you can.
Butter: Melted. Salted or unsalted butter both work, you can mix in either.
Sugar: I like to use granulated sugar in this recipe.
Eggs: These will be the binding agents for your muffin batter.
Vanilla Extract: For extra sweet flavor.
Sour Cream: This makes these muffins super moist.
Baking Soda: To help your muffins rise up nice and tall.
Salt: I like to use kosher salt in this muffin recipe.
Flour: I generally use all purpose flour, but you could try using gluten free flour.
Blueberries: Use fresh blueberries if possible.
Optional: Add in coarse sugar for the tops of the muffins.
How to Make Banana Blueberry Muffins
What I love the most about making these banana blueberry muffins is that it takes around 40 minutes from start to finish, and then I have a bunch of make-ahead breakfasts ready to go. Muffins are always good to have on hand during the week, because you never know when you'll need a quick, on-the-go breakfast.
This is what you'll need to do to mix these together:
Preheat Oven to 350°F: Place cupcake liners in a muffin tin. Set aside.
Mash the Bananas: In a medium bowl mash the bananas with a fork, leaving them slightly lumpy, and set aside.
Mix Muffin Ingredients Together: In a large bowl stir together the butter and sugar. Mix in the eggs and vanilla and stir until smooth. Add the sour cream, mashed bananas, baking soda, and salt, and stir until blended. Next mix in the flour until incorporated. Then, fold in the blueberries.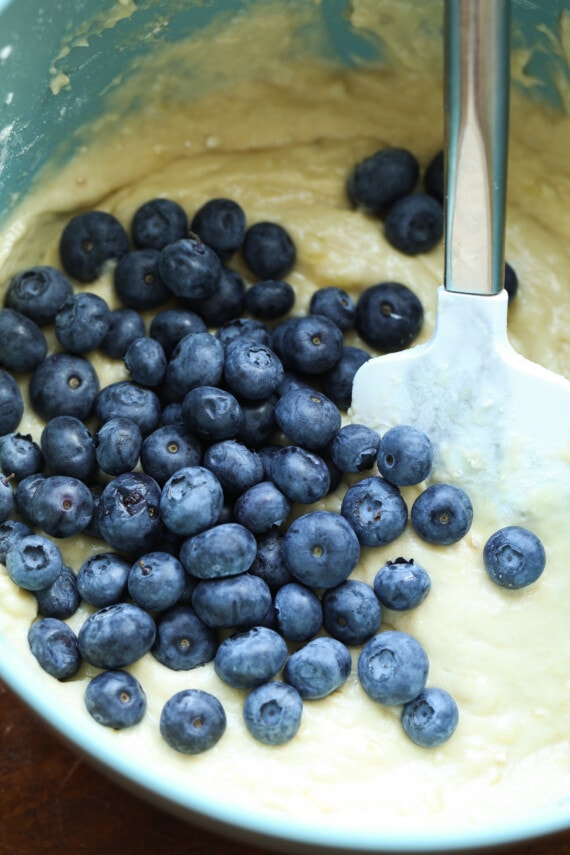 Fill the Muffin Pan: Portion out 1/4 cup batter into each muffin tin and prepare crumb topping and sprinkle on some coarse sugar for a little sweet crunch!