Unstuffed Shells is an easy spin on the Italian classic, Stuffed Shells! Layers of savory meat sauce, and cheesy pasta creates a deconstructed version of stuffed shells in a delicious pasta casserole that's great to make ahead!
If you love pasta, make sure to try my Creamy Beef Pasta Recipe too!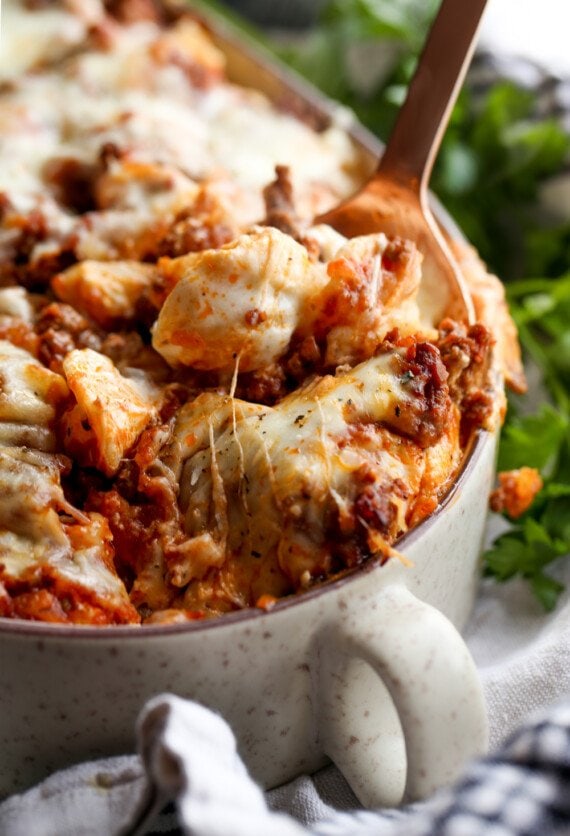 Unstuffed Shells Is An Easy Pasta Casserole Recipe!
Is there anything better than cheesy carbs? Pure comfort food at its finest. And today's UNSTUFFED Shells recipe fits the bill. You have an easy, savory meat sauce, layered with cheesy pasta shells, and topped with more sauce and MORE cheese! Are you interested yet?
Classic Italian Stuffed Shells Deconstructed!
I am going to assume you are familiar with Italian Stuffed Shells. If not, no worries, they are are seasoned ricotta cheese mixture stuffed inside large pasta shells, topped with sauce, and baked! While they are fairly easy to make, I love the idea of a "dump and go" kind of casserole where everything is mixed together and every bit is perfection!
This recipe combines all the flavors and ingredients of the classic, without the fuss of stuffing the individual shells.
Unstuffed Shells Ingredients:
Olive oil
Diced onion
Lean ground beef. You can use ground turkey instead if you would like!
Minced garlic
Marinara sauce. You can use any brand you prefer, and even switch up the flavor of sauce if you would like as well.
Medium shell pasta. Honestly you can use pretty much any small cut pasta in this recipe, but since it's called Unstuffed Shells, I use shell pasta!
Cream cheese. You can use low fat cream cheese if you would like.
Ricotta cheese. You can use full fat or part skim ricotta.
Parmesan cheese. Use fresh grated and not the powdered kind. It's just better!
Egg
Italian seasoning. if you don't have Italian seasoning on hand, you can use an equal mixture of basil, marjoram, oregano, rosemary, and thyme…or really any combination of these. If you are missing one or two of these alternatives it really won't make a huge difference.
Kosher salt
Fresh ground black pepper
Crushed red pepper
Low moisture mozzarella cheese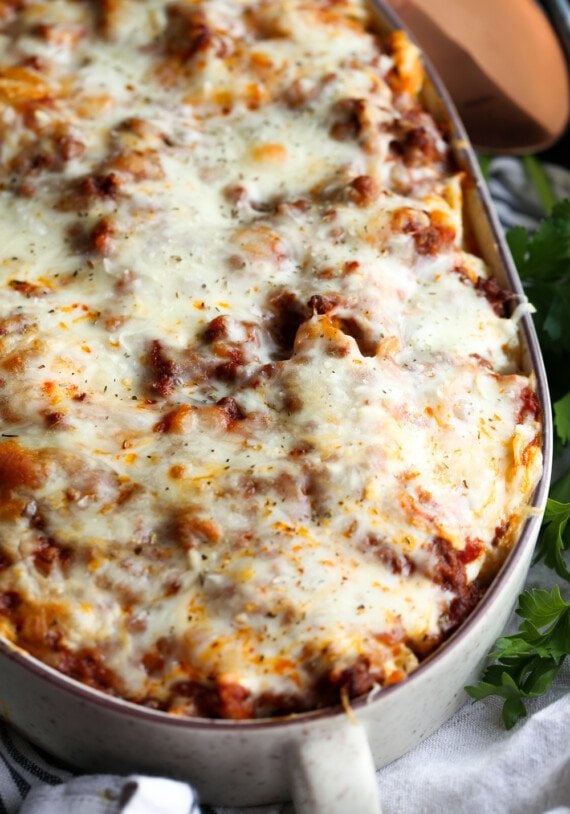 Make This Ahead:
This is a great make-ahead dish if you are planning ahead, or gifting dinner to a friend. You simply follow all the instructions up until the point of baking the casserole. Just pop it in the refrigerator overnight and bake it the next day. You might need to add a few minutes of bake time if you are baking from cold, but everything is cooked, so you just want to make sure it's warmed through.
Can You Freeze This?
Absolutely! This is a great dish to freeze ahead for later. again, all you do is prep it up until the point of baking. Make sure it's covered airtight and freeze it for up to 30 days.
I prefer thawing it out in the refrigerator overnight before baking.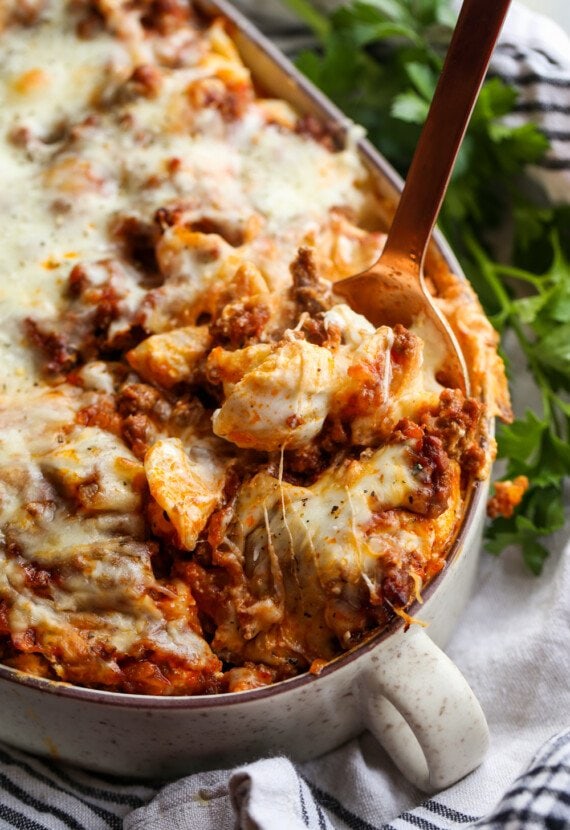 If You Love Baked Pasta Try These Recipes: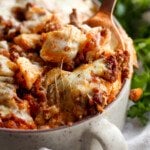 ---
Description:
This is a family favorite dinner idea! All the cheesy deliciousness of classic Stuffed Shells without any  of the hassle!
---
Ingredients:
1 tablespoon

olive oil

1/2 cup

diced onion

1

pound lean ground beef

2

cloves garlic, minced

1

(24- ounce) jar marinara sauce

4 cups

medium shell pasta, uncooked

1

(8- ounce) block cream cheese, room temperature

3/4 cup

ricotta cheese

1/2 cup

fresh grated Parmesan cheese

1

egg, whisked

1 teaspoon

Italian seasoning

1 teaspoon

kosher salt

1/2 teaspoon

fresh ground black pepper

1/2 teaspoon

crushed red pepper

1 1/2 cups

grated low moisture mozzarella cheese
---
Instructions
Preheat oven to 350°F. Lightly coat a 9×13 baking dish with non stick spray. Set aside.
Meat Sauce: Add the olive oil to a large skillet over medium heat. Add in the onions and cook for 3-4 minutes until beginning to soften. Add in the ground beef and cook until no longer pink. Add in the garlic and cook for an additional minute. Drain any excess fat or liquid from the pan and place pan back onto the heat. Add in the marinara sauce and stir to combine. Turn the heat to low, and simmer while you do the next steps.
Pasta: Boil the pasta according to the package directions and drain thoroughly.
Cheese Mixture: In a large bowl stir together the cream cheese, Ricotta cheese, Parmesan cheese, egg, Italian seasoning, salt, black pepper, and red pepper. Add the cooked pasta to the bowl and stir until evenly combined.
Assembly: Spread half of the meat sauce in the bottom of the prepared pan. Top with pasta mixture and then spread on the remaining meat sauce. Sprinkle the mozzarella cheese on top, cover with foil and bake for 30 minutes. Remove the foil from the top of the dish and bake for an additional 10 – 15  minutes.
---
Notes:
Store airtight in the refrigerator for up to 3 days.
To make ahead, prepare the dish according to the directions, cover with foil and refrigerate for up to 24 hours. Bake the following day according to the directions.
Keywords:: cookies and cups, stuffed shells, unstuffed shells, casserole, pasta recipe
Want To Save This Recipe?
PIN for later: