This easy homemade Vegetable Soup recipe is comforting, good for you, and so much better than canned soup! You will love this healthy and hearty one pot meal!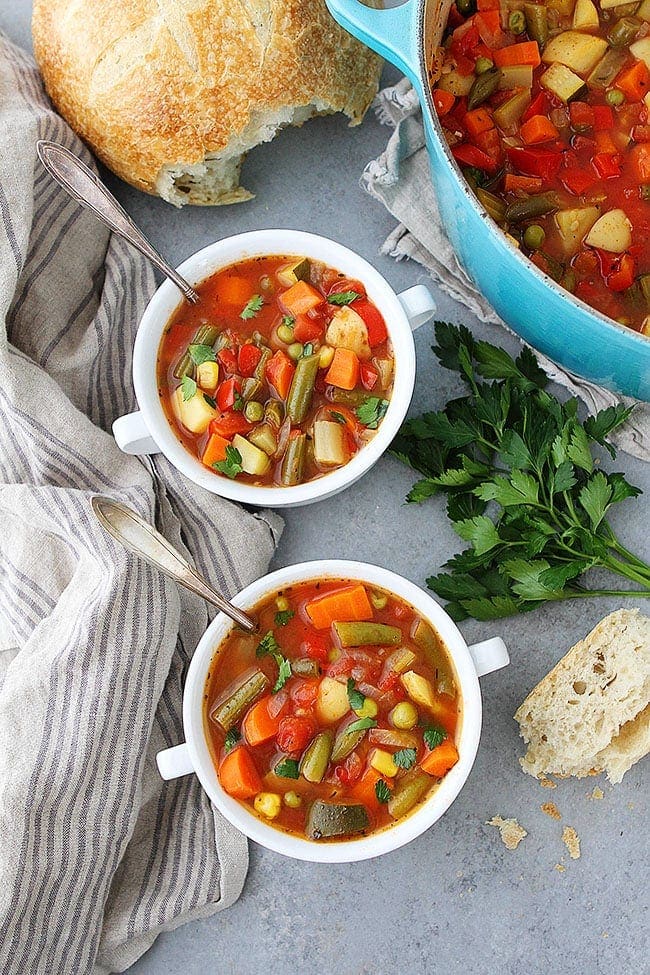 Homemade Vegetable Soup
I made a big pot of Vegetable Soup last week and I've decided that Vegetable Soup needs to be in our regular rotation. This classic soup is so simple to make and SO good! We ate the soup for dinner one night and then I enjoyed the leftovers for lunch all week. One bowl of this soup warmed me up and filled me up!
And good news, the boys liked this soup too. I will be honest, when I told them we were having vegetable soup for dinner, there were a few complaints, but when I told them they had to at least try it, they did, and one bite led to another and another and they ended up eating like champs. I think the Parmesan cheese and crusty bread helped, they love dunking anything and everything, but I was ok with that. They got a bowl full of veggies for dinner and that made this mama happy!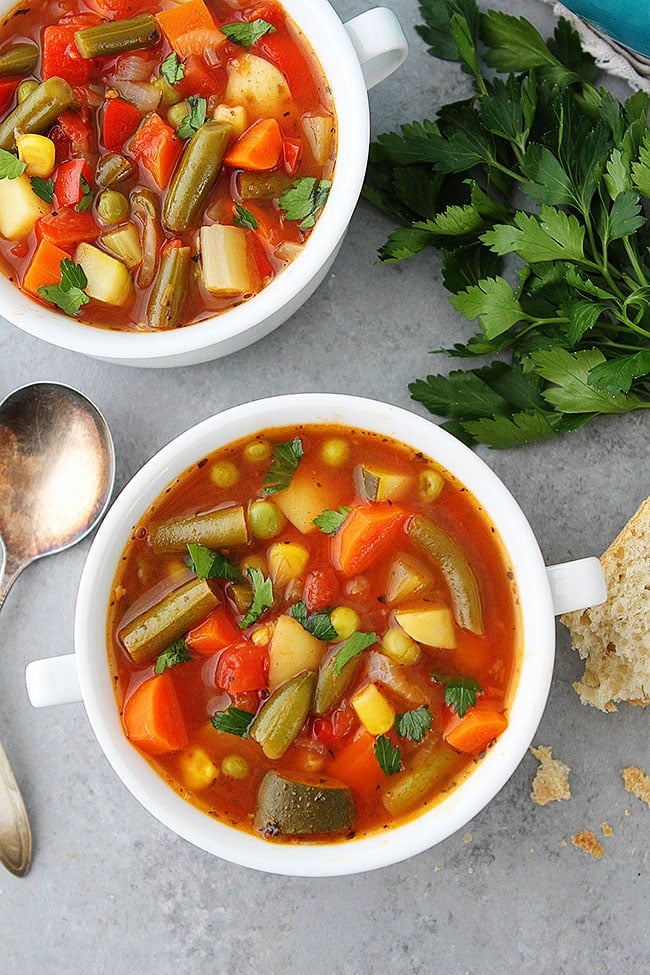 OTHER RECIPES
How to Make Vegetable Soup
Vegetable soup is easy to make at home and SO much better than canned soup. This soup is vegetarian, vegan, and gluten-free! It is healthy, hearty, and delicious!
You can use whatever vegetables you have on hand, but these are my favorite vegetables to include:
onion
carrots
celery
red bell pepper
zucchini
potatoes
green beans
corn
peas
I feel like these are all "safe" vegetables for kids too, making this a kid friendly soup! YAY!
If you have other vegetables to use up in your fridge, feel free to add mushrooms, asparagus, spinach, kale, parsnips, broccoli or cauliflower. I use frozen green beans, corn, and peas because we always have them in our freezer. If you make this soup in the summertime and have fresh vegetables to use up, you can certainly go the fresh route! All vegetables are welcome in this healthy soup!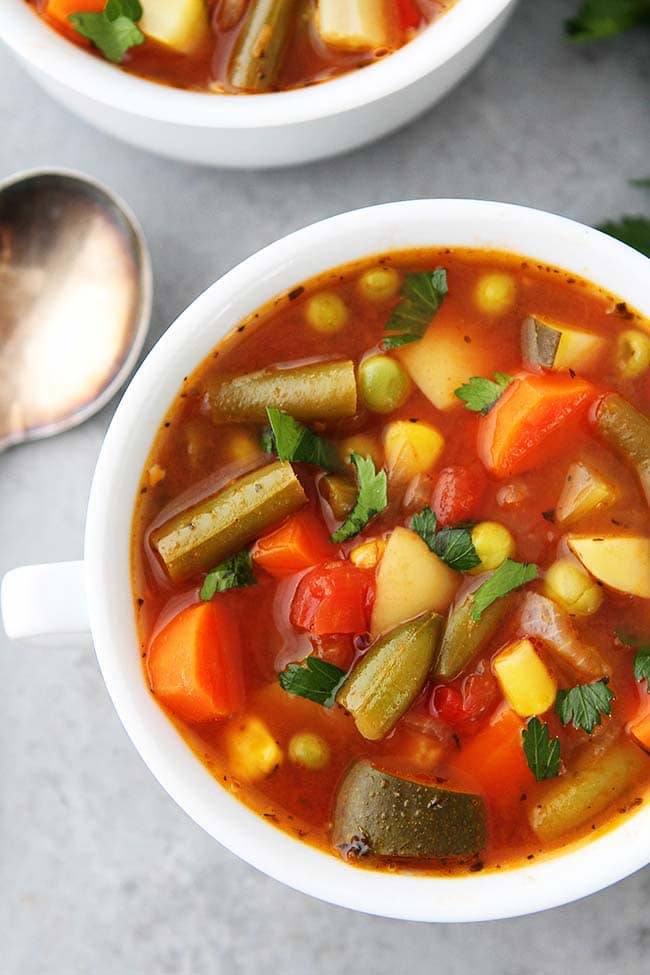 Best Vegetable Soup Recipe
The soup is made with vegetable broth and diced tomatoes. It is light but very filling because of all of the hearty vegetables. I add in fresh garlic, thyme, basil and bay leaves for flavor. Make sure you remove the bay leaves before serving.
You can serve the soup with crusty bread and grated Parmesan cheese, if desired. Our boys favorite way to enjoy this easy vegetable soup recipe!
This recipe makes a big pot of soup so be prepared to eat leftovers, it reheats perfectly and is SO good for lunch or a busy weeknight dinner. The soup also freezes well, put some containers of soup in the freezer for a rainy day!
This easy homemade vegetable soup is a good one! Add it to your regular rotation. I know I am making another pot this week.If you are trying to eat more veggies, this is the soup for YOU! Bring on the veggies!
If you like this vegetable soup, you might also like: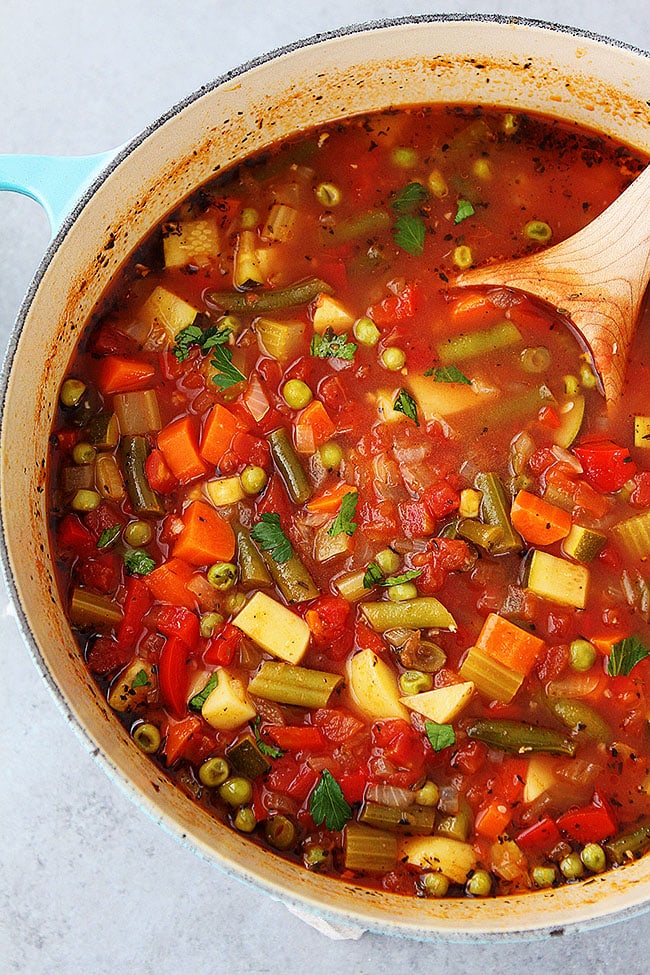 Vegetable Soup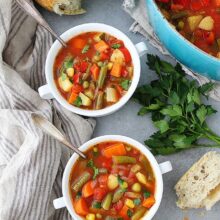 This healthy and hearty homemade vegetable soup is comforting and good for you! Enjoy a bowl for lunch or dinner!
Yield: Serves 10
Prep Time: 20 minutes
Cook Time: 45 minutes
Total Time: 1 hour 5 minutes
Ingredients:
1 medium yellow onion, chopped
3 carrots, chopped
2 celery ribs, chopped
5 cloves garlic, minced
1 red bell pepper, chopped
1 medium zucchini, chopped
6 Yukon gold potatoes, chopped (about 2 cups)
3 (14.5 oz) cans vegetable broth
1 (28 oz can) diced tomatoes
2 bay leaves
1/2 teaspoon dried thyme
1/2 teaspoon dried basil
1 teaspoon kosher salt
1/4 teaspoon black pepper
1 1/2 cups frozen green beans
1 cup frozen corn
1 cup frozen peas
Directions:
In a large pot, heat the olive oil over medium high heat. Add the onion, carrot, and celery and cook for 5 minutes or until vegetables are tender. Add in the garlic, red pepper, zucchini, and potatoes. Cook for 3 minutes.
Add the vegetable broth, tomatoes, bay leaves, thyme, basil, salt, and pepper. Reduce heat to medium-low, cover, and let the soup simmer for 25-30 minutes, or until the potatoes are soft.
Stir in the green beans, corn, and peas and cook for 5-7 minutes, or until vegetables are cooked through.
Remove the bay leaves and season with additional salt and pepper, if necessary. Serve warm.


All images and text ©Two Peas & Their Pod.




Follow twopeasandpod on Instagram and show us what recipes you are making from our blog! Use the hashtag #twopeasandtheirpod! We want to see what you are making in your kitchen!