This Whipped Beet Ricotta is vibrant and delicious, especially when surrounded by a variety of fresh veggies to dip in it!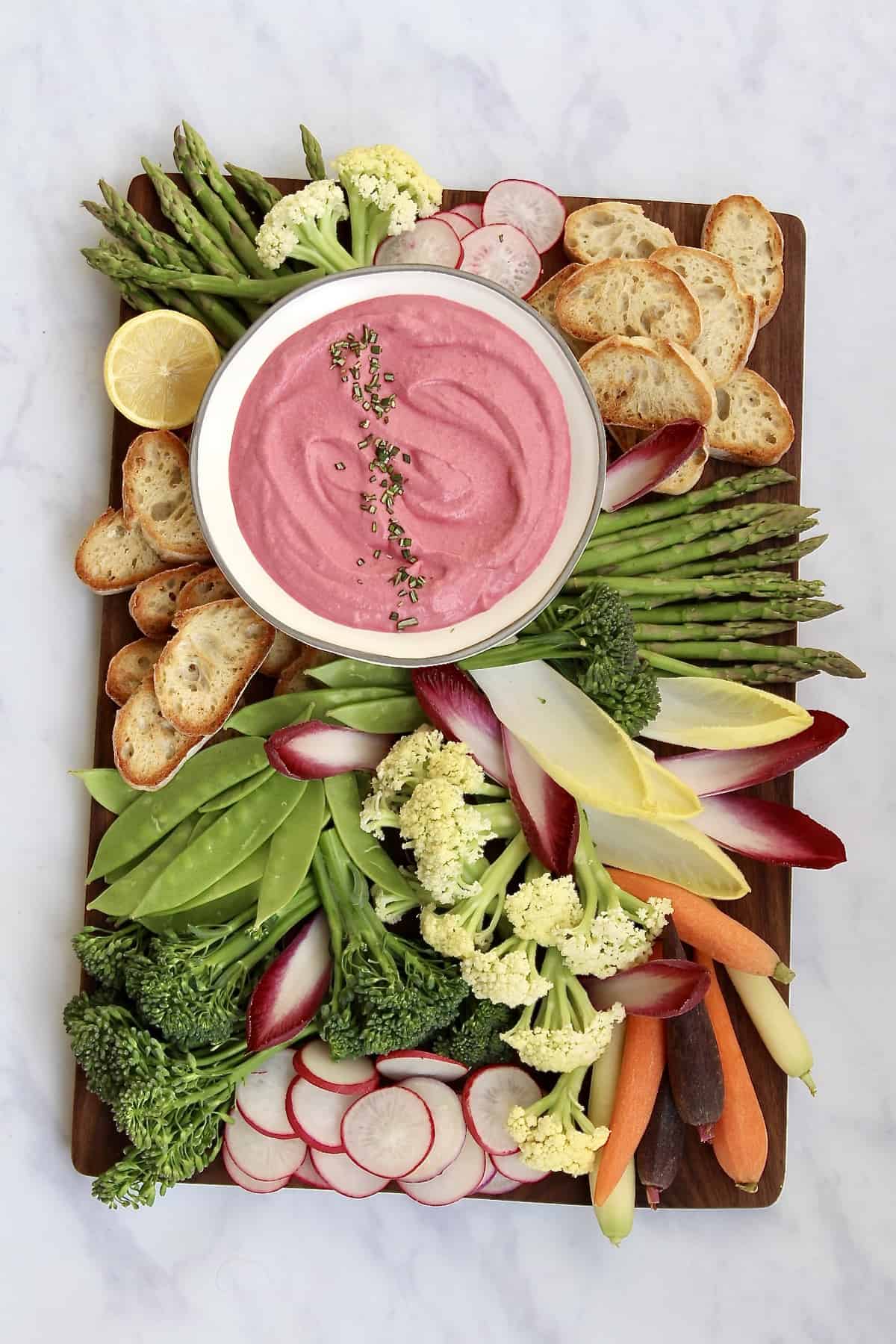 If you've never had whipped ricotta, it's a must try! It's one of our absolute favorite appetizers to enjoy as a family or to make for a party. So simple, yet so scrumptious! Brandon and I will even make a batch of it just for ourselves to enjoy on a date night in with lots of veggies, lightly toasted bread and crackers to dip in it. Mmmm…mmmm!
For springtime, I wanted to spruce up our regular whipped ricotta with the vibrant flavor and color of beets. Such a beautiful and tasty twist. We're obsessed!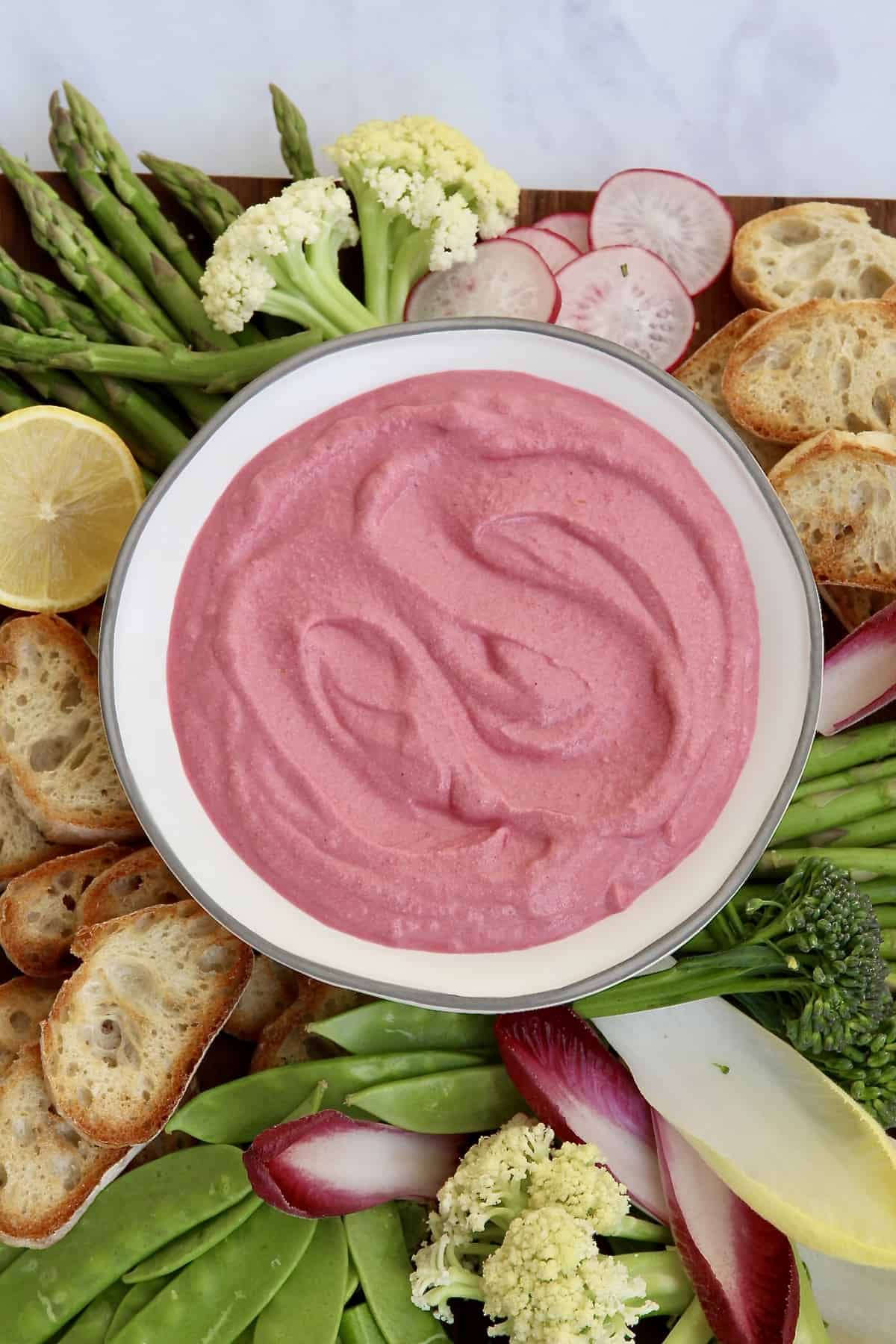 Just blend ready-to-eat beets together with lemon juice and gently mix it in with the already whipped ricotta. The results are a light and airy dip with an absolutely beautiful look and taste. It's an appetizer I'm eager to make often because I know everyone enjoys it. The opportunities to make it are endless: brunch, dinner party appetizer, date night in, ladies lunch, summertime or springtime snack board, bridal shower, baby shower, engagement party…
It's easy, beautiful, and oh so delicious! Simply make the dip and set it out on a board or platter with toasted baguette slices and a variety of fresh vegetables. Some perfect springtime vegetables that accompany this whipped beet ricotta so well are:
Asparagus
Carrots
Radishes
Snow peas
Broccolini
Cauliflower
Endive leaves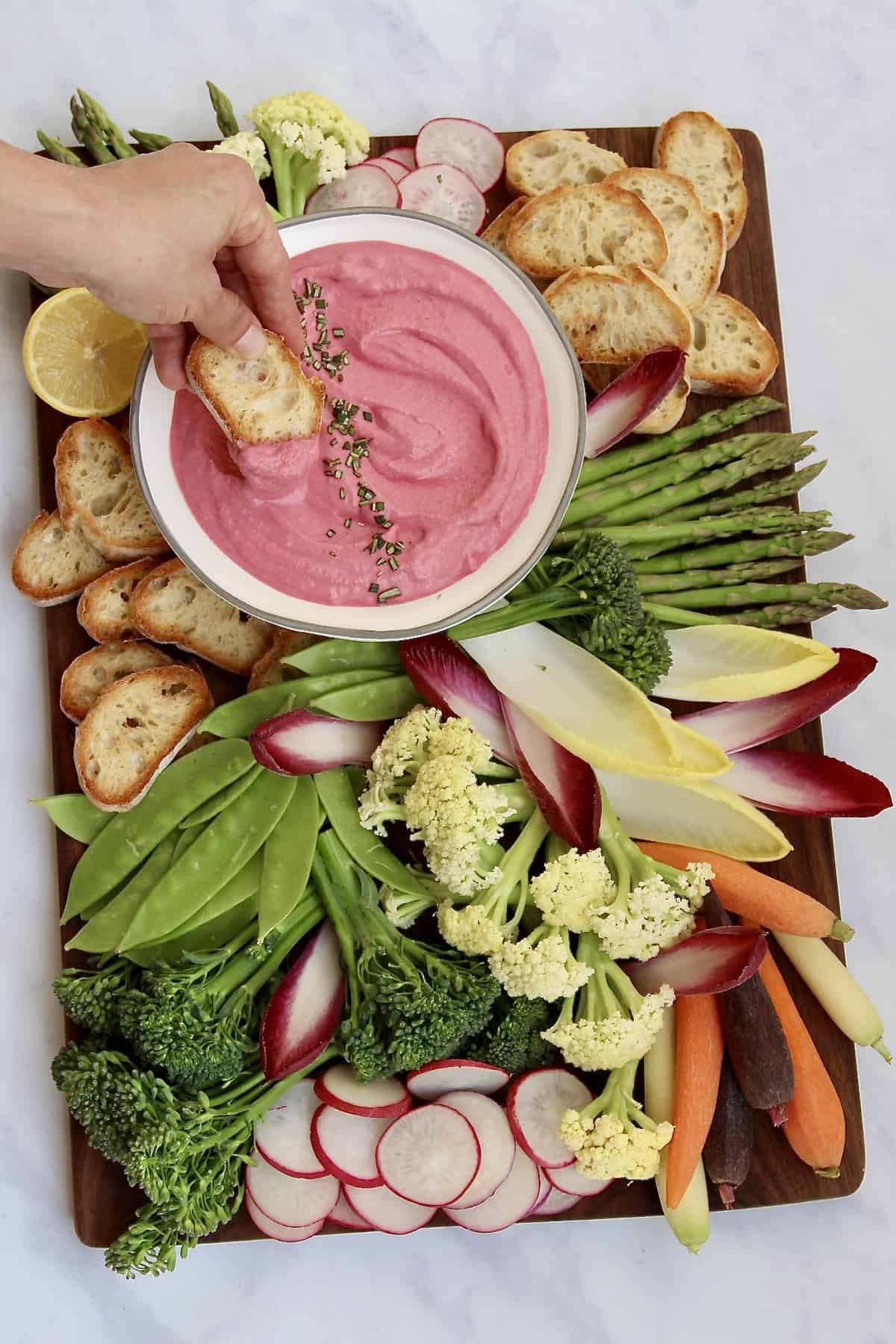 I recently shared this stunning Whipped Beet Ricotta Board in the Spring 2020 Issue of IBB Home Magazine along with  a delicious Skillet Chicken Piccata, amazing Carrot Cake Cookies and refreshing Sparkling Raspberry Mojitos. It's sure to be a delicious spring with all of these beautiful recipes…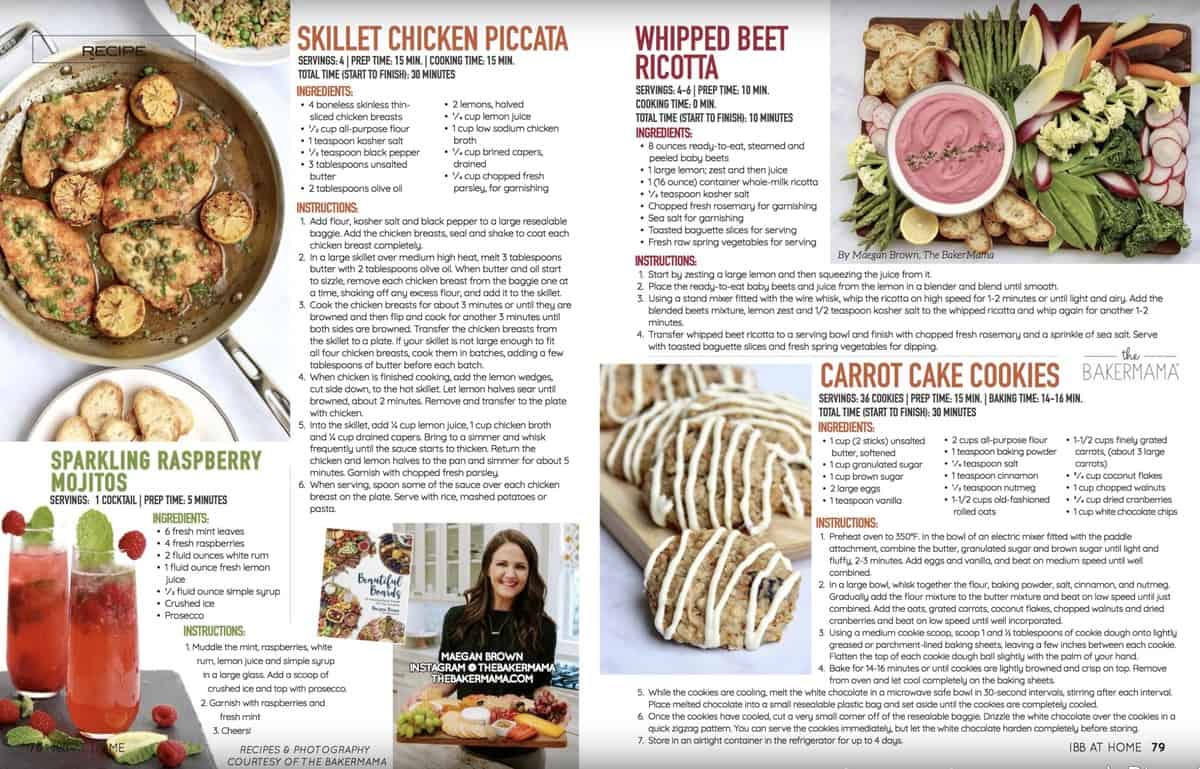 I hope you and your loved ones enjoy this Whipped Beet Ricotta recipe as much as we do. When you make it and share on social media, be sure to tag me @thebakermama so I can see. I love seeing you make and enjoy the recipes I share!
xoxo,

Whipped Beet Ricotta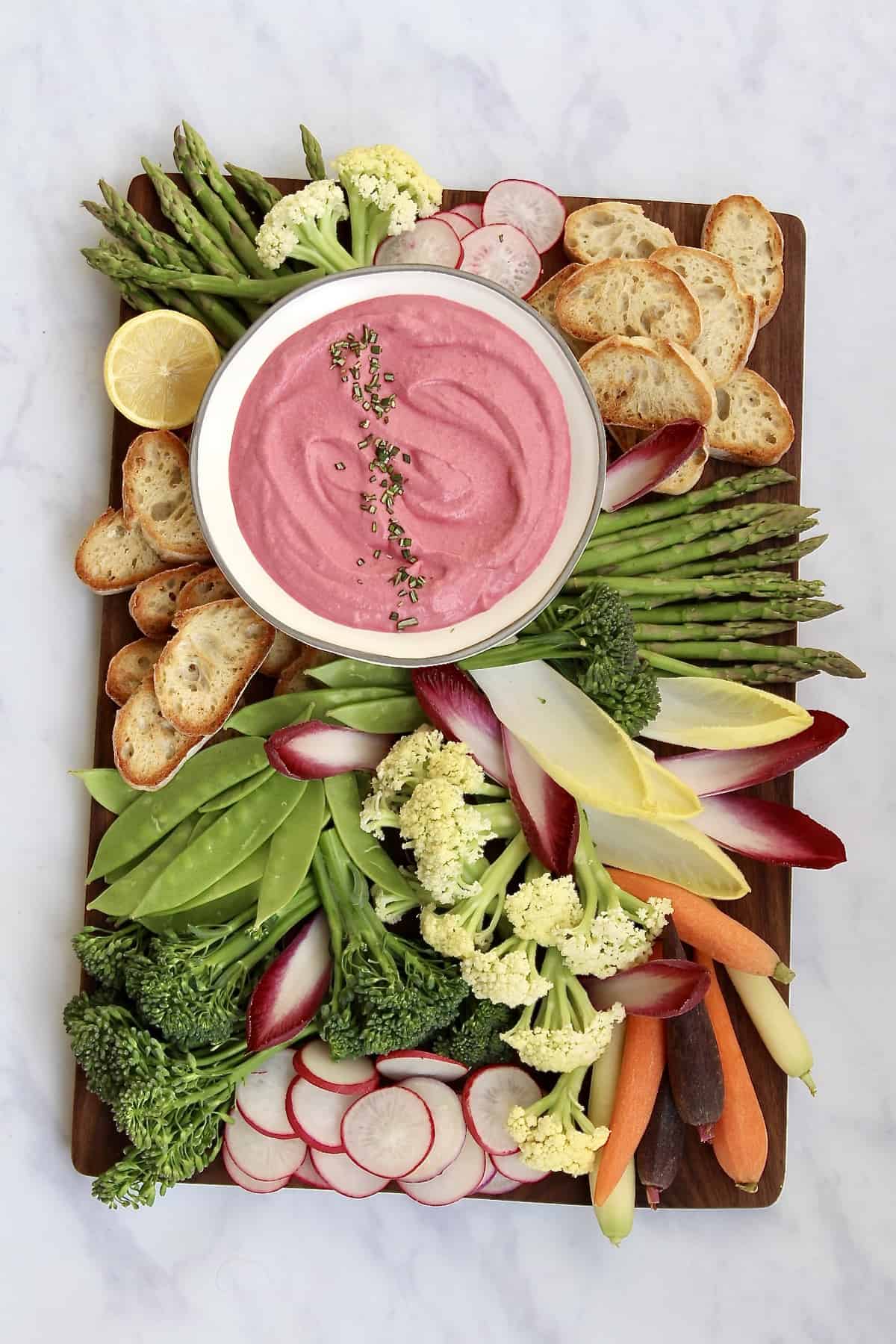 This Whipped Beet Ricotta is vibrant and delicious, especially when surrounded by a variety of fresh veggies to dip in it!
Author: Maegan – The BakerMama
Recipe type: Appetizer
Serves: 4-6
Ingredients
8 ounces ready-to-eat, steamed and peeled baby beets
1 large lemon, zest and juice, divided
1 (16 ounce) container whole-milk ricotta
½ teaspoon kosher salt
chopped fresh rosemary, for garnishing
sea salt, for garnishing
toasted baguette slices, for serving
fresh raw spring vegetables, for serving
Instructions
Start by zesting a large lemon and then squeezing the juice from it.
Place the ready-to-eat baby beets and juice from the lemon in a blender and blend until smooth.
Using a stand mixer fitted with the wire whisk, whip the ricotta on high speed for 1-2 minutes or until light and airy. Add the blended beets mixture, lemon zest and ½ teaspoon kosher salt to the whipped ricotta and whip again for another 1-2 minutes.
Transfer whipped beet ricotta to a serving bowl and finish with chopped fresh rosemary and a sprinkle of sea salt. Serve with toasted baguette slices and fresh spring vegetables for dipping.
3.5.3239