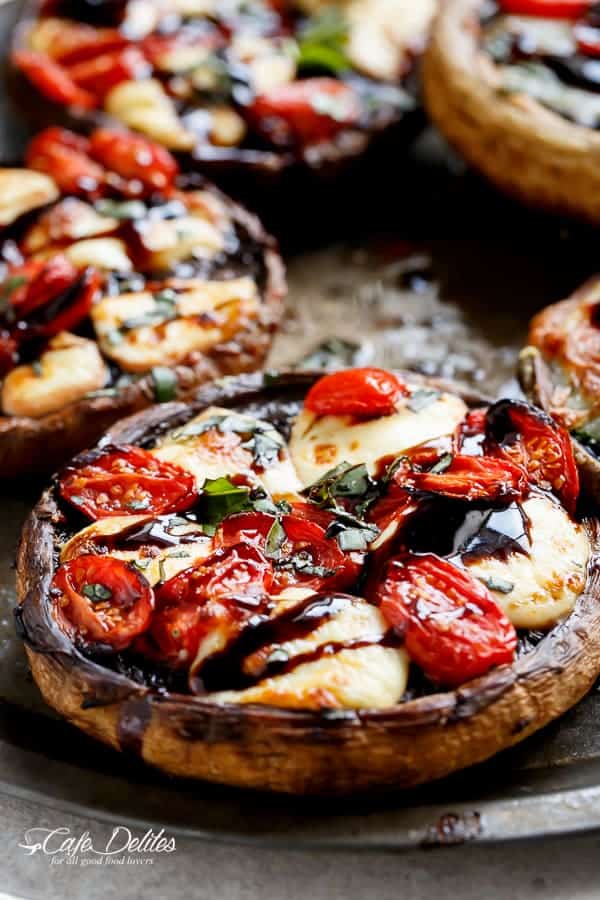 Caprese Stuffed Garlic Butter Portobellos
Garlic butter smothered Portobello Mushrooms stuffed and grilled with fresh mozzarella cheese, grape tomato slices, and drizzled with a rich balsamic glaze!
Garlic buttered mushrooms would have to be one of the best inventions by man and pairing them with classic Caprese flavours IN THESE Caprese Stuffed Garlic Butter Portobellos creates the best of both worlds!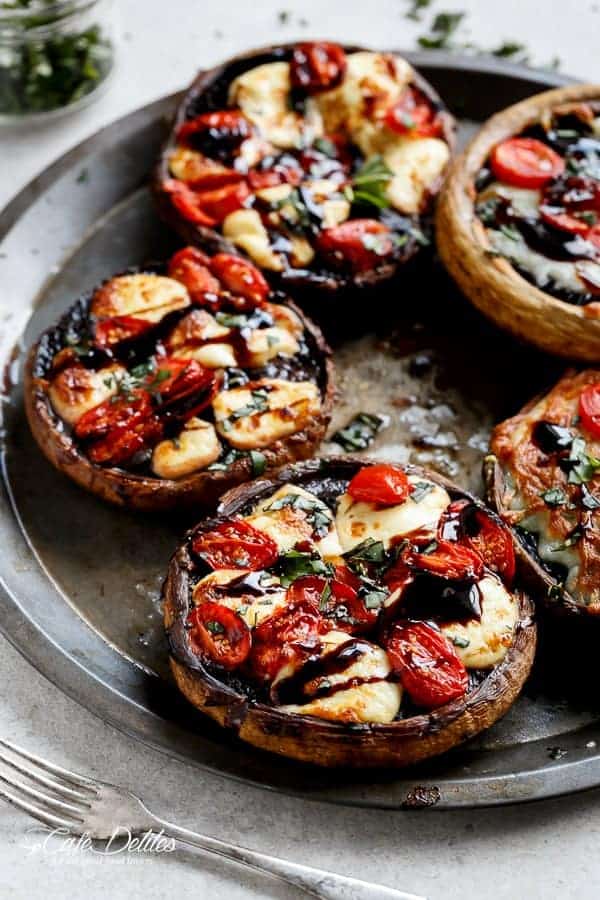 Remember those Grilled Avocado Caprese Crostini? Well, I've been asked to do a lower carb version from a few of my followers on Instagram. And I think this pretty much covers it. Then, of course, topped with fresh shredded basil for the Caprese finishing touch.
These mushrooms are so filling and perfect to have as a main dish, but you could easily serve them as a side! I think I could handle a low carb lifestyle after making these. And you know you've done something right when the man of the house is enjoying them just as much as you are.

TIPS TO MAKE Caprese Stuffed Garlic Butter Portobellos
The garlic butter is optional but if I'm going to be completely honest..not really optional because the flavour combination is insane!
Thoroughly dry them with paper towel before brushing with the butter so they don't release too much water or liquid while cooking.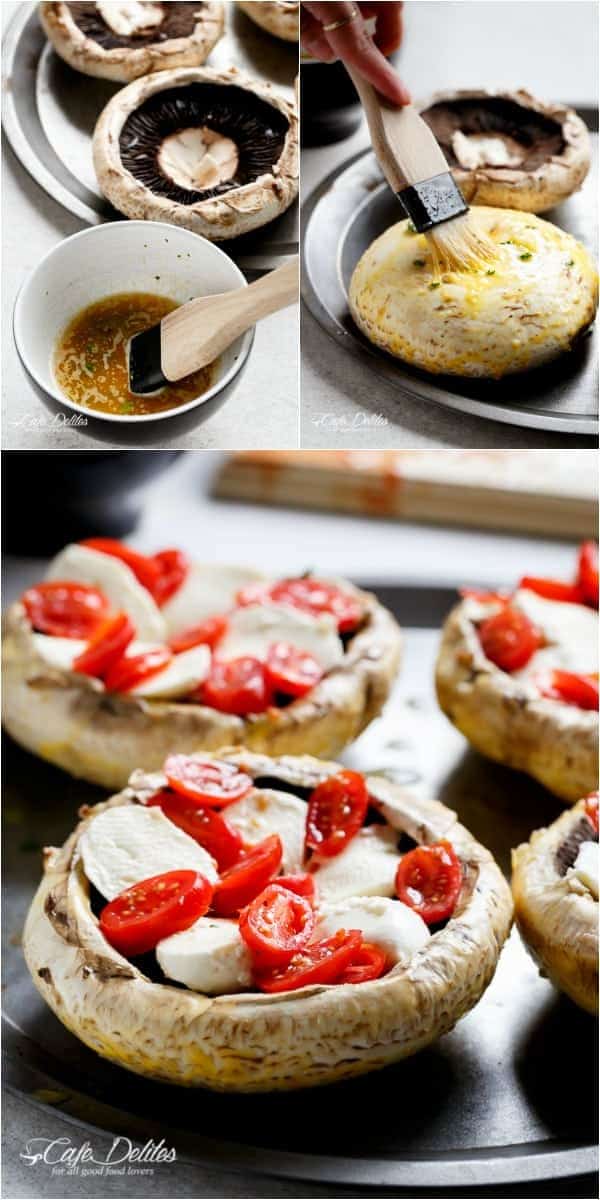 Cheese options!
I tried two different Mozzarella options: one with grated and one with fresh. To be honest, we loved both, but the fresh version just turned out so much more creamy and cheesy with a better Mozzarella flavour.
Tomatoes
You can use any tomatoes you have on hand. I happened to have grape tomatoes and love them grilled with cheese! Cherry would be just as good. Drizzle with a homemade Balsamic glaze or a store bought glaze, and prepare to melt right along with the cheese.

WATCH US MAKE these Caprese Stuffed Garlic Butter Portobellos RIGHT HERE!
ORIGINALLY PUBLISHED 1 July, 2015.
Caprese Stuffed Garlic Butter Portobellos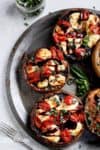 Caprese Stuffed Garlic Butter Portobellos! Garlic butter portobello mushrooms stuffed and grilled with fresh mozzarella cheese, grape tomato slices and drizzled with a rich balsamic glaze! Low carb, healthy and perfect to enjoy for lunch, dinner or as a filling snack!
Garlic butter
2 tablespoons butter
2 cloves garlic (, crushed)
1 tablespoon freshly chopped parsley
Mushrooms:
5-6 large Portobello Mushrooms (, stem removed, washed and dried thoroughly with a paper towel)
5-6 fresh mozzarella cheese balls (, sliced thinly)
1 cup grape ((or cherry) tomatoes, sliced thinly)
fresh basil (, shredded to garnish)
Balsamic Glaze: (or you can use store bought, or this recipe)
1/4 cup balsamic vinegar
2 teaspoons brown sugar ((OPTIONAL))
Preheat oven to grill/broil settings on high heat. Arrange oven shelf to the middle of your oven.
Combine all of the Garlic Butter ingredients together in a small saucepan (or microwave safe bowl), and melt until garlic is fragrant. Brush the bottoms of each mushroom and place them, buttered side down, on a baking tray.
Flip and brush any remaining garlic over the insides of each cap. Fill each mushroom with the mozzarella slices and tomatoes, and grill/broil until cheese has melted and golden in colour (about 8 minutes).
To serve, top with the basil, drizzle with the balsamic glaze and sprinkle with salt to taste.
For the Balsamic Glaze:
(If making from scratch, prepare while mushrooms are in the oven.) Combine sugar (if using) and vinegar in a small saucepan over high heat and bring to the boil. Reduce heat to low; allow to simmer for 5-8 minutes or until mixture has thickened and reduced to a glaze. (If not using sugar, allow to reduce for 12-15 minutes on low heat).
*To dry portobellos, make sure you use a dry sheet pot paper towel per mushroom, and lightly press sheet into each mushroom to gently squeeze out the excess liquid. If this step is not done thoroughly, the portobellos will release a lot of liquid during cook time.
**NUTRITION FACTS include the balsamic glaze.
The post Caprese Stuffed Garlic Butter Portobellos appeared first on Cafe Delites.