So easy and delicious, this berries and cream pie is summer's best pie! That buttery pecan-graham cracker crust filled with the luscious, creamy filling is perfection with the fresh, juicy berries.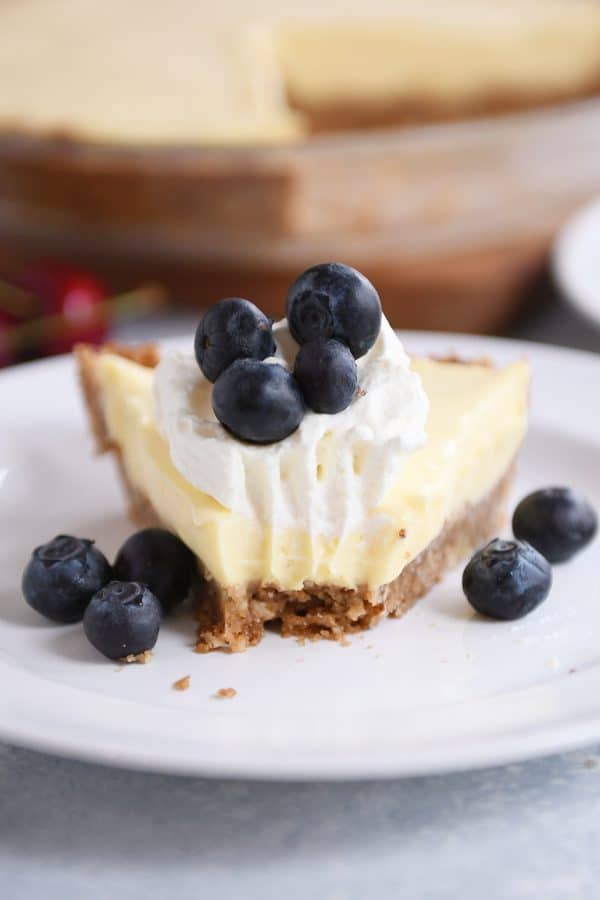 In the great cookies vs. pie debate from several Fridays ago, the cookies won out. By a long shot.
And judging by the reviews rolling in, those divine little cookies deserve their moment in the spotlight.
However, there was no way I was going to leave you hanging on the pie I had already promised you, because it is incredible.
If you think it's just your average vanilla pudding pie and feel the urge to discount it, I have to forcefully tell you that you are wrong…and you will be missing out on one of the best creamy pies ever if you don't listen up for just a sec.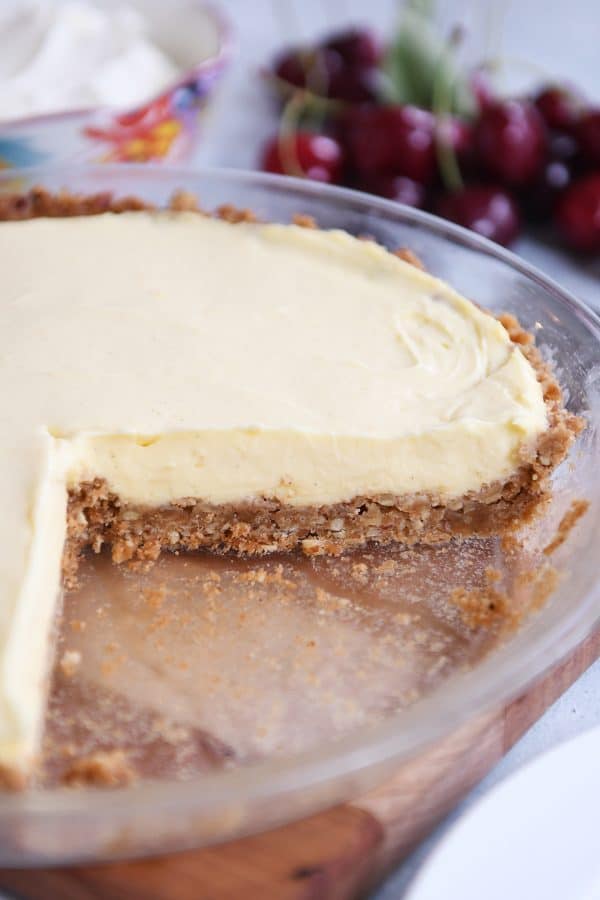 First up, let's talk about that filling. Although it looks like a classic vanilla pudding pie, you're going to get a delicious and fun surprise the minute you take a bite of that creamy, luscious filling.
There are notes of vanilla, of course, but there's also a hint of lemon that adds a beautiful burst of freshness to the buttermilk-cream pudding.
And if the thought of buttermilk in your pudding pie has you giving me the side-eye, you have to trust me on this one (if you are already a fan of southern buttermilk pies, you aren't worried in the least right now).
The unique and subtly tangy vibe the buttermilk lends to the super creamy vanilla pudding is crazy good; it sets this pie apart from every other pudding pie I've ever had in my life.
And I've had a lot of pudding pies in my life.
It reminds me a little bit of this Russian Cream with Berries recipe – creamy and delicious but interestingly tangy too.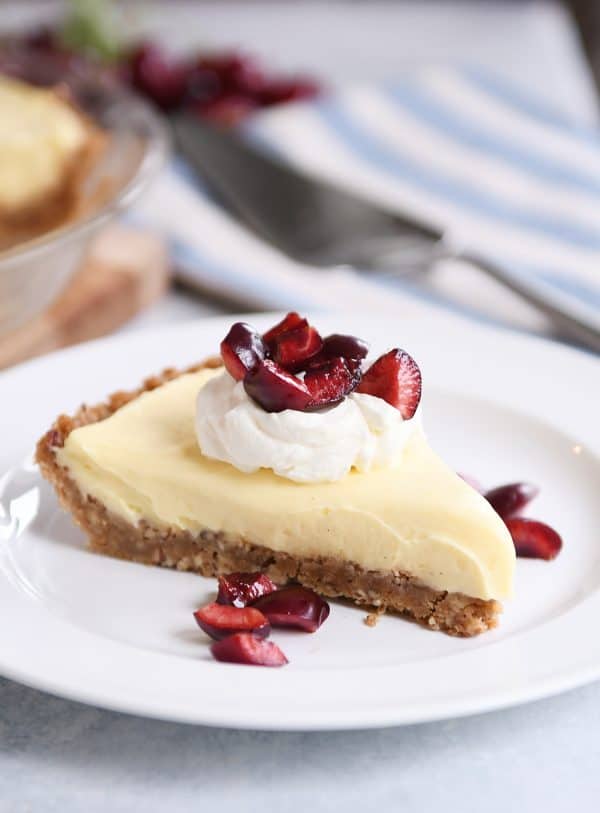 Add in that buttery, toasty pecan-graham cracker crust and juicy, fresh berries, and you are now meeting THE pie that has me out singing lullabies to my raspberries in hopes that they'll produce a bumper crop just so I can make this pie (and ok, some jam, too).
I know I sound redundant when I wax poetic about every single recipe I post. Much of that adoration is because I just really, really love food.
But I can easily admit that while some recipes are functional and tasty others are straight up special.
And this berries and cream pie is special.
And ridiculously delicious. Plus, you don't have to fuss around with homemade pie crust this go-round. You won't want to anyway when you realize the gloriousness that is pecan-graham cracker crust.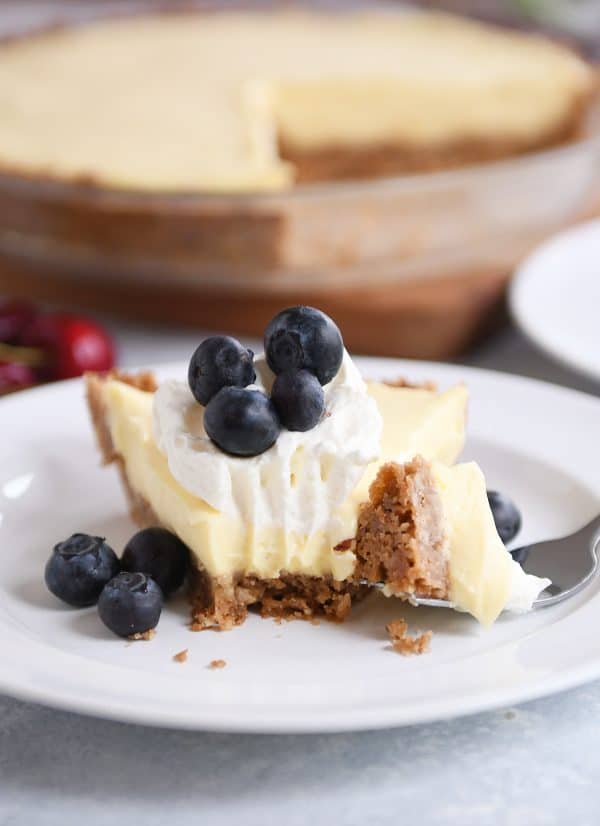 Yield: 9-inch pie
Berries and Cream Pie with Pecan-Graham Cracker Crust
Ingredients:
Cream Filling:
5 large egg yolks
1/3 cup (2.5 ounces) granulated sugar
2 1/2 tablespoons cornstarch
1/4 teaspoon salt
2/3 cup buttermilk (see note)
1 3/4 cups heavy whipping cream
1 teaspoon vanilla bean paste or vanilla extract
1/2 teaspoon fresh lemon zest
Topping:
1 cup heavy whipping cream
2 tablespoons powdered sugar
1 to 2 cups fresh berries
Pecan-Graham Cracker Crust:
1 cup (4.5 ounces) finely crushed graham cracker crumbs (about 9 rectangle graham crackers)
1/2 cup (2 ounces) finely chopped pecans
2 tablespoons brown sugar
7 tablespoons butter, melted
Directions:
For the crust, preheat the oven to 350 degrees F. In a medium bowl, stir together the graham cracker crumbs, pecans and brown sugar. Add the melted butter and stir until evenly combined. Press the mixture into the bottom and up the sides of a 9-inch pie plate. Bake for 8-10 minutes until fragrant and lightly golden. Remove from the oven and let cool completely.
For the pudding filling, in a medium bowl, whisk together the egg yolks, granulated sugar, cornstarch and salt.
In a medium saucepan over medium-low heat, bring the buttermilk and cream to a simmer, stirring every so often. Slowly drizzle 1/2 cup or so of the hot mixture into the egg mixture, whisking quickly and constantly. Continue adding the hot cream mixture to the egg mixture until it has all been added.
Pour the mixture back into the saucepan and cook over medium-low heat, stirring constantly, until bubbling and slightly thickened, 4-5 minutes.
Remove the saucepan from the heat and strain the pudding through a fine mesh strainer into a bowl (this helps strain out any tiny bits of cooked eggs; you don't have to strain the pudding if you feel like the eggs cooked evenly but I always do just to be safe and ensure the creamiest pudding possible).
Stir in the vanilla and lemon zest. Pour the filling into the cooled crust, smoothing the top evenly. Lightly press a piece of plastic wrap directly on top of the filling to prevent a skin from forming. Refrigerate until fully chilled, 5-6 hours (or overnight).
When ready to serve, beat the 1 cup heavy whipping cream and powdered sugar with an electric mixer until thick and fluffy.
Serve the pie with whipped cream and fresh berries.
Notes:
I've only used storebought buttermilk for this recipe because it is thicker in consistency, so I can't say for sure how a homemade buttermilk substitution will work. 
All images and text ©Mel's Kitchen Cafe.
Follow @melskitchencafe on Instagram and show me the recipes you are making from my blog using the hashtag #melskitchencafe. I love seeing all the goodness you are whipping up in your kitchens!
Recipe Source: adapted from Bake From Scratch magazine May/June 2018