This post may contain affiliate links. Please read my disclosure policy.
This buttery rosemary garlic dinner rolls recipe is perfectly soft and fluffy, easy to make with or without a stand mixer, and ready to go in about one hour.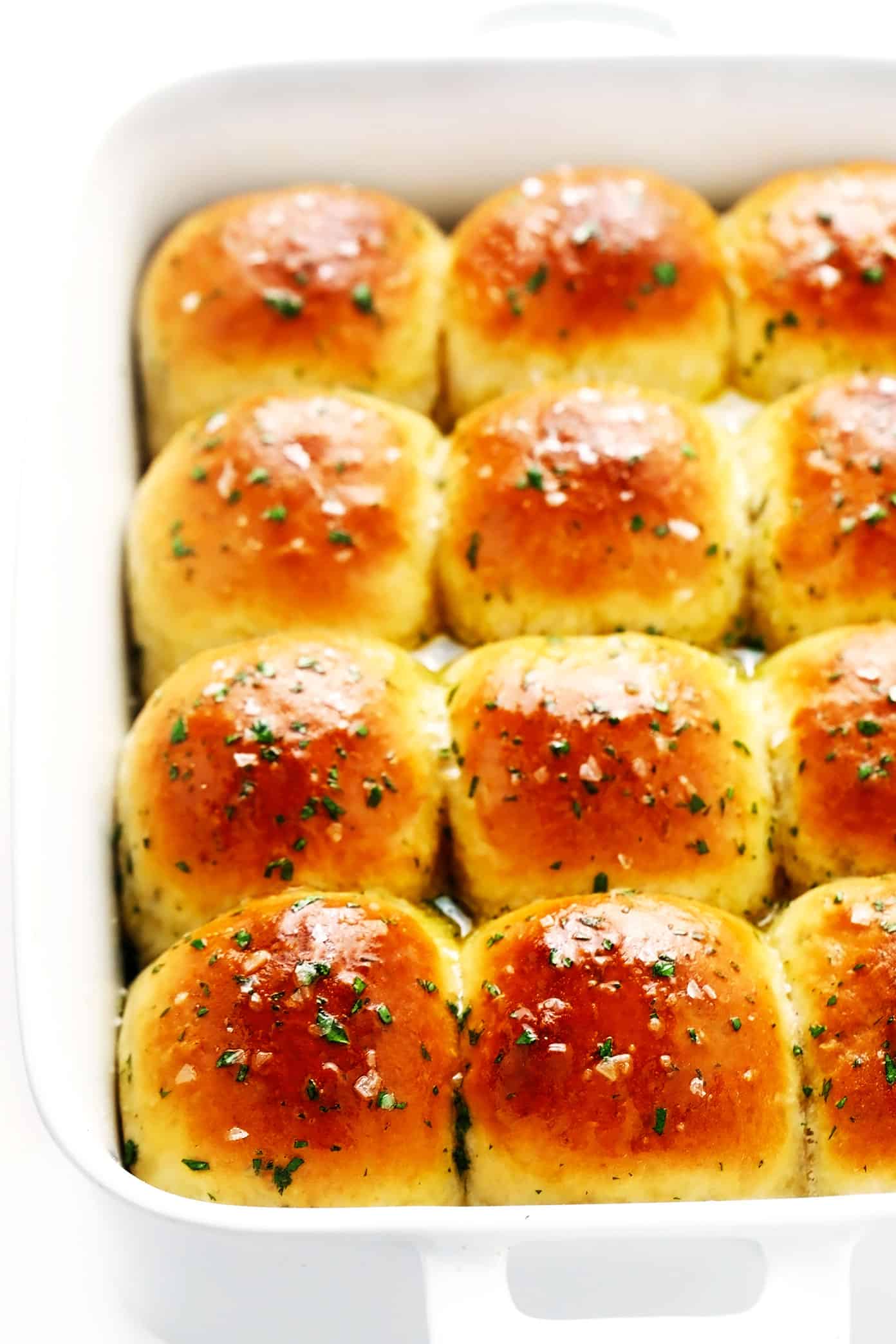 Meet the garlicky dinner rolls that I'm going to be bringing to everything this holiday season! ♡
They're a simple riff on my classic one hour dinner rolls recipe, made this time with lots of rosemary and garlic kneaded into the soft and pillowy dough. Then once the rolls emerge hot from the oven, they are brushed with a generous spread of melted garlic herb butter and sprinkled with a pinch of flaky sea salt to finish. Y-u-m.
This particular dinner roll recipe has long been my favorite because it's genuinely simple to make either completely by hand or with the help of a stand mixer. And the great news is that the rolls genuinely can be ready to go in just an hour. Or if you prefer, you can also press the pause button halfway through to prep the dough up to 48 hours in advance and then bake the rolls later, which is what I typically do to make Thanksgiving day a bit less stressful.
Feel free, of course, to customize the recipe a bit with whatever fresh herbs you love best and enjoy! These rolls are always the best!
Garlic Dinner Rolls Ingredients
Before we get to the full recipe below, here are a few notes about the ingredients you will need to make this rosemary garlic dinner rolls recipe…
Milk and water: These will serve as the base for our soft bread dough. I typically use 2% cow's milk in this recipe, but it also works with a plain plant-based milk (such as oat milk or almond milk).
Butter: Which we will bake into the dough itself, then also brush on top of the rolls once they are baked. If making these rolls vegan, you are welcome to use a non-dairy butter.
Honey: I love using a few tablespoons of honey as the sweetener for this bread dough, but granulated sugar will work well too.
Garlic: I like to use garlic powder for the bread dough and fresh garlic for the garlic butter sauce.
Yeast: I use standard active-dry yeast for these rolls. And please note that the recipe calls for a full tablespoon, so if you are using the 0.25-ounce packets (which yield 2.25 teaspoons), you will need slightly more than one packet.
Flour: I always make this recipe with standard all-purpose flour and have not tested it with different kinds of flours.
Fresh herbs: I highly recommend opting for the aromatic, earthy flavor of fresh rosemary in the rolls. Then I typically just chop up a bit of parsley with its bright, fresh flavor to toss into the garlic butter for the topping. That said, though, please feel free to use whatever herbs you love best here in both the rolls and the garlic butter! Fresh sage, basil, tarragon, thyme or oregano would all be great options here. Just note that the intensity of flavor varies from herb to herb, so you will need to adjust the amount depending on which herbs you choose.
Sea salt: I use fine sea salt to season the bread dough, and then also highly recommend sprinkling the rolls with a pinch of flaky sea salt just before serving if you would like.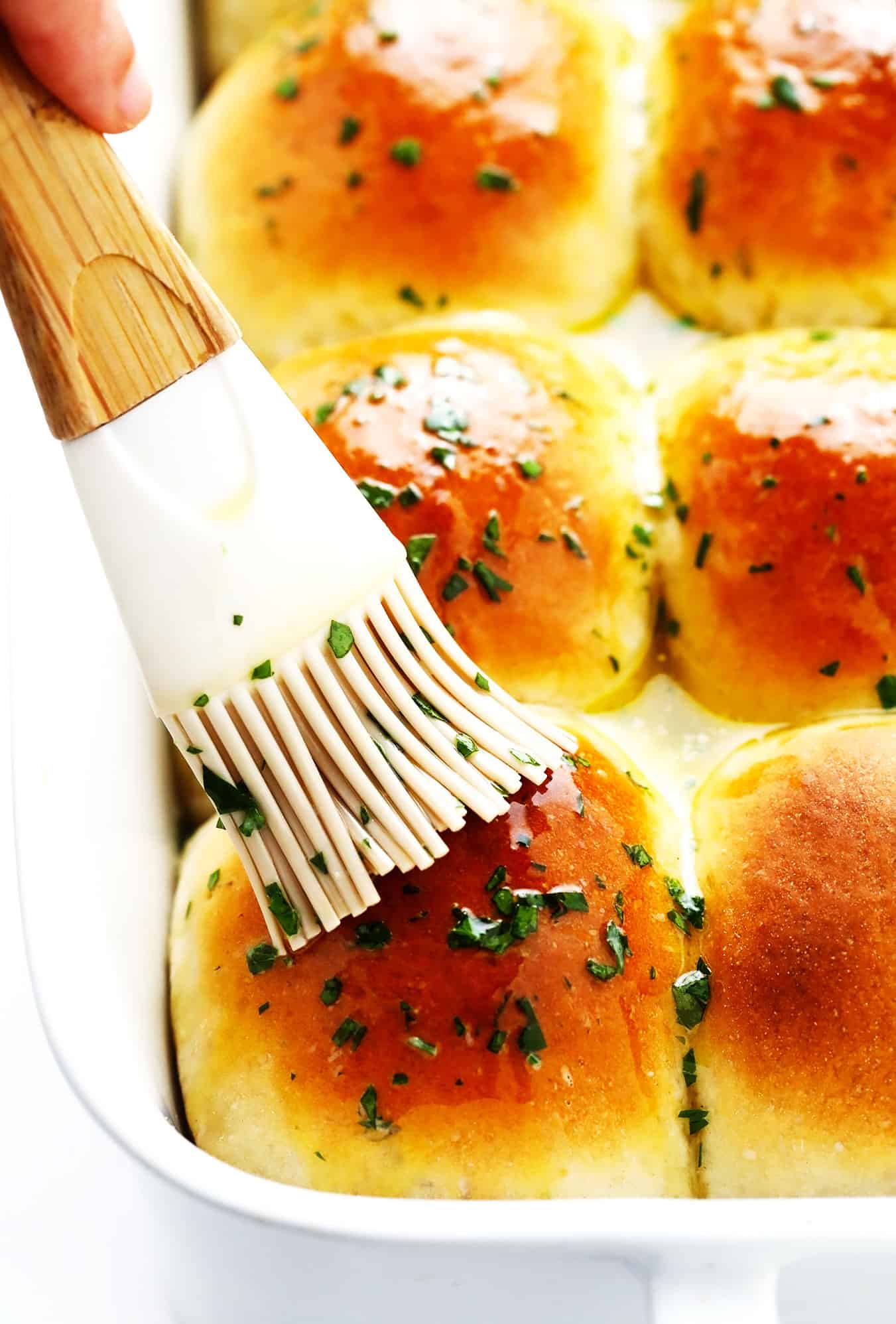 Tips For Making These Dinner Rolls
The full recipe is included below, but here are a few key tips to keep in mind when making homemade dinner rolls…
Be sure that your yeast has not expired. This is one of the most common reasons for why a batch of bread dough does not rise. Double-check the expiration date on your package of yeast, and if it does not begin to puff and bubble up after 5 minutes once it has been added to the wet ingredients, toss out the entire batch and start over with a fresh package of yeast.
Double-check the temperature of the liquid ingredients. When heating the liquid ingredients (water, melted butter, milk and honey), it's essential that they be within the temperature range of 100-110°F. If the mixture is too hot, it can kill the yeast. If it is too cool, the yeast may not activate. The mixture should feel warm and not hot to the touch, but I always recommend testing the mixture with a cooking thermometer just to be sure.
Don't skip the rise times. They are essential to helping the dough rise and create that soft and fluffy texture we're going for.
No worries about perfection. When portioning the dough into 12 rolls, don't worry about them all being perfectly equal in size. They will all bake up together in the pan, and if some are slightly larger or smaller, no worries. 🙂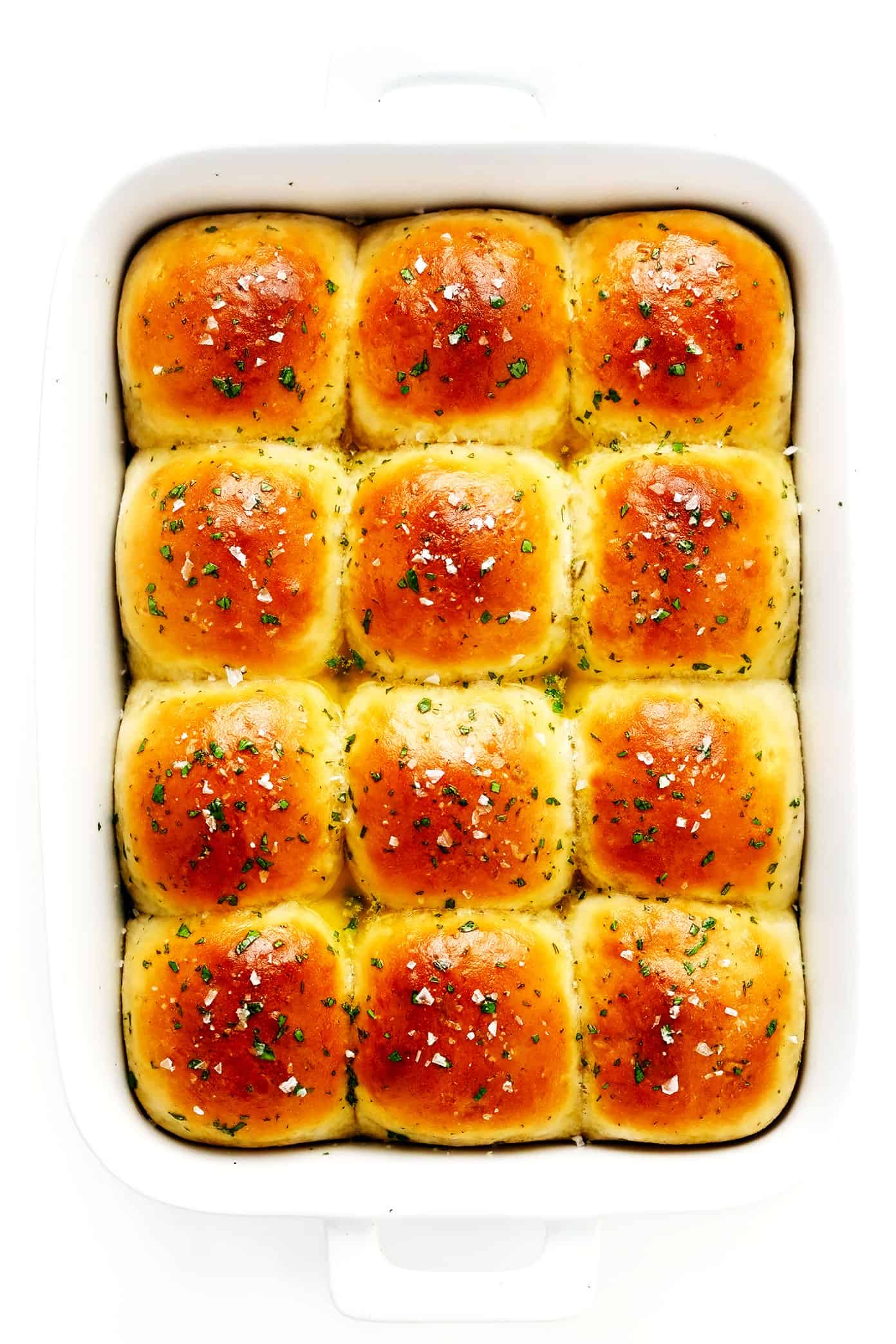 Optional Recipe Variations
Here are a few other possible variations that you could make to this easy dinner rolls recipe:
Make-ahead option: For make-ahead dinner rolls, follow the recipe through the point in step 6 when you place the formed dinner rolls in the baking dish. Then tightly cover the baking dish and refrigerate for up to 48 hours. Transfer the dish to the counter and let it warm up to room temperature for 2 hours before baking, and then bake as directed.
Make it vegan: Use plant-based milk and butter and your preferred sweetener (granulated white sugar is an easy option) in place of honey.
Add cheese: These rolls would also be absolutely delicious topped with some freshly-grated Parmesan cheese!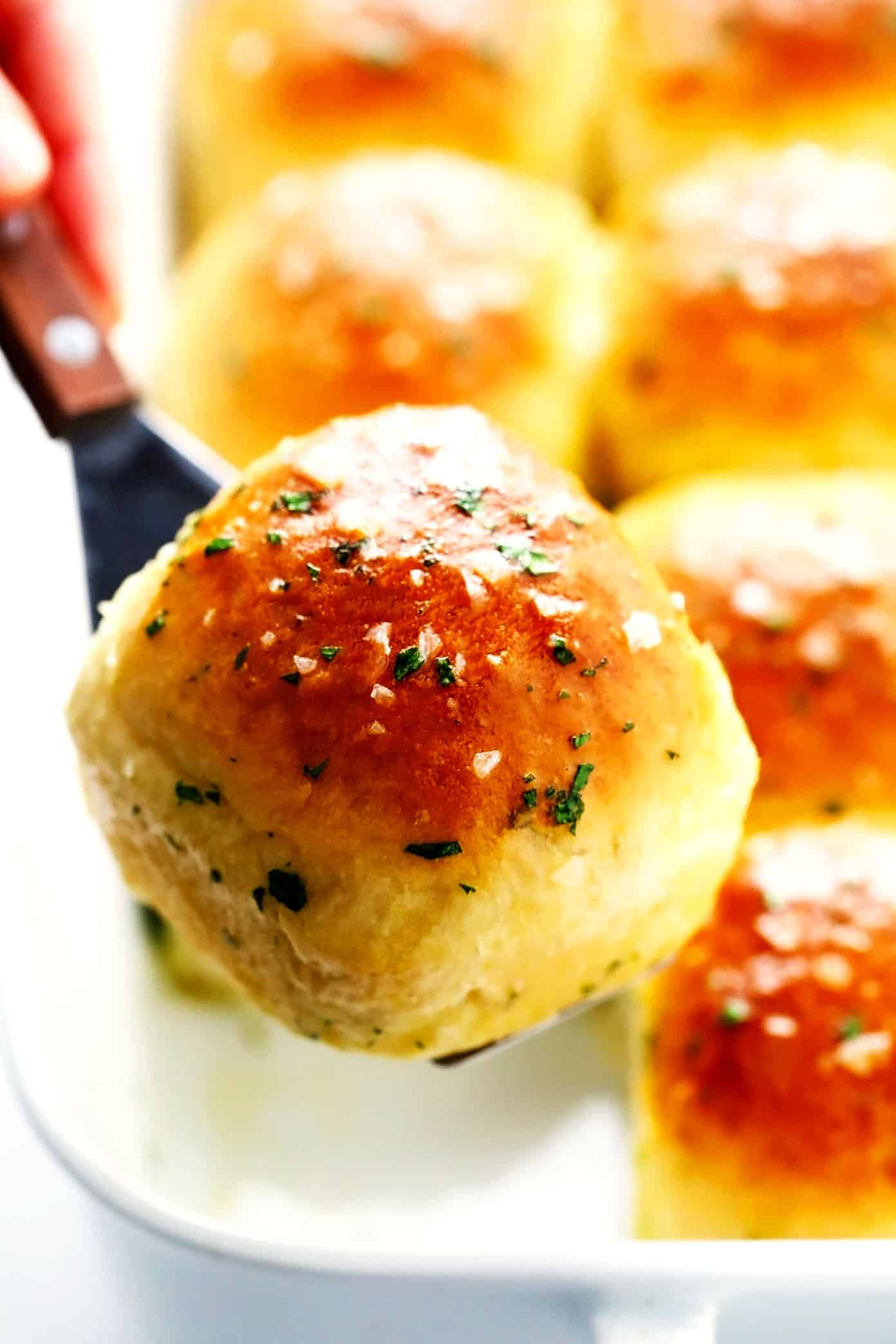 More Favorite Bread Recipes
Looking for more easy bread recipes to try? Here are a few of my faves…
---
Description
This buttery rosemary garlic dinner rolls recipe is perfectly soft and fluffy, easy to make with or without a stand mixer, and ready to go in about one hour!
---
Dinner Rolls Ingredients:
Garlic Herb Butter Ingredients:
3 tablespoons

butter

2

cloves garlic, peeled and thinly sliced

1 tablespoon

finely chopped fresh parsley
---
Heat the liquids. Stir together the water and melted butter in a saucepan, then add in the milk and honey and stir until combined. Heat the mixture over medium low heat, stirring occasionally, until it reaches 110°F. It will be warm but not hot to the touch. (*Alternately, you can heat the mixture in a microwave until it reaches 110°F.)
Add yeast. Pour the liquid mixture into the large bowl of a stand mixer (or see instructions below for how to knead by hand). Sprinkle the yeast on top and give it a quick stir combine, then let the yeast activate for 5 minutes until it is foamy.
Mix in dry ingredients. Add in

3 1/2 cups

of flour (not all of the flour), rosemary, fine sea salt and garlic powder. Using the dough-hook, beat the dough on medium-low speed until combined. If the dough is sticking to the sides of the bowl, add in 1/4 cup more flour at a time (no more than 4 cups total) until the dough pulls away from the sides of the bowl and is only slightly sticky to the touch. Continue mixing on low speed for 4-5 minutes until the dough is smooth.
Let the dough rise. Form the dough into a ball with your hands and transfer it to a greased bowl. Cover the bowl with a damp towel or foil, and let it rise briefly in a warm location for 15 minutes.
Prep your oven and baking dish.  Heat the oven to 400°F. Grease a 9 x 13-inch baking dish and set aside.
Form the rolls. Gently punch the dough down and divide it into 15 equal-sized pieces. Form each piece into a ball and place the dough balls in the greased baking dish. Cover the dish with a damp towel or foil and let the dough balls rise for an additional 15-20 minutes.
Bake. Uncover and bake for 15 to 20 minutes or until the tops of the rolls are browned to your liking, then transfer the pan to a wire baking rack.
Make the garlic butter. While the rolls are baking, melt the butter in a small saucepan over low heat. Add the sliced garlic and simmer for 2 minutes, then remove the pan from heat, strain out and discard the garlic slices.* Stir in the chopped parsley until combined.
Serve warm. Brush the hot rolls with the garlic butter and sprinkle with a pinch of flaky sea salt. Serve warm and enjoy!
---
---
Notes
To make the rolls by hand: Complete steps 2 and 3 in a large mixing bowl. Then once the flour has been roughly stirred in, transfer the dough to a floured work surface and knead it by hand for 5 minutes until smooth.
Sea salt: As always, please note that I use fine sea salt in my recipes. If you only have iodized table salt on hand, you will need to halve the amount (1/2 teaspoon).
Garlic butter: If you prefer to leave the garlic in the butter, be sure to finely mince (instead of thinly slice) it. Alternately, you can use a generous pinch of garlic powder in the butter in place of fresh garlic.