Easy20 minsGluten-Free
This Chipotle Chicken Chili recipe is super quick and easy to make, it's naturally gluten-free, and it's full of rich, smoky, and delicious flavors that are sure to warm you up through and through.
I feel like there's a reason that chicken soup — of all foods — has always been said to be good for the soul. ?
There's just something about that rhythm of coming home from work, gathering your ingredients, chopping and slicing and dicing, standing before the stove and stirring round and round, ladling that simmering soup into warm bowls, and then resting around the table to savor each nourishing, warm, delicious bite that just gets me.  Every time.
On those days when the world feels steady, and on those days when the world is whirling and changing, there's just something about a simmering bowl of soup that feels so grounding and comforting and, yes, good for the soul.  And of course, all the better if that's a wildly delicious bowl of soup, one that's simple to prepare, and one that's made with ingredients you can feel good about.
Say, like this one.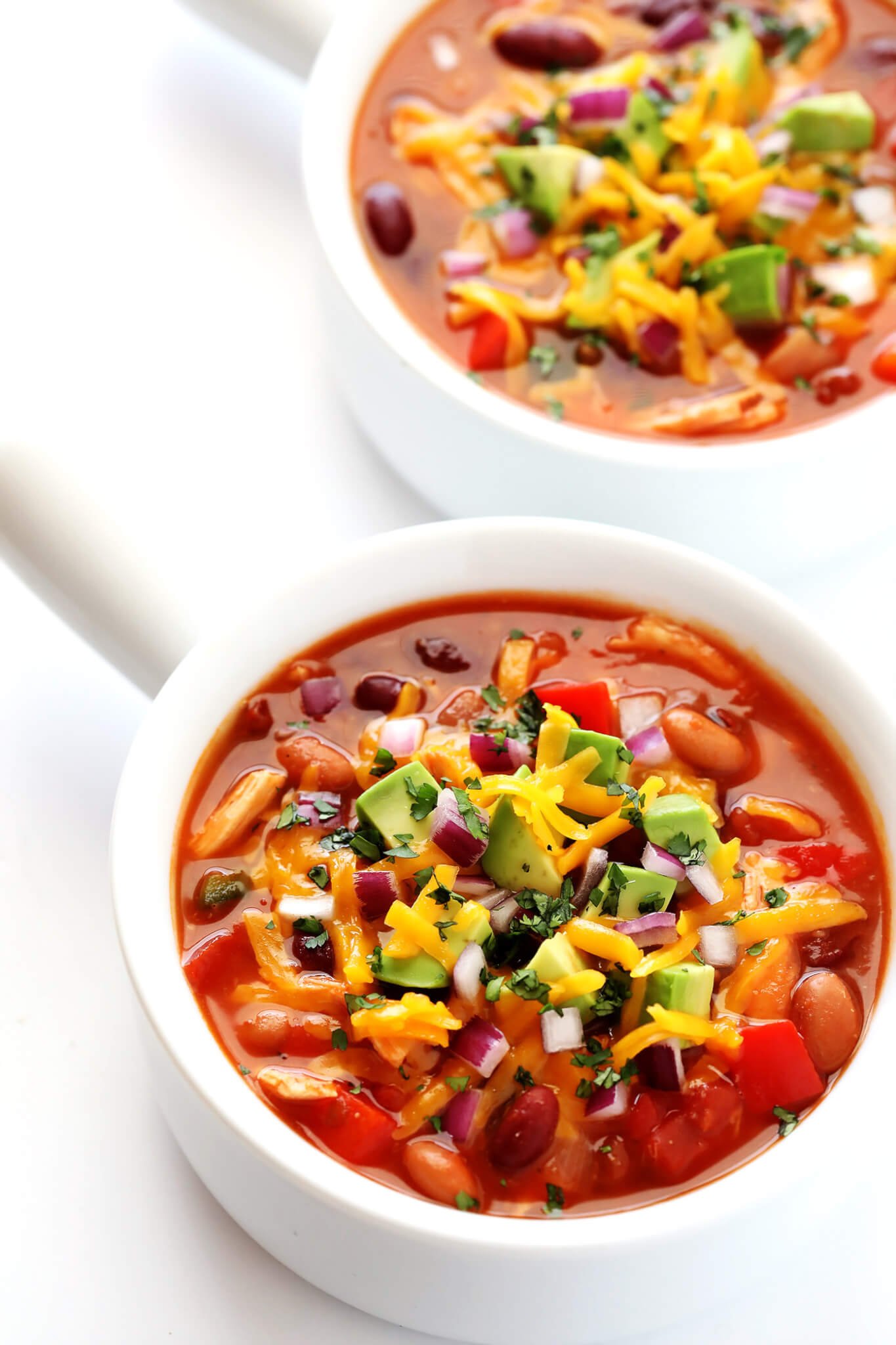 This soup came about the other day as I was cleaning out my pantry before our move and realized that I had apparently been hoarding beans over the past year.  (Like, SO many cans of beans, whoops. ?)
So naturally, the solution for dinner that night was clear — CHILI.
I already had a rotisserie chicken and some peppers in the fridge, plus some chipotles in adobo in the pantry, so I decided to whip up a quick chicken chili with a smokier vibe.  And I forgot that — once you chop that initial onion and peppers — how fast one of those simple chili recipes can come together.  By chopping as I went, this chili was simmering and ready to go in just about 20 minutes, which was perfect on a busy day of packing and prepping for our move.  And it also turned out to be the gift that kept on giving, and became tastier and tastier each day for leftovers.
My kind of recipe.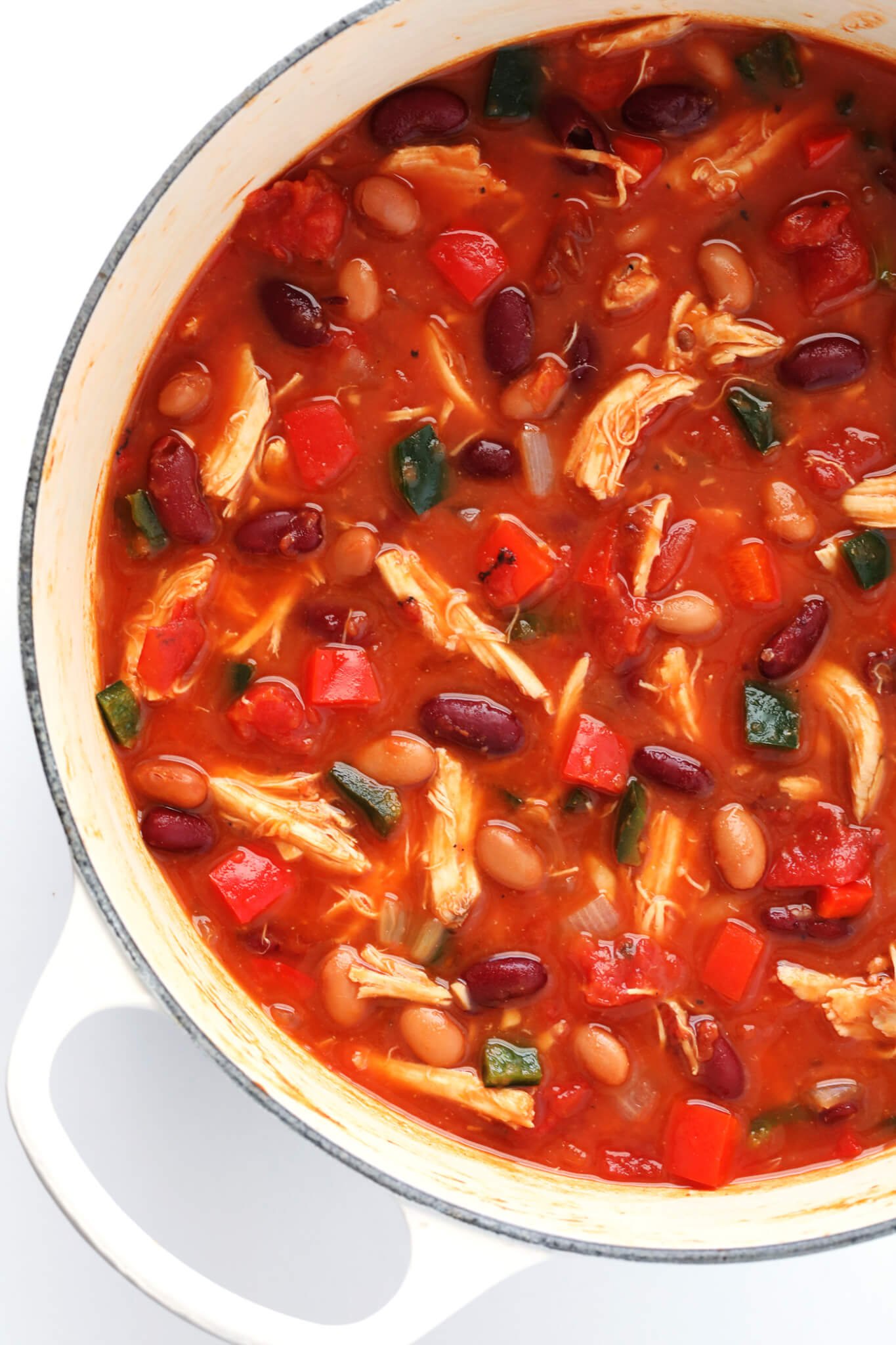 If chicken isn't your thing, feel free to make this one with ground beef or turkey.  And of course, feel free to sub in any kinds of beans, or any extra veggies that you might happen to have on hand.  The simple broth is really the heart of this one, made all the smokier and savorier with those delicious chipotles.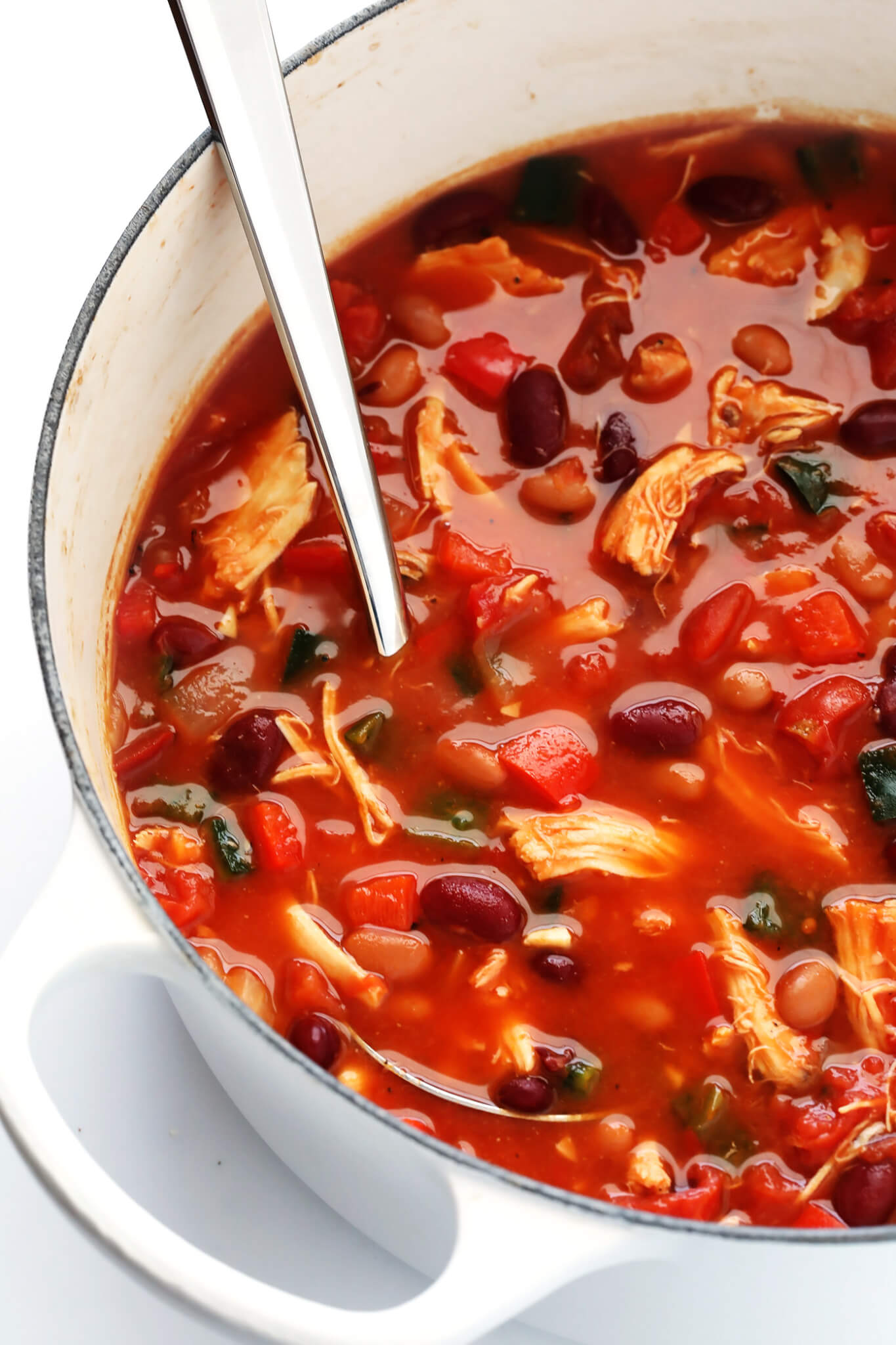 So if you find yourself in need of some chicken soup for the soul this week, I hope this one will warm you up through and through.  Enjoy, friends.
Yield: 6-8 servings
20-Minute Chipotle Chicken Chili
This 20-Minute Chipotle Chicken Chili recipe is quick and easy to prepare, naturally gluten-free, and made with ingredients you can feel good about.  Feel free to sub in whatever beans, veggies or proteins that you have on hand too!
Ingredients:
1 tablespoon avocado oil or extra-virgin olive oil
1 medium white onion, peeled and diced
1 poblano pepper, cored and diced
1 red bell pepper, cored and diced
4 cloves garlic, minced
2 chipotles in adobo, roughly chopped
4 cups Kitchen Basics chicken stock
2 cups shredded cooked chicken
2 (15-ounce) cans beans, rinsed and drained (I used one pinto, one red kidney)
1 (15-ounce) can fire-roasted diced tomatoes
1 (15-ounce) can tomato sauce
2 teaspoons ground cumin
salt and pepper, to taste
optional toppings: diced avocado, shredded cheese, finely-chopped red onions, chopped fresh cilantro, sour cream, etc.
Directions:
Heat oil in a large stockpot over medium-high heat.  Add onion, poblano and bell pepper, and sauté for 7 minutes, stirring occasionally, until the onion is soft and translucent.  Add in the garlic and chipotles in adobo, and sauté for 1 more minute, stirring occasionally, until fragrant.
Add in the chicken stock, chicken, beans, diced tomatoes, tomato sauce and cumin, and stir until combined.  Cover and continue cooking until the soup reaches a simmer.  Then reduce the heat to medium-low, and continue simmering for at least 5 more minutes.
Taste, and season with a generous pinch of two of salt and pepper, as needed.  Serve warm, garnished with your desired toppings.
*For maximum speediness, I recommend chopping/shredding/preparing your ingredients as you go.  (For example, while the onion mixture is sautéing, chop your garlic and chipotles and shred the chicken.  While the whole soup is simmering, prepare your toppings.)
Difficulty: EasyCategory: Gluten-Free


All images and text ©Gimme Some Oven
If you make this recipe, be sure to snap a photo and hashtag it #gimmesomeoven. I'd love to see what you cook!