Easy55 mins Vegetarian
This easy lemon bars recipe is made with 5 ingredients, including lots of freshly-squeezed lemon juice to make these lemon squares nice and tangy and not overly sweet.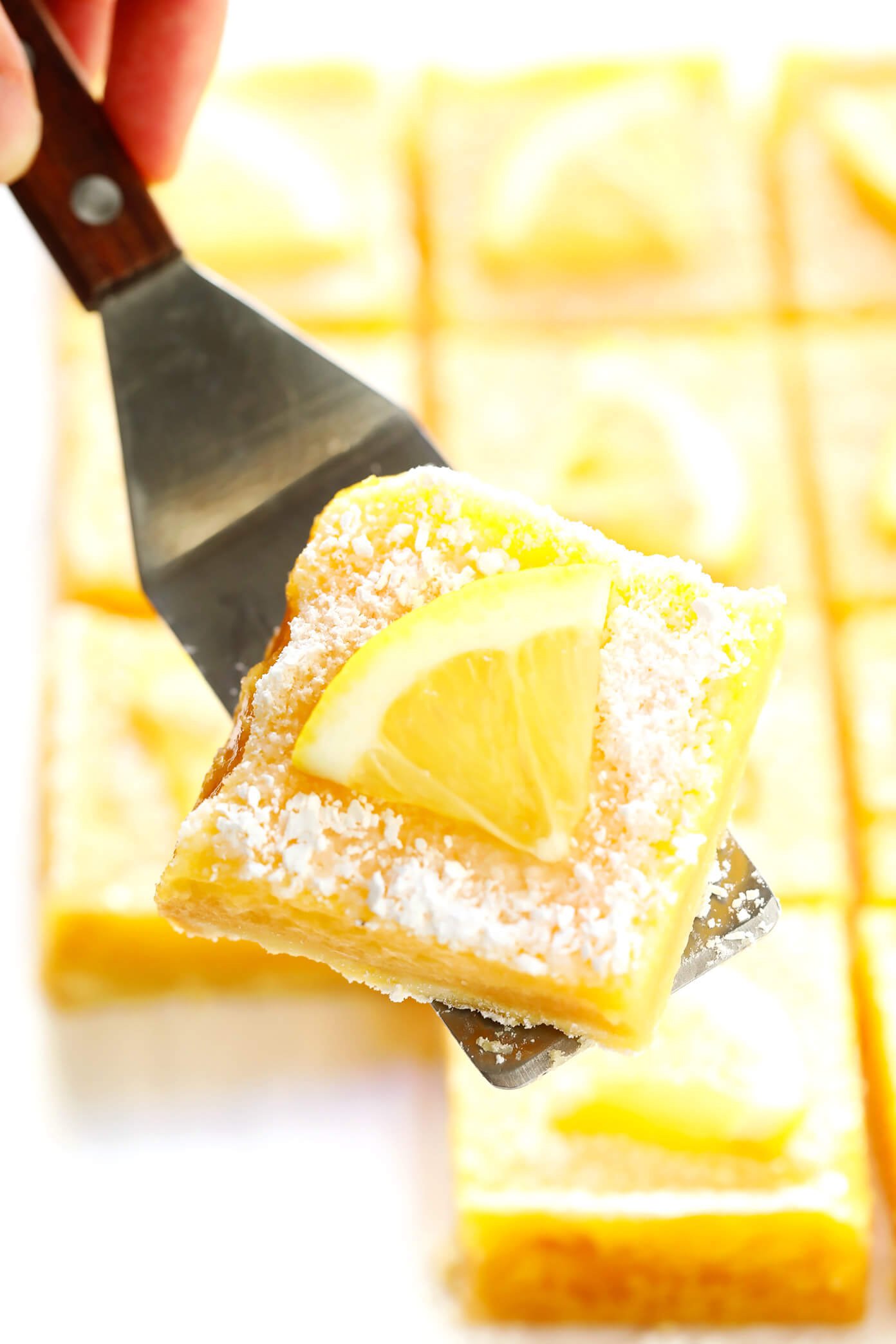 Raise your hand if you grew up loving lemon bars!
Meeeeee too. ♡♡♡

MY
LATEST VIDEOS
Granted, I've long been the girl who will make a beeline for lemony anything on a dessert table.  But back in the days of church basement potlucks and summery picnics and bake sales galore, these classic lemon bars (or as they were also called, "lemon squares") were always my absolute faves.  I've always loved the balance of the rich and buttery shortbread crust paired with that famous creamy lemon filling.  And over the years, I've tinkered around with the recipe until I've learned how to make these lemon bars just the way I like them — perfectly tangy and lemony, not overly sweet, and made with the perfect ratio of flaky shortbread to creamy filling.
Best of all, I've also simplified the recipe down to just 5 easy ingredients with 15 minutes of prep time.  So you can whip up a quick batch anytime you're feeling those lemony dessert vibes to share with those you love!
We've actually already baked up a few batches this spring to take to various parties and share with friends here in Barcelona.  And — as continues to be our experience as expats here — it has been so fun getting to introduce our European friends to the magic that is lemon bars for the first time!  Our neighbor lady who runs an antique store down beneath our flat actually confessed to us last week that she ate the entire plate of lemon bars that we brought her before they made it back home to her husband.  And another friend immediately begged me for an "American baking lesson" to teach her how to make them for herself.  And yet another friend has already requested them for a party next week.  Clearly, the whole world loves a good lemon bar.  😉
So grab a handful of fresh lemons, and let's bake up a batch of this sunshiny dessert together!

Easy Lemon Bars Ingredients:
These lemon bar ingredients couldn't be easier!  You simply need the following 5 ingredients:
Fresh lemons: We will use both the zest and the juice of fresh lemons for this recipe.  (If you don't already have a good lemon juicer, I'm obsessed with this one!)
Eggs: Four large ones, which will serve as part of our filling.
Butter: Nice and cold, which we will cut into the flour to make our shortbread crust.
Powdered sugar: We will use a bit for the crust and more for the filling.  If you have the time, I recommend sifting your powdered sugar through a fine-mesh strainer when adding it to the filling to prevent lumps.  (<– But it will still be delicious and just fine even if a few lumps sneak in there!)
Flour: Just a few tablespoons, to help the lemon filling set up.  I also recommend sifting the flour along with the powdered sugar to be sure that it's not clumpy.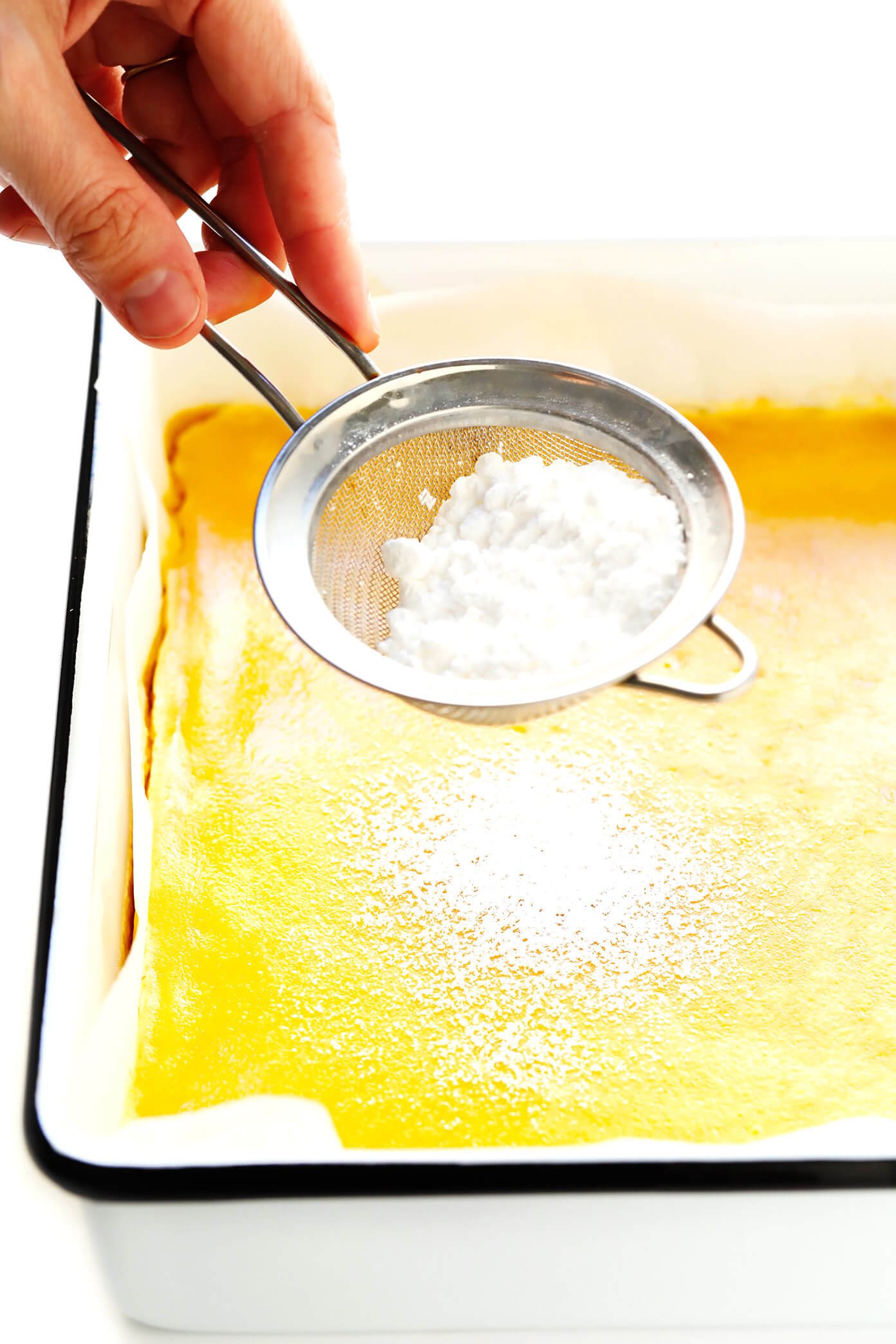 How To Make Lemon Bars:
To make this lemon bars recipe, simply:
Make the crust.  Either in a food processor (the easiest method!) or by hand (also works just fine), mix the crust ingredients together until they form a fine crumbly texture.  Pour the mixture into a parchment-lined 8-inch square baking pan, then press it in firmly to form an even layer of crust.  And bake for 20 minutes until golden.
Make the filling. Meanwhile, as your crust is baking, whisk all of your filling ingredients together in a mixing bowl until combined.  Try not to over-mix, to avoid having a million bubbles rise to the top of your filling.  (<– But if that happens, or if your powdered sugar is too chunky, feel free to just pour the filling through a fine-mesh strainer to get it nice and smooth again.)
Pour the filling on the hot crust.  Alright, timing is important with the next step!  As soon as you pull the hot shortbread crust out of the oven, go ahead and pour the filling mixture onto the crust immediately.  The eggs in the filling will immediately begin to cook and form a seal between the crust and the rest of the filling, which will prevent your crust from getting soggy.
Bake again.  Then go ahead and pop the pan back in the oven for about 20 minutes.  You don't want the lemon filling layer to get too golden or puff up to where it cracks — you just want it to bake long enough so that it sets.
Chill the bars.  Then remove the pan from the oven and let it cool for awhile on a baking rack, followed by a few hours to chill in the refrigerator.  Dust with extra powdered sugar on top if you would like.  Then slice, serve, and enjoy!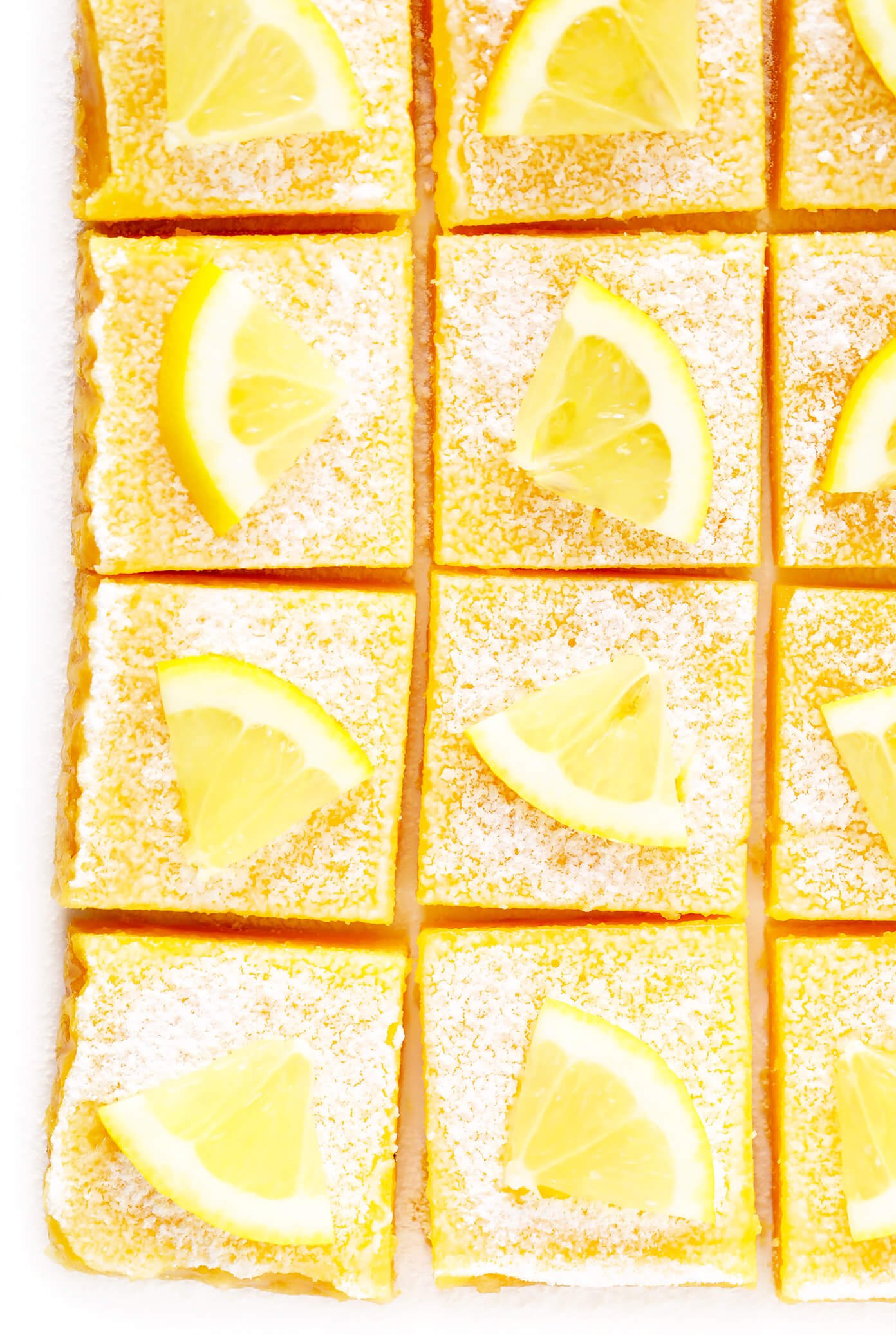 Possible Variations:
Want to customize your lemon bars recipe?  Feel free to:
Use Meyer lemons: Lemon bars are also delicious when made with rich Meyer lemons in place of traditional lemons.
Use a different kind of citrus (or a blend): These bars can also be made instead with fresh lime juice, fresh orange juice or fresh grapefruit juice.  Or, feel free to combine your favorite citrus fruits too.
Skip the powdered sugar: Classic lemon bars are usually dusted with powdered sugar.  But if you're looking to cut down on the sweetness of this dessert, feel free to skip that step altogether.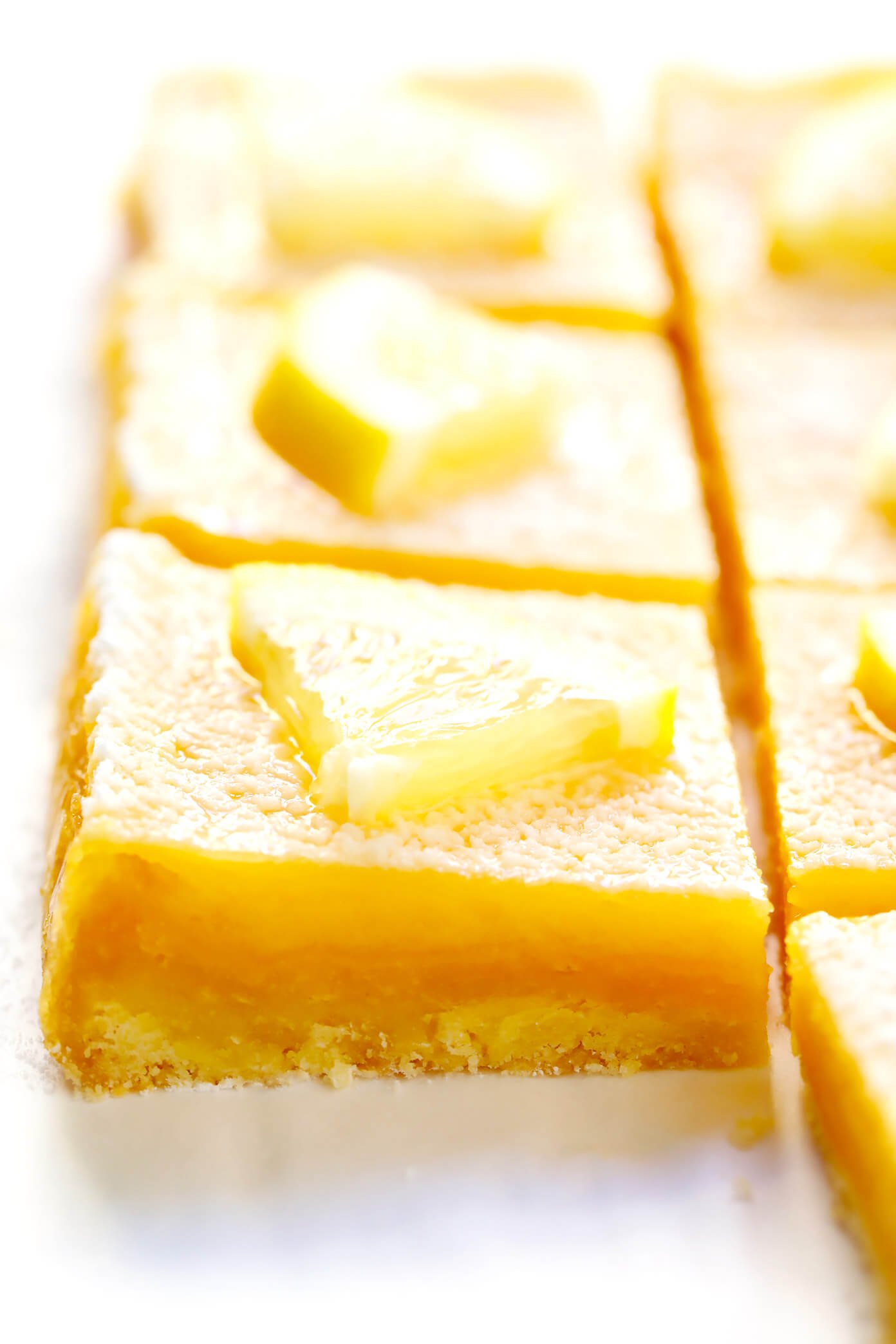 More Favorite Dessert Recipes:
Looking for more spring and summer dessert recipes?  Here are a few of my faves: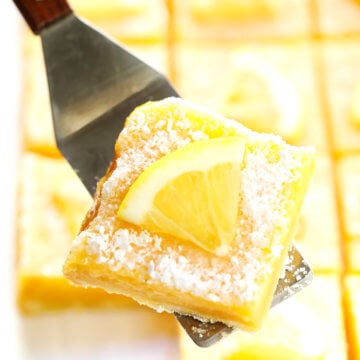 Yield: 16 bars
5-Ingredient Lemon Bars
This easy lemon bars recipe is made with 5 ingredients, including lots of freshly-squeezed lemon juice to make these lemon squares nice and tangy and not overly sweet.
Ingredients:
Shortbread Crust Ingredients:
1 1/2 cups all-purpose flour
3/4 cup cold butter, diced
1/4 cup powdered sugar
zest of 1 lemon
Lemon Filling Ingredients:
4 large eggs
1 cup powdered sugar
1/2 cup freshly-squeezed lemon juice
2 tablespoons all-purpose flour
Directions:
Preheat oven to 350°F.  Line an 8 x 8-inch baking pan with parchment paper; set aside.
Combine all of the crust ingredients in a food processor.  Pulse until the mixture reaches a fine crumble consistency.  You want the butter to be well combined, but to stop before the mixture turns into a ball.  (Alternately, you can combine the crust ingredients together in a mixing bowl with a pastry cutter or a fork.)
Sprinkle the crust mixture evenly into the prepared pan.  Then press the mixture down firmly to form an even layer.
Bake the crust for 20 minutes, or until it is lightly golden on top.
Meanwhile, whisk the lemon filling ingredients together in a medium mixing bowl until combined.  If your powdered sugar or flour are too chunky or there are lots of bubbles whisked into the filling, feel free to just pour the filling through a fine-mesh strainer to get it nice and smooth before adding it to the crust.  (But if there are a few little clumps, that's ok too!)
Once the crust is done baking, remove the pan from the oven and immediately pour the lemon filling on top of the hot crust.  Return the pan to the oven and bake for 18-20 more minutes*, or until the lemon filling has set.
Remove the pan from the oven and transfer to a wire baking rack to cool until the bars reach room temperature.  Then transfer to the refrigerator and let the bars chill for at least 2 hours.
Sprinkle the tops of the bars with extra powdered sugar*, if you would like, then slice and serve!
*If baking these bars in an 9 x 9-inch baking dish, cooking time will be a few minutes less.
*If you would like to add on decorative lemon slices, I recommend adding them just before serving since the lemon juice soaks out fairly quickly into the powdered sugar topping.  To minimize the juiciness of the lemons, I blotted my lemon slices briefly on a paper towel before adding them to the bars. 🙂
Difficulty: EasyCategory: Vegetarian


All images and text ©Gimme Some Oven
If you make this recipe, be sure to snap a photo and hashtag it #gimmesomeoven. I'd love to see what you cook!
This post contains affiliate links.