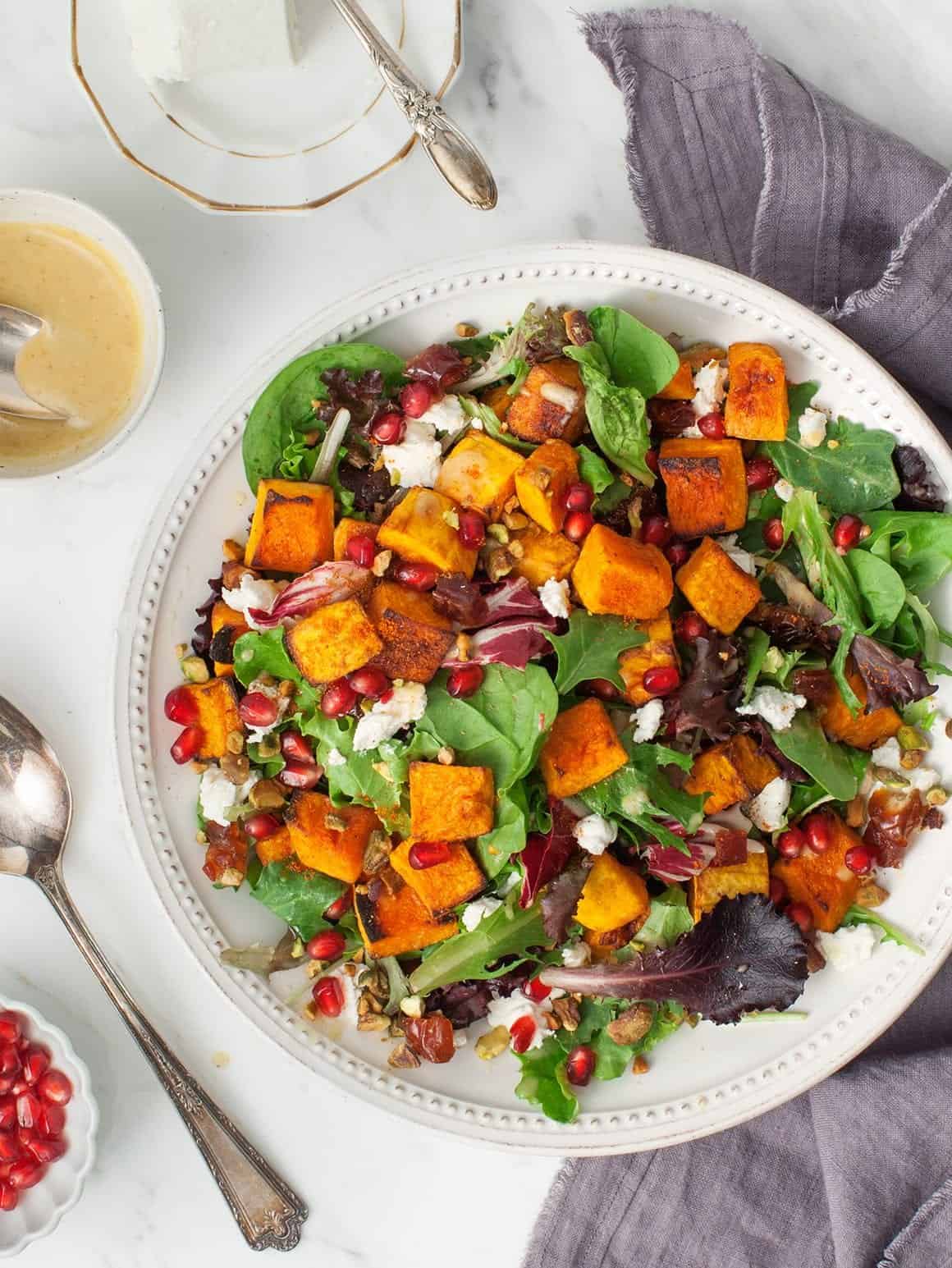 Do you do Friendsgiving or Thanksgiving? Or both? This year we're having the traditional Thanksgiving with my family on actual Thanksgiving, and a fun virtual Friendsgiving this week with a few of my favorite bloggers – A Cozy Kitchen, Sugar and Cloth, The Kitchy Kitchen, Spoon Fork Bacon, Because I'm Addicted, and Baker's Royale! One thing both holidays have in common? I was asked to bring a vegetable dish ?
I created this crowd-pleasing fall salad recipe that I know both friends AND family members will love. It's the kind of salad that will convert any non-salad lovers because it's filled with hearty roasted butternut squash (with some yummy spices), pomegranates, goat cheese, and pistachios. It's a roasty, spicy, creamy, tangy combo that Jack and I are pretty obsessed with.
For our Friendsgiving, we've teamed up with ALDI. As the holidays approach, bigger grocery stores can be so crowded and complicated to navigate. During my trip to ALDI for these ingredients, it was so easy to find everything and I was happy that it was all fresh, high quality, and super affordable. I was in and out in 15 minutes – here's everything I picked up for this spiced up squash salad: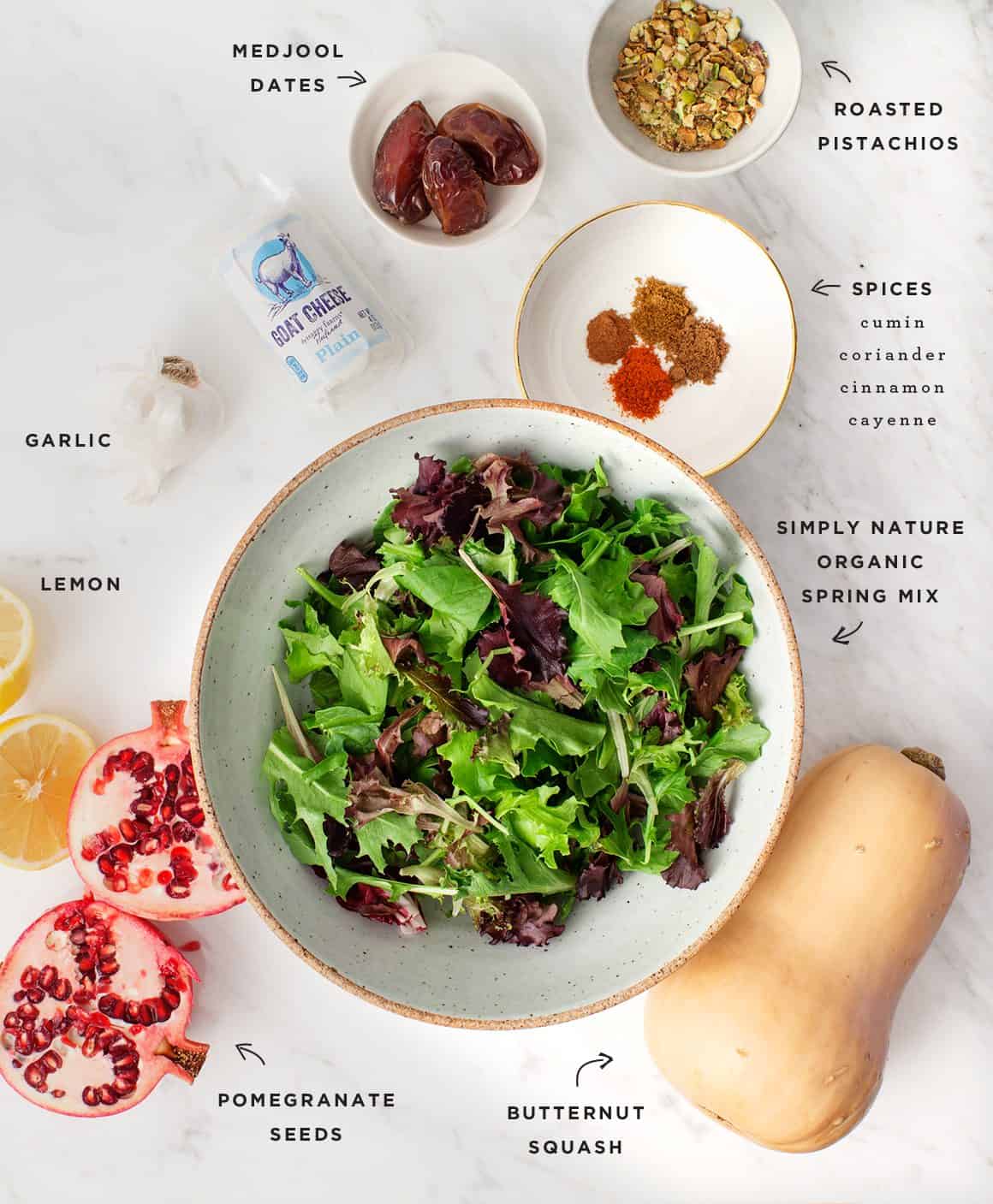 But the food doesn't stop with just my friends and family. To help bring more food to more people this holiday, ALDI is teaming up with Venmo and Feeding America® to encourage people to add a new tradition of giving to their Friendsgiving celebrations by using the very first Friendsgiving Turkey Hand emoji. Every time the Turkey Hand is shared on Venmo this November, ALDI will donate 10 meals to Feeding America to help people in need, up to one million meals. Learn more about the ALDI meal donations to Feeding America here.


This salad recipe is super easy to pull off. Roast the squash, spice it, blend the dressing, and put it all together. A tip for roasting the squash: I like to add the spice mix AFTER the squash comes out of the oven while it's still warm so the spices don't burn in the oven.



Follow me on Instagram Stories on November 8th for more about the Friendsgiving festivities!
Happy Thanks (and/or friends) giving everyone!
A Spiced Up Fall Squash Salad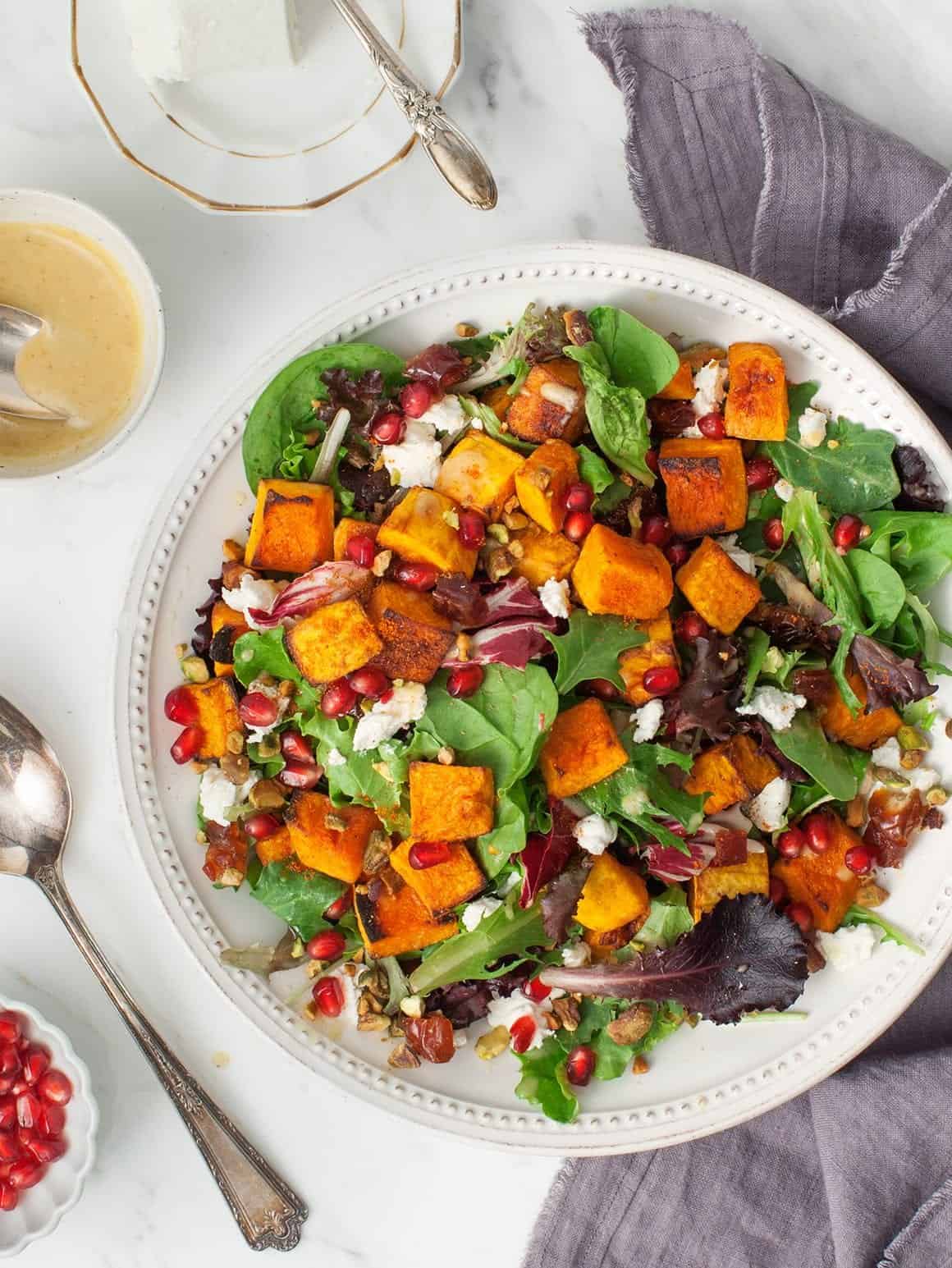 1 small butternut squash, peeled, seeded, and cubed
½ to 1 teaspoon SimplyNature Organic Extra Virgin Olive Oil
¼ teaspoon Stonemill Ground Cumin
¼ teaspoon ground coriander
¼ teaspoon Stonemill Ground Cinnamon
¼ teaspoon SimplyNature Cayenne Pepper (less if sensitive to spice)
6 cups loose-packed SimplyNature organic spring mix greens
2 ounces Happy Farms Preferred Goat Cheese, torn into smaller pieces
2 Medjool dates, pitted and diced
¼ cup pomegranate seeds
¼ cup Southern Grove Pistachios, crushed and toasted
Stonemill sea salt and freshly ground black pepper
5 tablespoons SimplyNature Extra Virgin Olive Oil
2 tablespoons SimplyNature Organic Apple Cider Vinegar
1 tablespoon fresh lemon juice
1 Medjool date, pitted
½ garlic clove
⅛ teaspoon Stonemill Ground Cumin
heaping ¼ teaspoon Stonemill sea salt
freshly ground Stonemill black pepper, to taste
3 to 5 tablespoons water, as needed to blend
Preheat the oven to 425°F and line a large baking sheet with parchment paper. Place the butternut squash cubes on the sheet and drizzle with olive oil and pinches of sea salt and pepper. Toss to coat and spread evenly on the baking sheet. Roast for 30 to 35 minutes, or until tender and browned around the edges.
In a small bowl, stir together the cumin, coriander, cinnamon and cayenne. Set aside.
Make the Cider Date Dressing: In a blender, combine the olive oil, vinegar, lemon juice, date, garlic, cumin, salt, pepper, and 3 tablespoons of water. Add 1 to 2 more tablespoons of water as needed to blend.
Remove the butternut squash from the oven, let cool slightly, and, while warm, toss with the spice mixture.
Assemble the salad with the spring mix greens and half of the roasted squash. Drizzle with ⅓ of the dressing, toss lightly, then add the remaining squash, goat cheese, dates, pomegranates, and pistachios. Drizzle with more dressing as desired. Serve immediately.
3.4.3177
Special thanks to ALDI for partnering on this post. Click here to find a store near you!