Apple Stuffed Chicken Breasts are loaded with flavor, stuffed with cheddar cheese and sweet apples cooked in a skillet in a simple wine sauce. Done in 30 minutes, this is a chicken recipe enough to make on weeknights, but special enough to serve to guests!
Looking for more chicken skillet recipes? You might like my Creamy Garlic Chicken or my Tuscan Chicken!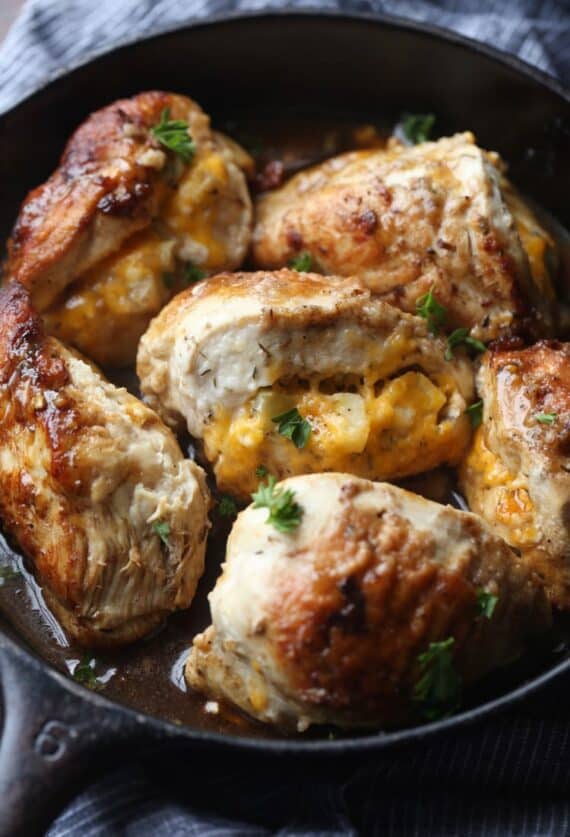 These Easy Stuffed Chicken Breasts Are Packed With Flavor!
This chicken recipe covers all the bases that I look for in a recipe I love. It uses chicken breasts, which are lean and cook quickly, it's made in a skillet, which sears the chicken nicely giving it a ton of extra flavor, and it's done in 30 minutes! Plus, these chicken breasts are stuffed with seasoned apples and cheddar cheese, which gives you that sweet and salty combo that pairs so well with chicken!
This stuffed chicken recipe is easy enough to make on a busy weeknight, but also special enough to serve to guests. AND the stuffed chicken can be prepped a day in advance, so all you have to do is cook it in the skillet before serving! Plus, it's fairly low in carbs, so it's a great option if you're counting carbs!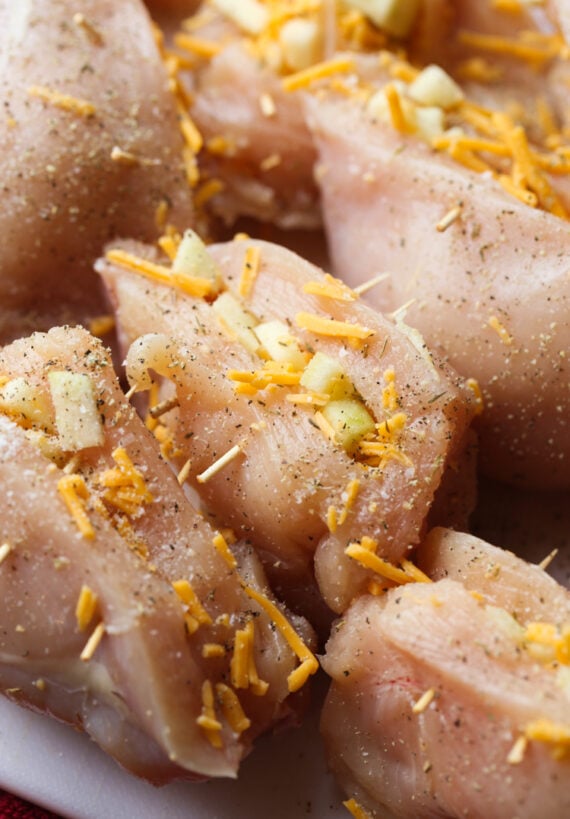 How To Make Stuffed Chicken Breasts
This is an extra east recipe, that like I said above, can even be prepped in advance! But here are some tips on how to make the process go smoothly.
What Size Chicken Breasts?
The recipe calls for 2 1/2 pounds of boneless, skinless chicken breasts. I tend to buy my chicken in bulk, so this generally means 3-4 large breasts. For this recipe I like to cut them in half, so I have a total of 6 breasts to work with, that are a little larger than a deck of cards.
This will vary, of course, on the size of your breasts, and the thickness, but I generally try and cut my breasts into 5 (ish) ounce pieces.
BUT, please note for this recipe you will be slicing pockets into the breast to stuff them, so don't worry if they are thick. Thicker breasts are easier to stuff.
What Can I Add To the Stuffing Mixture?
You can get really creative in what you decide to stuff into the chicken. With this recipe, I've kept it super simple, while still packing in a lot of flavor! BUT here are a few other ideas to add in:
Pecans. Or really any kind of nut would work great as an addition to the filling!
Different Cheese. If cheddar isn't your thing, go ahead and swap it out for your favorite. A cheese that melts smoothly works great!
Craisins. Dried fruit would pair wonderfully with the apples in this recipe!
Sausage. A little sausage added to the mixture could really be amazing in the recipe, while still keeping it lower carb!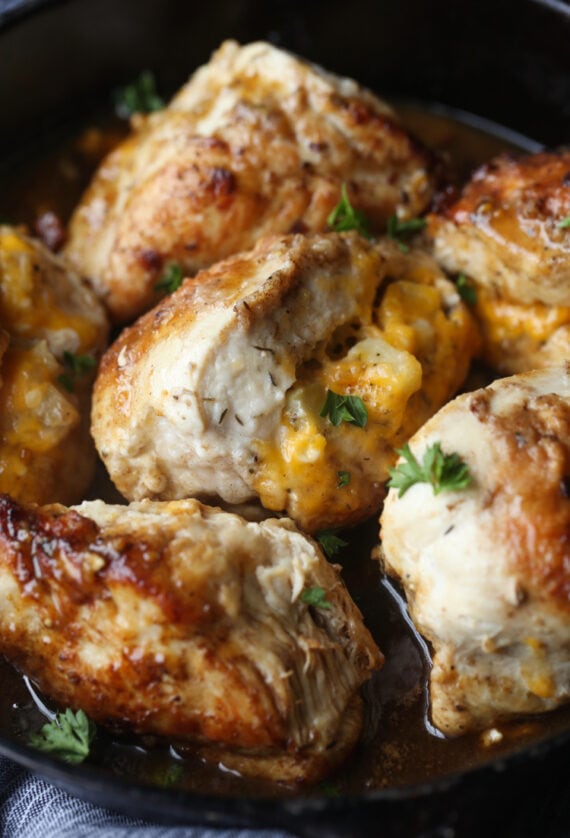 Can You Bake This Stuffed Chicken Instead?
If you wanted to skip the skillet option and bake this recipe you absolutely can. Note that here's what you should do:
Follow the chicken prep, as written in the recipe, omitting the flour.
Stir together the wine, broth, and dijon mustard and set aside.
Place the chicken into a baking dish and bake for 30-40 minutes in a 400°F oven or until the chicken reaches an internal temperature of 165°F.
When the chicken is almost done, pour the wine mixture into a saucepan and cook on medium heat until it is reduced by half, stirring occasionally.
When the chicken is done it will have released liquid…drain this.
Drizzle the wine reduction on top and serve!
OR
Follow all the steps 1-7 as written in the recipe. After you've seared your chicken, place it into a baking dish and add in the wine mixture.
Bake at 400°F for 25-30 minutes, or until the chicken reaches an internal temperature of 165°F.
I gave you multiple options, depending on your preference. I believe the skillet method will give you the most flavor. Searing the meat adds flavor, and of course, reducing the wine mixture will intensify its flavor.
BUT if you choose to just bake the chicken without searing it's a very easy method if you don't feel like breaking out the skillet! Either way you choose to prep this stuffed chicken recipe, I hope you enjoy!
Looking For Even More Chicken Recipes? Try These:
Apple Stuffed Chicken Breasts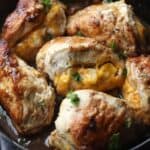 ---
Description:
Loaded with flavor, done in 30 minutes, and made in a skillet! This chicken recipe will soon be a family favorite!
---
Ingredients:
2 1/2

pounds boneless skinless chicken breasts (approx

6

breasts)

1

large Granny Smith Apple, peeled and diced

1 cup

grated sharp cheddar cheese

1 teaspoon

dried thyme

1 teaspoon

garlic powder

12

toothpicks

1 teaspoon

salt

1 teaspoon

ground black pepper

1/4 cup

flour

1/2 cup

white wine

1/2 cup

chicken broth

1 tablespoon

dijon mustard

2 tablespoon

s canola oil

2 tablespoon

s butter
Optional – parsley to garnish
---
Instructions:
With a paring knife, cut pockets into the chicken breasts, careful not to cut all the way through. Set aside.
In a large bowl combine the apples, cheese, thyme, and garlic powder.
Stuff each chicken breast with an equal portion of the apple mixture, securing with 1 or 2 toothpicks.
Season the chicken with the salt and pepper and sprinkle the flour evenly on all sides of the chicken. Set aside.
In a medium bowl whisk together the wine, broth, and mustard. Set aside.
Heat the oil and butter in a large skillet over medium-high heat.
Place the chicken in the skillet and brown, 2 – 3 minutes on each side.
Add in the wine mixture, and turn the heat down to medium-low. Cover and cook for 7-9 minutes, or until the internal temperature reaches 165°F.
Remove the lid and cook for 2-3 more minutes to thicken up the sauce.
Remove toothpicks before serving.
Garnish with parsley if desired.
---
Notes:
Chicken breasts can be prepped up to a day in advance before cooking.
Store airtight in the refrigerator for up to 3 days.
Keywords:: cookies and cups, chicken recipe, skillet recipe, chicken breast, stuffed chicken, apples, cheddar cheese
Want To Save This Recipe?